Don't worry, these aren't the boring stainless steel flasks that you see everywhere. These stainless steel flasks for men are all unusual choices in some way. Most of them are customizable, allowing you to have a name, message and/or date engraved. The style makes a great personal gift, showing someone that you're truly thinking of them.
Other flasks just look cool visually. This might include using a leather or a wood veneer wrap to make the flask look completely different. Check out the list to see the cool flasks that we found. You're sure to find some new inspiration for your gift giving.
Here's out post if you're looking for a flask for for women.
Engraved Keepsake Metal Flask
Stainless Steel Skull Wrapped Flask
Round Stainless Steel Flask
Round Hip Flask With Slot Glass
Whiskey Window Hip Flask
Vintage Pinup Personalized Flask
Engraved Stainless Steel Flask
Flask With A Functional Compass
Steampunk Antique Skull Flask
Cellphone Flask with Black Leather Pouch
The Original Lighter Flask
Oxford Round Leather Flask
Celtic Design Pewter Flask
Personalized Home State Flask
Polished Stainless Steel Flask
Royal Crested Blackout Flask
Personalized 5-Ounce Stainless Steel Flask
Unique Triangular Flask
7-Ounce Stainless Steel Flask
Metallic And Personalized Flasks
Pemberton Whiskey Barrel Flask
Picture Perfect Personalized Photo Flash
Tuxedo Flask & Funnel Set
6-Ounce Personalized Flask
Jerry Can Flask
Flasks With Poker Cards
1-Ounce Stainless Steel Flask
Vintage Owl Flask
Steampunk Stainless Steel Flask
Stainless Steel Leather Covered Flask
Steampunk Flask and Cup Set
Wood Veneer Flask
Banded Stainless Steel Flask
Steampunk Mini Flask
Belt Buckle Flask
2-in-1 Cigar Holder And Flask
Shotgun Shell Flask
Pistol Hip Flask
Millennium Flask
Engraved Keepsake Metal Flask

Sometimes simplicity is best. This Engraved Keepsake Metal Flask is a perfect example of that idea. The flask is engraved with 2 initials that you specify and comes with a personalized greeting card. It's also a slimmer flask than normal, just holding 3 ounces of liquor.
Round Stainless Steel Flask

This round flask is a great alternative to the traditional rectangular flasks that are often given. This one can be purchased with or without the engraved box, depending on your preference. You can have anything you like engraved on the flask, including logos, sayings and graphics.
Round Hip Flask With Slot Glass

There are two styles of this Round Hip Flask to choose from. The first has black leather around the center, while the other has brown leather instead. Both versions can hold up to 5 ounces of whatever liquor you choose. The shot glass is stored in the center of the flask and can be easily popped in or out.
Whiskey Window Hip Flask
This hip flask comes in a very unusual style.

While we're on the topic of round flasks, here's an interesting variation. The style actually means that you can see the amount of whiskey left in the flask, which is a fun idea. Because it is a monogrammed flask, you only get to choose a single letter for the personalization. Honestly though, that's enough. You still end up with a personal gift.
Vintage Pinup Personalized Flask

Pinup images never entirely go out of fashion, as this Vintage Pinup Personalized Flask shows. The image itself is printed on laminated vinyl and you can request a name to be added to it. If you don't like this particular image, the same seller has various others to choose from.
Engraved Stainless Steel Flask

This Engraved Stainless Steel Flask mightn't look like much, but the advantage is in the flask's size. It can hold up to 12 ounces of whiskey, which is twice the amount of most other flasks. You can also customize it with up to 3 lines of text and choose which font is used.
Flask With A Functional Compass

While round flasks are common, it's rare to find anything quite like this Flask With a Functional Compass. The flask holds 5 ounces of liquor and comes in any of the 3 pictured colors. The seller also mentions that these can be personalized, although no further details are provided. Even if you skipped that step, the flask would make an attractive gift.
Steampunk Antique Skull Flask

If you want something truly special, take a look at this Steampunk Antique Skull Flask. The skull and crossbones aren't engraved into the flask at all – they're raised. There is also some customization available. You can have 2 letters added to the front of the flask and 2 added to the cap.
Cellphone Flask with Black Leather Pouch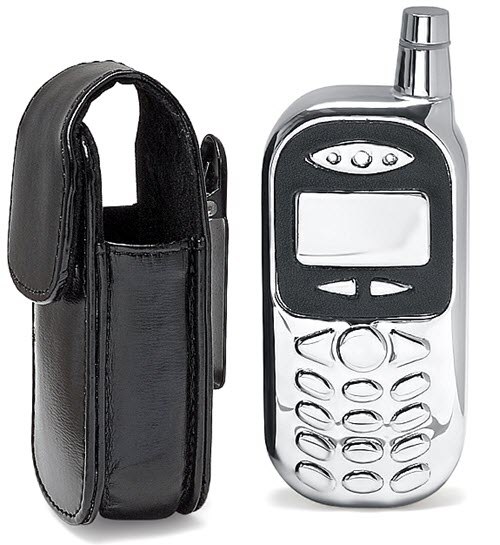 This Cellphone Flask is a fun idea. It can hold up to 3 ounces of whatever spirit you choose. The antenna of the 'cellphone' acts as the cap. You can simply unscrew it to fill (or empty) the flask. Up to 2 lines of text can be engraved on the 'screen' of the flask. The black leather pouch makes the gift even more practical, but you do need to pay a little extra for it.
The Original Lighter Flask

The idea of The Original Lighter Flask is easy to see. The flask looks cool and holds up to 6 ounces of liquid. While the style looks cool, don't expect this flask to be any more discreet than a regular flask. After all, the flask is much larger than a lighter, so no one would ever mistake it for one.
Oxford Round Leather Flask

This Oxford Round Leather Flask doesn't offer much engraving space. You just get to specify a single letter. What the flask lacks in customization, it makes up for in design. The stainless steel and leather combination looks amazing, especially with the detail engraved into the leather. The monogrammed center of the flask also pops out to create a portable shot glass.
Celtic Design Pewter Flask

While the image doesn't show it, this Celtic Design Pewter Flask can be customized to include a monogram or same size initials. The engraving style for the Celtic component is also very interesting – making this flask a little bit special.
Personalized Home State Flask

This stainless steel flask uses faux suede to give it a refined black appearance. The white text and stitching complement this nicely, creating a flask that stands out. You can choose whichever state you like for the image. You're then able to customize the first and second line, which includes choosing the words and the font that is used.
Polished Stainless Steel Flask

This Polished Stainless Steel Flask makes a good gift, despite its relative simplicity. A particularly cool aspect is the engraving. You can choose whether you want a monogram or a first name engraved. There are multiple possible styles for each. The lid style also means that the flask can be opened and poured with a single hand.
Royal Crested Blackout Flask

There can be no doubt that this Royal Crested Blackout Flask stands out. The silver of the crest and the surrounding area contrasts perfectly with the rest of the flask. The personalization just involves a single letter. Unusually, the flasks aren't created on demand. This may mean that they're sometimes out of stock of the letter that you want.
Personalized 5-Ounce Stainless Steel Flask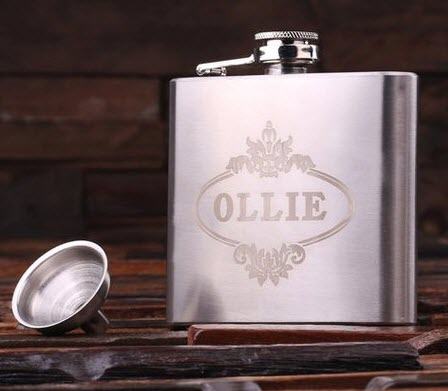 This personalized flask is smaller than most, holding just 5 ounces of whiskey. That's still more than enough and also makes the flask a little different. This particular seller also has many sizes and styles of flasks for you to choose from. The most interesting aspect is the engraving options. You get to choose whatever you like. You're not limited to a single design.
Unique Triangular Flask

While the image quality isn't fantastic, this Unique Triangular Flask would make such a fun gift. The style is completely different than other flasks. The hole in the middle should make it easy to grip too. You're not limited to 3 letters for engraving either. You can specify 2 lines of text (no more than 15 characters each).
7-Ounce Stainless Steel Flask

This stainless steel flask has an elegant feel to it. The combination of words, text and imagery simply works well. You can choose the quote that is included or even have a custom quote instead. The seller is known for being flexible, providing you with plenty of options about what to have engraved.
What will you pour in here? Doesn't matter, but I'm a bourbon man myself.
Red Or Blue Metallic Flasks

These Red or Blue Metallic Flasks might seem simple, but they do still make a statement. Each color can be personalized with up to 2 lines of text (no more than 12 characters per line). They're also a relatively inexpensive flask option. That makes them ideal for any gift giver who is on a budget.
Pemberton Whiskey Barrel Flask

This Pemberton Whiskey Barrel Flask doesn't just have an unusual texture. The shape of the flask is also more rounded than usual, creating something that really does look like a whiskey barrel. The flask can be personalized with 2 lines of text. You can choose between 4 different types of font for the writing.
Picture Perfect Personalized Photo Flask

Adding a monogram or message to a flask is one thing, but what about something like this Picture Perfect Personalized Photo Flask? The flask features your own photo, plus 2 lines of text and an accent color. It's a fun idea, leading to a one-of-a-kind gift.
Tuxedo Flask & Funnel Set

This Tuxedo Flask & Funnel Set is different, there's no doubt about that. The gift would work especially well for weddings, but it could also be perfect for someone who has been promoted (or just for a friend who often wears suits). The back of the flask can be personalized with a message of up to 5 lines.
6-Ounce Personalized Flask

At 6 ounces, this flask isn't tiny, but it's still smaller than many others. The choice is a good balance between sizes, as you end up with something easier to carry that still contains a decent amount of alcohol. The unusual design means that the flask also looks a little more interesting than other flasks that are commonly gifted.
Jerry Can Flask

This Jerry Can Flask is a completely different style than most others. It can hold up to 5 ounces of liquor. That's less than some other flasks, but is still a decent amount. The flask can be personalized with a monogram (in 4 possible styles) or with initials.
Flasks With Poker Cards

The flask set sold here is a little bit different. For one thing, there are 4 flasks, rather than a single flask. The set also includes dice and poker cards. You can choose how each of the flasks is personalized. You could even fill each with a different type of whiskey before giving the gift.
1-Ounce Stainless Steel Flask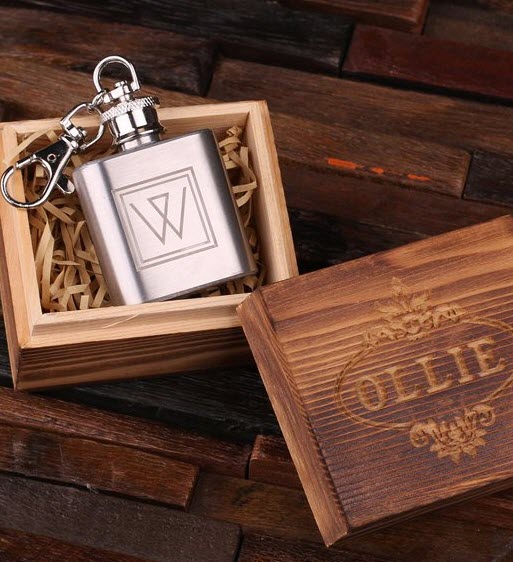 This stainless steel flask is unique. It's only large enough for 1 ounce of whiskey. The flask is also very discreet. It could easily be attached to a set of keys or slipped into a pocket. Another cool thing is the personalization. You don't need to stick with the style in the photo, the seller lets you choose your own engraving.
Vintage Owl Flask

There are many interesting things about this Vintage Owl Flask. The combination of etching and the raised owl makes the piece look much more interesting than a typical stainless steel flask. You can also choose to have the owl in silver or brass. Each style has its own advantages.
Steampunk Stainless Steel Flask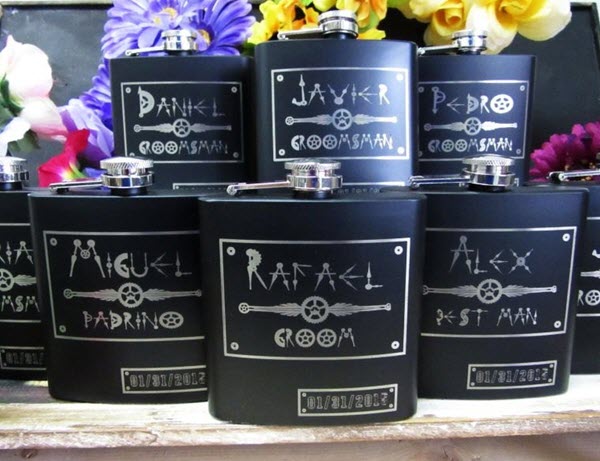 Like many options, this Steampunk Stainless Steel Flask is designed with weddings in mind. You can easily get around this by specifying the name, title (optional) and date (optional) that you want to be included. One fun feature is the colors. There are 10 different possible colors that you can choose from.
Stainless Steel Leather Covered Flask

If you're bored with regular flask designs, try something like this Leather Covered Flask. The design takes strong inspiration from steampunk. Each piece is an original and is made to order. It's a brilliant choice if you want to give a flask that's out of the ordinary.
Steampunk Flask and Cup Set

While we're on the topic of steampunk, this Steampunk Flask and Cup Set is another gift to consider. Once again, the flask is covered in leather. This time the leather is adorned with an octopus and some gears. The style won't be suitable for everyone, but it would be perfect for the right recipient.
Wood Veneer Flask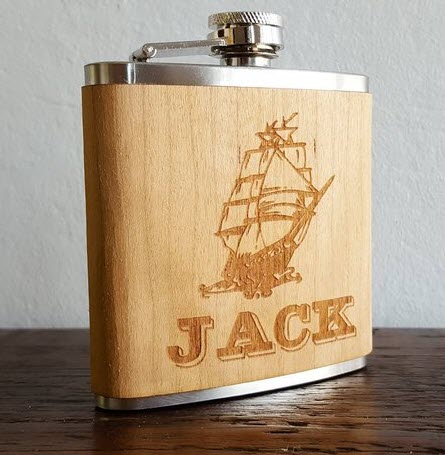 This Wood Veneer Flask is still made of stainless steel, even though it doesn't look like it at first. It can be made using a bamboo, oak, thin cherry or walnut wood veneer and the engraving is free. There are multiple styles to choose from, which gives you even more flexibility.
I'm thinking a tasty scotch belongs here!
Skull Wrapped Flask

This Skull Wrapped Flask isn't personalized like most of the items on this list. That doesn't stop it from being a good gift. Many people would love the style. The company also focuses on quality stainless steel, which is always a bonus. The lack of personalization should also mean that the gift arrives faster.
Banded Stainless Steel Flask

This Banded Stainless Steel Flask is fairly simple. The engraving is simply text, nothing more. You can choose the font and how many lines of text you want (up to 3). The banded design is what sets the flask apart. It's not the most radical change, but it still leads to a flask that looks interesting.
Steampunk Mini Flask

Like some other items on the list, this Steampunk Mini Flask doesn't look like stainless steel at first glance. That's because the design involves polymer clay that is sculpted over a 1 ounce stainless steel flask. The flask itself remains entirely functional and acts as an amazing gift for anyone interested in steampunk.
Belt Buckle Flask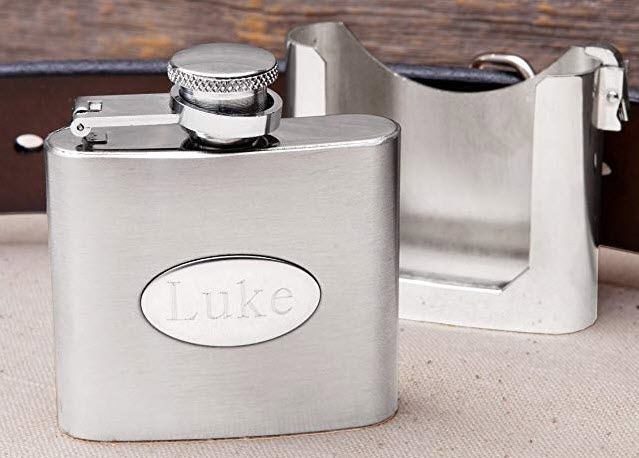 In some respects, this Belt Buckle Flask is pretty typical. It's just a small flask with a very simple engraving in the center. The advantage is the way that it's designed to discreetly clip onto your belt. The listing comes with the holder and the flask, which can be attached to most belts.
2-in-1 Cigar Holder And Flask

Not surprisingly, this 2-in-1 flask has 2 different functions – holding alcohol and holding cigars. The style also means that the flask has an unusual shape. The flask aspect holds 4 ounces of whiskey. That's less than some other brands but is still enough for many situations.
Shotgun Shell Flask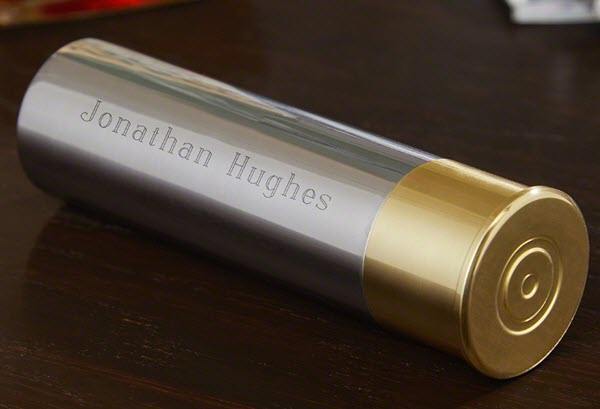 There's no reason that a flask needs to have a specific appearance. This Shotgun Shell Flask shows that flasks can sometimes look completely different than you might expect. The flask isn't as small as you might expect either. It can hold 3 ounces of whiskey. It can also be engraved with a line of custom text.
Pistol Hip Flask

Here's another flask that doesn't look like a hip flask at all. More importantly, the flask holds 6 ounces of whiskey. That's a similar amount to many conventional hip flasks. That aspect alone makes it a great gift.
Millennium Flask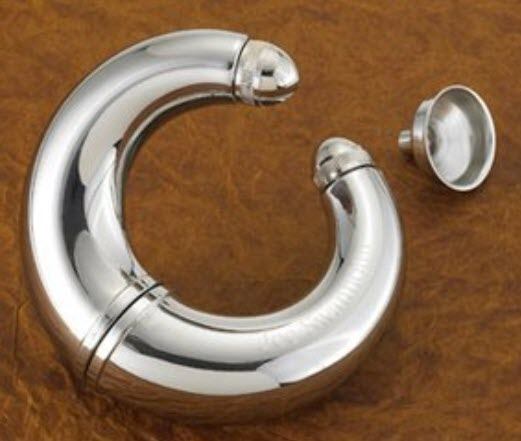 This Millennium Flask completely breaks the rules about how a flask should look. Each side of the flask contains 2.5 ounces of liquor and they can be filled independently. This allows you to bring along 2 different spirits with you. The flask can be personalized too – with 1 line that contains up to 15 letters.
Looking at all these flasks made me thirsty! Check out my review of Flaviar, a whiskey of the month club to keep your shelves stocked and interesting.