In today's world, handwritten notes may seem like something from the past, but artisan stationery is making a come back. What was once a necessity has now become more of a hobby for stationery enthusiasts, which is why you can find a variety of stationery of the month subscription boxes.
The history of paper extends back to more than 4,000 years ago in Egypt. The first paper-like product, parchment, was created from thin animal skins, like sheepskin or goatskin. Though due to the way parchment was processed, it had a few drawbacks like splitting and being sensitive to humid climates.
However, about a thousand years later, Egyptians started using the papyrus plant, making the paper far more durable.
Egypt wasn't the only country that created paper to record its history. In the year 121, Cai Lun, inventor and politician, replaced bamboo and silk with a pulp blend that was lighter, easier to transport, and a lot less expensive.
Over the centuries, the paper has evolved, and now comes in various types, colors, and materials making stationery all the more interesting and inspiring.
Though many of us use email or text to communicate, there is just something special about receiving a handwritten note or card in the mail, which is why stationery of the month subscription clubs are perfect for when you want to send a thoughtful message. Stationery subscription boxes are an easy and convenient way to keep beautiful stationery on hand.
And stationery of the month clubs can come with a wide variety of products ranging from cards and stamps to planners, pens, and stationery accessories, ensuring there is a perfect stationery box for everyone. If you love these boxes, you might also enjoy craft subscription boxes.

Stationery of the Month Clubs
Nicely Noted
Postmark'd Studio
My Paper Box
ScribeDelivery
Zen Pop
HWE Stationery
Busy Bee Stationery
Cloth & Paper
Pretty Paper Club
Nicely Noted

Nicely Noted, founded by Perry Nelson, was inspired in 2011 when Ms. Nelson realized the need for a more convenient way to always have the right stationery on hand for all occasions. Not only is it Nicely Noted's goal to make sure you always have the perfect card, but they have also added the convenience of including stamps to ensure you have everything you need to send off a thoughtful note.
Nicely Noted uses high-quality card stock, and the stationery is designed by independent small businesses such as Lettered West, Greenwich Letterpress, Etc Letterpress, Willowcrest Press, and Ruby Press. Because of the unique designs and premium quality, Nicely Noted has been featured with Today, Dwell, Pure Wow, and The Oprah Magazine.
Nicely Noted sells card packs, accessories, bundles, and subscriptions. They feature cards for all occasions in a variety of themes like: Nature, food, bingo, and travel.
There are two choices for the card subscription. Either you pay monthly for $20 per month or you pay annually for $220 per year. Each month includes 3 letterpress cards with envelopes and 3 stamps. Some of the past month's boxes included:
Thank you card designed with doughnuts, Happy Birthday with a Black Bear, and a Hi! Hello! There Hi! card.
Bingo themed birthday card, stay cool with sunglasses on the front, and colorful polka dots.
Romance themed
Camping themed with a general keeping in touch card, a plain card with blue stars, and a birthday card
Postmark'd Studio

Postmark'd Studio started with thoughtful notes written to bring a smile to a friend or coworker, well-written thank you notes, and love notes to her husband.
Knowing the importance and positive impact a handwritten note can make, Postmark'd Studio was created to help others share thoughtful messages. The goal of Postmark'd Studio is to make practicing simple kindnesses easy and convenient.
Though Postmark'd Studio is a subscription box company, they also sell individual card packs for all occasions like birthday, wedding, anniversary, and gratitude. In addition to cards, Postmark'd Studio offers gift boxes, like:
Organized Life – Weekly planner, Hello notepad, decorative paper clips, Gelly roll pen, and pencil and pen pouch.
Whale of a Party – Nautical themed box with serving bowls, compass coasters, and tea towel.
Cook's Delight – Culinary themed box that contains a denim apron, notepad, 85 little note cards, and cookbook.
But what Postmark'dd Studio specializes in, is its subscription boxes. They have four different subscription duration options:
Month-to-month for $25 per month
3-month prepaid for $67.50
6-month prepaid for $127.50
12-month prepaid for $255
All subscription boxes ship out on the 5th of the month or the next business day if the 5th falls on a weekend or holiday. Once your box ships, Postmark'd Studio will email you with the confirmation and tracking number. All orders in the US ship USPS priority mail and often arrive within 2-3 days; international shipping is also available. The cost of shipping is not included in the prices listed above.
Each box contains:
4 greeting cards and envelopes
USPS postage stamps
Artsy accessories like Washi tape and fun pens and pencils
Postcards
Occasional bonus gifts
My Paper Box

My Paper Box is a personalized stationery subscription box company. However, they sell a lot more than just paper and subscriptions. My Paper Box also offers various stationery themed gifts such as mugs, gear, bags, phone cases, water bottles, and more. Additionally, they have a variety of handmade customized items too.
My Paper Box carries a large assortment of themed stationery boxes like flamingos, self-care, cactus, confetti, galaxy, cat, co-worker, and a variety pack.
In addition to their many stationery products, My Paper Box also offers a Pen Pal Club. Their Pen Pal Club is free to join and pairs members with their ideal pen pal match. To join, you simply need to fill out their questionnaire to help them find the right pen pal for you.
However, their primary focus is the subscription boxes. There are two different customized subscription boxes available:
Each month is a different theme. Some of the past themes include vintage antique, swimming at the beach or pool, bold floral, summertime, holidays, and seasonal. Both boxes are available in multiple durations, including month-to-month, bi-monthly, 3-month prepaid, 6-month prepaid, and 12–month prepaid.
ScribeDelivery

ScribeDelivery, founded by Chad and Kristen Ettelbrick in Frisco, Texas, is a small family-owned company that strives to share their love of new notebooks, fun pens, and creative inspiration by putting pen to paper with other stationery enthusiasts.
ScribeDelivery offers numerous stationery items such as top-bound spiral notepads, notebooks, composition books, weekly planners, and even stationery themed gear. ScribeDelivery also sells stationery of the month subscription boxes. There are two subscription boxes available:
Month-to-month for $29 per month
12-month prepaid for $300
Each box ships USPS and ships out on the 5th of the month. Shipping is included in the prices above. Every month is a different theme curated to help brighten any office. Though the stationery in the box may change from month-to-month, the boxes usually contain notebooks, pens, and inspirational items.
Plus each box's value will always be equal or greater than the monthly cost.
Zen Pop

Zen Pop's parent company is ZenMarketInc, founded in 2014, later giving way to Zen Pop in 2016. Zen Pop offers a variety of fun, unique, classic, and new products.
Though Zen Pop is based out of Osaka, Japan, it is made up of a global team of folks from all over the world, including Australia, China, Ukraine, Russia, France, and the United States. The team works diligently to ensure they curate subscription boxes filled with authentic Japanese products.
Zen Pop's goal is to provide outstanding customer service and offer a variety of Japanese themed subscription boxes, which is why they offer four unique subscriptions:
Sweets Pack
Ramen + Sweets Mix Pack
Ramen
Stationary
Though they do not offer individual products, they have limited edition boxes available for a one-time purchase without needing to sign up for a subscription. Their stationery subscription box starts at $30 per month and includes free shipping.
Each stationery of the month club includes 10 adorable premium Japanese stationery products. All of the boxes carry a different theme; an example of one of the themes is their Neon Pastel Stationery Pack, created in collaboration with artist Surudenise, which contains: 
Surudenise custom art postcard
Die-cut washi tape
Washi tape cutter
Sakura micron pigma 01
Colorful flake stickers
5 other neon pastel stationery products
You might find other items in your stationery boxes like themed paper clips, fun erasers, correction tape, memo pads, small notebooks, sparkly pens, highlighters, and sticky notes.
HWE Stationery

HWE Stationery was founded by husband and wife duo Joe and Andy Eskenas. The couple runs their small business out of their home in Fitchburg, Massachusettes. HWE Stationery strives to provide a special and personalized feel with all of their online sales.
HWE Stationery is a full-service online stationery store that sells an assortment of products such as notebooks, journals, fineliner pens, fountain pens, art supplies, calendars, and products for kids.
HWE also carries top brands like Sakura, Sarasa, Zebra, Stabilo, and more.
HWE Stationery also offers a monthly subscription box. Signing up for their subscription box is an excellent opportunity to check out new stationery items and add to their stationery collection.
The stationery of the month club is $35 per month and ships out on the 5th. The cut-off date to receive the following month's order is the 10th of the previous month.
All of the boxes have a different theme and are filled with a variety of fun and new stationery products such as greeting cards, pens, notepads, stickers, and Washi tape.
Once the box ships out, you will receive an email with the tracking number, so know when your new stationery supplies will arrive. HWE's stationery subscription box is flexible and can be canceled or put on hold as needed.
Busy Bee Stationery

Busy Bee Stationery, founded in 2015, was created to help make life easier for busy bees. Busy Bee Stationery primary focus is subscription boxes; however, they do offer a variety of stationery products like:
Markers
Journals
Sticky notes
Alphabet stamps
Color shine spritz
Glitter tape
Glitter glue
Stickers
All f the subscription boxes are curated to help inspire creativity and make everyday conveniences brighter with their brilliant stationery. The different subscription boxes are all themed based on various subjects such as nature, season, or creative projects. There are 3 different stationery subscription box durations:
Month-to-month for $39.90 per month
3-month prepaid for $109.70
6-month prepaid for $214.40
The boxes include 5-10 stationery products like folders, labels, stickers, tags, notepads, Washi tape, color in cards, Zazz glitter glue, and journals.
Shipping varies based on weight; domestic deliveries range from $5-$10. International shipping is available; prices vary based on destination. All stationery of the month boxes ship out the 2nd week of each month, and the cut-off date for ordering, changes, or cancellations is the 5th of the month.
Cloth & Paper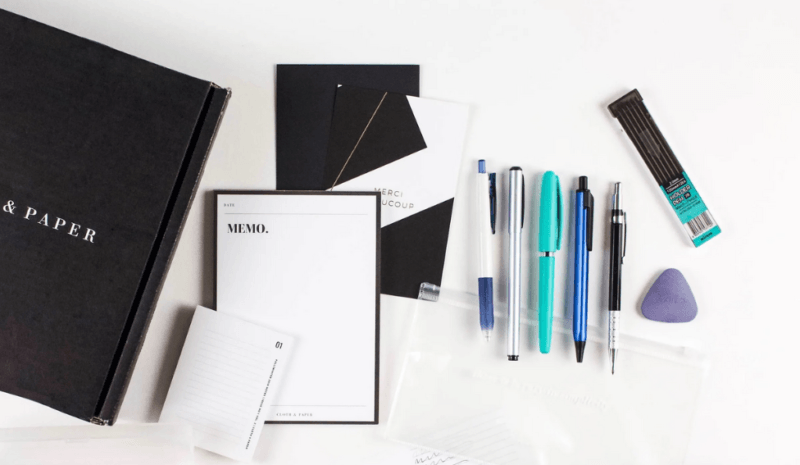 Cloth & Paper was founded in 2015 by Ashley Reynolds. The online store now features a large selection of paper products, including many types of planners and leather agendas. They also sell pens and pencils.
As well as their individual sales, Cloth & Paper offers 3 different subscription boxes. These are shipped out between the 19th and 24th of each month. The options are:
Penspiration, from $18 per month. Offers 5 -7 pens and pencils.
The Planning + Stationery Box from $38 per month. Offers 6-8 items monthly. Pens may be included, but the emphasis is on stationery products.
Penspiration and Planning + Stationery Box, from $48 per month. Combines the previous boxes.
There is a survey as part of the sign up process. This allows you to specify a few preferences, like the ideal planner size and 2-3 letters to be used for any customization.
The prices above include shipping in the US. International shippers will need to pay shipping fees. You can also order the boxes through a 3-month or 6-month prepay. Doing so decreases the price per month for the box.
Pretty Paper Club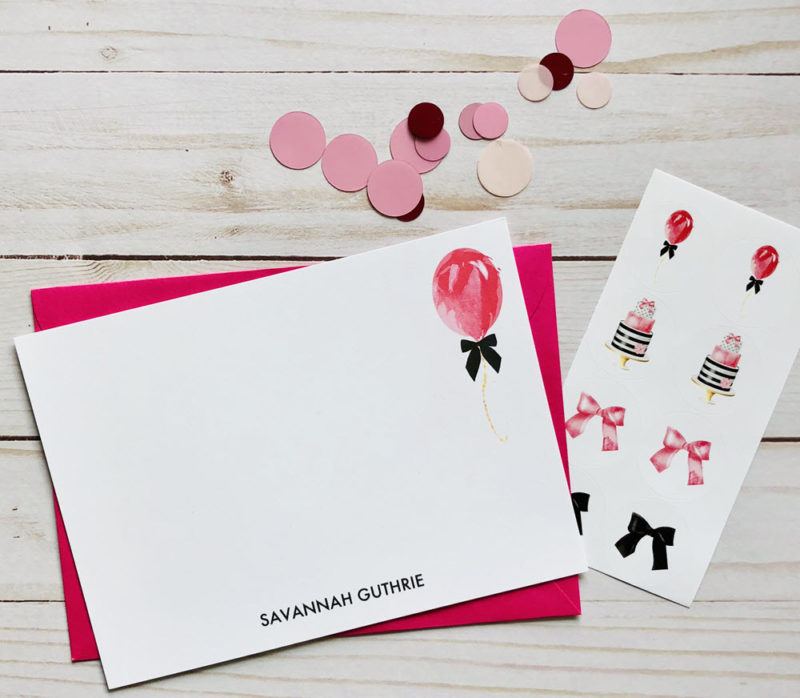 Pretty Paper Club was founded by Natalie, who confesses to being obsessed by paper products. The club is unusual, as it focuses on custom stationery. Your name will be printed on the stationery, along with your address on return labels. You can even list a few names that will be rotated.
There are two versions of the club to choose from.
The first, Custom Stationery, provides notecards, envelopes, labels, and a surprise item. It costs $20 per month if you pay month-to-month. A 3-month prepay costs $60, 6-month prepay costs $120, and 12-month prepay costs $200.
Then there's the Deluxe Custom Stationery box. This includes the same stationery items, along with a selection of related accessories, like gel pens, Washi tape, and stickers. This version costs $40 per month if you pay month-to-month. A 3-month prepay subscription is $120, 6-month prepay is $240, and the 12-month prepay is $400.