Terra's Kitchen Review
Deliciousness - 96%
Pricing - 90%
Easy To Prepare - 98%
Variety - 93%
Food Allergen Options - 98%
Terra's Kitchen is a great addition to your weekly cooking routine whether this is your first meal kit service, or you are trying all of them to see which one is the best. Though the pricing was a little higher than normal, they are not the most expensive kit, and the meals delivered were decent sized portions. You don't get the same exotic ingredients as with other meal kits that push the boundaries of what you can do in the kitchen, but these simple recipes are easy to pull off no matter what your skill level is.
Food Allergen Options? Yes

keto, gluten free, paleo, pescatarian, vegetarian, vegan, low carb, lean & green, low calorie, "clean eating", paleo

Cost Per Meal: $26-30 (including shipping)
Wine Option? No
Additional food option? Yes
---
BIG UPDATE: Terra's Kitchen now only offers prepared meals, meaning their "meal kits" have been temporarily discontinued. So you can still buy healthy meals from them, but they will not be the typical "blue apron style" meal kit where you have to do a bunch of prep work.
---
I've been wanting to try Terra's Kitchen for a while now. They are one of the longer-lasting meal kit services out there, and though they are not as famous as Blue Apron or Hello Fresh, Terra's Kitchen has been reliably delivering healthy, tasty meals across the US for some time.
Terra's kitchen has some unique qualities that could really make this particular meal kit delivery brand the one for you. There really are a lot to choose from, so let's dig into my review of Terra's Kitchen and find out if this is where you should spend your money!
Ordering Terra's Kitchen
Once I created my account, I noticed very quickly that there's a lot more selection at Terra's Kitchen than other meal kit services. There are at least 5o different meals available at the time that I'm writing this. Wow!
Plus, it's a huge selection of not only dinners, but breakfast, snacks, and general grocery items like chicken, shrimp, red meat, fruit, boiled eggs, drinks, and a couple desserts.
It's really like shopping at a tiny online grocery store with a dinner menu built in.
When you order, you fill up a "box". It's literally the box that comes in the mail, so they are not kidding when they set a limit to the number of items you can order (more on that in the shipping section below).
I was able to order four dinners, plus some shrimp and bacon. My total was about $120, so with the four meals (two servings per meal), I ended up paying about $30 per meal.
The cool thing is that each meal is individually priced on their website, so you can see that a chicken salad style meal (for two people) will cost you about $26, while wagyu beef will cost you $35.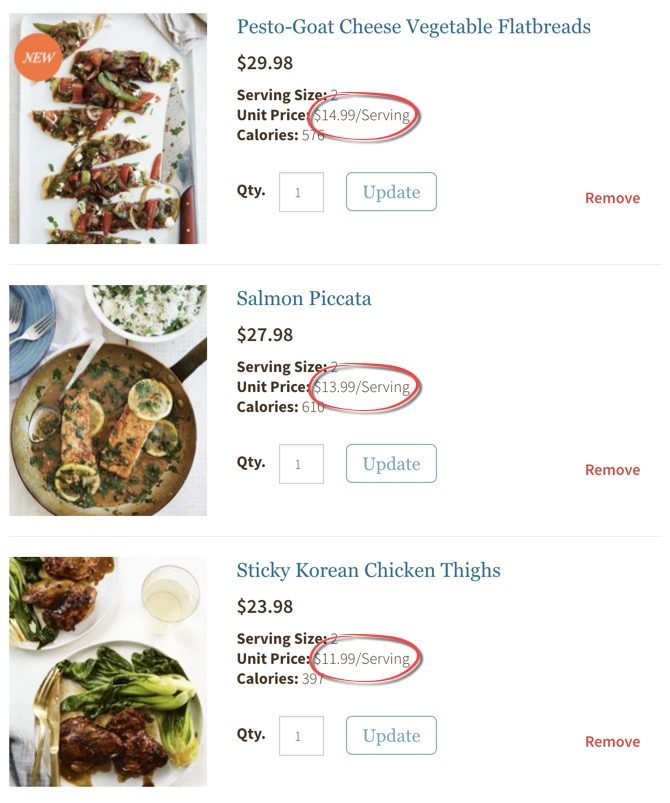 $25-$30 per meal is a little pricey, but the portions were big, and when I supplemented with some extra protein (I'm on the keto diet), it was more than enough for two adults. This price point is on part with another of my favorite meal kits, Sun Basket, but still way more expensive than something like Dinnerly or Hello Fresh.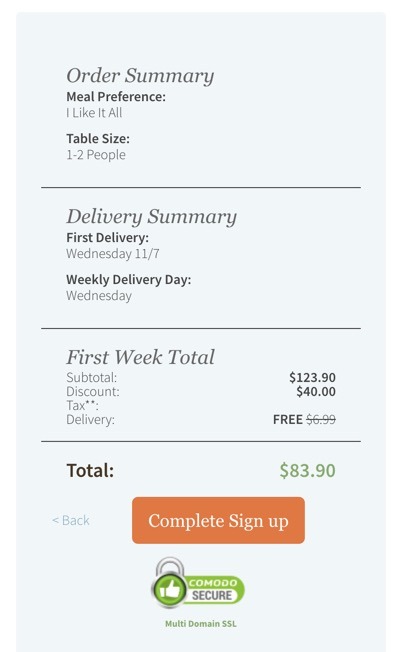 Once I filled my box, the order shipped and came the next week. Simple!
I should also add that picking your specific eating style is super easy with Terra's Kitchen. They accommodate for keto, gluten free, paleo, pescatarian, vegetarian, vegan, low carb, lean & green, low calorie, "clean eating", and paleo diets.
Of course, if you limit yourself to something like vegan options, then you won't have as many meals to choose from, but when I selected Keto, I still had over 20 meals to choose from (vegan had 3). Choosing your eating style can be done with the filter toggle shown here.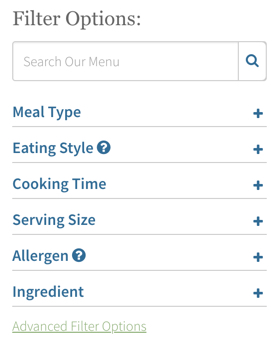 I read somewhere that they do not change the meals each week, but from what I could see, this was not the case. After checking their menu for the current week, I can see none of my previous dinner options available, and there are many new ones.
The grocery selection does not seem to change though, and they still feature items like overnight oats, applewood bacon, prepackaged snacks, and raw meats.
Shipping & Packaging from Terra's Kitchen
Here's another unique aspect to Terra's Kitchen – the packaging! I'm a lazy eco-friendly person. I recycle when I can, but otherwise I'm just don't make a huge effort. Sorry!
I really Terra's kitchen makes it easy to be eco-friendly though. Their delivery box is a (100x) recyclable plastic container that arrives in the mail. It's beat to hell, but it works. The outside looks pretty rough but inside was still in good shape and appeared to be sanitary as far as I could see.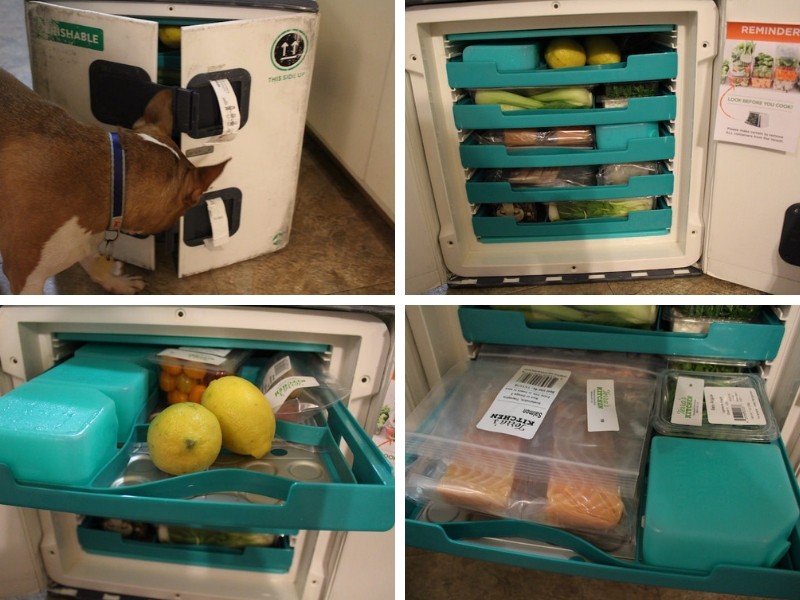 I like this method for two reasons.
One, it reduces the amount of unnecessary garbage in the postal system. Amazon Prime must be the #1 criminal when it comes to packaging waste. Every reusable box is 100 fewer cardboard boxes that end up in the garbage.
Even better, they don't guilt trip me into taking action, or make extra work for me to recycle properly
Two, it reduces the amount of garbage I have to throw away. In our house, we do a lot of online shopping, and also order a lot of meal kits. We need a designated "empty box" area of the house, and then cut up boxes once a month. It's a huge pain.
With this box I just peel off the label and stick the box in front of my house. Done! Terra's Kitchen box and delivery method really surprised me by making it easy to be eco-friendly!
Cooking with Terra's Kitchen
On all fronts in the kitchen, this meal kit was a winner. Terra's Kitchen delivered easy-to-make meals, that were filling, unique, and best of all tasty.
Meal #1: Salmon Piccata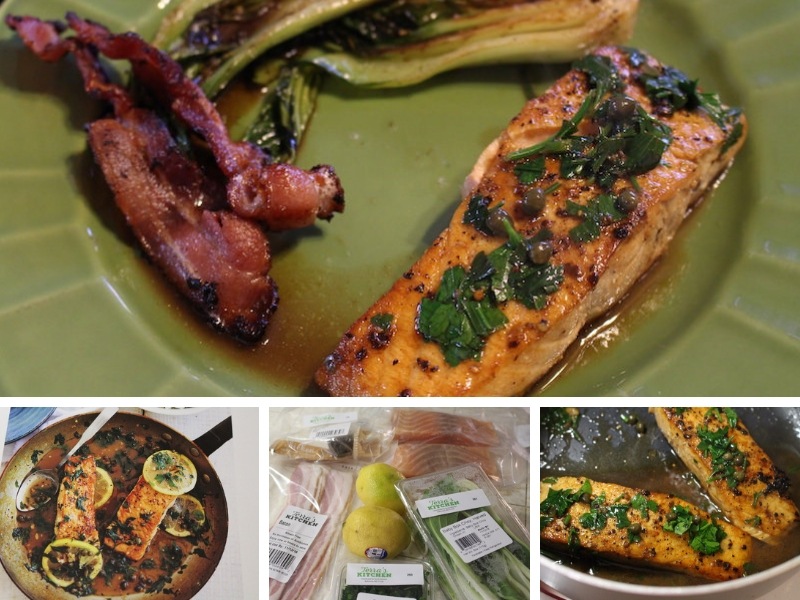 Salmon is one of my favorite meals to make, so the Salmon Picatta was a no-brainer to get. It was basically just salmon though, and I need more food than that. This meal I supplemented with bacon (also from Terra's Kitchen), and some of the bok choi from meal #2 below. Perfect!
The flavor of this meal was great, and a new way to cook salmon for me.
Meal #2: Sticky Korean Chicken Thighs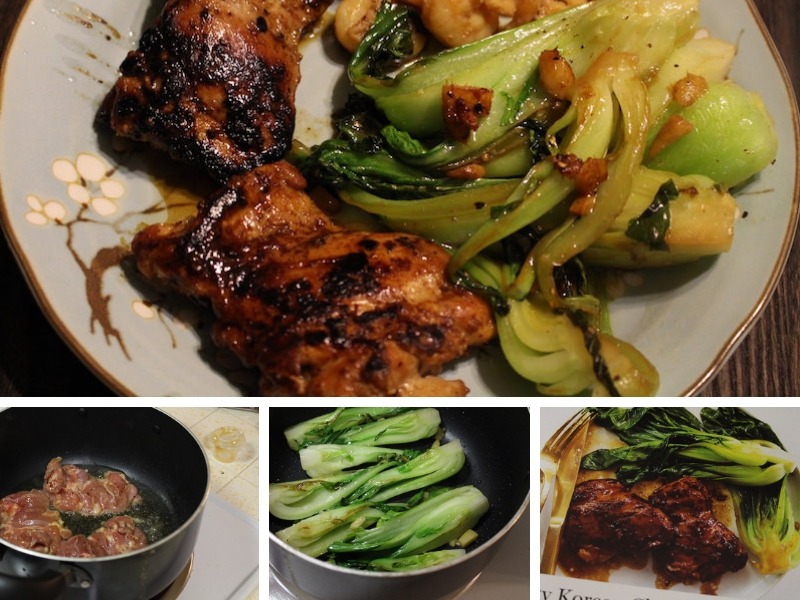 I love Korean food, so was excited to try out this meal. It was my #1 favorite of the bunch. The chicken had a nice blend of sweet, savory, and spicy. You can't beat meat and veggies for dinner.
Oh, and I added some shrimp, also purchased through Terra's Kitchen, to add some extra protein.
Meal #3: Pesto-Goat Cheese Vegetable Flatbreads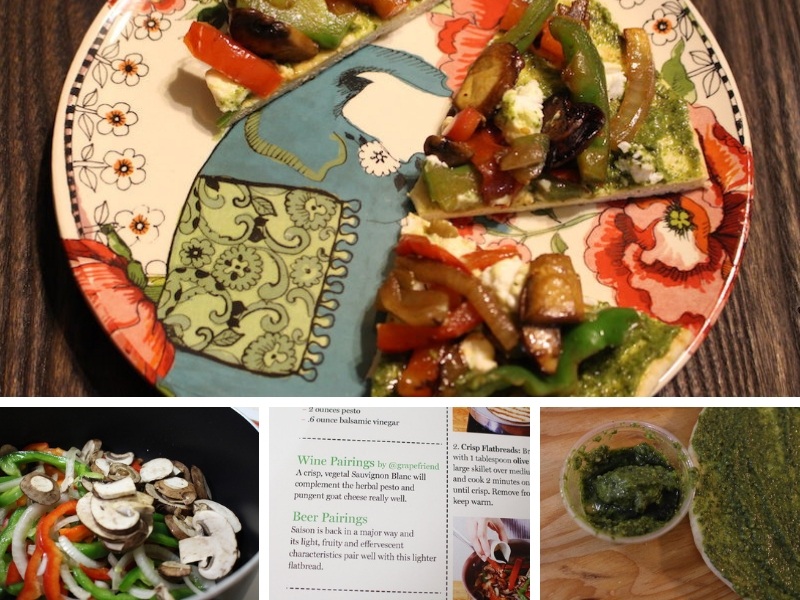 I decided to try a non-keto meal to get a well rounded review. Yes, it was delicious! Super simple to make, though in my opinion, it sucks to pay so much for what's essentially vegetables. I could have probably made this for 1/3 the price at home, and even cheaper if I skipped the flatbread part, which I didn't want anyway.
Canceling Terra's Kitchen
Canceling Terra's Kitchen was difficult. According to their public support page, there should be green lettering that says "cancel subscription". Well, it's not there anymore. There also seems to be no obvious way to cancel after searching in Google, so I guess I'll try their customer care team at customercare@tk.co
It's never fun to have to search around to cancel. Please make it more obvious guys.
Edit: They responded to my request to cancel email within 5 minutes, so it wasn't that bad.
Comparing Terra's Kitchen To Other Meal Kit Services
Terra's Kitchen is quite unique in the world of meal kit services, but there are lots of great meal kits out there to try.
My personal favorites are Sun Basket and Plated, though they tend to be on the expensive side (not more expensive than TK though!).
In terms of allergen options, or diet options, TK is one of the most diverse options out there. Sun Basket has quite a few options though, as does Green Chef. If you want to really get cooking, PlateJoy combines specific diet plans (Paleo, Keto, diabetic, weight loss). They don't have recipe cards, but they do have an app you can cook with, and work with Instacart to get your groceries delivered. Very cool system!
Then of course, Blue Apron is a stalwart choice, with an option for a wine club with pairing notes.
Final Review
Is Terra's Kitchen worth your time? Yes. It's a great meal kit service to try, no matter what style of eating you do. It's an easy meal kit to recommend because there are so many options to tweak.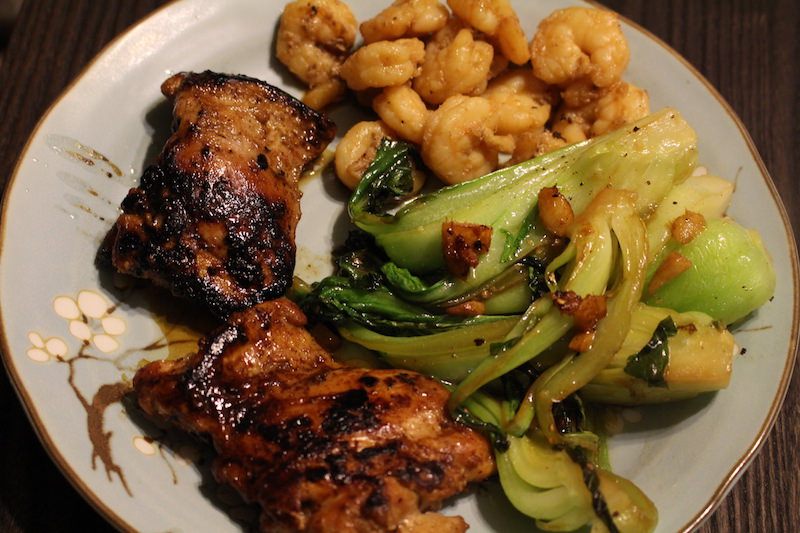 You can change the diet plan, the meal size, and the number of kits you get each week. You can even do as I did, and supplement the meals with extra items in your box, or just get one meal kit and then a bunch of fun items to mix up your schedule. There's something for everyone, so I highly recommend it!