Cooking for yourself on a 'special diet' takes some getting used to. At the beginning, finding alternatives to your usual foods, and then learning to prepare them, can be tricky.
But at least you're in control of what you're eating, how good it is, and whether it fits in entirely with your diet. Eating out, however, is an entirely different ball game – no matter how long you've been at it!
The paleo eater has a whole host of challenges to contend with; they're dealing with a limited choice of restaurants, choosing from a restricted menu, and gambling on their waiter and chef both understanding and caring about their requirements.
All of this with no guarantee that they'll end up with a tasty and paleo-friendly meal. Hardly makes for an enticing night out, does it? Well, don't give up hope just yet, because is possible to eat paleo and eat out at the same time. Here's your complete guide to eating out on a paleo diet, from which menu options to avoid, to how to deal with wrong orders.
Choose The Right Restaurant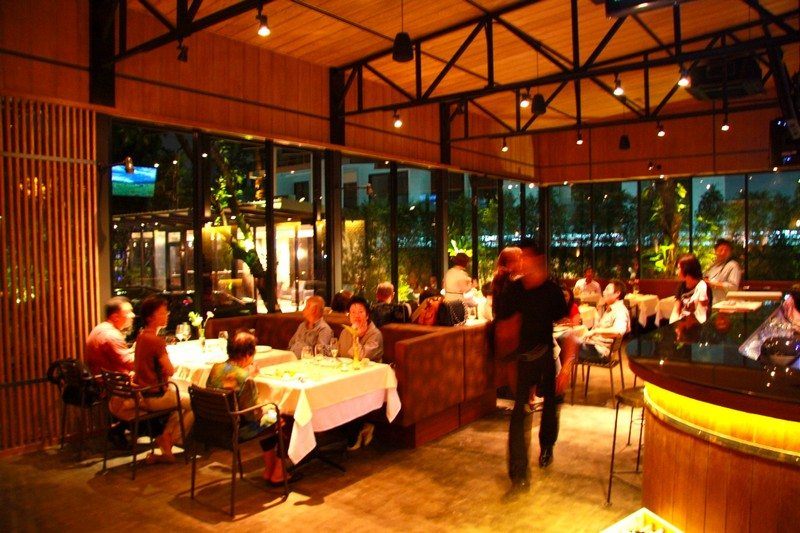 When you have the choice – and of course, you don't always – you might as well make life easier on yourself by visiting restaurants that naturally lend themselves to the paleo diet. Seafood restaurants often make use of fresh, simple ingredients, so a dish of flavorsome fish and beautifully seasoned vegetables should be easy enough to get hold of.
Steakhouses are similar to this; just be sure to order a real steak with vegetables, rather than being tempted by a hamburger or any non-paleo sides, like fries or peppercorn sauce.
Mexican restaurants aren't bad either; go for fajitas and pass on the tortillas, leaving you with a plateful of deliciously flavored meat and veggies.
If you can resist the temptation of rice and naans, Indian food can work really well; order your curry of choice and accompany it with a vegetable side dish, such as a mushroom bhaji.
Chinese and Thai eateries can be really tricky, what with MSG, soy sauce, and rice/noodles at every turn. If you're choosing where you're eating, you might want to avoid Italians and pizzerias. Though there may be a meat and veg meal that can be cooked off menu for you, most dishes will be comprised mainly of cheese and wheat.
Ask The Right Questions

Many meals will answer most of your questions in their descriptions. When ordering steak, for example, you only need to check that it's grilled, or cooked in a paleo-friendly oil, and perhaps ask to swap out fries for vegetables.
Unless it comes with a sauce, you probably won't feel the need to check whether it contains gluten or dairy. But nine times out of ten, you'll have at least one doubt about what you're eating, or a substitution you need to make. Keep in mind the below questions, and you should be well-covered.
Does X have gluten or dairy in it?
Please could I swap out the potatoes/rice that come with X and have extra veggies instead?
Is there any added sugar in this dressing/sauce?
Could I have X without the dressing/sauce?
Could I have some olive oil and a lemon wedge instead of salad dressing?
Could I have X burger without the bun?
May I ask what you cook with? Please could my meal be cooked in butter/olive oil/lard/coconut oil?
If you're feeling cheeky, you can ask for alternatives for all kinds of things, such as egg instead of cheese on your (bun-less) burger. Remember, there's no harm in asking and the chef can only say no!
And always, always be specific. Don't assume that your server and chef will know exactly what it is that you want instead of the ingredients you're asking them to avoid. Explain any differences in your menu choice in detail to make it as easy as possible for the restaurant to get right.
Order The Right Foods

The more paleo-friendly your order, the fewer questions you have to ask and foods you need to substitute.
Have A Good Back-Up Plan

Of course, none of the above choices are failsafe, so if you find yourself stuck for something to order from the menu, here are some go-to paleo meals that most good restaurants will be happy to rustle up for you:
Grilled chicken or fish salad, with olive oil and lemon juice for dressing
Chicken and vegetable stir-fry, cooked in butter, olive oil, or coconut oil
Omelette, cooked in butter, with added peppers, tomatoes, onions, or mushroom, with a side salad
Steak, grilled, or fried in butter, with steamed vegetables or a side salad
Grilled fish, with steamed veggies and a lemon wedge
Remember to ask for your food to be cooked in a paleo-friendly oil!
Deal With Wrong Orders Politely

Even with the best of intentions, chefs and servers are only human. They sometimes get it wrong. And when they do, it's no big deal. Or at least, don't treat it like one. The best way to get what you want is to be polite and friendly.
Simply call over your waiter or waitress, explain the issue, and be specific about what you require instead. Most good servers will address your issue with the chef on your behalf, and if they refuse, simply ask calmly for a manager. Friendly and understanding wins the day.
A few last tips…
Eating out on a paleo diet is often hard. But by following the advice above, you can make things a little easier on yourself. Just remember…
Assert yourself: you're paying for good food and good service, so don't be afraid to ask for what you want
Be polite: manners cost nothing and will get you everything
Have a sense of humor: make friends with your server and have a giggle over your different requirements
Be specific: explain your needs clearly and exactly
And above all else? Have fun, and enjoy your food! If you have any tips or experiences you want to share with others starting the Paleo diet or having trouble getting the food they want eating outside their home, please share in the comment section below!
And for those of us that don't want to mess with the hassle of dealing with dining out paleo, you can cook paleo at home. There's nothing wrong with still going out with friends though. Stay social! Bring your own paleo snacks, and just enjoy the company.