Fried food is a common obsession and with good reason. Unfortunately, it is also a fairly unhealthy approach to eating, especially for people who enjoy fried food on a regular basis. This is where air frying comes in, and this list of the best air frying cookbooks. The process is a popular alternative, where you are using hot air to fry food, rather than dunking your food in a bath of oil.
By doing so, you're dramatically reducing the oil you use and making food healthier overall.
Needless to say, the taste and texture of food made with air frying is never going to be exactly the same as with deep frying, but, this is where good air frying cookbooks and recipes come in. If you have the right information at hand, you can create amazing air fried dishes that may even taste better than deep fried alternatives.
At the same time, air frying can be used to cook other types of meals, including many that really are worth trying.
With that in mind, we're using this post to highlight the best choices for air frying cookbooks. These come from a range of different authors, recipes styles, and skill levels. Which one will fit best in your kitchen?
Air Frying Cookbooks
Every Day Easy Air Fryer
Air Fry Everything
Air Fryer Cookbook For Beginners
Air Fryer Cookbook: In the Kitchen
My Philips Airfryer Cookbook
Air Fryer Cookbook
The Air Fryer Cookbook
300 Air Fryer Recipes
My GoWISE USA Air Fryer Cookbook
The Complete Air Fryer Cookbook
365 Days of Air Fryer Recipes
Air Fryer Cookbook
Top Pick
Best Air Fryer Cookbooks
Every Day Easy Air Fryer

From blogger to recipe book writer, Urvashi Pitre has a number of popular recipe books available on Amazon. In fact, Every Day Easy Air Fryer currently has a near perfect rating!
This is a great cookbook for those that want to get outside of the "french fries and fried chicken" mentality when using the air fryer.
Oddly enough, this is the main criticism of this book – that the spices and ingredients are too weird for some readers. However, that's my favorite part!
The beautiful photos and unique recipes are why I rank this book #1.
= = > Get Every Day Easy Air Fryer
Air Fry Everything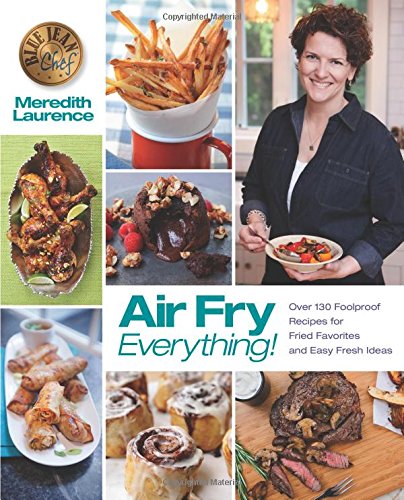 Air Fry Everything offers an interesting combination of recipes, which should appeal to a wide audience. In particular, the author focuses on providing some options that mimic conventional fried food, along with other dishes that are completely different. This also includes some recipes that aren't fried at all, such as steak and chocolate cake.
There is also general advice provided about using an air fryer, something that many other cookbooks gloss over. For example, the author offers information about ways to cook frozen foods with an air fryer and approaches to get the best overall outcomes from air frying. As a result, the cookbook is one of the best air frying guides out there and a perfect place to get started.
The photos are simply amazing, and the recipes are fun as well as unique. For me, I love getting cookbooks that branch out beyond the typical foods so I can learn something new about cooking and amaze myself as well as my friends.
However, the difficult of the recipes were an issue for some reviewers. If you want to stick to the basics, check out the next book below (specifically for beginners!)
= = > Get Air Fry Everything Here!
Air Fryer Cookbook For Beginners
-image not available
Another book with shockingly good reviews on Amazon, Air Fryer Cookbook for beginners hits a very different audience from my #1 choice. It's so popular because this air fryer cookbook focuses on beginner recipes.
A recurring complaint for many of the top cookbooks is that the recipes were simply too unique. I mean, do we really need to "explore the world" every night of the week? I just want to fry up some meat and potatoes.
And there's nothing wrong with that.
With hundreds of positive reviews, it's hard to deny that this is a good choice for first time users of air fryers who just want to master the basics.
The main issue with this book is that there is some confusion about the photos. The current Amazon listing (this book is not available anywhere else) says that you can choose between black and white or color photos with the paperback. However, that option does not seem to actually be available, so it's not clear which version you get.
Compared to my other Top 2 picks, it's clear that the low-quality photos are a downside to buying this book.
= => Get The Air Fryer Cookbook For Beginners
Air Fryer Cookbook: In the Kitchen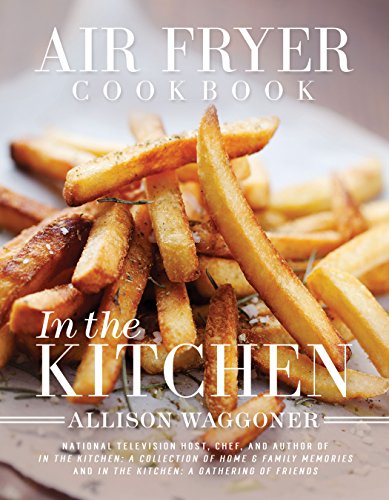 This is a relatively thin cookbook but it does still pack a punch in terms of the recipes that it offers. One interesting aspect is that the many of the recipes make use of the air fryer more as a type of convection oven, rather than an as fryer per se. Such an approach does let you get more versatility out of the air fryer, although the idea probably won't suit everybody.
The idea is common across many of the other cookbooks on this list and you'll typically find some recipes for fried foods, along with other approaches. This isn't a bad thing though and it does make the air fryer more useful overall.
= = > Get Air Fryer Cookbook: In the Kitchen Here!
My Philips Airfryer Cookbook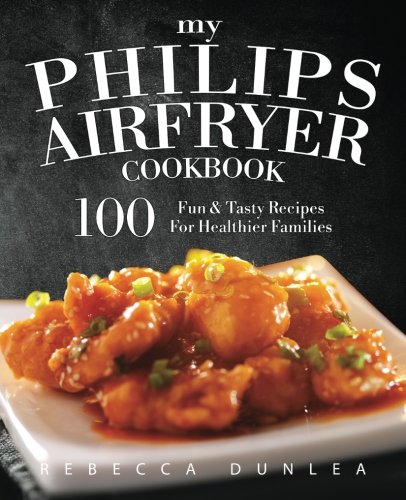 This particular cookbook is one of the simpler options out there. A key aspect of this is that the book doesn't contain pictures of the food you make, which is extremely unappealing to some people. Nevertheless, even with this limitation, the recipes here are still effective and the book ends up being an interesting option.
Despite the title, the recipes in this cookbook aren't specific to a Philips air fryer at all. Instead, you could use them with any brand and the instructions would work just fine.
= = > Get My Philips Airfryer Cookbook Here!
Air Fryer Cookbook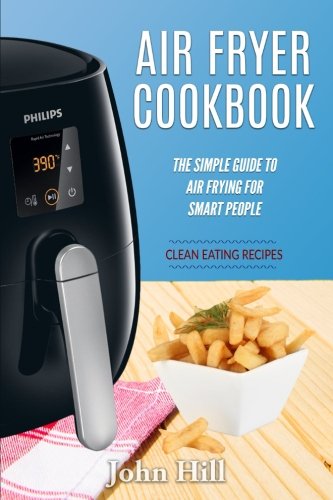 Like many of the air fryer cookbooks we found, this is a fairly short and sweet option. It offers a basic introduction into air fryers and the different models, and then provides a selection of recipes broken down into categories like breakfast and dinner. In total, there are around 75 recipes and there are no images.
That pattern isn't the most appealing but it is surprisingly common across air fryer cookbooks. As a result, the book itself is best suited for those who are looking for basic ideas that they can then develop and expand upon. Plus, even though the cookbook may not seem amazing, there are still some good recipes provided, many of which are healthy and taste delicious.
= = > Get Air Fryer Cookbook Here!
The Air Fryer Cookbook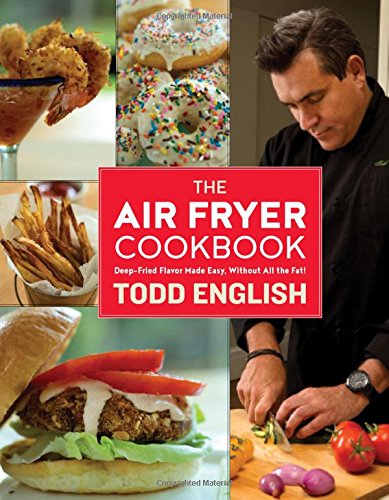 This cookbook is a great example of a book that balances recipes and images well. As a result, the book is easy to read and you get to see what many of the recipes look like before you try them. There are also around 70 recipes on offer for various dishes, along with an additional 15 or so for sauces. While that isn't an extensive amount, it should be more than enough for most people to find some recipes that they like.
On a side note, this cookbook is specifically designed for the Todd English Air Fryer (which is hardly surprising, given he is the author of the book). This approach creates some issues because that brand of air fryer has more adjustment options than alternatives like Phillips. With that in mind, some of the recipes in this cookbook cannot be easily made in other types of air fryer.
= = > Get The Air Fryer Cookbook Here!
300 Air Fryer Recipes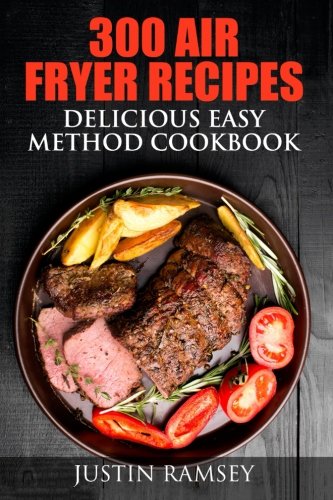 The key advantage of this cookbook is the number of recipes. Most air fryer cookbooks out there offer around 100 recipes or a little under. But here you've got 300 different options, which is a considerable improvement. The recipes also cover a wide variety of styles, including variations on Asian dishes, along with many Western options.
Now, as you may be able to guess, the quality of the recipes varies and some are certainly better than others. Likewise, the book is devoid of images and is somewhat difficult to navigate. The end result is that this is a good book if you just want more recipes to guide or inspire you. However, if you're looking for a go-to air fryer resource, there are better options out there.
= = > Get 300 Air Fryer Recipes Here!
My GoWISE USA Air Fryer Cookbook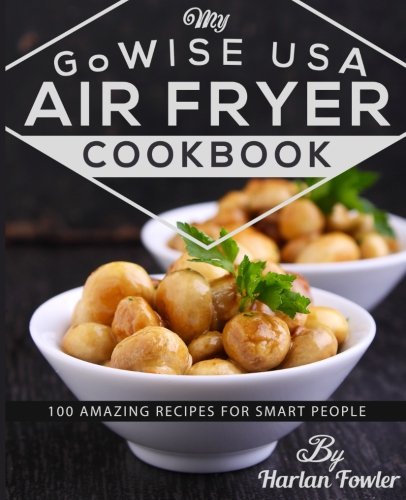 Branded air fryer cookbooks seem to be a common theme, so here is the one for GoWISE USA. As with other branded examples, the recipes here will work with other types of air fryer as well, although some of the temperature settings may be a little bit different.
As for the book itself, this is another relatively simple option. The book includes a basic introduction to air frying, along with a bit of a sales pitch for GoWISE USA models (which seems kind of pointless really). There are some images in the book itself but not many and these seem to be black and white in the printed version.
Nevertheless, the quality of the recipes is what really counts and these are good overall. The directions are also easy to follow, even if you're new to using an air fryer.
= = > Get My GoWISE USA Air Fryer Cookbook Here!
The Complete Air Fryer Cookbook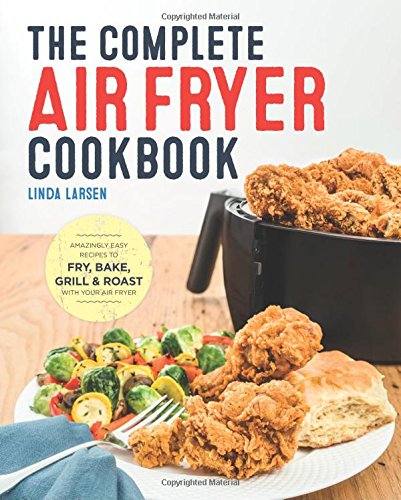 Suggesting that any cookbook is a complete guide is asking for trouble but this one does do a relatively good job at living up to the title. The main reason for this is simply that the book contains useful information about the basics of using an air fryer, along with a discussion on how you can cook two recipes at the same time.
The cookbook offers a total of around 100 recipes, so it is fairly similar to the other options in that sense. Nevertheless, there is a good variety within the recipes provided, including multiple styles of food. One other thing to note, which is less appealing, is that the image on the cover is slightly misleading. In particular, you can make fried chicken like that in the air fryer but this particular book doesn't contain any recipes to do so.
= = > Get The Complete Air Fryer Cookbook Here!
365 Days of Air Fryer Recipes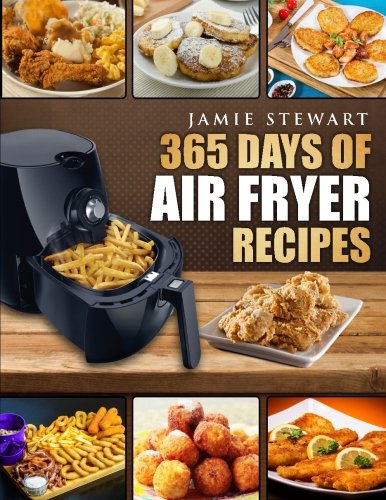 This cookbook is a somewhat controversial one because of its overall design. For one thing, like many of the other options, there are no images of the recipes in the physical version. However, the book does offer instructions for downloading a PDF file that contains them. To make matters worse, the organization of the recipes leaves much to be desired, as the recipes are in broad categories with little structure within those categories.
So, why recommend it at all? Well, like many of the other cookbooks on this list, the actual recipes provided are useful. At the same time, the Kindle edition is inexpensive and the physical version isn't horribly priced either. As a result, even with the formatting challenges, this book could be worth picking up simply for the recipes and the inspiration that they provide.
= = > Get 365 Days of Air Fryer Recipes Here!
Top Pick
Even though this list highlights the best air frying cookbooks, most of the ones that we found were fairly disappointing. In fact, many of the books were more like booklets and often contained no images and poor formatting.
Still, there were a couple of options that stood out from the rest and the best of these was Air Fry Everything by Meredith Laurence. This cookbook offers has around 130 different recipes, which cover a range of styles and meals. The book is also better designed and easier to navigate than most, while actually looking attractive as well.
The variety of recipes provided here also works exceptionally well. Realistically, this is one of the few choices for an air fryer that actually resembles a conventional cookbook and it is a great overall choice.