Looking to try your hand at sous vide with a water oven? This is one of the most trendy pieces of equipment for serious food nerds. If you haven't been exposed to this technology, the premise is pretty straightforward. Sealed bags (or in some cases glass containers) of food and seasonings are immersed in water to be cooked at precisely the right temperature for a specific time resulting in juicy, tender, and wonderfully moist meals.
Sous vide is French for "under vacuum," which is really just half of the process. These devices consistently heat the water inside for a set time in order to create the perfect environment for cooking things like pudding, custard, eggs any way, medium rare steaks, fish, and just about anything you can imagine.
Most water ovens use the process of thermal convection to heat the water thoroughly and hold it at the desired specific temperature until you are ready to remove and serve your food. Unlike an immersion circulator, which needs to circulate the water in order to hold set temperatures, many water ovens do not need to agitate the water for proper temperature maintenance. This leads to a quieter machine, which can be beneficial with longer cooking times for something such as a full rack of ribs.
Some of the more affordable water ovens, however, use the exact same technology as an immersion circulator to keep water temperature consistent. Preference for an all-in-one water vessel and heater (water oven) or just the temperature circulation in any vessel (immersion circulator) is the main difference when it comes to the right choice for you.
It would be possible to cook in this method without the aid of a device, but this opens up risks for food safety if temperatures are not kept, leading to illness from spoilage. The assistance of a device like a water oven, immersion circulator, or a combi-oven gives the user the assurance that their recipe will cook at the appropriate temperature to ensure done-ness and safety, with minimal manual steps.
All it takes to cook sous vide is a sealed plastic bag such as a gallon sized freezer Ziploc (pros often use vacuum sealers, which is a great accessory to this style of cooking and food storage as well). The bag is filled with whatever seasonings, oils, and ingredients the recipe calls for noting that many sous vide recipes call for less oil and seasonings since it is not at risk of losing moisture.
Simply fill the chamber with enough water to cover the bags in a water oven and secure them using the included (in most water ovens) rack so that they will stay put and completely submerged in water. Set the time and temperature (there are many online cookbooks and time/temperature recommendations available for free) and wait for the delicious results.
It really is this easy to have the kind of professional results when it comes to cooking. You can be a successful home cook using sous vide to make medium rare steaks, moist fish, and tasty vegetables that are consistently good every time. The only limitation is what you decide to make! The following is our recommended sous vide water ovens that are within the mid-range prices. If you are looking to spend a bit more on a deluxe machine, check out our list of premium water ovens.
1. VonShef 8 Quart Premium Sous Vide Water Oven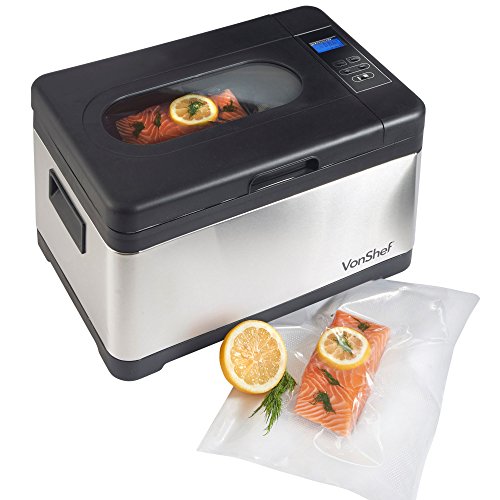 Brand: VonShef

Model Number: 13/104

Dimensions: 15 x 10 x 9 inches

Volume: 8 Liters (8.4 Quarts)

Temperature Range: 210°F/99°C maximum temperature and 32°F/0°C minimum temperature
This water oven is made for easy sous vide cooking and holds up to 6 sealed pouches of food, which despite not being the largest on the market, is perfect for a small dinner party. It has a viewing window in case the user gets curious about the progress of the meal. There are four slots that hold the sealed plastic pouches of food in place during cooking so they maintain even temperature throughout and don't float to the top of the water.
It has a very reliable temperature maintenance that stays within the chosen set temperature at around .5°C or 1°F. This ensures that you get the results you want, such as a medium rare piece of steak. This water oven actually utilizes the same technology as an immersion circulator, so that the water stays the same temperature from circulation instead of thermal conduction. It also has a LCD control panel for easy adjustment of time and temperature.
A downside is the smaller size, but this is typically the case for sous vide water ovens in this price range. It is a great device for smaller families, as it typically can make four portions at a time.
2. Gourmia 10-Quart Sous Vide Water Oven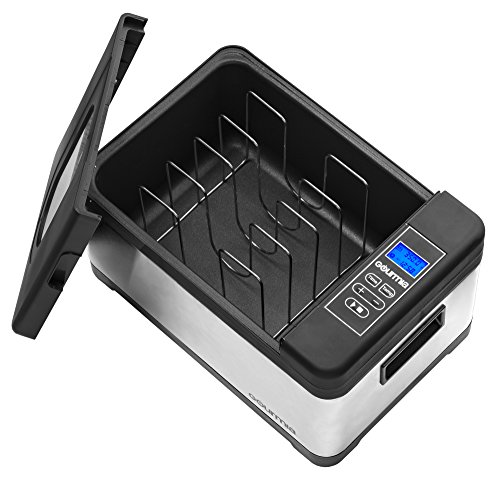 Brand: Gourmia

Model Number: GSV-900

Dimensions: 10 x 15 x 8.8 inches

Volume: 9.4 Liters (10 Quarts)

Temperature Range: 212°F/100°C maximum temperature and 32°F/0°C minimum temperature
If you are looking for a larger model at an affordable price, the Gourmia 10 quart sous vide water oven is a superb choice. There is enough space to make 12 individual sealed pouches of food, which is double the capacity of the first water oven on this list. It could easily accommodate a larger bag as well to cook something like prime rib.
You can set custom temperature presets with the easy read display and auto settings. It is also cool to the touch, so there's no risk of burning your hands on the exterior as your meal is cooking. Be sure to use the minimum (or more) amount of water required, or it can be quite loud during the circulation process due to lower water levels.
The one limitation with this product is that it is currently temporarily out of stock on amazon. It should be back on the market soon, as it is still listed as available on the manufacturer's website.
3. Gourmia 9 Quart Sous Vide Water Oven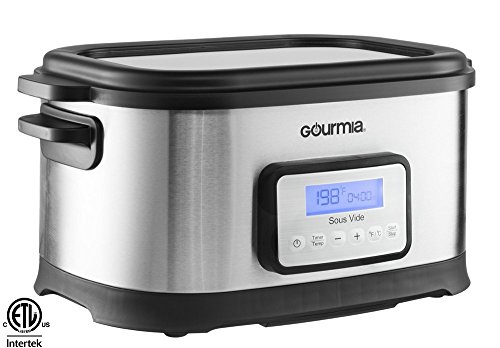 Brand: Gourmia

Model Number: GSV-550

Dimensions: Not given

Volume: 8.5 Liters (9 Quarts)

Temperature Range: 194°F/90°C maximum temperature and 113°F/45°C minimum temperature
This water oven does not utilize a pump like the other two in this list, so it is a bit quieter during operation. It has a timer with a count down, which makes for simple sous vide cooking. It also has a digital display with large, easy to use controls. The compact size makes it a great choice for those looking to limit the use of their counter space.
Similar to the previous water oven, the Gourmia 9 quart is a fairly high quality machine with an attractive price. There is the difference in size, but it is not very significant. A main difference between it and the 10 quart is the temperature range.
It only can be set for temperatures between 113-194°F, which will limit the type of recipes you can prepare that require temperatures outside of this range. However, it does have the advantage of being a bit more compact than the other and it is also currently available from Amazon.
Top Pick
Our clear favorite sous vide water oven in the inexpensive category is the Gourmia 10-Quart Sous Vide Water Oven. Though the smaller and larger model are both great buys, we recommend the 10 quart version. Why? Some buyers have mentioned that with the placement of the heating element at the bottom, and no water circulation, some types of foods may overcook due to placement in the oven. This can be solved by placing a small rack at the bottom of the oven, but then cooking larger items like roasts become difficult.
Having a larger version allows helps prevent this potential issue. Plus, you never know when you may have a guest over that you want to show off your new device's cooking capabilities to! True, it's abit extra for the large sizebut these machines are built to last. This is not something you'll need to replace every year. So the extra money, spread out over the next decade, won't seem like much in the long run.
Hey, don't forget! We've also reviewed another 4 premium sous vide water ovens that are worth checking out if you want to see some higher end brands and models.