For some, a gluten free diet is a necessary approach because of celiac disease, while for others it offers a healthy approach to eating, one that may even reduce the risk of some diseases. But, regardless of why you follow it, a gluten free diet doesn't have to mean you miss out.
Instead, the right recipes can allow you to cook your own versions of most of your favorite meals and desserts. For that matter, many of the gluten free recipes out there actually taste better than their conventional counterparts anyway. Likewise, there are other recipes out there that are completely unique and these can also be great options for dessert.
With this post, we've diving into the topic of gluten free desserts and looking at the best cookbooks in this field. As is always the case, the various options range in style and in quality, with some also intersecting with other diets, like vegan and raw food. So, some of these cookbooks may suit your needs better than others.
There is also no shortage of different options in this area – although our list focuses on the best ones. Additionally, the information provided for each cookbook will help you determine what they have to offer. This should make it easier to decide which books are best suited for your own needs.
Gluten Free Desserts Cookbooks
Sweet Cravings
Blackbird Bakery Gluten-Free
Rawsome Vegan Baking
The Paleo Chocolate Lovers' Cookbook
The Gluten-Free Gourmet Makes Dessert
Gluten-Free Classic Snacks
Artisanal Gluten-Free Cupcakes
Gluten-Free Desserts
The Healthy Chocoholic
Crave Gluten Free Cookbook
Let Us All Eat Cake
Easy Gluten-Free Baking
Flourless
BabyCakes Covers the Classics
My Paleo Patisserie
Decadent Gluten-Free Vegan Baking
Gluten-Free Cupcakes
The Allergen-Free Baker's Handbook
Alternative Baker
The Joy of Gluten-Free, Sugar-Free Baking
Gluten-Free Baking Classics
The Cake Mix Doctor Bakes Gluten-Free
Pure Artistry
Clean Cakes
Gluten-Free Cookies
Paleo Sweets and Treats
Dairy-Free Ice Cream
Sweet Eats for All
Bare Root Sweets
Baked Doughnuts for Everyone
Naturally Sweet & Gluten Free
Top Pick
Sweet Cravings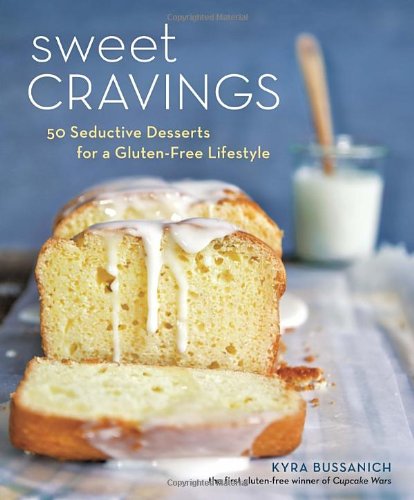 With 50 recipes, Sweet Cravings may seem like a relatively short cookbook but it is also a powerful one. The author has a strong focus on making gluten free desserts taste as good as regular alternatives and she has clearly been successful on that front. Indeed, she was a participant in Cupcake Wars on the Food Network and was the first gluten free baker to win that competition.
Beyond the reputation of the author, there are also some attractive things about the cookbook itself. For one thing, the book is strongly visual, with many images food and ingredients. There is also significant information about the concepts of gluten free cooking and the specific ingredients that can be used. Finally, the author does give a difficultly rating for recipes. So, you can know ahead of time what you can expect from a given recipe.
= = > Get Sweet Cravings Here!
Blackbird Bakery Gluten-Free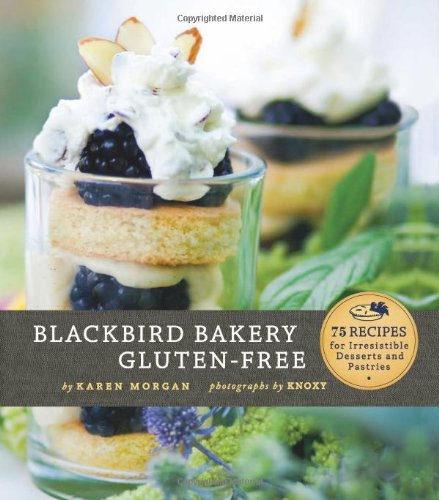 This particular cookbook is a little different than most because the emphasis is on baking, not on desserts specifically. However, desserts make up a key component of this baking cookbook, along with many others, which is why the book is included on the list. In this case, there are 75 different recipes on offer, most of which are desserts. For example, there are recipes for cakes, custards, ice cream, tarts and cookies.
The book itself is beautiful, with no shortage of high-quality images and great formatting overall. Many of the recipes would also work well for beginners, as most of the ingredients are easily obtained from grocery stores.
= = > Get Blackbird Bakery Gluten-Free Here!
Rawsome Vegan Baking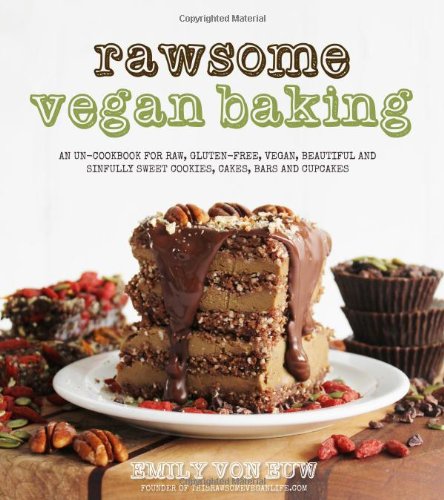 Despite the name, this isn't a baking cookbook. Instead, it offers recipes for the raw food diet. So, you're making desserts that are similar to traditional baking but aren't actually made that way at all. While the emphasis here is on raw and vegan diets, the resulting dishes are also gluten free.
Now, this overall style is one that some people love and others hate. In particular, you would probably enjoy the recipes if you're interested in the idea of raw food or don't want to actually cook. However, other people may not enjoy the dishes as much. More than anything though, it may simply be a matter of giving the style a try. After all, you do end up with very different results than you would with actual gluten free baking.
= = > Get Rawsome Vegan Baking Here!
The Paleo Chocolate Lovers' Cookbook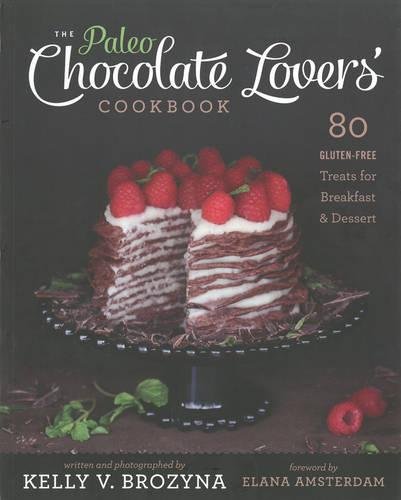 Paleo cookbooks act as a good resource for gluten free cooking because of the overlap between the two approaches. Basically, the restrictions of paleo mean that any paleo dish will also be gluten free (although the reverse certainly isn't true). Consequently, books like this one offer powerful recipes for anybody looking for gluten free or paleo desserts.
Unlike many of the other cookbooks on this list, the author also focuses on keeping sugar alternatives to a minimum. So, there is no refined sugar added and relatively little honey or coconut sugar. Instead, dates and stevia are relied on. That choice may not work for everybody, of course. But, if you like that style, the book could be a good choice for you.
= = > Get The Paleo Chocolate Lovers' Cookbook Here!
The Gluten-Free Gourmet Makes Dessert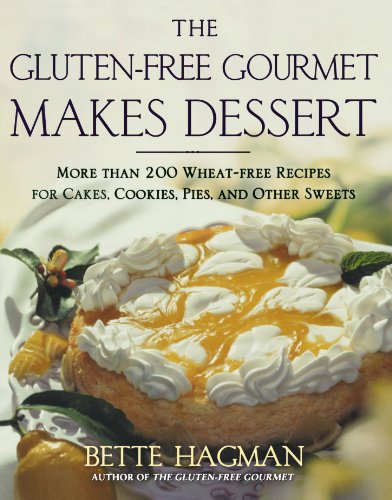 The first thing to mention about this cookbook is the number of recipes. In this case, there are more than 200 different recipes, all of which are for dessert. This is more than the other cookbooks on the list, most of which don't even get up to 100 recipes. With so many recipes on offer, there is a considerable variation of types of dessert, so you're bound to find at least some that you like.
Still, there are two important things to note. First, this book doesn't offer many images, so you often don't know what a given dish is supposed to look like. Second, the book is more than 10 years old. As such, there are many gluten free ingredients and alternatives on the market that were not present when it was written. This may mean you have to adjust the recipes slightly to account for what is out there now.
= = > Get The Gluten-Free Gourmet Makes Dessert Here!
Gluten-Free Classic Snacks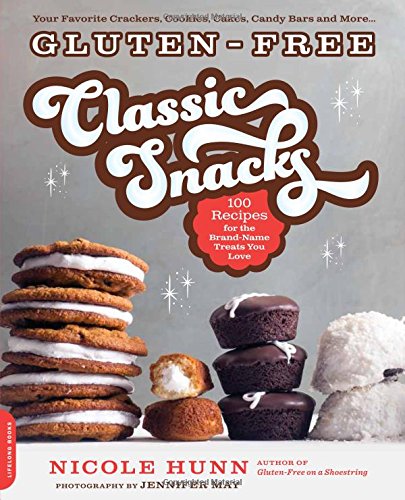 As the name suggests, this cookbook focuses on recreating the classic snacks that you may have grown up on. This includes products like thin mints, Twinkies and pop-tarts. Of course, none of the finished snacks are an exact match to their inspirations but many of the flavors and textures do appear to be close.
At the same time, the nature of the recipes means that they are often considerably healthier than the regular versions. Nevertheless, bear in mind that these are still fairly decadent snacks and they won't suit everybody.
= = > Get Gluten-Free Classic Snacks Here!
Artisanal Gluten-Free Cupcakes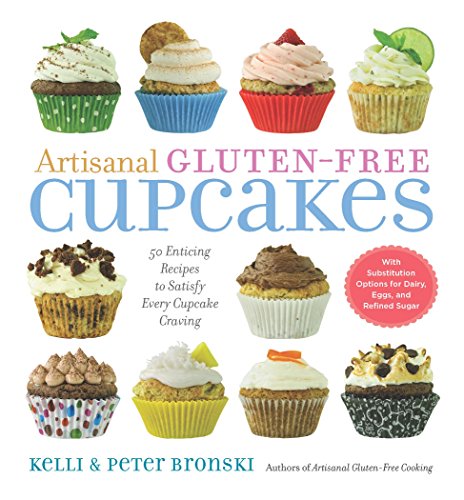 For some people, cupcakes have almost become a love affair. There is something about them that is just fun, especially as there is so much flexibility in terms of what you can do. This cookbook plays into that idea, offering 50 different recipes for gluten free cupcakes.
One particularly useful aspect of the cookbook is the tips for adaptations. For example, the authors offer information about adapting recipes for egg and dairy-free diets, as well as for people avoiding refined sugar. This addition makes the cookbook much more flexible, regardless of the diet that you are following.
On a side note, there are two cover images for this book, which is why the one above looks a little different than what the Amazon store initially shows.
= = > Get Artisanal Gluten-Free Cupcakes Here!
Gluten-Free Desserts
Gluten-Free Desserts isn't an extensive book by any means. However, it is an interesting introduction to this type of dessert, especially if you don't want to spend much money. The book itself offers around 23 recipes, split into key categories. The recipes themselves are easy to prepare and they offer great insight into what you can achieve with gluten free baking.
The Healthy Chocoholic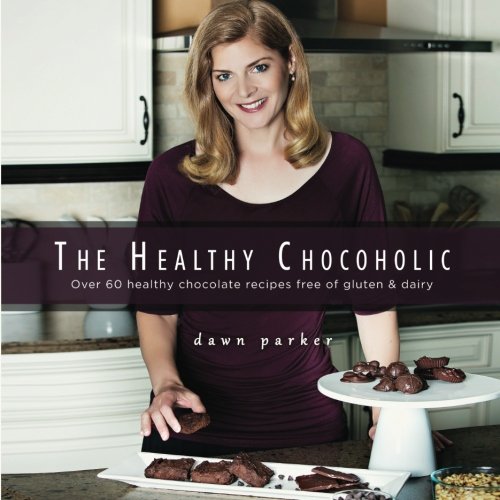 Without a doubt, chocolate is one of the most common food obsessions out there and you shouldn't have to miss out on chocolate desserts simply because you are avoiding gluten. Because the emphasis is on chocolate, rather than desserts or baking, there is a different variation of recipes in this cookbook. For example, some of the topics include hot chocolate and smoothies, in addition to the more typical brownies, cakes and candy.
The recipes themselves are also appealing. One reason for this is that they are fairly simple to create, often involving relatively few ingredients. This aspect will work well for many people, especially as gluten free baking and desserts do typically tend to be complicated.
= = > Get The Healthy Chocoholic Here!
Crave Gluten Free Cookbook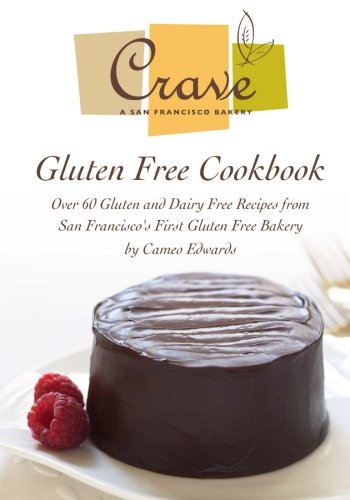 The recipes in this cookbook come from a gluten free bakery in San Francisco, so there is no doubt that they have been tested time and time again. The style does place a strong emphasis on desserts that look amazing, to the extent that there are even tips on decorating. Nevertheless, there are some more conventional recipes on offer as well, such as various types of cookies.
All-in-all, this cookbook is particularly well suited for people who want gluten free desserts for special occasions. But, even if you're just cooking for yourself, there are some recipes on offer that would be worth trying.
= = > Get Crave Gluten Free Cookbook Here!
Let Us All Eat Cake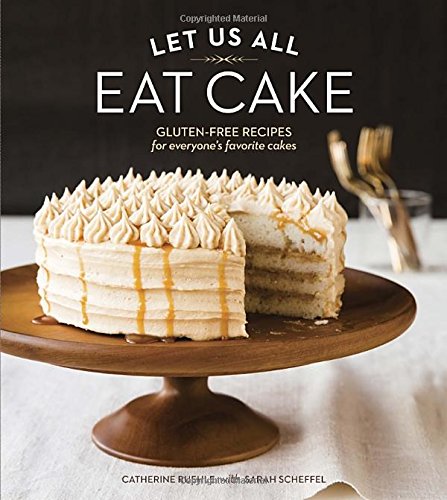 Needless to say, this cookbook is all about gluten free cakes, in a range of different styles. This idea is perfect if you love making cakes or if you want to make a cake for a specific occasion.
Now, the recipes are somewhat complicated and do create relatively dense cakes. For some, this aspect may be frustrating. However, it is a common outcome of gluten free cooking because you cannot rely on all of the conventional baking ingredients and techniques. Still, even with this limitation, the cakes turn out great and would be appealing to people who eat gluten free food, along with many who do not.
= = > Get Let Us All Eat Cake Here!
Easy Gluten-Free Baking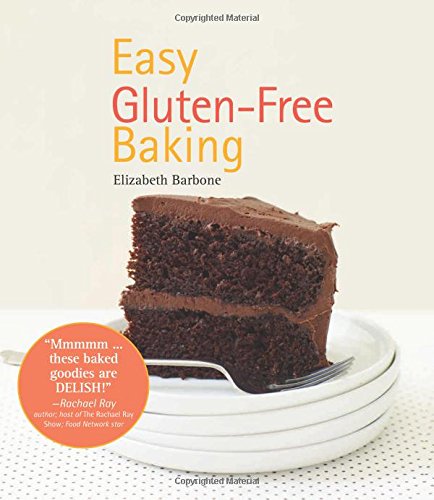 This is another book that focuses on gluten free baking in general, although there is no shortage of dessert recipes on offer. At the same time, the underlying idea is to make gluten free cooking as easy as possible. As a result, the recipes in question tend to rely on white rice flours and starches, along with similar ingredients.
The choice of ingredients and directions mean that the recipes are less healthy than they could be – which may not work for everybody. Nevertheless, desserts are typically a treat and you can include treats in a healthy diet. So, the book may not work well if you're following a specific diet type but for people just looking for gluten free treats, it should be perfect.
= = > Get Easy Gluten-Free Baking Here!
Flourless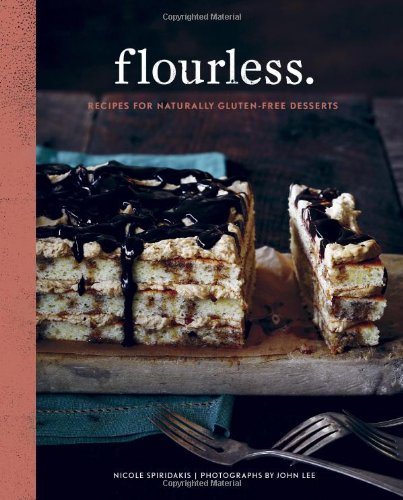 One of the biggest advantages of this particular cookbook is the flours. In particular, the author uses a range of different non-wheat flours, while also trying to get around ingredients and flour mixes that are hard to find. This idea is attractive because finding the right ingredients is one of the more challenging parts of gluten free baking. Additionally, many other cookbooks rely on just one or two flour options, which means they don't suit everybody.
The overall approach to recipes also relies more heavily on nuts and eggs, which makes it easier to get the recipes consistently right. As a result, the book would work really well for anybody new at gluten free baking or who simply wants a change.
= = > Get Flourless Here!
BabyCakes Covers the Classics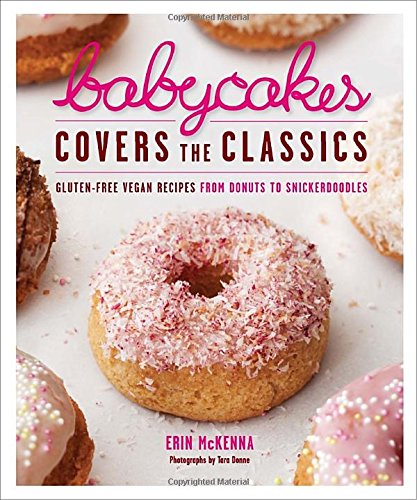 As the title suggests, this cookbook is all about gluten free (and vegan) versions of conventional desserts and treats. This includes s'mores, snickerdoodles, thin mints, donuts and many more options. Surprisingly, there are also some non-dessert options in the mix, such as granola and pizza – although the focus is strongly on sweet treats.
However, it is worth noting that the recipes aren't the same the products actually sold in the BabyCakes bakery in New York. That distinction is important, as some people pick up the cookbook and want to make the same items at home. While some of the recipes are similar, the finished products still have differences in flavor and the ingredients used. As such, this is best as a general cookbook for gluten free desserts, not as a way to mimic the products from BabyCakes itself.
= = > Get BabyCakes Covers the Classics Here!
My Paleo Patisserie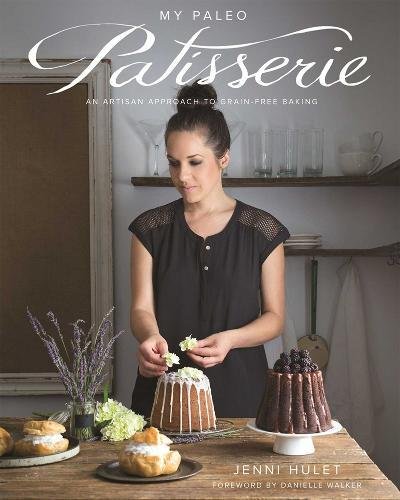 My Paleo Patisserie may not be promoted as a gluten free cookbook but it serves as one because it follows the paleo diet. Here, the recipes are associated with the patisserie tradition, so there are recipes for a range of elegant baked products, including many different desserts.
As a general rule, the recipes here turn out well and some of the desserts would taste extremely good. Nevertheless, it's important to note that the recipes rely heavily on coconut milk and arrowroot powder. These are both common ingredients for paleo and gluten free cooking. Still, if you avoid either of them for any reason, this particular cookbook may not be the best choice.
= = > Get My Paleo Patisserie Here!
Decadent Gluten-Free Vegan Baking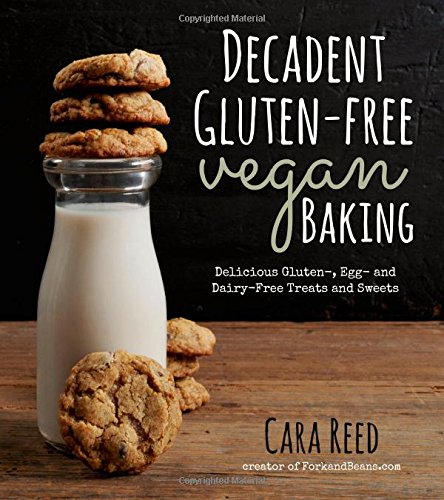 This book is interesting, in that you can find examples of some of the recipes as samples on the Amazon page. Looking at these can help you figure out whether or not you like the style of the book and the recipes on offer.
As a whole, this cookbook does also seem impressive, especially for anybody who follows a vegan and a gluten free diet. Many of the recipes are also less complicated than other gluten free cookbooks and create desserts that are variations on common treats. That aspect alone makes the cookbook worth considering, especially if you are cooking for a mixed audience.
= = > Get Decadent Gluten-Free Vegan Baking Here!
Gluten-Free Cupcakes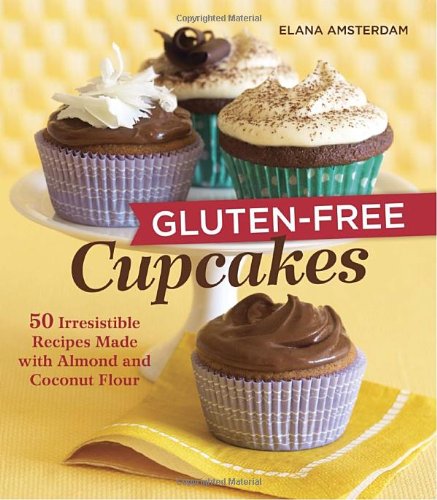 If you love cupcakes, then this cookbook may be an especially good choice. The style is fun and there is no shortage of images and inspiration to have you creating many different types of cupcakes. At the same time, the author offers detailed information about gluten free baking and the ingredients that she relies on. That information makes the processes easier to understand, especially if you are new to gluten free baking.
The one thing to note is that the same general patterns of ingredients are present throughout. For example, there is a strong reliance on eggs, along with agave nectar, coconut and almond flour. If you don't like those ingredients, or don't have access to them, then this cookbook may not be the best choice.
= = > Get Gluten-Free Cupcakes Here!
The Allergen-Free Baker's Handbook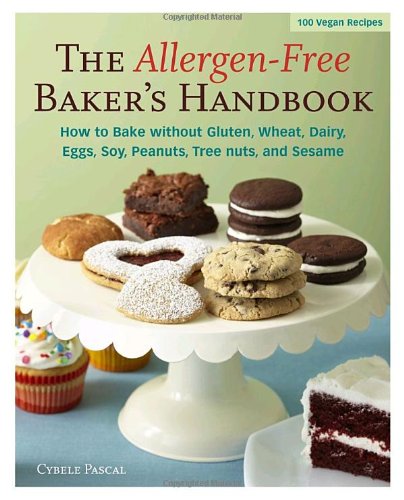 This cookbook goes a step beyond the rest, offering recipes that are free from a range of common allergens. Gluten is one of those, as are eggs, dairy, peanuts and soy. Cutting that many ingredients out of baking may sound impossible but the author has managed to produce 100 recipes that achieve this goal.
Now, this is a baking cookbook, so some of the recipes are focused on products like scones and pizza, rather than desserts. Even so, the cookbook remains a powerful resource for allergen-free desserts. It would also be particularly relevant for families that have multiple allergies or anyone preparing food for a diverse group of people.
= = > Get The Allergen-Free Baker's Handbook Here!
Alternative Baker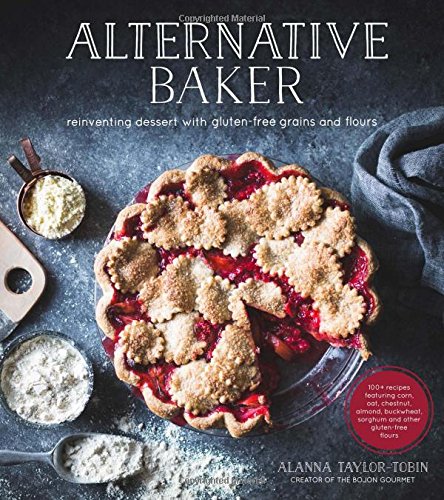 Most gluten free cookbooks make use of alternative flours, especially when it comes to making baked products. That's the case here too. However, the author does use a wide range of different flours, including some that are less common. At the same time, she provides detailed information about the various options and techniques.
While the book itself is brilliant and has amazing images, it won't suit everybody. For one thing, the cookbook is just gluten free. So, the recipes still use dairy and refined sugar, which some people are actively avoiding.
Likewise, many of the recipes would end up being fairly high in calories. Still, we are talking about desserts and there is nothing wrong with treating yourself from time-to-time.
= = > Get Alternative Baker Here!
The Joy of Gluten-Free, Sugar-Free Baking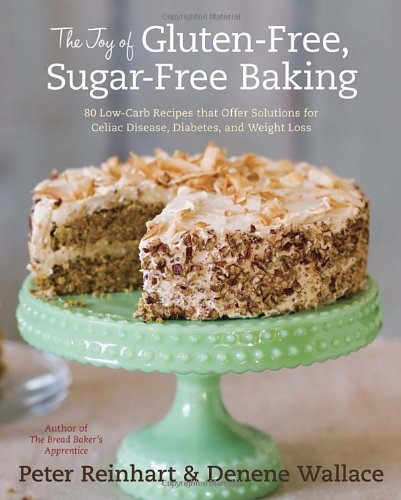 Most books on dessert don't even try to be healthy but this one does. In particular, the recipes are relevant to people on a low carb diet, along with those trying to avoid gluten. This style does influence the results and also means that some of the ingredients also tend to be difficult to find.
Nevertheless, if you're looking for gluten free and low carb baking, then this book makes sense. The recipes seem to work well for what they are, especially once you get used to the style of cooking.
= = > Get The Joy of Gluten-Free, Sugar-Free Baking Here!
Gluten-Free Baking Classics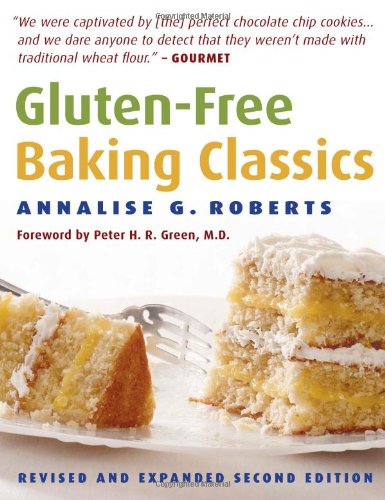 This is another gluten free cookbook that focuses on baking as a whole. So, there are many examples of desserts in the mix, along with savory options, like bread. As a whole, the book makes a great go-to resource for gluten free desserts, especially if you use the flour choices that the author recommends.
On that note, it's important to mention that the cookbook has a strong reliance on one specific type of gluten free flour, which will be hard to get in some types of the world. As the author notes, you can substitute for the finest grind of gluten free flour you can find. Still, the book may not work well for anybody that doesn't like being limited to very specific types of flour.
= = > Get Gluten-Free Baking Classics Here!
The Cake Mix Doctor Bakes Gluten-Free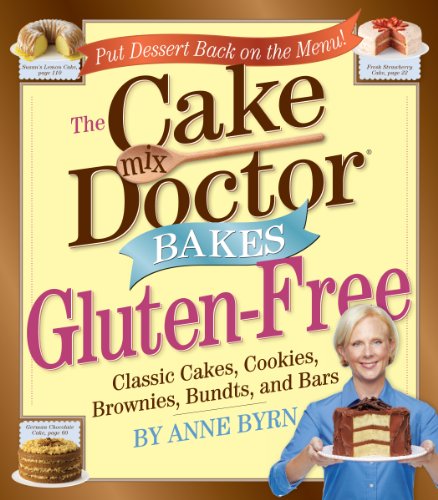 Most gluten free cookbooks and recipes look at making your own desserts from scratch, using flours and various other ingredients. That style is attractive for many but it doesn't work for everybody. That's where this particular book comes in. Here, the idea is to use gluten-free cake mixes and create decadent desserts from them.
By doing so, the process of making gluten free desserts becomes much easier. At the same time, the final desserts are also amazing and you wouldn't even know the original mix came from a box.
= = > Get The Cake Mix Doctor Bakes Gluten-Free Here!
Pure Artistry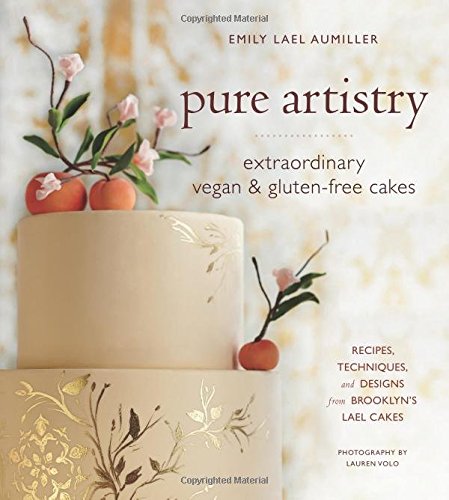 If you're looking for simple and easy gluten free desserts, then this cookbook isn't the right one for you. Instead, the book focuses on desserts that look amazing, which you might use for special occasions.
With that in mind, the recipes are more complicated than most and do involve more steps. However, the results are truly worth it and you end up with desserts that look as good as conventional alternatives. The book does also have related instructions, such as directions for decorating effectively, even if you have never done so before.
= = > Get Pure Artistry Here!
Clean Cakes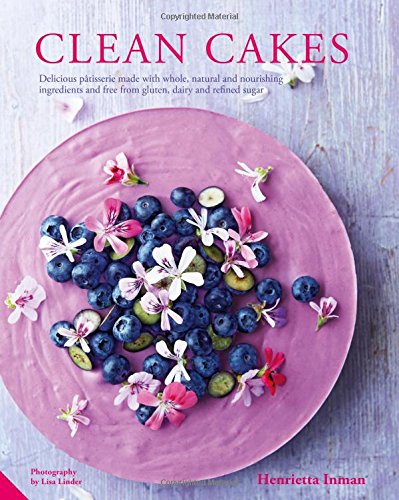 Clean Cakes is a beautiful book that follows an unusual style. The recipes themselves are all gluten free and they do produce desserts that look and taste great. The desserts are also more adventurous than most, with a range of different flavors. As such, they are more than just gluten free variations of conventional desserts.
However, the overall approach means that this cookbook would work better for some people than for others. In particular, many of the ingredients are hard to find, especially for people with limited access to specialty stores. Likewise, there is a considerable amount of preparation work with many of the recipes. That isn't necessarily a bad thing but some people may be wanting desserts that require less effort.
= = > Get Clean Cakes Here!
Gluten-Free Cookies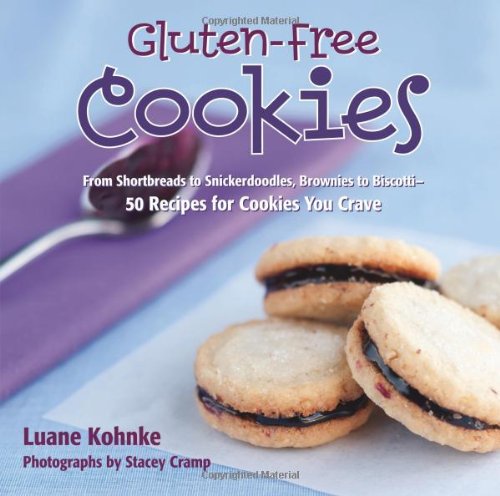 This cookbook is another option that is heavily specialized. In this case, all of the recipes are about cookies and there are 50 different options available. The author also goes into detail about what you can expect with gluten free cookies, along with the various ingredients and considerations.
The style focuses on gluten free versions of regular cookies. So, you won't see raw recipes in here or ones that use the healthiest possible ingredients. Instead, you end up with cookies that work well as a treat and would even appeal to picky eaters.
= = > Get Gluten-Free Cookies Here!
Paleo Sweets and Treats

Even though this is a paleo cookbook, it could still work well for people just following a gluten free diet. The seasonal style is also a nice touch, giving you the chance to make recipes that suit a particular time of year, such as warming desserts for winter.
The one thing to note is that most recipes rely on coconut in one form or another (such as coconut milk or coconut flour). Doing so is fairly common in paleo and gluten free baking but not everybody likes coconut. So, if you're not a big fan, then it may be worth picking up another dessert cookbook instead.
= = > Get Paleo Sweets and Treats Here!
Dairy-Free Ice Cream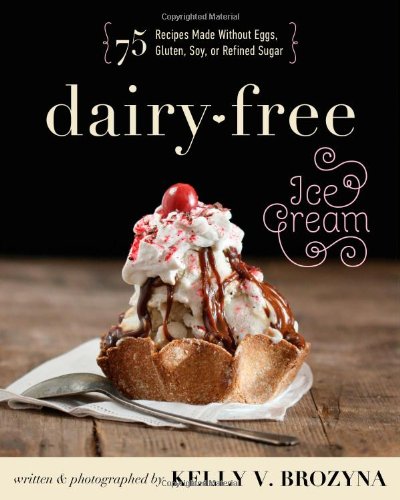 The ice cream recipes in this book aren't just dairy free, they also avoid using eggs, gluten, soy or refined sugar. As a result, the book works well for a gluten free diet and many other diet types. The recipes offer a perfect way to still enjoy ice cream, regardless of the diet that you're following.
If you are considering this book, then you do also need an ice cream maker. It is completely possible to make your own ice cream without one but the recipes in this book are specifically designed for an ice cream maker. So, they wouldn't be that useful to anybody who doesn't have one.
= = > Get Dairy-Free Ice Cream Here!
Sweet Eats for All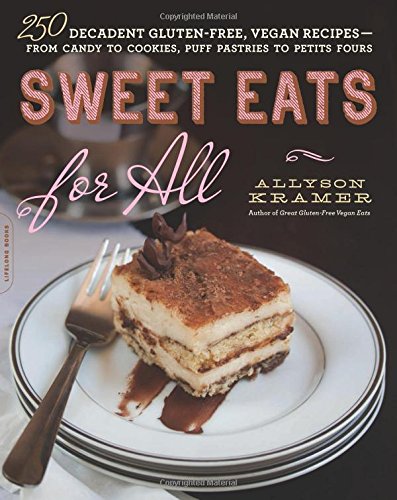 With 250 different recipes, Sweet Eats for All is a powerful way to get a wide range of dessert recipes across multiple different styles. Some of the recipes on offer are simple variations of traditional dessert staples, while others are more unique. There is also significant information about what substitutions you can make.
The one catch is that there isn't an image for every recipe. Nevertheless, that would be unrealistic for a book that offers 250 recipes and there is still a substantial number of images present.
= = > Get Sweet Eats for All Here!
Bare Root Sweets

Bare Root Sweets is a relatively small example of a gluten free desserts cookbook, with just 30 recipes on offer. But, that isn't necessarily a bad thing. Instead, short options like this can often be great introductions into gluten free desserts, especially if you don't have much experience with this type of cooking.
There is also some great food photography throughout, which is bound to leave you hungry for the desserts.
= = > Get Bare Root Sweets Here!
Baked Doughnuts for Everyone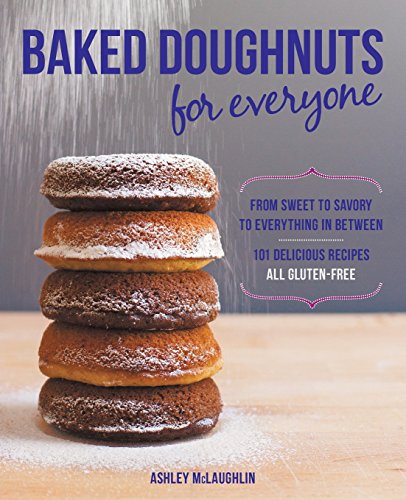 If you enjoy donuts, then this cookbook is a great choice. All of the recipes in it are gluten free and the author offers a range of sweet and savory flavor combinations. Because the donuts are baked, they are also fairly healthy and the main kitchen tool you need is simply a donut pan.
Nevertheless, the recipes themselves mostly rely on the same donut base that is used over and over again, with different ingredients. That style works for giving you flexibility and allowing for many variations on flavor. However, if you have any issues with the base recipe, then the entire book ends up being useless.
= = > Get Baked Doughnuts for Everyone Here!
Naturally Sweet & Gluten Free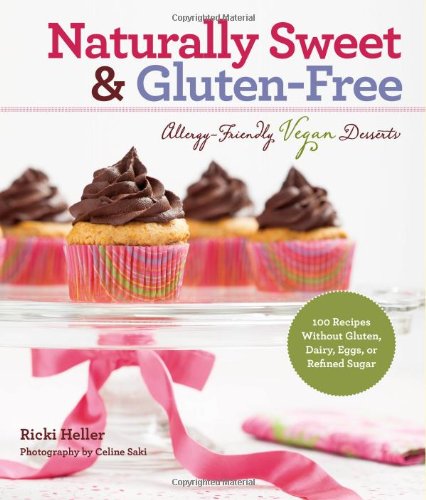 This cookbook is another option that could work for people with multiple dietary restrictions, especially as the recipes avoid dairy, eggs and refined sugar. Many of the recipes on offer are healthier versions of traditional desserts, although there are also some more unusual options and flavor combinations.
As is often the case, some of the ingredients are a little hard to find. But, that's also true for gluten free baking in general, especially if you are new to the concept. Most people would be able to find the ingredients with some searching and you would tend to stock your pantry with many of them over time.
= = > Get Naturally Sweet & Gluten Free Here!
Top Pick
As you can see, there are many different cookbooks for gluten free desserts – including countless others that didn't make the cut to get on this list. While there are considerable differences between the cookbooks, they do all offer valuable advice and inspiration for enjoying your desserts, even while following a gluten free lifestyle.
With so many differences between the cookbooks, it's hard to recommend a single one. After all, some gluten free cooks will be trying to minimize sugar or will need to avoid eggs. In contrast, others will have no problems with those ingredients and may want recipes that are closer to normal baking.
But, for many people, one particularly good cookbook to get started with is Easy Gluten-Free Baking. This option offers more recipes than most, along with advice about making sure you still get light textures, even with gluten free baking. While the book might not be perfect for everybody, it is a good place to learn gluten free cooking and to develop your skills.