Bella Housewares manufactures a number of kitchen appliances and countertop electrics including an upscale line of slow cookers. With the motto "Dinner takes time. But not yours.," this brand offers easy-to-use products that can drastically simplify the way you cook. Whether you're trying to prepare basic meals at home for your family or fancy dishes at a party venue for a crowd, Bella can get you through the night.
In general, slow cooking is a great way to minimize meal-prep hassles while still maintaining complete control over the dishes you're serving, arming you with the confidence that your gluten-free entree really is free of wheat and barley or that your vegan dessert truly is safe. Slow cooking can also be a budget-friendly way to serve dinner to a large number of people. Based on your personal preferences, one of the following slow cookers may be an ideal addition to your kitchen.
Want to check out some other brands? See our reviews of Hamilton Beach, Cuisinart, Black & Decker, West Bend, and Maxi-Matic slow cookers. Update: Now featuring Chefman cooker reviews and Tiger Corporation slow cookers too!
Bella Connectable Entertaining Slow Cooker System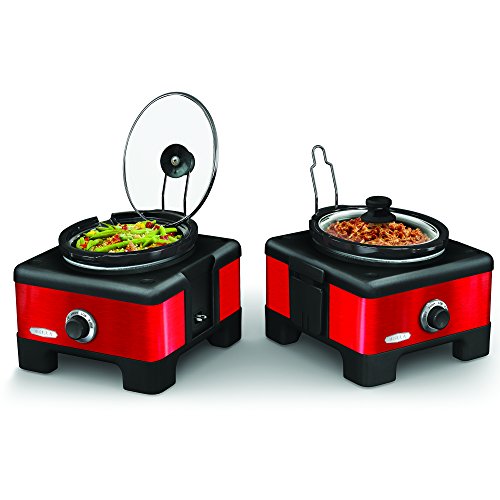 Model Number: 14012
Size: 2.5-Quart Capacity
With a capacity of two-and-a-half quarts, this unique slow cooker is designed for entertaining and can actually link to other units, which are sold separately, so you can operate up to six of these slow cookers using one power source. The oval stoneware pot features a spoon notch to conveniently rest a serving spoon and the cooker has a metal lid rest so the lid can stay upright and out of the way when guests are dishing up. The manual temperature control offers low, high and warm settings and the model's recessed handles simplify the carrying process. With the stoneware pot and tempered glass lid both being dishwasher safe, the unit is easy to clean.
If you're in the market for only one slow cooker, this model easily isn't for you since the specs of one unit by itself aren't that notable. But, if you're interested in having more than one crock so you can offer guests variety, these interlockable units are definitely worth considering. They can even be stacked on top of one another, which makes storing them ridiculously convenient. Of course, if you do want to purchase the units in pairs, you can pick up the cookers at a per-unit price that's marginally cheaper than purchasing one unit at a time. Although the listed price is for one stainless steel unit, the cooking system also comes in red.
Bella Linea Collection Programmable 5-Quart Slow Cooker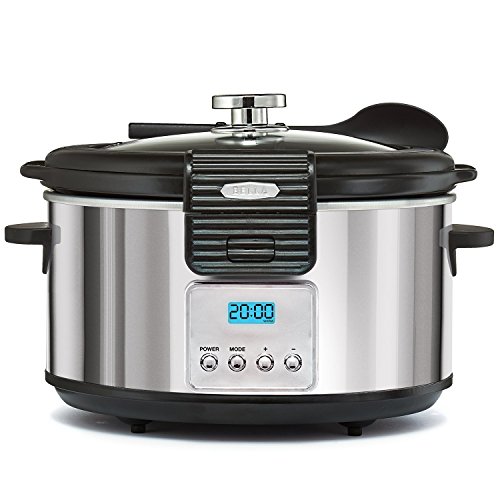 Model Number: 14389
Size: 5-Quart Capacity
Featuring a programmable countdown timer with an easy-to-read digital LED display, this five-quart appliance can be set to cook for times between thirty minutes and twenty hours, after which a keep-warm mode will automatically kick in for up to four hours. The temperature settings include low, high and warm modes and the removable parts are dishwasher friendly. The model even has a hinged locking lid, which seals in food for no-spill convenience when transporting.
Since a five-quart capacity can generally accommodate a party of five or six, this slow cooker may be what you're looking for. The programmable features are undeniably handy and the price tag won't break the bank. Plus, this sleek design actually comes in a number of colors including chrome and red, which cost the same.
Bella Programmable 6-Quart Slow Cooker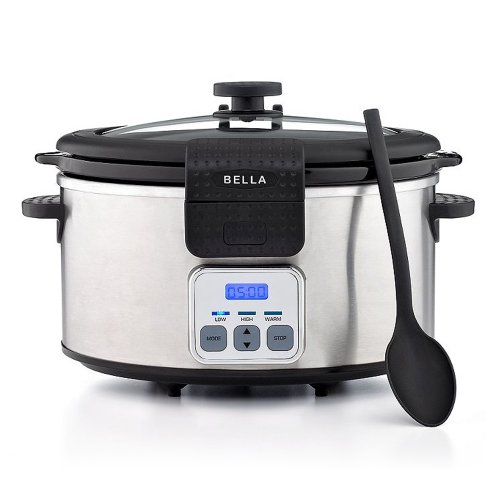 Model Number: 13722
Size: 6-Quart Capacity
Featuring savvy settings that are comparable to Bella's five-quart offerings, this six-quart model can be programmed to cook for up to twenty hours and will automatically shift to warm after the cook time is up. The hinged locking lid helps prevent spills and the dishwasher-safe removable stoneware and tempered-glass lid are easy to clean. Like many slow cookers, the model can be set to low, high or warm.
Compared to Bella's other programmable slow cookers, the selling point of this model is the six-quart capacity, which can feed more people. Hence, if you're looking to feed many mouths at once, paying ten dollars more upfront for a larger appliance makes sense. Although we do wish this fifty-dollar product offered additional cook functionalities such as steaming and browning, we can accept the fact that–by and large–Bella's countertop electrics aren't multi-cookers.
Bella 1.5-Quart Triple Slow Cooker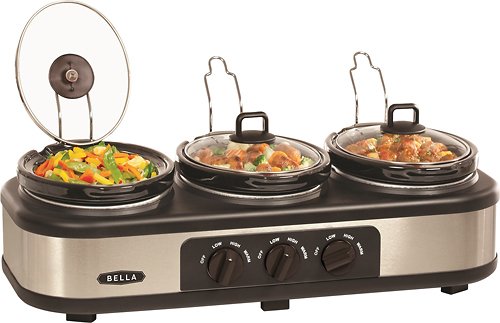 Model Number: 13582
Size: 3 x 1.5-Quart Capacity
This triple slow cooker features three oval-shaped stoneware pots that each have a capacity of one-and-a-half quarts. Each pot comes with its own lid, spoon rest and manual temperature control, which can be set to off, low, high or warm independently of the other controls. The model's exterior is stainless steel and the removable parts can all be cleaned in the dishwasher.
If you want to slow cook small portions of three different dishes at one time, this multi-crock cooking system is perfect. Although you don't get access to any programmable settings with this model, you do get a convenient way to impress your guests. If you're interested in a triple slow cooker with pots that hold two-and-a-half quarts instead, you can check out model number 13576, which costs around ninety bucks.
Bella Multi-Function Electric Pressure Cooker

Model Number: 14467
Size: 6-Quart Capacity
Equipped with a slow cook mode, this multi-functional countertop appliance can almost do it all. The model will pressure cook, steam and saute in addition to preparing specific items like rice, meat and soups. In addition to housing ten one-touch cooking functions, the cooker features a timer so you can select your desired cooking time and, after the selected time is up, the unit will remain in warm mode for four additional hours.
When slow cooking, the operating temperature will vary based on your programmed cook time. As examples, Bella provides the estimates that the temperature for a four-hour cooking cycle will be near one-hundred-ninety degrees Fahrenheit whereas the temperature for a six-hour cooking cycle will be closer to two-hundred degrees Fahrenheit.
Parenthetically, the pressure aspect of the cooker is negligible when slow cooking since the temperature is lower compared to the other functions. For safety and convenience, the lid locks in place, the handles are cool to the touch and the cooking pot is dishwasher safe.
Since this model isn't first and foremost a slow cooker, there may be a learning curve involved when it comes to actually using the appliance to prepare all of your favorite slow-cooked meals. If you don't mind experimenting with different recipes and making adaptations when needed, the array of one-touch cooking modes on this model can be a nice asset. On the other hand, if you're interested only in the slow-cook function, you're likely better off purchasing one of the other appliances on this list.
Top Pick
After taking everything into account including functionalities, capacities and prices, we're most drawn to the Bella Linea Collection Programmable 5-Quart Slow Cooker, which costs less than forty bucks, provides us with useful but affordable features. For everyday cooking, this appliance will serve many consumers well.
If you're looking for a multi-crock entertaining system, though, one of Bella's other offerings will likely suit your preferences. Based on what features you personally prize, keep shopping around until you come across the countertop appliance that hits all the right notes for you. That way, cooking dinner really can be a breeze.