Since Black & Decker has been around for over a hundred years, the brand is a go-to pick for many consumers in need of home-improvement products like power tools. Of course, the Maryland-based business also manufactures a variety of kitchen appliances including slow cookers. Reliable and well crafted, these products live up to their legendary company name and will help you produce tasty dishes–everything from vegan appetizers and gluten-free sides to carnivorous entrées and decadent desserts.
Depending on your budget and the number of mouths you want to feed, you may have your heart set on a certain type of slow cooker. Whether you're looking for a twenty-dollar bargain to prepare basic meals or a top-of-the-line, multifunctional appliance to combination cook, Black & Decker has you covered. Each of the following slow cookers offer real value.
Parenthetically, the company's official logo contains a plus sign, but corporate documents often make use of an ampersand instead, which is why we see all sorts of variations within product listings. Although we stuck to the ampersand-based description within our paragraphs and the one-word treatment within the actual product titles, "Black and Decker" and "Black + Decker" are two additional notations to keep in mind when shopping around for relevant products.
Want to check out some other brands? See our reviews of Hamilton Beach, Cuisinart, Black & Decker, Crock Pot, West Bend and Maxi-Matic slow cookers. Update: Now featuring Chefman cooker reviews and Tiger Corporation slow cookers too!
Black+Decker 4-Quart Dial Control Slow Cooker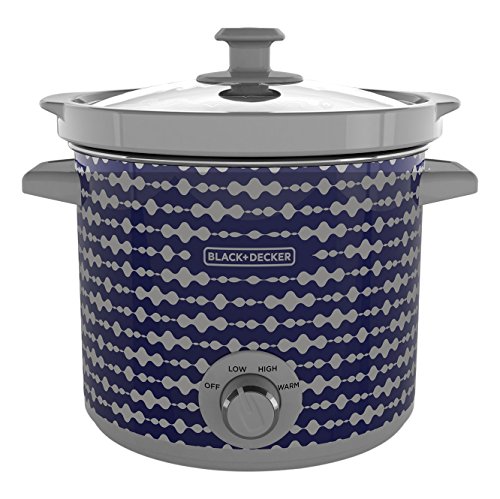 Model Number: SC2004D
Size: 4-Quart Capacity
With a modern exterior known as a "purple pulse" design, this manual slow cooker has low, high and warm settings. The four-quart pot, which can easily accommodate a group of four, is made from dishwasher-safe stoneware so that cleaning up will be a breeze. The cooker also features cool-touch handles so you can safely maneuver the appliance as needed.
This slow cooker isn't big or fancy, which is why the price tag is so budget friendly. If you want something simple for everyday use, the four-quart capacity and dial-control style should serve you well. Of course, if you like the specs but prefer a black-and-white design featuring polka dots, you can pick up the SC1004D for around twenty-four bucks.
Black+Decker 7-Quart Dial Control Slow Cooker

Model Number: SC2007D
Size: 7-Quart Capacity
Like the four-quart models, this seven-quart cooker comes with a dial control and three manual heat settings: low, high and warm. There are cool-touch handles, dishwasher-safe removable parts and a fun "teal wave" design that gives off a modern look. Whether you're cooking for a party of eight or you just love leftovers, this appliance won't let you down.
Although the slow cooker only offers entry-level features, the family-friendly capacity makes the model fairly priced at just-over thirty dollars. Consumers who are on a budget but need to prepare many servings at once are an ideal demographic for this kind of appliance. If you prefer a "geometric cream" exterior, you can pick up the SC1007D for around forty dollars.
Black+Decker Digital Slow Cooker
Model Number: SL6470C
Size: 7-Quart Capacity
Featuring a programmable control panel, this digital cooker offers high and low heat settings in addition to a keep-warm function. The extra-large capacity is perfect for group dinners and the design of the stoneware liner and tempered-glass lid makes for easy cleanup. With a brushed stainless-steel exterior, the overall look of this product is very sleek and stylish.
Although this mid-range appliance does have digital temperature settings, there aren't programmable time settings, which is a shame at this price point. We also wish some multifunctional cook modes were offered. If you personally don't mind those omissions, you might still be interested in giving this sizable oval cooker a try.
Black+Decker 6-in-1 Cooker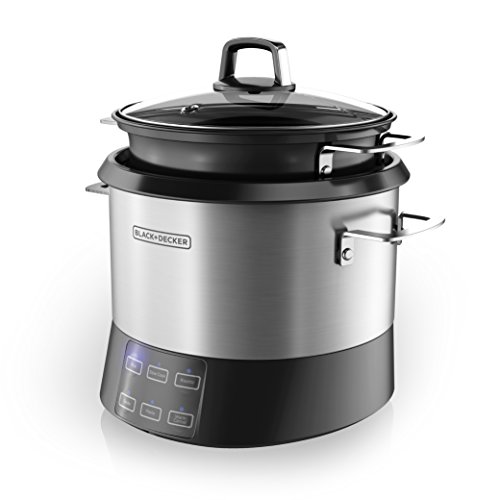 Model Number: RCR520S
Size: 5-Quart Capacity
Designed to hold twenty cups of cooked rice, this multifunctional appliance has six presets: rice, risotto, pasta, slow cook, sauté and keep warm. Since the versatile model enables one-pot combination cooking, you can sauté a few veggies before adding in other ingredients to make a slow-cooked soup–all without having to dirty additional pans or access the stovetop. There's even a detachable stirring arm, which will give your risotto the perfect consistency. Plus, when using the rice setting, the model will automatically shift to keep-warm mode once the rice has finished cooking so your food stays at a yummy, ready-to-eat temperature.
Combining six cookers in one, this savvy appliance is a great go-to pick if you have limited counter space. You are paying extra for the multifunctional cooking modes, but if you enjoy making a wide-variety of dishes, the higher cost of one do-it-all model might save you in the long run. If a basic slow cooker doesn't provide you with the versatility you're looking for, give this model some thought.
Black+Decker MultiCooker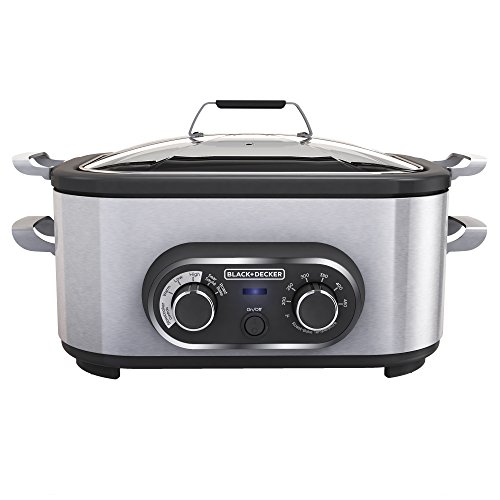 Model Number: MC1100S
Size: 6.5-Quart Capacity
With a capacity of six-and-a-half quarts, this savvy model features traditional slow cook controls in addition to a sear/sauté mode and a roast/bake option. When slow cooking, you can set the appliance to warm, low or high. When using the other cooking functionalities, you can set the temperature to anywhere between two-hundred and four-hundred-fifty degrees Fahrenheit. The steel handles are helpful when transporting and the removable dishwasher-safe parts are nice when cleaning up.
Capable of doubling as an extra oven or stovetop burner, this multifaceted kitchen appliance is nothing short of genius. Furthermore, we're impressed that this versatile stainless-steel model is priced at under one-hundred dollars. If you want to slow cook, sauté and bake using one pan that you can simply plug into an electrical outlet, this high-end pick is for you.
Top Pick
When it comes to Black & Decker slow cookers, we have a two-way tie for our top pick overall. If you're in the market for a budget product, you can't go wrong with the 4-Quart Dial Control Slow Cooker and its price tag of under-twenty bucks. On the other hand, if you're shopping for a top-of-the-line appliance that can be used to prepare a wide-variety of dishes beyond what a normal slow cooker can deliver, then we recommend the MC1100S 6.5-Quart MultiCooker. Both products have great consumer reviews and offer the right amount of capabilities given their respective price points.
Even though we all have different ideas as to what makes the perfect slow cooker, we're each after the same thing ultimately: good eats. Whether you're loyal to the Black & Decker name or you end up opting for a slow cooker from another manufacturer, we hope you'll be able to locate a quality product that suits both your individual preferences and financial circumstances. Happy shopping!