Slow cooking is one of the easiest and most cost-effective ways to produce delicious homemade meals. The countertop appliance does most of the work, but you still get to be in control of all the ingredients, meaning the resulting dishes can be whatever you want them to be: gluten free, vegan, paleo based, kosher, Atkins friendly, low fat, etc. In other words, your wish is the cooker's command.
Because slow cookers come in a variety of different sizes and are equipped with varying functionalities, finding the perfect model for your needs is important. If you're looking for something that's low cost, you may be interested in a Chefman appliance. The following countertop cookers offer a good amount of value considering how budget-friendly they are.]
Chefman 6-Quart Slow Cooker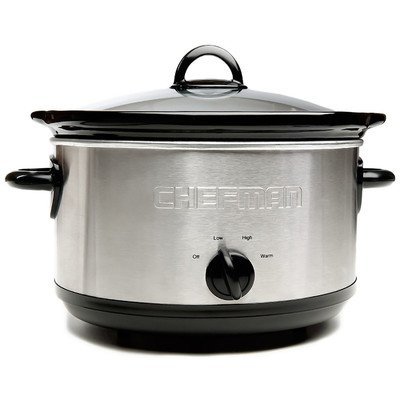 Model Number: RJ15-6-SS-R
Size: 6-Quart Capacity
This basic six-quart cooker, which can hold a six-pound roast, has a manual dial with low, high and warm heat settings. Designed for style and practicality, the base is stainless steel and the stoneware crock is removable. Both the crock and glass lid can be run through the dishwasher, which makes cleanup a breeze.
Although there's nothing particularly spectacular about the culinary specs of this non-digital cooker, the price is nice. The family-friendly capacity is also useful for many consumers. If you want to dip your toe into the lifestyle of slow cooking but want to do so while minimizing the cost, this entry-level crock just might have your name on it.
There are a few negative reviews collecting on Amazon, but it's still a solid cooker.
Chefman 5-Quart Slow Cooker with Carry Handle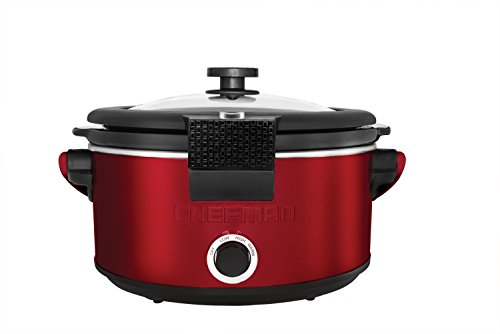 Model Number: RJ15-5-LCH-GREY
Size: 5-Quart Capacity
Although the manual temperature dial only contains the typical settings of low, high and warm, this slow cooker comes equipped with a few extra features that are quite nice. To prevent spills, the lid has a hinged locking system, which also makes it easy to serve your meal since the lid can stay put in an upright position. Additionally, the base comes with carry handles, providing on-the-go convenience if you're taking your cooker to a potluck or other get-together. Both the stoneware insert and the glass lid are dishwasher safe.
With a five-quart crock, this model offers a middle-of-the-road capacity, which can be nice for the average consumer who isn't feeding more than a handful of individuals at any one time. The listed price is for a model with a gray exterior, but the RJ15-5-LCH series also offers models in other colors including red and blue. In general, you can expect to pay a few more bucks for these other color options.
==> Read The Full Review Here!
Chefman Slow Cooker with Die-Cast Insert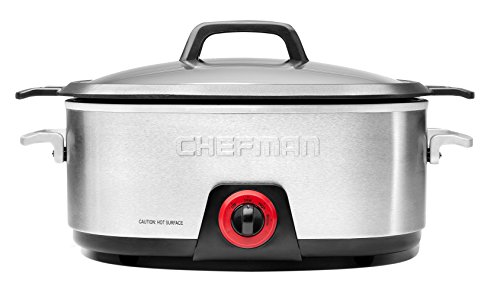 Model Number: RJ15-6-DC
Size: 6-Quart Capacity
With a die-cast aluminum insert, this manual slow cooker offers a surprising amount of flexibility. Although the temperature control on the actual appliance can only be set to low, high or warm, the removable insert can be used on the stovetop and in the oven, which makes combination cooking easy. Whether you want to brown your meat before slow cooking a stew or you want to bake some cheese on top of some slow-cooked potatoes, you can use this same die-cast pan for all of your needs. The insert features easy-to-grab handles and is safe to be cleaned in the dishwasher.
Since the housing is brushed stainless steel, the slow cooker overall screams quality. Even though there aren't programmable modes to actually sauté or roast using the electric base that comes with the die-cast aluminum insert, we love that there's still the option of one-pot cooking since the insert was designed to be additionally used on the stovetop and in the oven. Priced under forty bucks, this model is ideal for consumers who want versatility without having to spring for a hundred-dollar appliance.
Chefman Natural Slow Cooker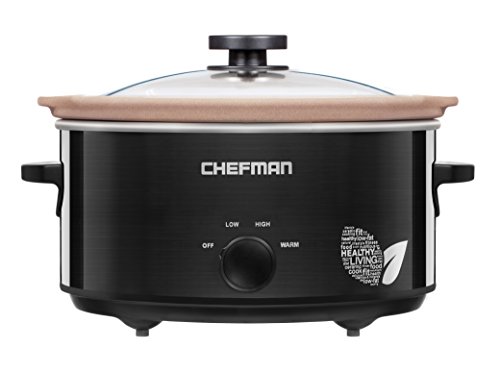 Model Number: RJ15-5-N
Size: 5-Quart Capacity
This is a brand  new release, and it's already racking up plenty of good reviews on different websites around the web. Everyone is going "natural" these days, and Chefman is making sure that slow cooker fans are not getting left behind! The crock is made of natural stoneware, chemical free, and safe for cooking! What's even cooler is that you can heat it over an open flame, use it in the oven, or just as a traditional slow cooker crock.
Health enthusiasts will also love that the natural stoneware crock contains 75% less lead than traditional crocks!
Chefman is also trying out something new, with "club Chefman" which gets you access to recipes and other goodies. This is just bonus stuff in addition to the cooker, but it's another reason to tip the scales for this slow cooker above others.
Plus the design? Wow. Very cool. I love the black and brown aesthetic!
Chefman 5-Quart Programmable Slow Cooker
[Currently Unavailable]
Model Number: RJ15-5-P
Size: 5-Quart Capacity
Featuring low and high temperature settings, this five-quart cooker comes with a programmable countdown timer so you can select an ideal cook time of up to twenty hours. The easy-to-read digital display shows you how much longer your dish has to cook and, once the selected cook time has lapsed, the model will automatically switch to a keep-warm mode so your food stays at a ready-to-eat temperature until you're set to dish up. The dishwasher-safe pot is easy to clean and the black exterior is chic.
We definitely appreciate the programmable cook time and heat settings, but we do wish this higher-priced model additionally offered some multi-cooking functionalities so we could use the crock and electric base to carry out more tasks than just slow cooking. Of course, some all-in-one cookers that purport the ability to prepare everything and anything from rice and quinoa to meats and stews have a hard time at making even one dish right. If you're not interested in experimenting with an over-the-top multi-cooker, then this sleek model may hit all the right notes for you personally.
Top Pick
Bang for buck, our favorite pick is the Chefman Natural Slow Cooker. I'm a sucker for cool design, so that's what attracted me most to it. But then I read that it uses natural stoneware and works just was well as traditional crocks, and I was sold on it. Plus, you can cook in it over an open flame, which is pretty awesome. I'm surprised it's not priced higher than it is. You won't pay a premium for such a unique and useful appliance!
Regardless of which slow cooker best matches your individual needs and preferences, we're confident that there's a countertop appliance out there that will change your life for the better. Once we entered the wonderful world of slow cooking, we couldn't believe that we ever lived without such a fabulous helpmeet tucked away in our kitchen. In fact, we're already salivating at the thought of what we're going to slow cook next.