As an upscale brand of home appliances, Cuisinart offers a wide-array of quality products including a diverse assortment of slow cookers. Whether you're interested in making easy meals that are cost effective, allergen-friendly dishes that are free from contaminants like gluten or mouthwatering offerings that will impress your guests, having a countertop cooker on hand can help you get the job done. No kitchen is complete without a slow cooker.
Regardless of your budget and cooking preferences, Cuisinart has something for practically everyone. While looking at slow cookers with varying features, capacities and price tags, we cherry-picked the top offerings in each category to help narrow down your search for the perfect appliance. With your specific circumstances in mind, you can easily sort through this top-five list and identify what product will best suit your kitchen.
You can also check out some other brands we've reviewed including Hamilton Beach slow Cookers, Maxi-Matic Slow Cookers, and Crockpot Slow Cookers.Update: We've just publishes reviews for West Bend & Bella products as well as Chefman cooker reviews and Tiger Corporation slow cookers too!
Cuisinart 3.5-Quart Programmable Slow Cooker

Model Number: PSC-350
Size: 3.5-Quart Capacity
This oval-shaped slow cooker has a ceramic pot that's sized at three and a half quarts for everyday needs. The touchpad control features four cooking modes–high, low, simmer and warm–as well as a timer so you can program a desired cooking time of up to twenty-four hours, after which the appliance will automatically switch to warm mode so your meal stays at a ready-to-eat temperature. For your safety, the cooker is fashioned with non-slip rubber feet and stay-cool handles. Both the pot and lid are conveniently dishwasher safe.
For a programmable slow cooker with auto-warm capabilities, fifty bucks is not a bad price to pay. This entry-level model doesn't come with advanced multi-cooking specs, but if you don't want to shell out hundreds of dollars on a countertop cooker, this pick provides a pleasing ratio of bang per buck. When feeding only a few individuals, this basic small cooker will see you through meal time perfectly.
Cuisinart 6.5-Quart Programmable Slow Cooker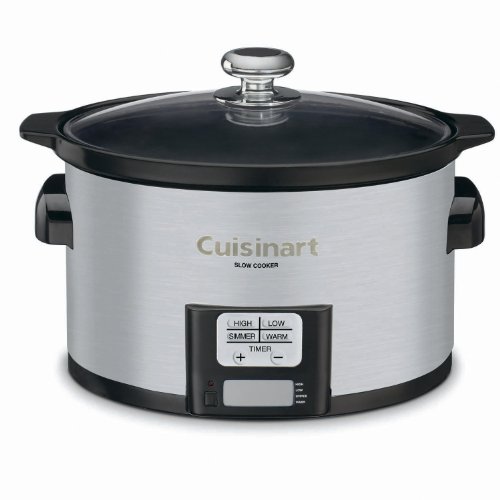 Model Number: PSC-650
Size: 6.5-Quart Capacity
With warm, simmer, low and high heat modes, this programmable slow cooker can be set to cook for up to twenty-four hours before the auto keep-warm feature will kick in. The removable ceramic cooking pot has a traditional oval shape, but the brushed stainless-steel housing is rectangular, which makes the appliance look sleek overall and provides easy cord storage. The glass lid is rimmed with stainless steel and the cool-touch handles are plated with chrome. Along with the dishwasher-safe pot and lid, the appliance even comes with a useful cooking rack.
With a capacity of six and a half quarts, this basic model is an ideal solution for bargain-hunting consumers who have many mouths to feed on a regular basis. In our opinion, this particular pick is actually the best-looking slow cooker offered by Cuisinart and something we wouldn't mind leaving on our counter year round. If you'd rather forego having savvy cook features in favor of saving money, this appliance is worth considering.
Cuisinart 3-in-1 Cook Central 4-Quart Multi-Cooker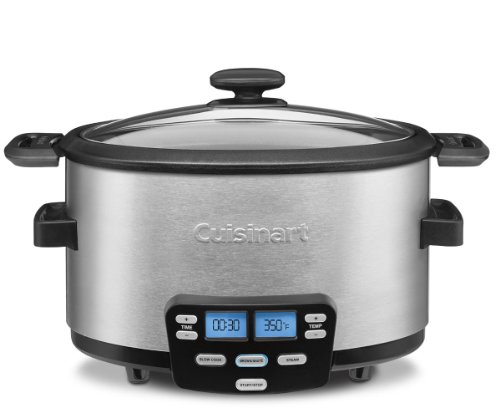 Model Number: MSC-400
Size: 4-Quart Capacity
Designed to help you easily prepare one-pot meals, this advanced multi-cooker has three different modes: slow cook, brown/saute and steam. When slow cooking, the appliance can operate on high, low, simmer or warm and you can program your desired cook time of up to twenty-four hours with the keep-warm setting automatically turning on afterwards. The extra-large LCD display has easy-to-read time and temperature settings, which can go up to four-hundred degrees Fahrenheit. A complimentary steaming rack is included.
Like other Cuisinart slow cookers, this model comes with dishwasher-safe removable parts, cool-touch handles and a see-through glass lid. The pot itself is made of nonstick aluminum, which further enables combination cooking when you want to brown some meat before adding liquids and switching the heat mode to slow cook. If you don't need a lot of food space but you do want a multi-cooker, this hundred-dollar model is amazing.
Cuisinart 3-in-1 Cook Central 6-Quart Multi-Cooker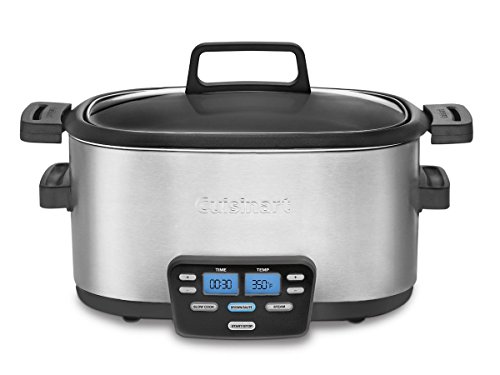 Model Number: MSC-600
Size: 6-Quart Capacity
Equipped with slow cook, brown/saute and steam settings, this six-quart multi-cooker makes feeding a big family easy. You can conveniently combination cook, sauteeing veggies in the same nonstick aluminum cooking pot you'll eventually use to slow cook your soup. Like usual, the slow cook mode can be set to high, low, simmer or warm and the programmable timer allows for all-day cooking. Additionally, the pot, lid and steaming rack can all be cleaned in the dishwasher.
The roomy dimensions of this model are a definite plus when trying to prepare large quantities of food, but there is a notable price increase for the extra capacity. Depending on your budget and the number of guests you typically serve at one time, you may personally have a strong preference between the MSC-400 and the MSC-600 even though the cooking functionalities are the same. If bigger is better and you don't mind the price, the MSC-600 should serve you well.
Cuisinart 4-in-1 Cook Central 7-Quart Multi-Cooker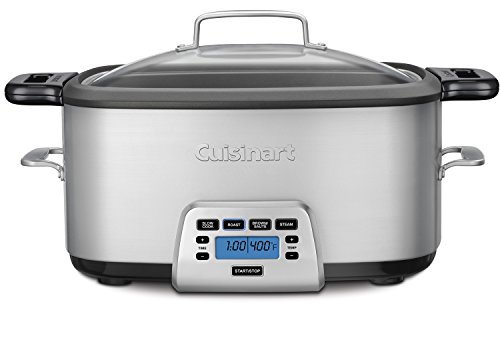 Model Number: MSC-800
Size: 7-Quart Capacity
Cuisinart's premier slow cooker is a four-in-one appliance that can be used to roast, brown/saute and steam in addition to slow cook. When roasting, the model can be set between two-hundred-fifty and four-hundred-fifty degrees Fahrenheit; when browning, you can turn the temperature up to a whopping five-hundred degrees. Of course, the slow cook mode can be programmed to warm, simmer, low or high for up to twenty-four hours and the nonstick aluminum cooking pot, along with the glass lid and reversible roasting/steaming rack, can be safely placed in the dishwasher.
Although the MSC-800 comes with a hefty price tag, the model can be a good investment given all of its functionalities. For many recipes, this top-of-the-line multi-cooker can double as an extra stovetop or oven while also eliminating your need for a dedicated steamer or roaster. If you plan on doing some serious combination cooking and want the ease of just using one pot from start to finish, this advanced model is for you.
Top Pick
In general, we recommend the Cuisinart MSC-400 3-in-1 Cook Central 4-Quart Multi-Cooker. This hundred-dollar model provides a nice variety of cooking functionalities at a price point that won't break the bank. Since the four-quart size is adequate when cooking for just a few people, this can be a great appliance for everyday needs.
Of course, the best addition to your kitchen may actually be a different model if you're looking to spend less or cook larger quantities of food. Thankfully, each of these Cuisinart slow cookers have received overwhelmingly positive reviews from consumers and come from a manufacturer known for offering durable home appliances that can last for years.