Whether you want to serve healthy gluten-free entrees, crowd-pleasing sides or indulgent desserts, slow cooking is the way to go. Founded in 1910, Hamilton Beach has been manufacturing quality home appliances for over one-hundred years and produces some of the best slow cookers on the market. The company's product line offers everything from bargain picks with a manual dial to top-of-the-line options with fancy programmable settings.
When shopping for a slow cooker, there are a few factors to keep in mind: what price range is ideal, what features are must-haves and how many people are you trying to serve. All of the models included in this top-five list have great consumer reviews, but some models are going to better meet your specific needs. Based on your particular preferences, we recommend ordering one of these amazing products.
You can also check out some other brands we've reviewed including Maxi-Matic Slow Cookers, Cuisinart Slow Cookers, and Crockpot Slow Cookers.Update: We've just publishes reviews for West Bend & Bella products as well as Chefman cooker reviews and Tiger Corporation slow cookers too!
Hamilton Beach Stay or Go Slow Cooker

Model Number: 33249
Size: 4-Quart Capacity
This entry-level model comes with a manual dial in conjunction with three heat settings: warm, low and high. For increased portability, there's a clip-tight sealed lid and full-grip handles. The stoneware crock and glass lid are both dishwasher safe.
With a price tag of just over twenty dollars, this manual model best suits shoppers who are looking for a serious deal rather than high-tech settings. The four-quart capacity is designed to hold a four-pound chicken or two-pound roast so, if you need a bigger crock, you may prefer Hamilton Beach's 33461 6-Quart Stay or Go Slow Cooker for roughly five dollars more. Either way, these travel-friendly cookers are a bargain.
Hamilton Beach Programmable Right Size Slow Cooker

Model Number: 33642
Size: Multi-Quart Capacity
Equipped with an adjustable cooking capacity that can be set to two, four or six quarts, this is a versatile slow cooker that can accommodate a variety of different recipes. You can program your desired cooking time and heat setting–high, low or warm–and then, based on your selected quart size, the temperature automatically adjusts itself so every dish comes out right. The easy-to-use control panel features an LED display that counts down the remaining time. Once the countdown is over, this smart model instinctively switches to a keep-warm mode so your food stays in a ready-to-eat condition. For portability and convenience, the removable crock and clip-tight lid are both dishwasher friendly.
Because this multi-quart pick eliminates the need for owning multiple countertop cookers, the Right Size Slow Cooker is a total deal. The crock itself features marks at the two-, four- and six-quart positions, making it easy to know how much food you've placed in the pot. If you want an appliance that can handle everything from a two-person meal to a crowd-accommodating feast, order this model today.
Hamilton Beach Set 'n Forget Programmable Slow Cooker

Model Number: 33969A
Size: 6-Quart Capacity
The Set 'n Forget model comes with three choices for easy cooking: manual, program and probe. If you don't want to mess with setting a cook time, you don't have to since the manual mode allows you to simply select a desired heat setting of high, low or warm. Alternatively, you can use the program setting to input the cook time of your choice so the cooker will automatically shift to warm after a certain amount of time has passed. The other option, when cooking large cuts of meat, is to insert the probe and set the desired meat temperature so that the cooker will automatically shift to warm once the internal temperature of your dish matches your ideal.
If your cooking caters to a carnivorous crowd, this meat-friendly model is for you. The thermometer probe displays the actual temperature of your meat as the dish cooks, which helps you to consistently produce safe and satisfying meals. Like other Hamilton Beach slow cookers, this model features a clip-tight gasket lid to reduce the likelihood of spills when traveling. If you're looking for a six-quart appliance with programmable features, this is a great buy.
Hamilton Beach Programmable Cool-Surround Slow Cooker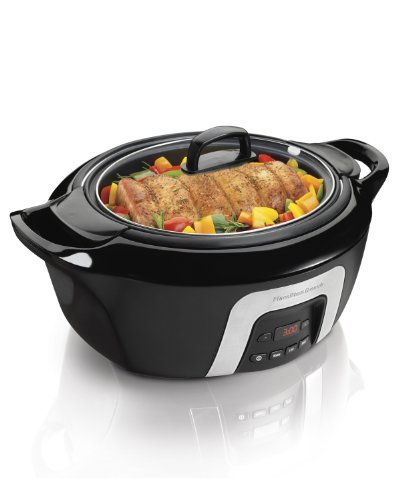 Model Number: 33265
Size: 6-Quart Capacity
With programmable settings related to cook time and high, low or warm heat, this Cool-Surround model has an insulated base to help keep the exterior cooler and safer while in use on the counter. Another incredible feature is that the nonstick aluminum insert pan can go on the stovetop, which means you can brown your meat or sautee some veggies in the same pan you'll use to slow cook your dish. The model is also fashioned with cool-touch base handles and easy-to-read buttons.
This insulated appliance is actually one of the most energy-efficient slow cookers on the market. Although there's no brown or saute mode on the cooker itself, it is nice to be able to at least use the same pot when enlisting the help of your stovetop prior to operating your slow cooker. If you're concerned about the hot exterior traditionally associated with slow cookers and if you love the idea of having a stovetop-safe crock, give this model some real consideration.
Hamilton Beach 3-in-1 Slow Cooker
Model Number: 33135
Size: Multi-Quart Capacity
This manual slow cooker comes with three separate stoneware vessels: two-, four- and six-quart crocks that can each be used in conjunction with the stainless-steel electric base and the one-size-fits-all glass lid. After filling up the vessel that best suits your ingredients at hand, you can press the corresponding two, four or six button on the base and set the appliance to high, low or warm. All of the removable parts are dishwasher safe and, when it's time to store the cooker, the tapered crocks can all nest into the stainless-steel electric base.
The price may be high for a manual slow cooker, but having three separate crocks can certainly come in handy. The different-sized vessels enable you to easily accommodate a varying number of individuals for different occasions. Plus, having three different inserts means you can make multiple slow-cooked dishes without first having to clean out the crock you used last. If you're willing to sacrifice on programmable settings in favor of having multiple crocks, this non-traditional pick may be right up your alley.
Top Pick
For the average consumer, we recommend the Hamilton Beach 33969A Set 'n Forget Programmable Slow Cooker. For under fifty bucks, you can access probe-, program- and manual-based cooking modes. You also get the travel-friendly features of a clip-tight gasket lid and full-grip handles. Even if you don't have a big family to feed, the six-quart model is still a good size as long as you like leftovers.
In general, Hamilton Beach is a name brand we love and trust. If you're on a tight budget or don't want to commit to a six-quart crock, one of the other models mentioned in this list may be very appealing. Regardless of which particular appliance you settle on, we hope you have many incredible and tasty experiences concerning slow cooking.