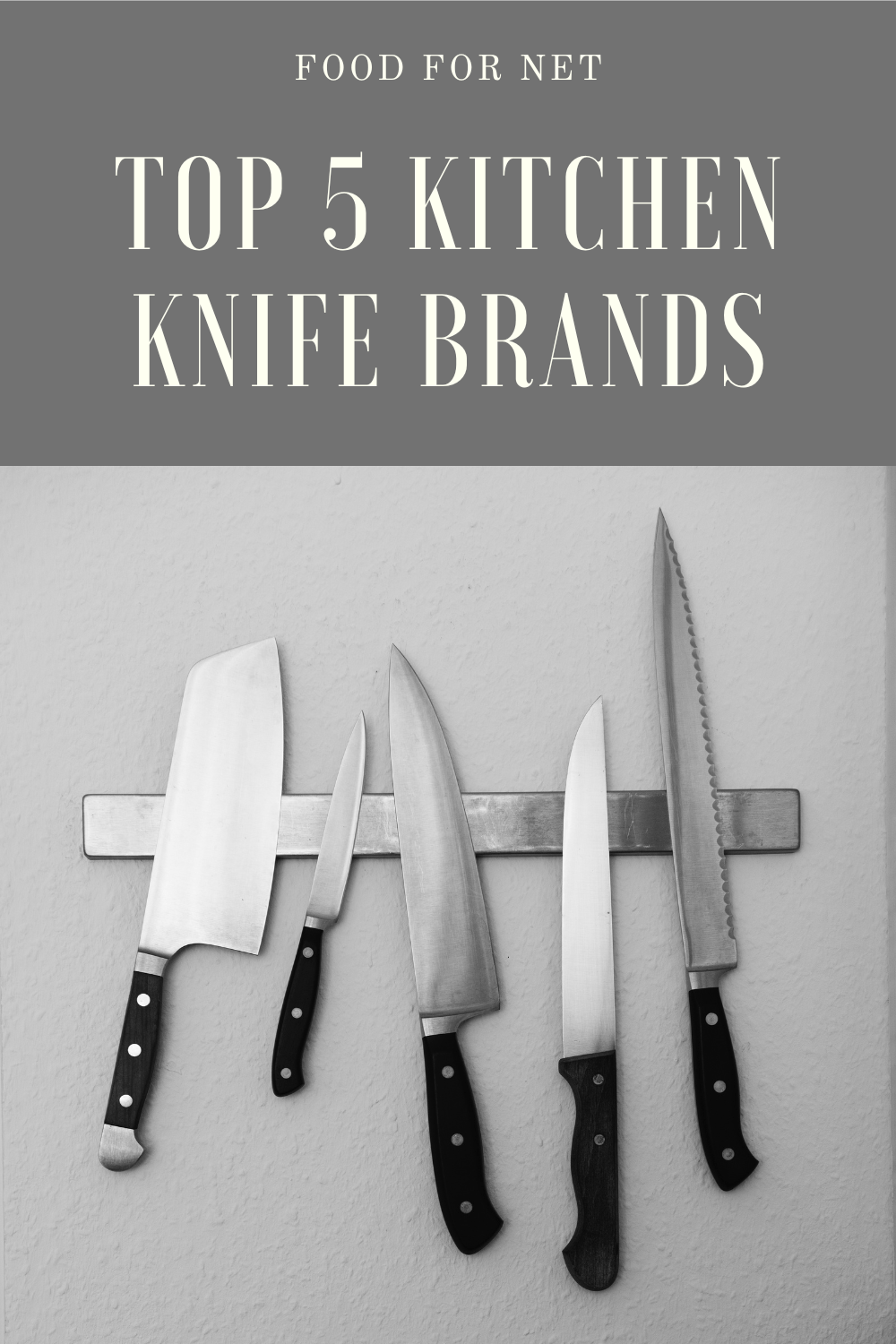 It may seem like a simple thing, but the world of kitchen knives is vast. This is because once you get past the basics of cooking, you'll find the style and quality of your knives is quite important. Some ingredients must be sliced nice and thin, for example. Accuracy and efficiency are also vital when you're cooking complex dishes. If your knives aren't up to par, you'll spend way too long in the kitchen and deal with more frustration than necessary.
The best kitchen knife brands not only offer quality materials but innovative designs and a good variety. There are many jobs to perform in the kitchen so a dedicated and passionate cook needs at least a few decent knives.
Even if you're a total amateur or just a casual cook, you can never go wrong with good knives. If you're ever worried about the expense, just remember that quality lasts. Many higher-end knives are available as individuals, too, so you can pick and choose which one you want. Knife sets are great but often you end up with a few pieces you don't want. The following brands are some of the best on the market – offering premium quality, a solid variety, and beautiful designs. 
The Best Kitchen Knife Brands
1. J.A. Henckels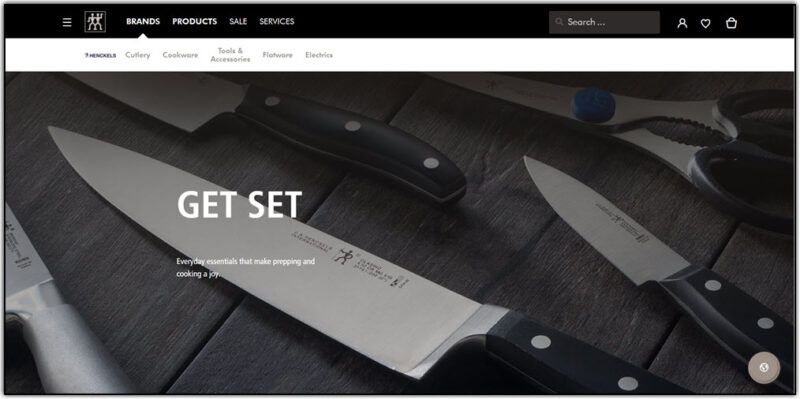 J. A. Henckels is a classic brand of knives and cookware that's been found in households for many years. Since 1895 they've been producing everything from classic chef's knives to all kinds of specialty designs. They use only the best materials for their incredibly high-quality knives, all of which come at a great price. They're suitable for all levels of skill in the kitchen!
Some of their knives are available as individuals, but many come in small sets of three. These sets are essentially the same knife in three different sizes.
They also have a good variety of other kitchen tools such as high-quality cutting boards and a handy knife sharpener. Knives always get dull over time and it can become a true pain. But to sharpen them at home is much more convenient.
You can also get things like pots, pans, other cookware, tools, accessories, and electronics. If you like the Henckels brand, you can outfit your entire kitchen with them if you'd like!
2. Shun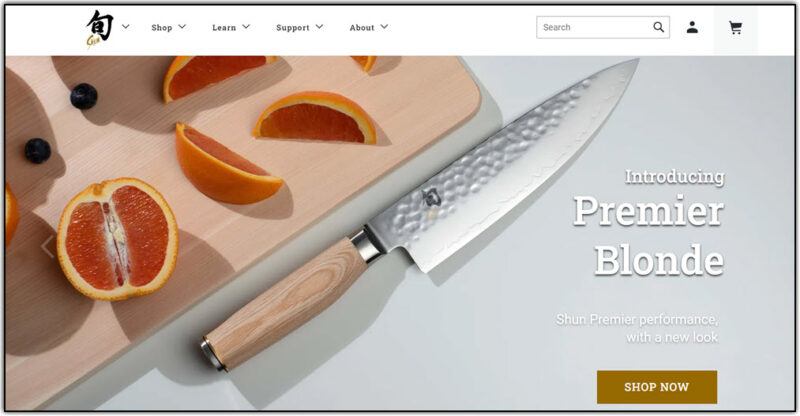 Shun is a brand of knives crafted in Japan. They feature the perfect combination of beautiful craftsmanship and superior performance. They have a good variety of single knives available, or you can get each piece together in a set with a nice block for storage.
They offer an eight-inch chef's knife, a six-and-a-half-inch master utility knife, a three-and-a-half-inch pairing knife, and a seven-inch santoku knife. Each has its own purpose in the kitchen. Which one you start with depends on what you prefer to cook, and how. Or, you can pick up the set and be prepared for anything!
These knives are some of the best quality out there, and you want them to last! Their website has extensive information on care and use, if you do decide to go with these knives.
3. Wusthof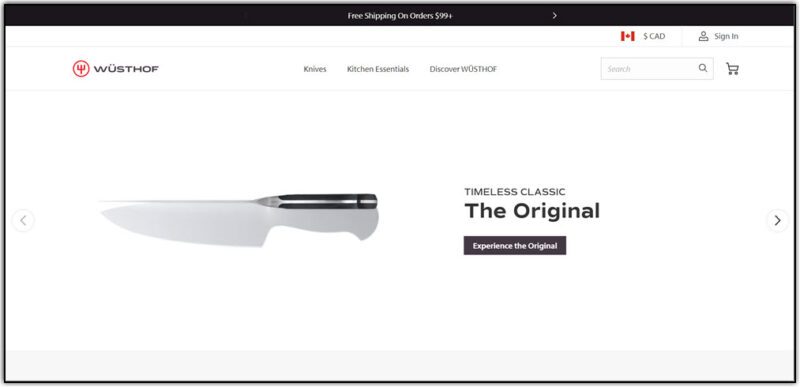 Wusthof is another top-notch brand of kitchen knives that has a little of everything. Their all-purpose knives are good for everyday kitchen and cooking tasks, while their specialty ones can do just about anything. You can browse their knives by specific type, or you can browse their different series.
You can also "build your own block" where they let you mix and match which knives you want. This allows you to get your kitchen set up exactly the way you need without paying for extra pieces you won't use.
When it comes to the knife block itself, they have many options here as well, depending on what aesthetic you want. There are many finishes to choose from that will match whatever style you have in your kitchen!
4. Imarku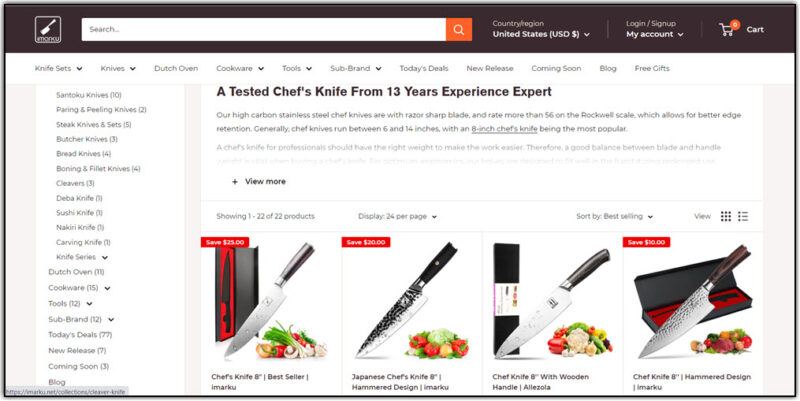 Imarku is another Japanese brand with an amazing selection of beautiful, quality knives. Their larger 16-piece sets are some of their bestsellers and best deals, but you can pick and choose individual knives as you wish.
Their knives are versatile and of premium quality, and they have some lovely, unique designs. You can get plain knives, of course, but you can also pick from a variety of decorative textures and a few different colors.
There's also the option of getting plain knives, along with bright and colorful blocks and cases. Some have the color only on the inside which provides a subtler splash of color if you'd like to keep it simple.
While the brand is based in Japan, they use the best forging and smelting technology from the United States. They have lots of information available, including videos, if you want to learn more about their process and how the knives are made. They also offer information on their commitment to sustainability and how they're achieving it as a company.
5. Victorinox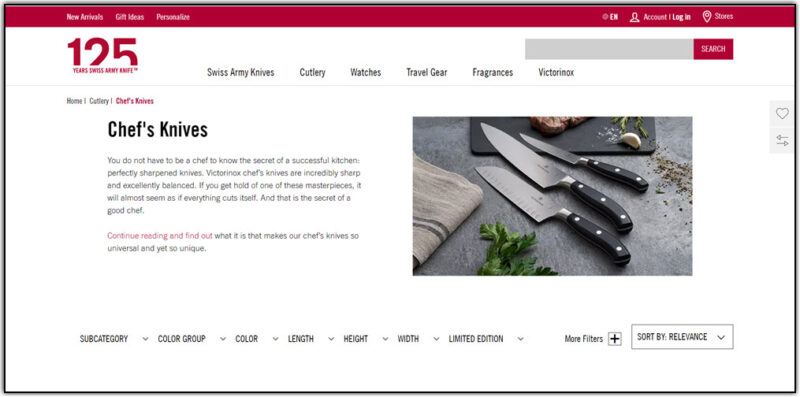 Victorinox believes that cooking should be simple and that with the right tools, anyone can be successful. Their knives are always sharp enough to do the job well, but they're also incredibly balanced and easy to handle.
They have many different styles, including the classic chef's knife, knives with a fluted edge, carving knives, boning knives, and so much more. All are available as individual pieces so you can pick and choose exactly what you need.
If you like the knives and what they can do for you, then you can get much more from Victorinox. Everything they carry offers just as much attention to detail and is just as high quality. In addition to their classic Swiss army knives, they've got all kinds of cutlery, travel gear, watches, and even some signature fragrances!
Their travel gear category is particularly impressive, with everything from carry-ons and checked luggage bags to duffels, totes, wallets, backpacks, and other accessories. They've got everything you could ever need to go on a trip and stay safe while doing it!
Different Knives and Their Purpose

With all the different types of knives out there it can feel overwhelming to know which ones you need. Some are more common and versatile than others, but it's good to get to know which is which.
The Essentials
There are some knives that every kitchen should have, regardless of the cook's skill level. These are ones that'll help you prepare lots of simple, healthy meals and can get you started on some more adventurous dishes.
You can start with one at a time and slowly build your collection, or go all-out and get a set. Usually, buying a set from these brands will save you a little money versus buying each knife individually. They'll also likely come with a convenient knife block for stylish and convenient storing.
Classic Chef's Knife
This is arguably the most important one in your collection. If you only have one knife, it should be this one! A chef's knife is usually about eight inches long, give or take. Some are even longer, which ultimately comes down to preference. It becomes a little more versatile when it's a bit longer.
It's the go-to for many day-to-day kitchen tasks like slicing fruits, veggies, meat, and fish. Things it shouldn't be used for include carving meat or removing skin from large vegetables like squash.
Paring Knife
This knife covers a lot of more "general" things that a chef's knife doesn't. It's smaller and more precise, at about three and a half inches long. This makes it perfect for smaller, more specific tasks that require greater attention to detail. It's also better than a chef's knife for chopping and slicing small things like strawberries or garlic.
A paring knife shouldn't be used for harder vegetables like carrots or parsnips as it may not be strong or robust enough.
Serrated Knife
Also called bread knives, these are, unsurprisingly, great for slicing up bread. They are especially useful if you love many different kinds of bread as some are tougher than others, so a regular knife won't do.
They're also great for cutting foods with a waxier surface such as tomatoes, pineapples, watermelons, peppers, and citrus fruit. This is due to the grip it gets from the jagged edge, where a flat edge would just slide along.
Boning Knife
Boning knives are slim and sturdy and made for cutting up and/or boning fish. This involves working around bones, so you need a knife that can be precise – and one that can cut in more than just a straight line!
A boning knife can also cut through cartilage and joints but shouldn't be used to cut through bones, only around them.