Whether you need an inexpensive way to feed a big family, a safe way to prepare gluten-free meals or a convenient way to cook dinner while you're away from home, slow cooking is the answer. Thankfully, slow cookers come in all sorts of sizes at various price points so, regardless of what your family size and budget are like, you should be able to find a serviceable appliance that meets your personal needs. If you're in the market for a quality product that won't break the bank, Maxi-Matic–sometimes stylized as MaxiMatic–can help.
The home-goods manufacturer offers a wide array of electric appliances under the branding of Elite by Maxi-Matic. From small, entry-level slow cookers to large, feature-packed appliances, Maxi-Matic has it all. Choosing from the company's entire product line, we like the following five picks the best.
You can also check out some other brands we've reviewed including Hamilton Beach slow Cookers, Cuisinart Slow Cookers, and Crockpot Slow Cookers. Update: We've just publishes reviews for West Bend & Bella products as well as Chefman cooker reviews and Tiger Corporation slow cookers too!
Maxi-Matic Elite Gourmet Slow Cooker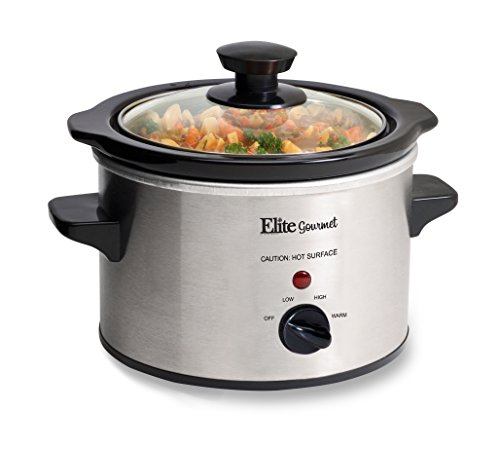 Model Number: MST-250XS
Size: 1.5-Quart Capacity
Featuring low, high and keep-warm heat settings, this mini slow cooker has a removable inner stoneware pot that's sized at one-and-a-half quarts. The appliance has a stainless-steel finish, cool-touch handles and a tempered-glass lid. Both the pot and lid are dishwasher safe.
This inexpensive model is the perfect pick for consumers who want to slow cook on a small scale. The size obviously doesn't work for feeding a one-pot dinner to a crowd, but if you're just cooking for yourself or if you want to make meal add-ons like dips and sauces, this mini appliance is definitely one of the most affordable picks on the market.
Maxi-Matic Elite Cuisine Multi-Cooker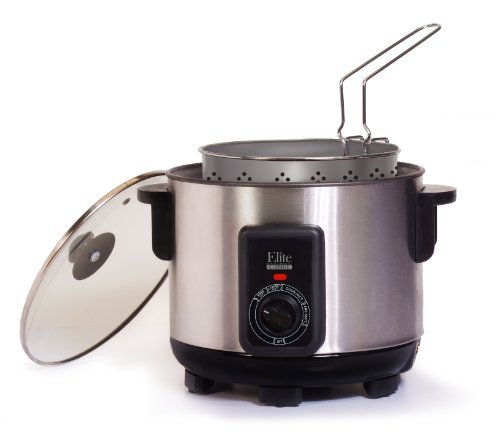 Model Number: EDF-1300M
Size: 5-Quart Capacity
With a five-quart capacity and brushed stainless-steel exterior, this model is a multi-functional cooker that can be used to warm, steam, slow cook or fry. There's an adjustable thermostat control that you can manually adjust based on your changing needs and there's a removable basket with a detachable handle. The inner pot is enamel coated and does not separate from the electric base.
The low cost of this multi-cooking appliance is amazing, but some consumers have reported being disappointed with this particular model due to it not standing the test of time in comparison to other longer-lasting slow cookers. Of course, the fact that you can't throw the pot into the dishwasher is another possible inconvenience. If you want to try out a multi-cooker without having to shell out the big bucks, experimenting with this model may be of interest to you.
Maxi-Matic Elite Platinum Stainless Steel Slow Cooker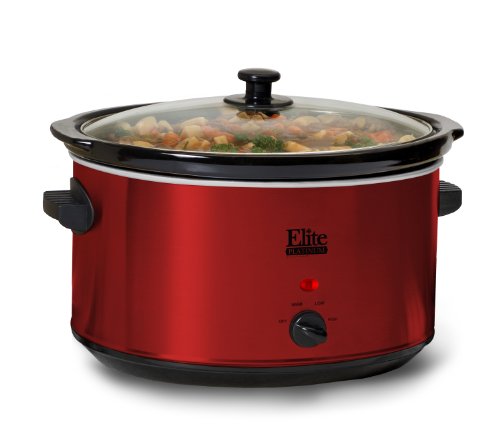 Model Number: MST-900R
Size: 8.5-Quart Capacity
This extra-large slow cooker has a manual dial with warm, low and high temperature settings. The oval shape and substantial capacity is ideal for preparing large whole chickens, sizable roasts and other family-friendly dishes. For your convenience, the stoneware pot is removable and the tempered-glass lid is clear so you can keep an eye on how your ingredients are progressing without having to lift the lid and let heat out of the crock.
You don't get any programmable features with this model, but you do get a lot of room to play around with one-pot cooking. If you're on a budget and capacity is more important than fancy settings, this is a great pick. Parenthetically, the MST-900R has a red exterior, but if you prefer a white or silver model, you can spend around ten bucks more for the same type of MST-900 appliance.
Maxi-Matic Elite Platinum Programmable Stainless Steel Slow Cooker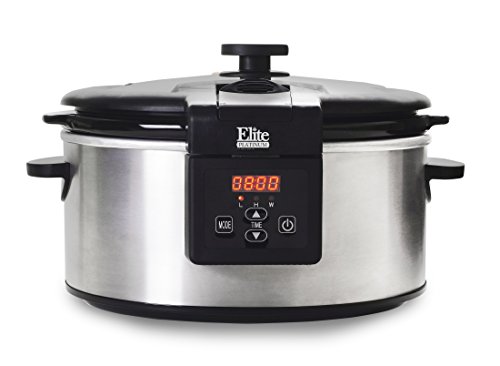 Model Number: MST-6013D
Size: 6-Quart Capacity
With a programmable digital timer that can be set to cook for up to twenty hours, this six-quart model has low, high and warm modes. The exterior has a brushed stainless-steel finish and the inner ceramic pot is removable. Additionally, the tempered glass lid has a serving-friendly hinge so it can sit upright and a travel-friendly lock so you don't have to worry about spills while on the go.
Although the lockable lid is a nice touch, we wish the model came with more carry-friendly handles for even more convenience as far as traveling is concerned. Either way, we do appreciate the programmable cook settings and countdown timer. If this six-quart cooker is too small for your needs, you may be interested in a similar model that holds eight-and-a-half quarts, which costs around sixty dollars.
Maxi-Matic Elite Platinum 7-in-1 Infinity Multi-Cooker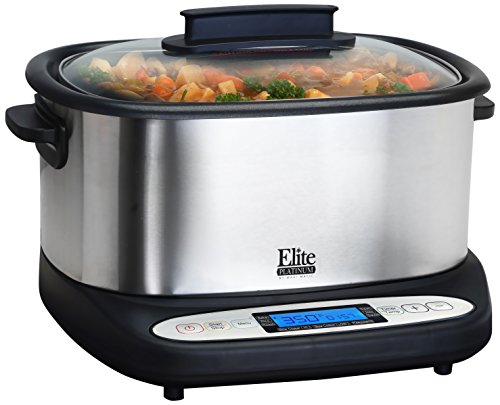 Model Number: MST-6805
Size: 6.5-Quart Capacity
In addition to traditional slow cook settings of high, low and warm, this multi-functional appliance offers modes for roasting, baking, steaming, sauteing, stewing and cooking rice. With a clear LCD display and additional time and temperature settings, this programmable model is an advanced appliance that makes use of a wrap-around heating system that cooks food more evenly. The removable pot has a capacity of six-and-a-half quarts, which can hold a six-and-a-half-pound chicken or four-and-a-half-pound roast. This slow cooker also comes with a complimentary rack for use when roasting, steaming or baking.
The Infinity Multi-Cooker isn't cheap, but it provides a lot of possibilities. Using the same crock, you can perform a variety of combination-cooking tasks like searing before you slow cook. You can also use the model as an extra stovetop or oven when needed. If you're looking for a go-to countertop appliance that can do it all, the MST-6805 is worth considering. For your information, this black-accented model does have a white-trimmed relative, the MST-6805W, but you'll have to pay almost double for going with the lighter design.
Top Pick
If you're shopping for a Maxi-Matic appliance on the basis of wanting a cost-effective product, you can't beat the MaxiMatic MST-250XS Elite Gourmet Slow Cooker. For those new to slow cooking, this one-and-a-half-quart appliance is the perfect non-committal introduction. You can experiment with small quantities and decide if countertop cooking really is for you–all for less than fifteen dollars. If you end up deciding down the road that you need a bigger slow cooker, this mini product is still great to have on hand when preparing appetizers or needing to create one allergen-free serving of dinner while the rest of the group eats from your larger crock.
Of course, not everyone is in the market for an under-two-quart model. If you have a large family or if slow cooking is already something you love, you might be most interested in picking up a multi-functional appliance like the Elite MST-6805 Platinum 7-in-1 Infinity Multi-Cooker, which makes one-pot cooking a reality. Whether you compromise on a bargain pick or splurge for a higher-end model, we trust that the road ahead will be filled with plate after plate–or bowl after bowl–of delicious, slow-cooked meals.