Tiger Corporation, the Japanese manufacturer of high-tech home goods including countertop electrics, is internationally known as a quality brand. If you're in the market for an advanced slow cooker with some impressive specs, a Tiger product might be just what you're looking for. The cost won't be cheap, but neither will the materials used to make such a grand kitchen appliance.
Whether you want to prepare gluten-free entrees and vegan sides or crowd-pleasing appetizers and sugar-filled desserts, making use of a slow cooker is one of the most convenient ways to ensure that a warm and yummy dish will be ready and waiting for you. Depending on your circumstances, you may be looking for a countertop cooker that has some very specific features. With that in mind, we'll lay out all of the relevant details regarding each model so you're armed with everything you need to know to make an informed purchasing decision.
Want to check out some other brands? See our reviews of Hamilton Beach, Cuisinart, Black & Decker, West Bend, Bella, and Maxi-Matic slow cookers. Update: Now featuring Chefman cooker reviews too!
Tiger Corporation 5.5-Cup Micom Rice Cooker with Food Steamer and Slow Cooker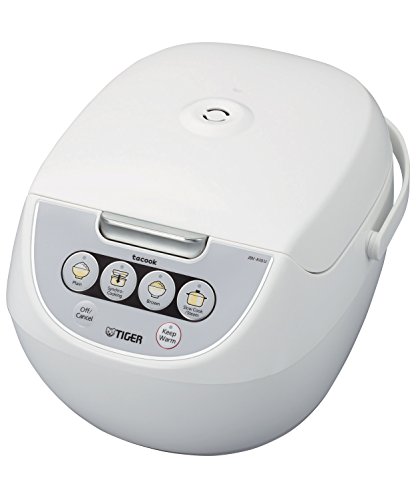 Model Number: JBV-A10U-W
Size: 5.5-Cup Capacity
In addition to plain rice, brown rice and synchro cook settings, this micro-computerized model features a slow cook mode, which you can use to make your favorite simmer-friendly dishes. The non-stick inner pan is scratch resistant, the control panel features large icon displays and the cooker comes with useful accessories including a non-stick spatula, a BPA-free cooking plate and a cookbook. Whether you want to slow cook a soup, steam some veggies or simultaneously cook rice and a plate of meat, this savvy multi-cooker can get the job done.
The stated capacity of five-and-a-half cups refers to how much raw rice can be cooked at one time where one rice-industry cup equals three-fourths of a regular measuring cup of rice and is meant to be accompanied with over a cup of water. When slow cooking, the volume of your ingredients needs to fall in between the two-cup and five-and-a-half-cup measurements so that both undercooking and boiling over aren't problems, which means the actual quantity of slow-cooked food you can make using this multi-cooker ranges between half a quart and nearly one-and-a-half quarts.
Since this multi-functional appliance isn't a dedicated slow cooker, the slow cooking mode doesn't offer an amazing array of options. You don't have your choice of heat settings; the computerized system will bring your ingredients to a boil and then reduce the heat to nearly two-hundred degrees Fahrenheit before gradually reducing the heat again and ultimately launching the auto-warm mode.
By default, the slow cook mode operates for two hours and the cooking time can only be extended using thirty-minute intervals up to three times. Of course, the appliance's capacity is such that you're only going to be slow cooking a couple of servings at once so the time limitation might not be that big of a deal. If you're looking for a small multi-cooker and don't mind experimenting with different recipes to figure out the perfect proportions and cook times when using this special appliance, you might want to give this product a try.
Tiger Corporation 4.75-Quart Non-Electric Thermal Slow Cooker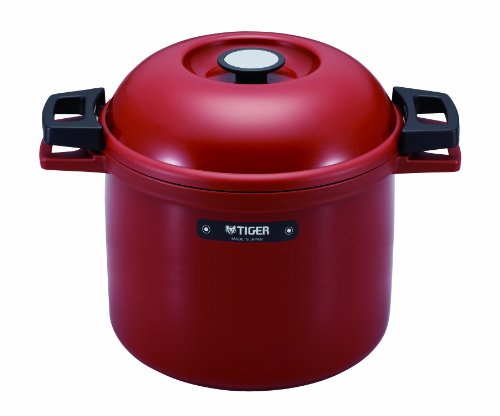 Model Number: NFH-G450
Size: 4.75-Quart Capacity
This incredible non-electric slow cooker requires an initial heat source, such as a stovetop, to bring your ingredients to a boil and then the slow cooker can retain a heat of one-hundred-fifty-four degrees Fahrenheit for up to six hours.
After you heat the stainless-steel inner pot on the stove and place the tempered-glass lid on top, you set the duo inside the outer container, which is a stainless-steel, vacuum-insulated holder that stays cool to the touch on the outside while cooking your food without fire or electricity. The outer lid can easily be removed when serving and both the inner pot and outer container are washable.
Not only can this slow-cooking system save you time and energy, but it can also open up a world of possibilities when, for example, you have a four-hour drive to get to a mountain retreat and you'd love to serve your family a warm meal as soon as you arrive. You do need an induction heat source at the beginning, but after that, the cooker can go anywhere you go. With a capacity of almost five quarts, this red appliance is ideal for small families or couples who don't mind leftovers.
Tiger Corporation 6.34-Quart Non-Electric Thermal Slow Cooker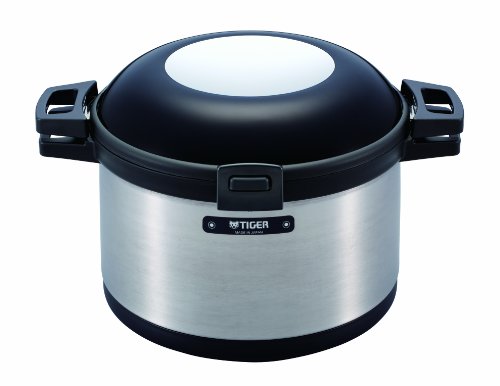 Model Number: NFI-A600
Size: 6.34-Quart Capacity
Featuring the same basic setup as the smaller-sized thermal cooker, this non-electric model needs an external heat source to bring your dish to a boil and then, after that, the inner pot can sit in the outer container so dinner practically cooks itself. With a sleek stainless-steel finish, six-hour heat retention and the ability to travel anywhere, this model is one handy device to have on hand. You can easily wash the inner pot, outer container and the accompanying lids.
Although this model retains a temperature of one-hundred-sixty degrees Fahrenheit, which is higher than what the NFH-G450 is capable of, one obvious drawback of this kind of slow cooker is the fact that recipes requiring eight or ten hours of cook time aren't compatible. But, if you're fine with making adaptations or sticking to certain kinds of recipes, this model with a family-friendly capacity can be a real hit in your kitchen. Alternatively, if you're interested in procuring an even larger model, there is an extra-large cooker priced at two-hundred-nineteen dollars with a capacity of almost eight-and-a-half quarts.
Tiger Corporation 5.49-Quart Non-Electric Thermal Slow Cooker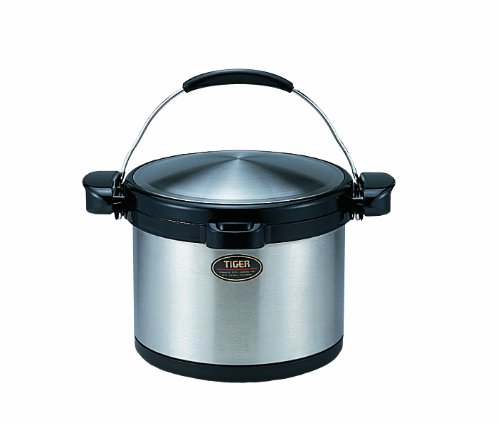 Model Number: NFB-C520
Size: 5.49-Quart Capacity
Unlike Tiger Corporation's other thermal slow cookers, this model features a convenient carrying handle and a one-touch pop-up lid. Of course, the non-electric setup of this unit is the same as the brand's other thermal models: you need an external heat source to boil ingredients within the inner pot before placing that holder in the stainless-steel vacuum-insulated outer container. The cooker will retain a temperature of one-hundred-fifty-four degrees Fahrenheit for six hours.
With a capacity that's nearly five-and-a-half quarts, this durable appliance is easy to transport. You are paying extra for the carrying handle and pop-up lid, which may or may not be selling points in your mind. Consequently, your personal preferences will dictate if this model is more appealing than its peers.
Tiger Corporation 10-Cup IH Rice Cooker with Slow Cooker and Bread Maker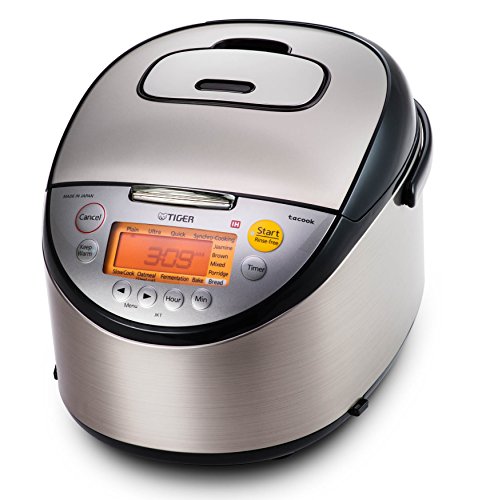 Model Number: JKT-S18U-K
Size: 10-Cup Capacity
Featuring an induction heating system, this multi-functional cooker is controlled by a microcomputer and comes with eleven cooking modes including rice, synchro, bread, oatmeal, porridge and slow cook. The unit houses five layers of metal and three additional layers of coating so the ceramic-lined inner pan provides even heating to produce delicious food every time. The inner pan has an easy-to-grip handle and the removable parts are simple to wash.
Since the ten-cup capacity is in terms of rice-industry cups and references how much raw rice can be cooked, you can expect to slow cook a dish with a volume under three quarts.
With that in mind, buying this expensive multi-cooker doesn't make a whole lot of sense for consumers who want to produce large quantities of slow-cooked food or who may never even touch the other computerized functionalities such as the bake bread mode. However, if you're in the market for multiple appliances including a bread maker, rice cooker and slow cooker, then this multifaceted model is a great all-in-one pick.
Top Pick
After reviewing all of Tiger Corporation's appliances with slow-cook capabilities, we're most in love with model number NFI-A600, the 6.34-Quart Non-Electric Thermal Slow Cooker. The six-quart capacity is perfect for families and the stainless-steel exterior will accessorize the countertop nicely. Paying over one-hundred-fifty dollars for a slow cooker might sound extreme, but if you're looking for on-the-go capabilities, that's going to cost more than a pretty penny.
Obviously, this kind of slow cooker isn't for everyone. If you don't have stovetop access, want to slow cook a dish for more than six hours or need an auto-warm feature so that your food has a ready-to-eat temperature whenever you end up getting off work, then a different model–or even a different brand–may serve you much better. Keep looking around until you identify the appliance that perfectly matches your individual likings.