Although the West Bend brand has experienced a variety of ownership changes over the years, the housewares division is still synonymous with fabulous appliances. If you're in the market for a quality slow cooker that will help you make a variety of warm dishes including gluten-free soups, paleo-based entrées and fat-filled desserts, you've come to the right place. Here we've listed West Bend's top five appliances with slow cook capabilities.
Within this list, you'll find everything from an entry-level crock with a manual dial to a top-of-the-line multifunctional cooker with programmable settings. Hence, whether your budget is around thirty bucks or a hundred more than that, West Bend has designed its product offerings with you in mind. Without further ado, here's a look at the brand's most impressive models.
Want to check out some other brands? See our reviews of Hamilton Beach, Cuisinart, Black & Decker, Crock Pot and Maxi-Matic slow cookers. Update: Now featuring Chefman cooker reviews and Tiger Corporation slow cookers too!
West Bend Oval-Shaped Crockery Cooker
Model Number: 84384
Size: 4-Quart Capacity
This entry-level slow cooker has a four-quart capacity, a brushed stainless-steel exterior and a manual temperature-control dial that can be set to low, high or warm. There's a convenient power light that indicates whether the crock is on or off and there are also stay-cool handles to keep you protected. Additionally, the removable parts are dishwasher safe for easy cleanup.
With basic settings and a budget-friendly price tag, this model's primary purpose is to introduce you to the world of slow cooking without requiring a sizable investment. If you're not looking for anything fancy, this no-fuss, four-quart appliance may appeal to you. Alternatively, there is a six-quart model available, which is priced near forty-five bucks. We do wish these manual crocks were priced a little bit lower to be more on par with competitor offerings, but if you love West Bend, the marginal premium is worth it.
==> Get It From Amazon From Here
West Bend Manual Versatility Slow Cooker with Insulated Tote

Model Number: 84915G
Size: 5-Quart Capacity
Featuring an oblong five-quart cooking pot and an electric base that can double as a light-duty non-stick griddle, this multifunctional appliance has an adjustable temperature control with five different heat settings including a keep-warm option that will hold your dish at a food-safe, ready-to-eat temperature. The non-stick removable pot can actually be used in the oven, on a range top and in the freezer. Additionally, the pot and glass cover are both dishwasher safe.
To further sweeten the deal, this versatile slow cooker comes with an insulated tote, which will keep your food warm for up to two hours. You also get a transport lid, which will help prevent spills when you're on the go.
Although the stated price is for the green model, the cooker and tote combo also comes in red and in blue if you're willing to pay a few bucks more. Regardless of your preferred color, this type of multi-use slow cooker is perfect for consumers who want some flexibility but are still looking for a real bargain.
West Bend Programmable Versatility Slow Cooker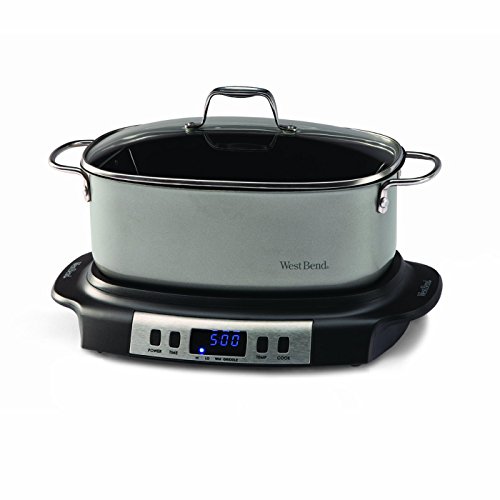 Model Number: 84966
Size: 6-Quart Capacity
Offering the multifunctional capabilities of 84915 in programmable form, the 84966 gives you even more options. The six-quart cooker has digital time and heat settings so you can select a cook time and, once that time has passed, the appliance will automatically shift into keep-warm mode.
There are four temperature settings–low, high, warm and griddle–and an automatic shut-off feature after twenty-four hours of operation. Like the manual model, this programmable product can double as a griddle and the removable pot can be used on a stovetop or in the oven. Featuring a stainless-steel exterior, cool-touch handles and dishwasher-safe removable parts, this cooker was designed to please.
Although we love the upgrades featured on this digital model, we don't actually love the price, which is nearly double what it costs to purchase the manual version. On top of that, you may have to pay additional shipping fees depending on the seller. That being said, if money isn't a huge factor in your search for the perfect slow cooker, than this savvy six-quart model is certainly worth considering.
West Bend Stainless Pressure Cooker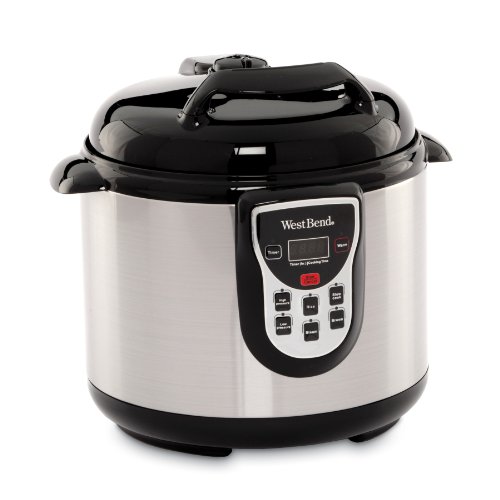 Model Number: 82011
Size: 6-Quart Capacity
This multifunctional appliance has six cooking modes: high pressure, low pressure, slow cook, brown, steam and rice. Whether you want to one-pot combination cook by browning ingredients before slow cooking a dish or you just want to have one do-it-all countertop cooker that will cook rice one day and steam your veggies the next, this multi-use appliance is fabulous.
The space-saving, hassle-eliminating product has easy-to-adjust controls including a programmable timer so you can input the cooking time of your choice. Additionally, there's a warm setting, which will hold your dish at the perfect temperature until everyone is ready to eat.
Since the appliance is a pressure cooker, there are a number of extra features that promote safety and convenience. The cool-touch lid locks, there's a pressure-release dial and the round cooking pot has a non-stick interior. The cooker also comes with a handful of gratuitous accessories including a wire cooking rack, a spoon holder and a condensation drip cup. If you're in the market for a slow cooker with pressure cooking functionalities, this advanced model is a great buy.
West Bend 4-in-1 Multicooker Slow Cooker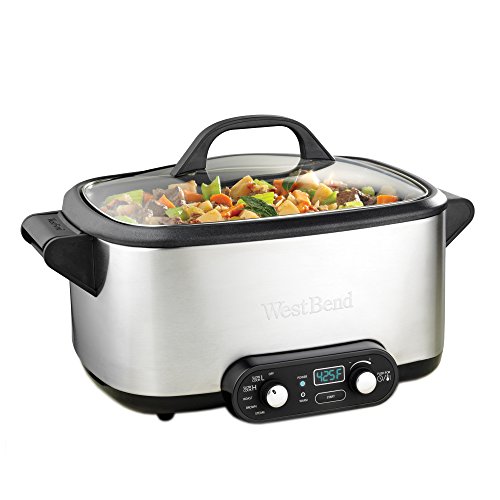 Model Number: 6385
Size: 7-Quart Capacity
Featuring an extra-large vessel that can hold crowd-friendly quantities, this seven-quart cooker is equipped with four cooking modes: slow cook, roast, brown and steam.
When slow cooking, you can opt for a high or low heat setting; when using the other cook modes, you can select a temperature in degrees Fahrenheit. There's also a programmable time interface for selecting your ideal cooking time and prompting an auto-warm mode to kick in afterwards. The cooker has a stainless-steel exterior and comes with a rack that can be used for roasting and steaming.
If you're serious about combination cooking, this oversized multi-cooker can definitely come in handy. The programmable settings give you complete control and the extra-large, multi-use vessel can help you easily feed a large group. Although some consumers report that this model wears out faster than other slow cookers, you can make use of the limited warranty if you do experience the early onset of certain malfunctions.
Top Pick
For the average consumer, we recommend purchasing the West Bend 84915G Versatility Slow Cooker. The five-quart model, which comes with an insulated tote and transport-friendly lid, delivers a lot of value at a fairly inexpensive price. We love that the cooking pot can be used in the oven or on the stove when we want to combination cook and we're smitten with the griddle-like base. Even though there aren't any sophisticated programmable controls on this appliance, the five heat settings do provide us with a nice amount of versatility to meet our varying slow-cook needs.
Obviously, your particular preferences may warrant picking out a different model. If you're a pressure-cooking aficionado or someone who needs a crock with an extra-large capacity, then be sure to shop accordingly. After all, the whole point of slow cooking is to make your life easier.