If you're trying to make fast and easy meals or simply have a lot to pay attention to around dinner time, rice cookers can make a lot of sense. These tools do exactly what the name suggests, leaving with more time to worry about the rest of their meal preparation. Rice cookers also mean that you don't have to worry about accidently burning the rice or undercooking it. In fact, you don't have to pay any attention to the rice at all.
The other big advantage of a rice cooker is that it gives you a lot more flexibility in terms of time. Even the cheapest rice cookers out there offer the ability to keep rice warm. This means that it doesn't matter if you are running late with other parts of dinner or if you have someone who turns up part way through the meal. That type of flexibility isn't something that you have if you cook rice on your own.
When it comes to choosing a rice cooker, many people opt for the smaller sizes, like ones that hold 3 to 5 cups of cooked rice. After all, those models tend to take up relatively little bench space, which is an appealing outcome. However, larger models like the ones in this list can also be an appealing choice. With these models, you end up with a lot more options in the amount of rice you cook. So, you can use these rice cookers to produce just a few cups of cooked rice or you could use them to full capacity, depending on the situation.
For cheaper options, we also have reviews of middle-price 10 cup cookers and low-price 10 cup cookers.
Don't forget! There's also an option of extra small rice cookers (3-5 cups) if you need to save counter space and go smaller. In the medium size range (5-10 cups) you can check out our budget rice cooker reviews , mid-range cooker reviews , and high end cooker reviews.
Zojirushi NS-WAC10-WD Micom Rice Cooker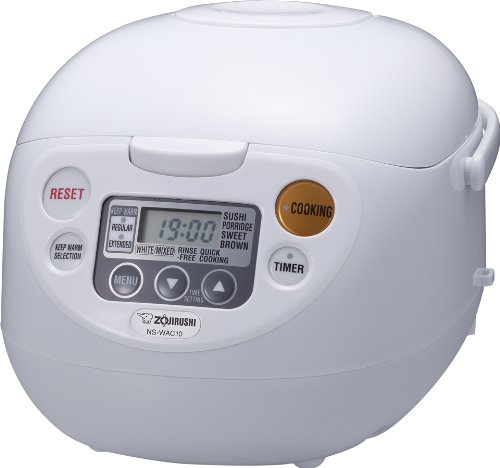 Model Number: NS-WAC10-WD
Capacity (cooked rice): 11 cups
Zojirushi is one of the most prolific brands when it comes to rice cookers and they have a number of different models that range from basic to complex. This is also one of the most popular Japanese rice cooker brands and has a tendency to produce high-quality products.
This particular model is one example of this and one of the appealing things about it is the various features. These features offer people more control over their rice and it's especially relevant if you cook brown rice or other less common types of rice, such as sweet or sushi rice. At the same time, the machine uses an approach known as fuzzy logic. This is a form of programming that provides the device with the ability to make small adjustments as the rice is cooked. In turn, this helps to ensure a good end result regardless of the type of rice.
On a side note, there is also a second size for this model, which is 20 cups of cooked rice. Now, it seems that most people would never actually need to cook that much rice at one time but if you did, then the larger model would be one way of doing that.
Tiger Rice Cooker and Warmer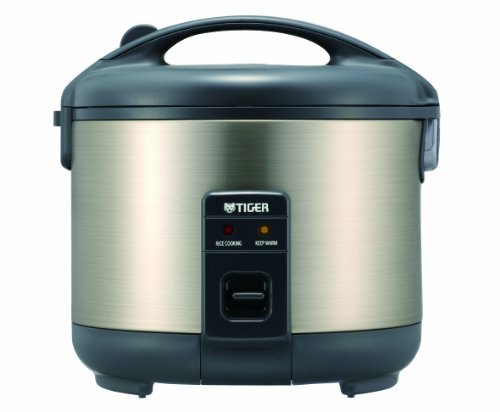 Model Number: JNP-S10U-HU
Capacity (cooked rice): 11 cups
This model is a fairly basic option for a rice cooker and simply has the ability to turn it on and off, with no other settings or features. Nevertheless, despite this, the rice cooker appears to perform well and receives high ratings on Amazon. This is also one of the few models that you can find in a range of sizes going all the way up to 20 cups of cooked rice.
The brand behind the product is Japanese, which suggests a strong focus on getting rice right. Reviewers also note that the product tends to perform better than Chinese-made alternatives, and some even claim that it performs better than Zojirushi's models. However, that latter claim is probably partly the result of personal preference. Either way, this is a good solid rice cooker that performs well if you want to simply cook rice without any additional options.
Zojirushi NS-TSC10 Micom Rice Cooker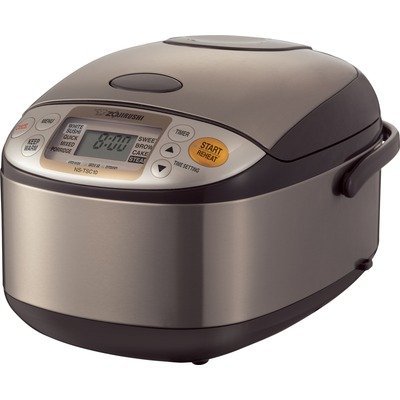 Model Number: NS-TSC10
Capacity (cooked rice): 11 cups
This rice cooker model has an extremely good reputation and is often referenced as the best option for a rice cooker, hands down. In fact, on Amazon, the model currently has more than 1,000 customer reviews and from those, it averages 4.6 stars.
Much of the popularity seems to come from the range of functions that it offers. One aspect of this is that the device functions as a steamer. This means that you can cook vegetables or meat in the steam that is produced from the rice cooking. To achieve that, the rice cooker comes with a steaming basket. The model also has a number of settings for specific uses, such as the specific types of rice that you might cook, including sushi, white and brown rice.
The term 'micom' in the title also means that this model makes use of a microcomputer to guide the programming of the machine. That approach allows the rice cooker to make adjustments to factors like the heat and time of the cooking cycle. This intelligent approach helps to ensure that rice ends up perfect each time, without you having to pay any attention to the process at all.
Cuchen Micom Eve Rice Cooker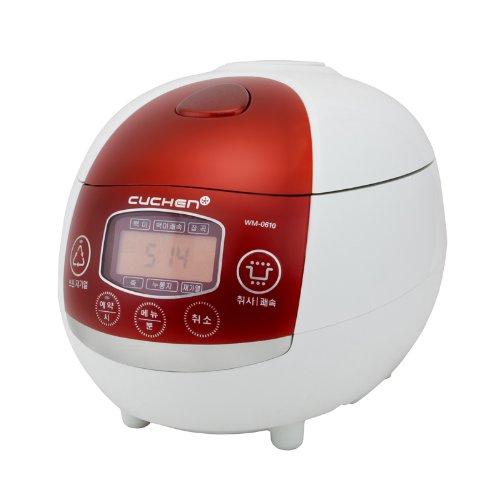 Model Number: WM-0610
Capacity (cooked rice): 12 cups
This is one rice cooker that certainly looks unusual and different than the other rice cookers that we've looked at. In this case, the company has called the style Eve, which appears to be a reference to the robot Evie from Wall-E. Style aside, this rice cooker seems to be a popular one and is another model that offers a range of features. Those features include the ability to cook a range of different types of rice and a quick cooking function as well.
As with the previous rice cooker, this one also has a microcomputer, which helps to promote quality rice every time. To be honest though, I suspect that the visual appearance is the reason that people choose this particular model, rather than the actual features it offers. Still, it's nice to see a model that looks good and is still able to compete with other models in terms of function.
Cuckoo Electric Rice Cooker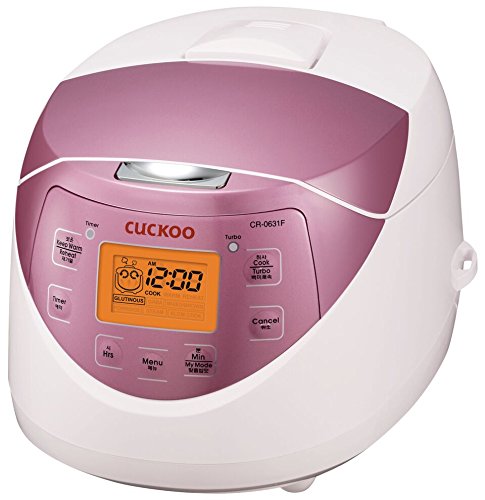 Model Number: CR-0631F
Capacity (cooked rice): 12 cups
While we're on the topic of unusual-looking rice cookers, here is another example. The style here isn't quite as unique as what Cuchen had to offer but it does still stand out visually, especially with the color choice. The rice cooker has an inner non-stick pot and this can be removed for easy cleaning. It is also another model that has a number of different cooking features, offering people more control over how the rice turns out and allowing for various types of rice to be cooked.
I was also impressed with the reviews associated with this particular rice cooker. On Amazon, the item scored an average of 4.8 stars, which is pretty high. In fact, there was only one negative review on the product at the time of writing and that was somebody unhappy that it was too small. Overall, the number of positive reviews suggests that this rice cooker performs very well, which is pretty good for the relatively low price.
Top Pick
Out of all these rice cookers, the one that we recommend most highly in terms of features and functionality is the Zojirushi NS-TSC10 Micom Rice Cooker. This particular rice cooker is an extremely popular one and is the best choice if you want a lot of options with how you cook your rice and the type of rice you cook.
The digital clock on the device even shows a countdown for how long the rice has left to cook and adjusts based on how much rice is in the cooker. That feature makes it easier to time other components of a meal and isn't something that you find in all models.
We do also recommend the Cuckoo Electric Rice Cooker and the Cuchen Micom Eve Rice Cooker. These options don't have the same popularity as the Zojirushi model, even though they do still have good reviews overall. However, these two rice cookers have the advantage of being significantly less expensive while having many of the same features that the Zojirushi model offers. Plus, they both look a little bit unusual, which can be an appealing factor.