Top-of-the-line slow cookers provide nearly endless possibilities for appetizers, dinners, side dishes and desserts that are easy to make yet sure to please a crowd.
Whether you're cooking at home because it's a safe way to maintain a gluten-free diet, an efficient way to keep your food costs down, a fun way to be creative or a tasty way to fill up your belly, we're here to help you find a great countertop appliance that will serve you well. Hopefully, one of our top five picks will end up becoming your new best friend.
For this best-of list, bargain slow cookers that only know how to do one thing weren't considered. We looked for versatile appliances that are capable of preparing a variety of different dishes or serving an adjustable amount of food since we don't eat the same thing with the same number of people every day.
We factored in product reviews from actual consumers and ruled out appliances that were priced well over a hundred dollars since, at a certain point, you're no longer paying for extra features–you're just paying extra. Here's a quick review of the supreme products we found.
We've also got a post about mid-range 2-4 slow cookers in the middle prices, or take a look at the starter options in our post about small slow cookers for budgets.
Cook Central 3-in-1 Multi-Cooker in Silver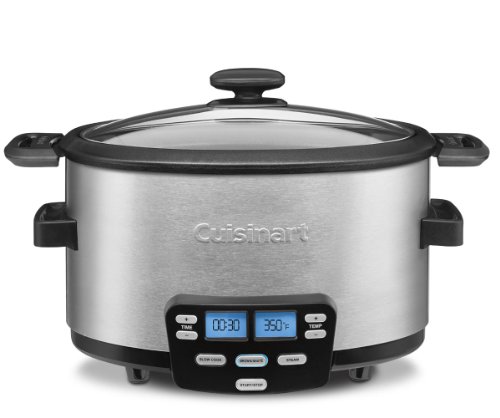 Brand: Cuisinart
Model Number: MSC-400
Size: 4-Quart Capacity
This chic appliance from Cuisinart is a slow cooker that also has a steam setting as well as a brown/sauté option for three cookers in one. The model can be programmed for up to twenty four hours of cook time and the slow cook function can be set to high, low or simmer. There's a blue backlit LCD display showing how many hours and minutes of cook time remain and an automatic keep-warm mode, which switches on once the selected cook time is up. The four-quart cooking pot is made from nonstick aluminum and, along with the steaming rack and glass lid, is dishwasher safe.
This is one of Cuisinart's finest kitchen appliances, providing amazing features for around a hundred bucks. Unfortunately, there's no savvy delay timer to postpone the cooking start time, but at this price point, we're still impressed overall. If a three-servings multi-cooker is what you're in the market for, this durable pick from a trusted brand won't let you down.
==> Read The Full Review Here
LUX Multi-Cooker in Silver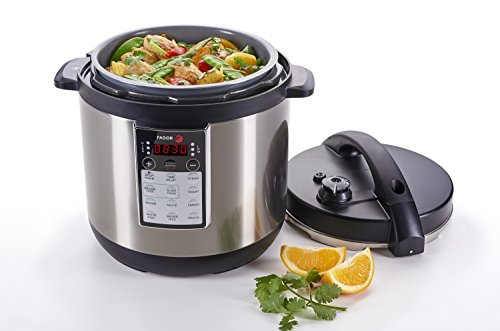 Brand: Fagor
Model Number: 670042050
Size: 4-Quart Capacity
This brushed stainless steel model is a pressure cooker, slow cooker, rice cooker and yogurt maker all in one. Additionally, there are settings to brown, sauté, simmer and steam as well as keep warm. The slow cook program has high and low options and will operate for up to ten hours. After that, the keep warm mode will automatically launch for up to twelve hours. There's even a time delay feature to postpone cooking for up to six hours.
Creamy risotto, steamed salmon fillets and chocolate bread pudding are just a few of the tasty dishes this impressive appliance can help you prepare. The ceramic cooking pot houses a convenient measuring guide and can be cleaned in the dishwasher. Since the slow cook function only runs for ten hours, this product certainly isn't for everyone, but it's a great buy if you want a well-rounded gadget that can do just about anything.
==> Read The Full Review Here
Hook-Up Connectable System 3-Piece Set in Metallic Charcoal
Brand: Crock-Pot
Model Number: SCCPMDKIT-CH
Size: 3.5-Quart Unit, 2-Quart Unit and a Double 1-Quart Unit
This deluxe set from Crock-Pot contains three individual units that can be used on their own or together since the units can be plugged into each other in order to share power from one outlet. Each unit can be independently set to high, low, warm or off and all of the removable stoneware crocks and glass lids are dishwasher safe. When it's time to store the set, the units can be stacked.
Crock-Pot is an internationally renowned company for a reason and this connectable slow cooker system lives up to the brand name. The manual units don't have any fancy programmable settings, which is a shame, but you are getting three separate appliances–one of which is a double unit that contains two one-quart crocks.
All in all, this connectable system is a great fit for hosts who want to serve a multi-dimensional meal straight from the crock. Whether you fill each pot up with a different kind of slow-cooked meat, dip or dessert, your guests are sure to appreciate the spread.
No Longer Available
TIM3 MACHIN3 Multi-Cooker in Silver
Brand: 3 Squares
Model Number: 3RC-3010S
Size: 4-Quart Capacity
This programmable slow cooker is also a rice cooker, food steamer and yogurt maker that additionally has functions for cooking quinoa and oatmeal. The smart design features an extra-thick cooking pot, an easy-to-read digital display, a programmable delay timer and the technology to make automatic adjustments based on the temperature above and below the pot. In fact, this appliance is known for cooking rice up to forty-five percent faster than the competition. The cooker comes with a steam tray, rice paddle and measuring cup.
Many consumers have found the high, medium and low slow cook settings on this multi-cooker to be comparable to the heat settings on dedicated slow cookers, which makes it easy to use all of your favorite slow cook recipes without making adjustments. However, some buyers have reported quality control issues so you'll want to make sure to properly inspect your appliance before using it in case a return is in order. To serve as a jack-of-all-trades kind of countertop cooker, this appliance fits the bill.
No Longer Available
3-in-1 Slow Cooker in Silver
Brand: Hamilton Beach
Model Number: 33135
Size: Multi-Quart Capacity
This versatile slow cooker comes with three interchangeable crocks: a two-quart bowl, a four-quart bowl and a six-quart bowl. Based on the dish you're cooking, you can opt for whichever size of crock will work best and you can choose between the heat settings of high, low and warm. There's one glass lid that fits all three bowls, which can be conveniently nested for storage and are actually safe to go in the oven and microwave as well as the dishwasher.
The adjustable cooking capacity of this Hamilton Beach appliance is a space-saving, budget-friendly way to be ready for any occasion. The stainless steel electric base and stoneware vessels are high quality, but the non-digital heat settings do leave room for improvement. If you need versatility but cupboard room is an issue, this three-bowl cooker might be perfect for you.
==> Read The Full Review Here
Top Pick
After weighing all the pros and all the cons, our top pick for a high-end slow cooker is the Cuisinart MSC-400 Cook Central 3-in-1 Multi-Cooker. We like that this appliance can steam and sauté, but we like that those additional features don't take away from this product being first and foremost a true slow cooker. The programmable settings give us the cooking options we want in a straightforward way and the traditional oval-shaped crock makes it possible to serve whole chickens and other oblong dishes with ease and style.
Given your particular circumstances and preferences, you may find one of our alternative suggestions more appealing so make sure to identify what kinds of dishes you're most interested in cooking and what kinds of settings you'll be serving in. After all, there's no point in splurging on a multi-unit system that's great for hosting get-togethers if what you really want is a multi-tasking slow cooker that makes great yogurt for a party of one. Regardless of which product works best for you, keep calm and slow cook on.