Having a separate appliance just to cook rice might seem a little bit odd but rice cookers have actually become a common and popular addition to the kitchen. The simplest reason for this is that they let you cook rice without having to worry about watching it, which can be perfect if you're cooking a complex meal or have a busy household.
At the same time, a rice cooker makes it much easier to get the timing right for rice, as there is much less guesswork about how long the process will take. Likewise, most rice cookers also have a keep warm function. So, you can be sure that your rice will be cooked and warm even if your mealtime ends up being much later than you had intended.
In many cases, people also swear that a rice cooker makes better tasting rice. This may well be true, especially as some models use fuzzy logic to make adjustments throughout the cooking process. Plus, you have the advantage of knowing you're not going to accidentally burn the rice or undercook it.
With this list, we aim to show you some of the best small rice cookers for an average budget. These are good options for just about any household and some of them would look quite good on the countertop too. Before we get started, we do want to note that for rice cookers, we refer to the capacity in terms of cups of cooked rice (1 cup uncooked rice equals roughly 2 cups cooked rice). Additionally, the cups are the measurements that the manufacturers give and they are not the same as a normal measuring cup.
Don't forget! There's also an option of extra small rice cookers (3-5 cups) if you need to save counter space and go smaller. There aren't many options in that category though. For more medium sized cookware prices, see our budget rice cooker reviews and mid-range cooker reviews.
Cuckoo Red Electric Rice Cooker and Warmer

Model Number: CR-0351F
Capacity (cooked rice): 6 cups
Visually, this rice cooker is quite nifty and certainly unusual. It is a fairly small model, just offering 3 cups of cooked rice. However, that's still enough for many families and meals. The model also has a removable Teflon-coated pot and this helps to make the process of cleaning exceptionally simple. In fact, there is even a steam cleaning system within the device itself.
The rice cooker also has a number of different settings, which allow you to alter the texture of the rice. For example, the glutinous setting can be used to cook sushi rice, a task that is difficult in other rice cookers.
Zojirushi NS-LAC05XT Rice Cooker and Warmer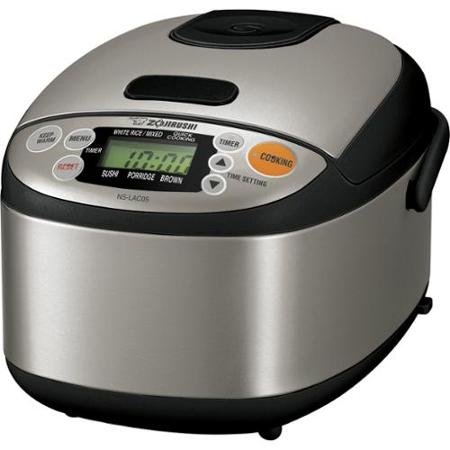 Model Number: NS-LAC05XT
Capacity (cooked rice): 6 cups
This rice cooker is another one that offers a number of different functions. These functions include the ability to cook different types of rice, like white, brown or mixed rice, along with sushi rice. Likewise, there is a quick cook feature and even the ability to cook porridge (for some reason). As well as those features, the model has the ability to keep rice warm for an extended period of time and can also reheat rice.
All of these features make this model a good choice for many kitchens, especially as the rice cooker does also look good visually. This is also one of the most popular rice cookers on the market and Zojirushi is a good brand to choose. The one disadvantage with this model is that it is more expensive than all of the other entries on this list. As such, it may not be a suitable option for everybody.
Cuchen Micom Eve Rice Cooker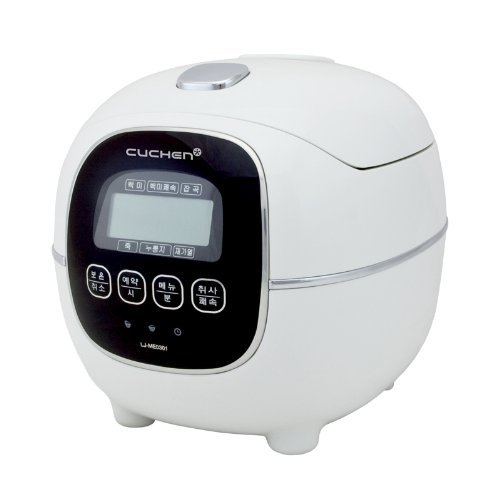 Model Number: WM-ME0301
Capacity (cooked rice): 7 cups
This model is another option if you want a rice cooker that looks a little bit interesting. The company calls this its 'Eve' style, after the female robot from Wall-E. The model offers a range of features, including specific functions for the various types of rice and the ability to quick cook and to slow cook (meaning that this could potentially replace a slow cooker). The brand itself is also a well-known Korean electronics brand and one that appears to be popular for its rice cookers.
It's also worth noting that even though this is a Korean brand, the display panel is in English, while the buttons for the model are in both English and Korean.
Tiger Micom Rice Cooker and Warmer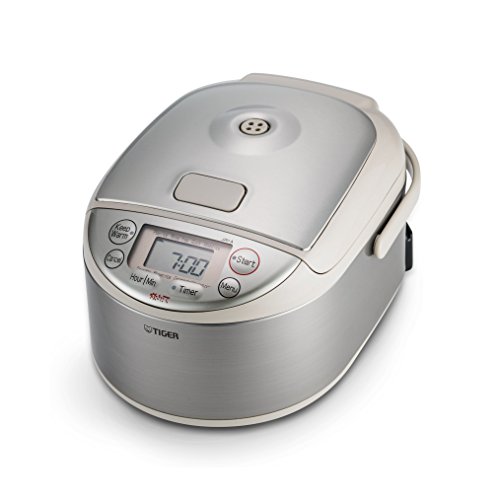 Model Number: JAY-A55U-CU
Capacity (cooked rice): 6 cups
One of the most significant things about this rice cooker is the term 'micom' in the title. That stands for microcomputer, meaning that the rice cooker uses a microchip to control the cooking functions. This allows the machine to make adjustments as the rice cooks, helping to ensure that the end result is perfectly cooked rice each time. At the same time, users don't need to provide much input at all and it just takes the push of one button to start the cooking process.
Like most other models, this rice cooker has a non-stick inner pot that can be removed, which is always useful when it comes to cleaning. That pot also has clear markings for the levels of rice and this makes it easier to ensure that you always put the correct amount of rice in.
Zojirushi NS-VGC05 Rice Cooker
Model Number: NS-VGC05
Capacity (cooked rice): 6 cups
Even though this model is the same size and brand as one that we mentioned earlier in the list, it is worth considering as an alternative rice cooker. In this case, the model is a little bit more appealing visually and also lower in price. It is also a compact model, taking much relatively little bench space for the amount of rice that it cooks.
Nevertheless, despite having a fairly small footprint, the rice cooker still offers a wide range of different functions. For example, the model can be used for cooking multiple different types of rice and users also have the ability to modify the cooking time based on their needs. Likewise, the rice cooker also uses a fuzzy logic microcomputer, which is one of the best approaches for getting consistently perfect rice.
Top Pick
All of the options on this list are viable choices for a rice cooker and in many ways the different models are fairly similar to one another. However, we do recommend the Zojirushi NS-LAC05XT Rice Cooker as the best choice if you want a high-quality and reliable rice cooker.
Even though this model is significantly more expensive than all of the other items in the list, it is also the most popular rice cooker and also has a large number of positive reviews. At the same time, the brand itself has a very good reputation for rice cookers and this alone is a good reason to consider the product.
However, if you are looking for a less expensive rice cooker model, then the Cuckoo Red Electric Rice Cooker may be a good alternative. This one still offers a number of different functions, including a steam cleaning system and a turbo cooking option. The model is also visually appealing and would look better than most other rice cookers in the kitchen.