For a fairly simple product, there is a surprising amount of options when it comes to choosing a rice cooker. For example, you have to consider whether you want something that simply cooks and warms rice, or a product that has additional features, such as the ability to steam food at the same time. With all of those options, it's no wonder that people get overwhelmed.
If you're shopping for a rice cooker, then the models that we highlight in this list are the perfect place to start. At the inexpensive price range, all of the options are affordable for just about any budget. At the same time, that price makes it worth picking up a rice cooker and trying it, even if you aren't convinced that you need one.
Additionally, this list features rice cookers ranging from 5 to 10 cups of cooked rice. This capacity is about right for many families, especially as the term cups refers to the measure that comes with the machine, which is roughly two-thirds of a conventional cup. As such, these machines will give you from (roughly) 3.3 to 6.6 conventional cups of cooked rice. That sounds like a perfect amount for most uses and you can always cook less if you want to.
For a range of prices, check out middle of the road and luxury  all within the 5-10 cup range.
Aroma Housewares Rice Cooker and Steamer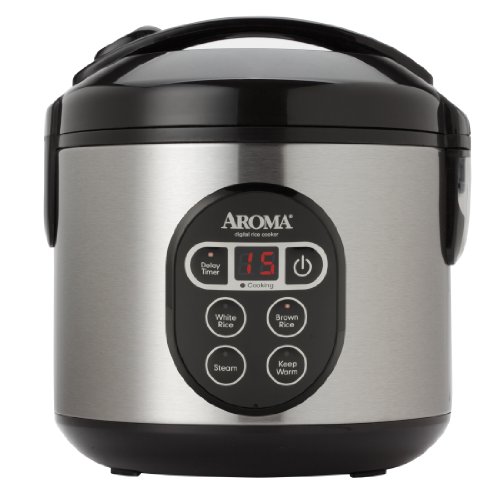 Model Number: ARC-914SBD
Capacity (cooked rice): 8 cup
Most of the time, inexpensive rice cookers don't offer many functions. However, this Aroma Housewares model is an exception to this rule. While you still don't see all the functions that more expensive models offer, this one does have separate functions for cooking brown and white rice, along with a delay timer and the option to steam food at the same time. The latter function means that you are able to cook food, such as vegetables, in the steam that is given off while your rice cooks. This is an interesting approach that adds to the versatility of the machine, although it does take some time to get used to.
The functions aren't the only reason that we highlight this model. The other main reason is that this one is a pretty popular choice on Amazon. At the time of this review, the model is ranked the #1 Best Seller on Amazon for rice cookers and has more than 6,500 reviews.
In terms of those reviews, the average star rating is 4.2. That's a bit lower than ideal and suggests that some people aren't entirely pleased. But, to be honest, many of the negative reviews come from people expecting too much. After all, you are always going to be somewhat limited in what you get for less than a dinner out at a restaurant and this model seems to be a very good buy for that price range.
Aroma Housewares Pot Style Rice Cooker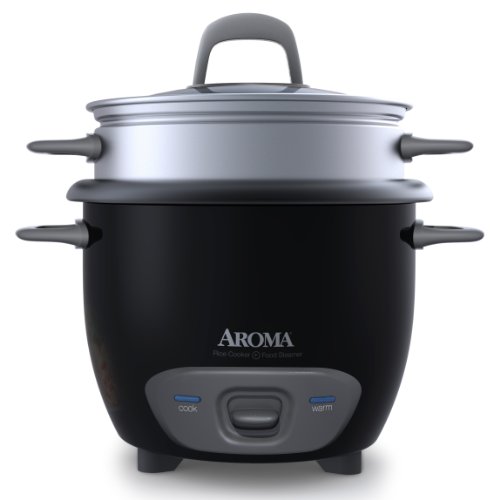 Model Number: ARC-743-1NGB
Capacity (cooked rice): 6 cups
This is another option from Aroma Housewares but there are a lot of key differences with this one. Here, the model favors simplicity, so you just have the option of turning it on or off. When you do turn it on, the model will cook the rice and then automatically switch over to keep warm mode once that is done. However, the model isn't as simple as it looks because this one also includes a steamer tray and the ability to steam vegetables at the same time.
Of the two, this one is slightly cheaper and may make more sense for people who don't see the need for separate white rice and brown rice settings and don't plan to use the delay timer. In terms of Amazon, this model is still very popular, although the number of sales is not as high as for the previous one from the brand.
Rival White and Black Rice Cooker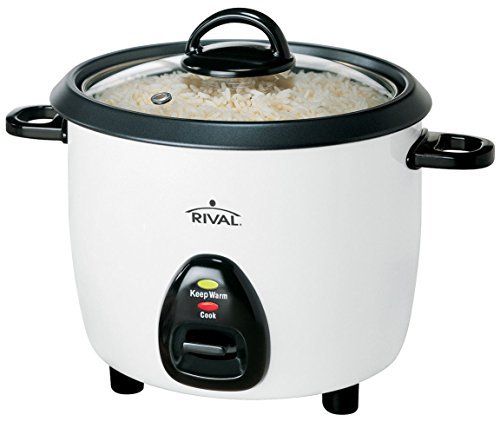 Model Number: RC101
Capacity (cooked rice): 10 cups
Rival isn't a hugely popular brand for rice cookers but this model is still a good option if you're looking for something that simply gets the job done. It has the key advantage of being larger than the other two models that we highlighted and it holds up to 10 cups of cooked rice.
In terms of Amazon, the model is significantly less popular than the two mentioned previously but the average score is higher, at 4.5 stars. The product does also have a steaming option, so it is relevant for cooking a number of different types of meals, rather than just rice.
Black and Decker Rice Cooker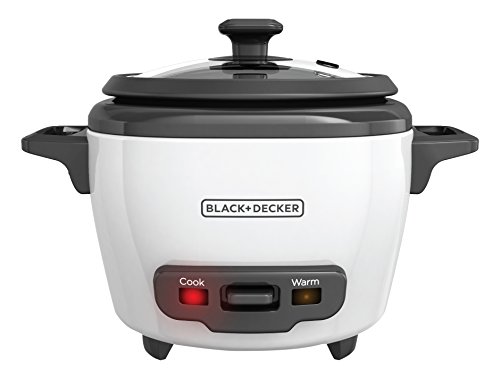 Model Number: RC506
Capacity (cooked rice): 6 cups
When it comes to a pretty basic rice cooker, this model is another option. Again, users don't have much control over the function or the timing, although the model does still allow food to be steamed. One unusual thing is that the brand actually provides a number of different sizes of the same basic rice cooker. For example, there is a smaller one that does just 3 cups of cooked rice, while the largest option is extremely large at 28 cups. So, there is more versatility here if you find that you like the particular item or its style.
Oster Rice Cooker with Steam Tray

Model Number: CKSTRCMS65
Capacity (cooked rice): 6 cups
The approach here is pretty similar to the Aroma Housewares one that we mentioned earlier, although in this case, the brand is Oster. The rice cooker is pretty simple to use, with just one button to start off the cooking process. As with the other products on this list, once the rice is cooked, the device then automatically switches over to keep warm mode.
The model is also fairly small, at just 6 cups cooked rice. Again, that measurement refers to the cups that come with the product, so the capacity in American cups is going to be lower than that. The size does mean the product would take up relatively little bench space and that might be perfect for some households, especially if your kitchen is on the small side.
Top Pick
If you're looking for more functions or control with your rice cooker, then the Aroma Housewares Rice Cooker and Steamer is the best choice to go with. This is an inexpensive choice all around and it provides you with more options that you would have otherwise. The extra functions may be particularly relevant if you are trying to have your rice ready at a particular time or if you cook brown rice most of the time.
On the other hand, if you aren't particularly worried about functions, any of the other models on this list may be a good choice for you. Out of them, we recommend the Aroma Housewares Pot Style Rice Cooker, partly because it is the most popular choice and receives fairly good reviews. One other cool thing is that the model actually comes in a few different colors, which may be appealing in some situations.
As a general rule, all of the rice cookers featured here on this list are entry-level models. So, they perform the basic functions that you would expect from a rice cooker but they don't have the more complex features or programming that you find in other models. Likewise, their overall quality may be lower. Despite this, these models are all a great way to get started with a rice cooker. If nothing else, they can help you figure out whether a rice cooker fits in with your approach to cooking.