Pressure cookers offer a unique way to cook just about any dish, creating food that not only tastes better but is also faster to prepare. With how time-starved many of us are, it's no wonder that pressure cookers are taking off in popularity for amateur and experienced cooks.
When it comes to choosing a pressure cooker, there are two main options, stovetop or electric. Both have their advantages but electric pressure cookers often work well for people who are short on time or who like tools that you can set up and just leave. The catch is that there are so many different models to choose from and electric pressure cookers can get expensive fast.
We offer a good place to start with this top-five list of electric pressure cookers. These are some of the best options on the market and offer you a large amount of functionality without an excessive price tag. In all cases, the pressure cookers are also 6-quart ones. This is a good size when you are cooking for a family and the majority of recipes out there are also designed for 6-quart cookers.
We have also ranked mid-range mid-priced electric pressure cookers, and premium six quart premium models.
Cuisinart 6-Quart Electric Pressure Cooker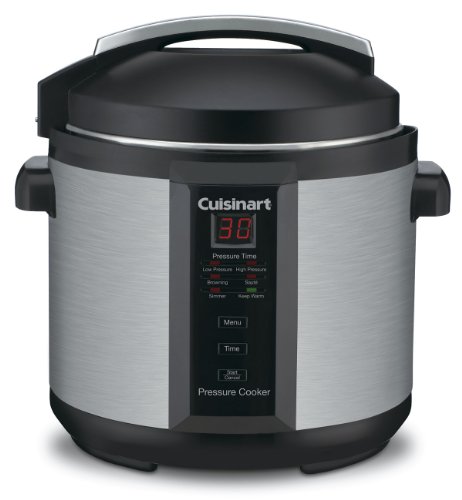 Model Number: CPC-600
Material: Stainless Steel
This pressure cooker from Cuisinart is one of the most popular pressure cookers on Amazon, which is impressive for the fairly low price point. The large number of positive reviews suggest that most people are extremely happy with the product and what it has to offer. The model reaches around 6 psi for the low pressure setting and 10 psi for the high pressure. The upper psi limit is fairly low, even for an electric pressure cooker, however, you can account for this by adding on a little time to cooking for any recipes designed for 15 psi.
The cooker has two pressure options, low and high. There are also a number of other features, including the ability to brown, sauté, simmer and keep food warm. The programming for the cooker allows you to easily set the time for your cooking and you might find yourself using multiple different features to cook a single meal. The model also comes with a recipe book, which offers some ideas for possible recipes and these can be used as a base to make your own adaptations.
I also want to note that for this particular model, there is a little bit of confusion about the price on Amazon because Amazon lists two versions, with the second being more expensive. In both cases, the model is the same but the price difference comes from whether you choose to use Amazon's own packaging or not.
Secura 6-in-1 Programmable Electric Pressure Cooker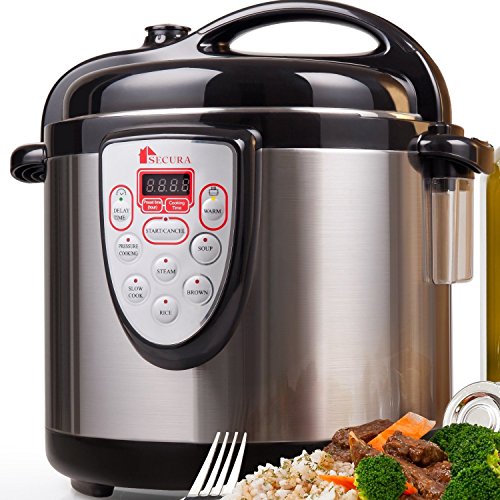 Model Number: EPC-S600
Material: Stainless Steel
The EPC-S600 is a very good option for a pressure cooker. The design includes 18/10 stainless steel, which helps to improve durability and decrease the chance of rust. With an average of 4.4 stars across more than 500 Amazon reviewers, it's clear that this is a very popular product and it seems to work well for most people.
The range of features from this pressure cooker makes it similar to many of the more expensive options. This includes having the ability to brown, steam and sauté, along with the ability to act as a rice cooker and a slow cooker, which would save you from needing those tools as well. The one catch with this brand is that it does lack a manual feature. That limitation may be an issue for some users but others don't notice the difference at all.
In terms of pressure, the high pressure setting seems to reach between around 10.2 and 12 psi, which is the common range for most electric pressure cookers. Some of the reviews on Amazon also noted that the pressure cooker is extremely quiet. Additionally, the various features make it easy to cook a meal with just the push of a couple of buttons, which is perfect for anyone who hasn't used a pressure cooker in the past.
West Bend Stainless Pressure Cooker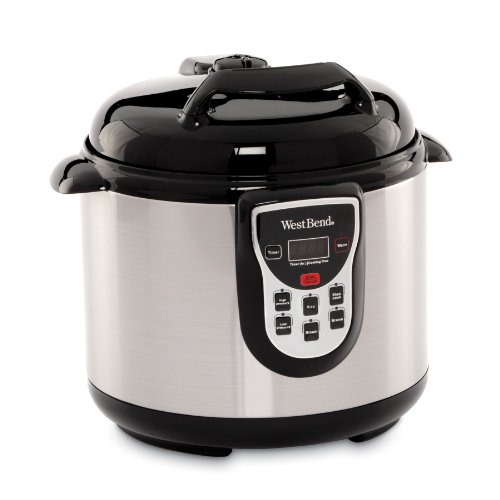 Model Number: 82011
Material: Stainless Steel
Based on Amazon reviews, this pressure cooker isn't sold as often as the earlier pressure cookers but it does still average 4.4 stars out of the 188 reviews that it does have. One interesting feature of the product is that it comes with a hinged lid. This seems to be designed to make it easier to use and to help people seal it correctly without issue. That lid can be slid off entirely for cleaning and, in general, the process of cleaning the pressure cooker is simple.
Some reviewers for the product note that it did not last in the long-term, sometimes stopping working after three or six months. However, those reviewers seem to be in the minority and most reported no issues. In general, electric pressure cookers are fairly complex and have a number of different components, so there is always a risk that they will stop working at some point. As the number of people complaining about this was relatively small, I'd guess that this pressure cooker is as reliable as the other ones on this list.
GoWISE Stainless Steel Cooking Pot
Model Number: GW22609
Material: Stainless Steel
One of the advantages of this particular model is that it comes with a few accessories that can help people get started using their pressure cooker. Additionally, it offers many of the same functions as other pressure cookers, including the slow cook and warmer functions, as well as the ability to cook rice. As with other electric pressure cookers, this one has a maximum pressure of somewhere around 12 psi. Realistically, if you wanted higher pressure than this, you would want to invest in a stovetop pressure cooker rather than an electric one.
This pressure cooker is popular among users, with many reporting that it does a great job at cooking pretty much any meal. On Amazon, there are more than 650 reviews and the product itself averages 4.1 stars. This isn't as high as some other products but it is still a high average rating, suggesting that this product is a good investment for most people. The model does also have a manual pressure release valve, which offers users more control when they are cooking.
It is worth noting that the bowl for this model isn't non-stick, as you can see in the images. This is an advantage for some people and a disadvantage for others, depending on your preference. Certainly, the model is a good choice if you are concerned about Teflon and its impacts on your food.
Fagor 3-in-1 Multi-Cooker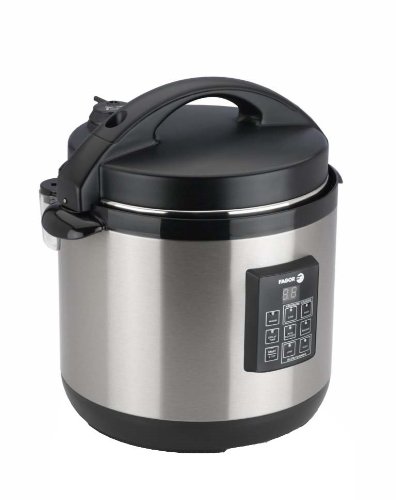 Model Number: 670040230
Material: Stainless Steel
This final model is the only one on the list that is marketed as a multi-cooker, rather than a pressure cooker. To be honest, that term is much more accurate, as all of the pressure cookers on this list perform a range of functions and pressure cooking itself is just one of those. The 3-in-1 aspect referenced in the title to the product refers to its ability to act as a pressure cooker, rice cooker and slow cooker and the overall functionality of the product is similar to the others on the list.
One of the biggest advantages of this particular pressure cooker is that it is fairly compact, which makes it a good choice for people who don't have a lot of space in their kitchens. However, the pressure settings are a little bit different, with a low pressure setting of 5 psi and a high pressure setting of 9 psi. That pressure setting is lower than you typically find but adjusting for the difference in pressure is an easy task and some users of the product reported that they did not need to do so.
Top Pick
For anyone getting started with a pressure cooker, we recommend either the Secura 6-in-1 Programmable Electric Pressure Cooker or Cuisinart 6-Quart Electric Pressure Cooker. Both products get consistently high reviews and are popular choices for low-cost electric pressure cookers. Of the two, the Secura pressure cooker is the best choice simply for the wide range of features and functionality that it offers. This pressure cooker is even fairly similar to the more expensive models out there, so it's a great way to get a taste of all the advantages that pressure cooking has to offer.
However, with the Secura pressure cooker, you do also pay for those advantages, as the model barely does cost a bit more. So, for people on a budget, the Cuisinart option may be more appealing. The pressure cooker still has an extensive amount of positive reviews and many of the same functions but is less expensive. Nevertheless, all of the appliances in this list offer a great way to try out pressure cooking and we imagine that you will be extremely pleased with the results.