Pressure cookers have been around for many years but their popularity has been increasing rapidly in recent years. That shouldn't be too surprising, as pressure cookers are a great way to save time when you're making food and also create something that ends up tasting much better.
As you may already know, pressure cookers can be broken down into two types, electric and stovetop. Some people rely heavily on the stovetop versions, which tend to offer a bit more control, can be more robust and, on average, reach a higher pressure. However, electric pressure cookers have their own advantages. For one thing, they're great for people who are short on time, as you don't have to hang around while they are cooking.
An electric pressure cooker also acts as a great investment because modern versions simply have so many functions. In many cases, they can even act as a replacement for other devices, including slow cookers. Plus, they can be surprisingly inexpensive for all the features that they include.
This 'best of' list looks at the top electric pressure cookers on the market that fall roughly into the middle of the price range. So, these aren't the cheapest options for electric pressure cookers out there but that's not necessarily a bad thing. Instead, you end up paying a little bit more for these pressure cookers but you tend to get a lot more features and quality for that price difference.
We have also ranked mid-range electric pressure cookers, and premium six quart cookers at the premium level.
Instant Pot 7-in-1 Multi-Functional Pressure Cooker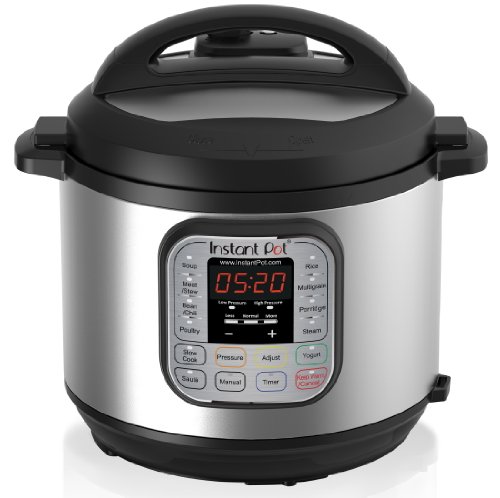 Model Number: IP-DUO60
Material: Stainless Steel
Hands down, this pressure cooker from Instant Pot is the most popular electric pressure cooker on the market and it's surprisingly reasonable in price. It's easy to see the popularity of the product simply by looking at Amazon, where the cooker currently has well over 8,000 reviews and averages an impressive 4.7 stars.
The product has an extensive range of features, including acting as a rice cooker, steamer, warmer, slow cooker and even a yogurt maker. At the same time, the pressure cooker offers 14 different programs as well as the ability to set the timing manually. The psi for the cooker is about average for electric pressure cookers, with the higher pressure setting offering around 11.6 psi.
The wide range of reviews on this product indicate that it really is exceptional and is easy to use even for complete beginners. The product also has a range of safety features and is a relatively recent model, which suggests that you're getting up-to-date programming and features. This particular pressure is also offered in a 5-quart and an 8-quart size as well if you're looking for something a little bit larger or smaller that still offers the same features.
Midea Power 8-in-1 Programmable Pressure Cooker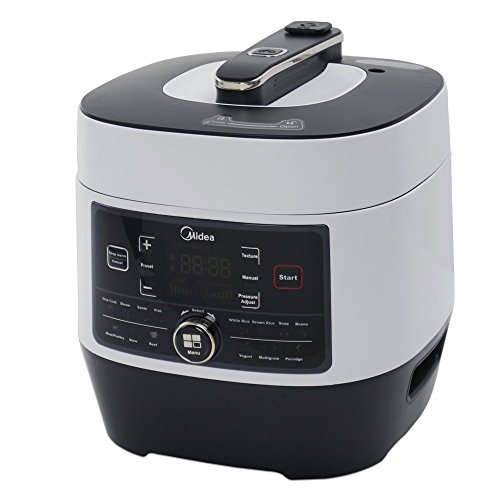 Model Number: MY-SS6062
Material: Stainless Steel
This pressure cooker looks a little different than most others, partly because it has no handles but that appearance difference has little effect on the functionality. However, the pressure cooker is unusual in another way, as it offers some functions that you don't typically see in pressure cookers. The most significant example of this is the 8th function (most pressure cookers have 7 different functions, at the most). In this case, the 8th function is that you can use the pressure cooker as a frypan if you take the lid off and set it to sauté. Personally, I'm not sure how useful this would be for most people. However, it could be relevant to people who want a portable appliance that does pretty much everything.
Another unusual function of the pressure cooker is that it has three different flavors that you can select from. These are 'full bodied', 'fragrant' and 'standard'. It's difficult to know exactly how those settings affect food but having more options is appealing to people who want more control over the meals they make.
Fagor LUX Multi Cooker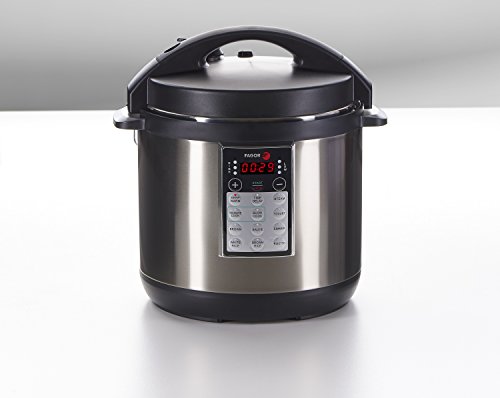 Model Number: 670041880
Material: Stainless Steel
Even though this product is marketed as a multi cooker, it is a pressure cooker, with similar functions to other electric pressure cookers. This is another product that has received consistently good reviews on Amazon, averaging a rating of 4.4 out of 5 across 112 reviews, at the time of this post. Fagor also has the advantage of being a fairly well-known brand, especially when it comes to pressure cookers. While the brand doesn't tend the highest quality products possible, they are a good option for a middle-of-the-range product, with a price tag to match.
One advantage with this pressure cooker is that the pot is not non-stick. While non-stick pots often appeal to people because they make the process of cleaning easier, there is also concern about what the coating does to food, especially at high temperatures and pressures. As a consequence, many people recommend that you stick to pots like the one for this pressure cooker. However, the pressure cooker does only go up to 9 psi on the high setting, which is lower than many other electric pressure cookers. This isn't a major issue but it might be a disadvantage if you're trying to cook your food as quickly as possible.
Versonel Programmable 6-in-1 Electric Pressure Cooker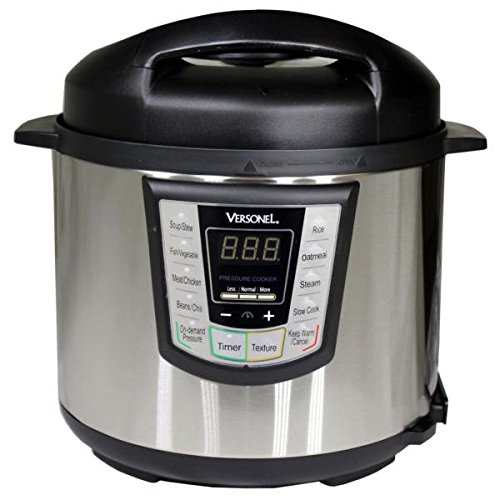 Model Number: 1500-VSLPC60
Material: Stainless Steel
This pressure cooker is a little more obscure than some of the other entries but it still deserves an entry. In this case, it's a 6-in-1 model, which means that it has most of the features that the other items in the list have. In fact, the only features that it misses are the ability to make yogurt and to be used as a frypan – neither of which are critical for most pressure cooker owners. Reviews from Amazon and other sources suggest that this particular pressure cooker performs its functions well and is pretty reliable as well.
While this pressure cooker might not stand out from the crowd, it is still a reliable option with a range of different features. All of these aspects would make the product a good choice for a first pressure cooker and it is even one that would look good on the kitchen counter.
Pansdore 8-in-1 Multi-Function Pressure Cooker
Model Number: FS50A
Material: Stainless Steel
This pressure cooker deserves a mention, partly because it stands out visually from most of the other models. In fact, I've noticed that electric pressure cookers tend to look the same but that isn't the case with this one here. The first 7 functions for this product are fairly typical, and include the yogurt making ability that you see in the Instant Pot model. However, the 8th one is a little bit different, as the pressure cooker also acts as a cake baker. Now, I'm not entirely sure why you would need a separate product to bake cakes but I guess it would be good if wanted to go out while the cake was baking.
According to reviewers, the biggest issue with the model isn't the cooker itself but the lack of instructions. While it does come with an instruction manual, a number of people commented that the manual was poorly translated and hard to follow. This may make the pressure cooker a poor choice if it is your first pressure cooker. Nevertheless, if you have used an electric pressure cooker in the past, this particular model should be fairly easy to figure out.
Top Pick
For this price range, we have no hesitation at all in recommending the Instant Pot 7-in-1 as the best pressure cooker to choose. This particular pressure cooker has been overwhelmingly popular and is actually the current bestselling electric pressure cooker overall. In fact, it was actually difficult to find other pressure cookers in the price range with decent reviews as most customers seem to prefer the Instant Pot option over anything else.
At the current price for the 6-quart version, the Instant Pot is a good option for a wide range of budgets. From the number of customer reviews alone, it seems that this particular pressure cooker is frequently chosen even over more expensive alternatives. Much of the popularity of this pressure cooker probably comes from the wide range of functions but the small number of negative reviews suggests that this is also a very reliable tool to have in your kitchen.