Pressure cooking is all the rage right now and it offers a great way to make your meals faster, easier and that much more interesting. However, the approach is pretty different than normal cooking, which makes some people a little nervous. With that in mind, one of the best places to start is with a stovetop pressure cooker.
It's true that stovetop pressure cookers require a little more effort than electric ones but that effort also gives you more control and lets you learn exactly what pressure cooking involves. That approach can be much better than relying on programming to do all of the work.
Stovetop pressure cookers also have the additional advantage of being pretty inexpensive. This makes them a perfect choice if you're not sure about the whole idea of pressure cooking, as you can try it out without breaking your bank in the process. In this case, we're looking at 6-quart stovetop pressure cookers within cheaper budget, which is a perfect place to get started.
We chose the 6-quart size because this is large enough for most dishes and for feeding a family but it isn't excessively large. You'll also find that most recipes out there are designed with a 6-quart pressure cooker in mind, as this is probably the most common size on the market.
Also, take a look at the upgraded models in our post about 6-quart stovetop pressure cookers, and premium cookers for more options!
Presto Aluminum Pressure Cooker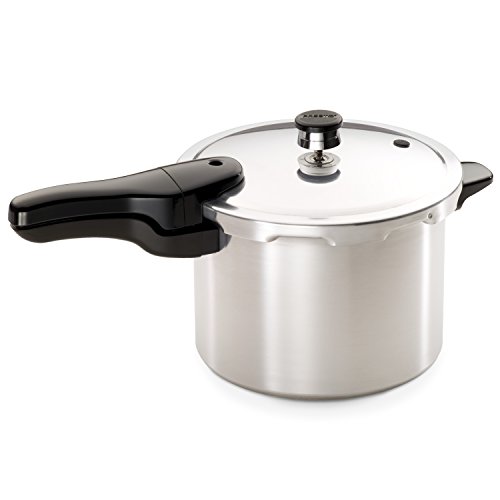 Model Number: 307874
Material: Aluminum
Without a doubt, this pressure cooker is one of the cheapest options on the market and it is also an extremely popular choice. Currently, there are more than 1,100 reviews for the product on Amazon, with an average rating of 4.5 stars. Those statistics are pretty amazing and it's fairly unusual to see a product that is this popular.
Now, one controversial element about the pressure cooker is that it is made of aluminum. Aluminum tends to be lighter and heat faster than stainless steel, although many people feel that stainless steel is more resilient and lasts longer.
The aluminum is also the reason that this particular pressure cooker is so inexpensive, so it's worth keeping that in mind too. If the price isn't a factor, then whether you pick aluminum or stainless steel will mostly come down to personal preference.
Mirro Polished Aluminum Pressure Cooker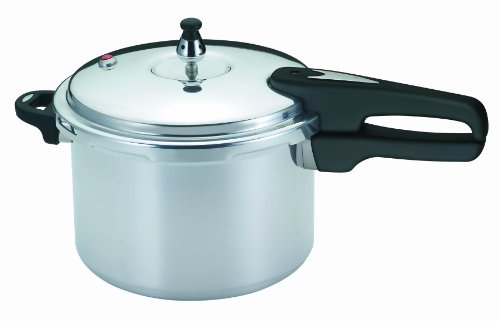 Model Number: 7114000230
Material: Aluminum
If you're looking for an aluminum pressure cooker, this option from Mirro is another way to go. While the pressure cooker doesn't receive as high ratings as the previous one, it still averages 4 stars on Amazon, suggesting that most people are pretty pleased with it.
One interesting point to note is that this particular cooker has a concave base, which means that it should not be used on a ceramic or a glass stovetop. If you were to do so, then you may find that the pot does not heat effectively or evenly.
Like most of the items in this particular list, the cooker could be classified as 'no frills'. So, you don't get much in the way of extras with it and some people argue that the quality is subpar.
Despite this, it is a good pressure cooker to begin with and the quality is about what you would expect for the price of the product. In many ways, starting off with a fairly inexpensive product just makes sense because you don't want to spend a lot of money on a pressure cooker and then figure out that you don't really like the technique.
Presto Stainless Steel Pressure Cooker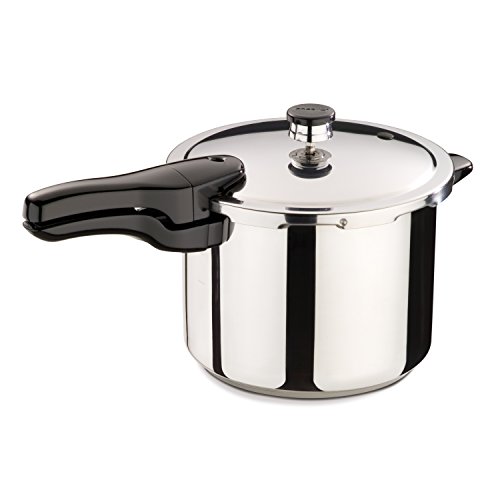 Model Number: 1362
Material: Stainless Steel
This product is almost identical to the Presto pressure cooker that I mentioned earlier, with the exception of the main material. In this case, the product is made from stainless steel, which makes it a good choice for anyone who prefers stainless steel to aluminum. As with the aluminum version, this product has consistently good ratings on Amazon, averaging 4.4 stars across close to 3,000 reviews.
The biggest advantage of this pressure cooker (and the aluminum one) is the price. In both cases, the Presto stovetop pressure cookers are among the lowest priced options for their respective materials. This makes them a relatively low-risk purchase.
Nevertheless, it is important to note that this is a relatively inexpensive product, which does mean that the quality is lower than might be ideal. While most people seem to have no issues at all, there are some people who feel that the quality is too low or who have issues with the product. This suggests that the piece makes a good entry-level into pressure cooking if you're looking for a stainless steel product but you may want a different product if you want quality that is going to last a long time.
NuWave Stainless Steel Pressure Cooker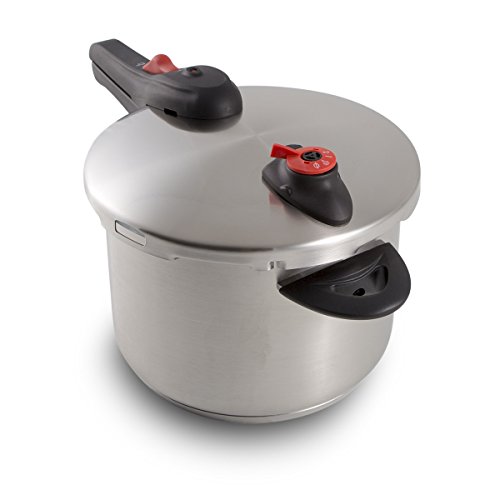 Model Number: B0170LT3VS
Material: Stainless Steel
This product has one distinct advantage, the ability to switch between low and high-pressure modes. That approach isn't especially unique for pressure cookers but we noticed that most of the power priced pressure cookers simply do not have that feature.
For many people, having multiple pressure options might not be necessary, especially as the majority of pressure cooker recipes are designed for high pressure. Nevertheless, if you do want a low-pressure option, then this pressure cooker is probably one of your most inexpensive options.
It's also worth mentioning that this pressure cooker isn't precisely 6 quarts. Instead, it's 6.5 quarts. That difference in size isn't likely to cause a major difference but it may be an additional reason to consider this product over some of the others on this list.
VonShef Stainless Steel Pressure Cooker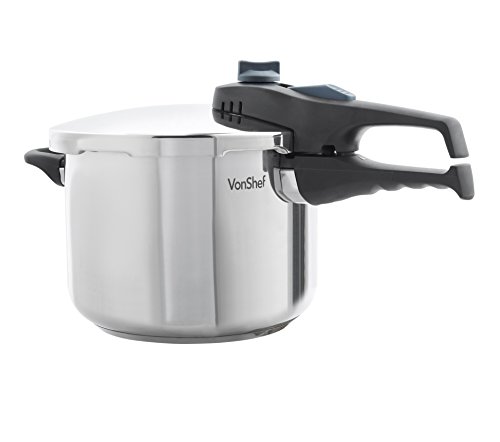 Model Number: 07/198US
Material: Stainless Steel
Like the previous entry in the list, this pressure cooker is a little bit more complex. For one thing, it has the two different pressure options, letting you choose between low and high pressure. At the same time, the full capacity of the pressure cooker is 6.3 quarts rather than 6 quarts. The item also has a number of pressure features which helps reduce any risk in using the product.
Top Pick
With this particular set of products, the best option is going to strongly depend on what you are looking for. If you are just getting into the world of pressure cookers, then we recommend either the Presto Aluminum Pressure Cooker or the Presto Stainless Steel Pressure Cooker, depending on your preference for metal type. Both of those pressure cookers are fairly inexpensive and have consistently high reviews. They make a perfect choice to get started and the lack of pressure settings probably won't make a difference for most people.
However, if you are looking for something a little more comprehensive, we recommend the NuWave Pressure Cooker. Of the two more complex pressure cookers, this one has better reviews and it still manages to be pretty simple to use. Plus, the slightly larger size of the pressure may be an advantage for some families.
If you aren't completely sold on the stovetop pressure devices, be sure to check out our post on electric vs stovetop pressure cookers to figure out which one is going to fit your needs best and do well in your home kitchen. You can also check out our list of top 5 budget electric pressure cookers (6 quart) for a similar price point of the electric version. They're a bit pricier, but come with some distinct advantages.