With all the different pressure cookers out there, figuring out which one to buy can seem like an almost impossible decision. You have to consider factors like electric versus stovetop and aluminum versus stainless steel, not to mention the various features that the different models may offer. But, we find that when it comes down to it, one of the most important factors is price. After all, a product is only useful if you can actually afford to buy it.
We aim to make that whole selection process easier by showing you some of the best pressure cooker options in various categories. In this case, we're specifically looking at 6-quart stovetop pressure cookers that are priced in the middle of the road. This puts them in roughly the middle of the range for this type of pressure cooker. In terms of price, this can be a particularly good place to start because the products aren't too expensive but they aren't low quality either.
Also, take a look at the cheaper models in our post about inexpensive 6-quart stovetop pressure and premium cookers for more options!
Presto Stainless Steel Deluxe Pressure Cooker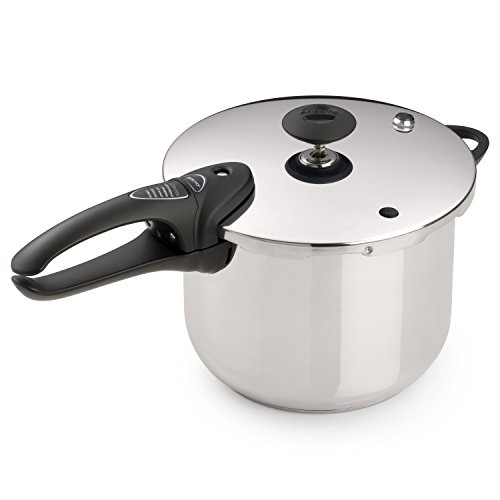 Model Number: 01365
Material: Stainless Steel
As a general rule, Presto's stovetop pressure cookers tend to be pretty popular, and this is one of the stainless steel versions that the company offers. Like most stovetop pressure cookers, the product is fairly simple but it seems to do the job well. The product does also get fairly decent reviews on Amazon, averaging 4.4 stars across 342 reviews.
The 'deluxe' in the title of the cooker seems to refer to the various safety features that it has to offer along with the tri-clad base, which involves two layers of stainless steel with a layer of aluminum in-between. This aspect of the pressure cooker helps it to conduct heat better without causing any warping. This version also has an additional release valve, which serves to make the product easier to use and offers more control.
T-fal Clipso Stainless Steel Pressure Cooker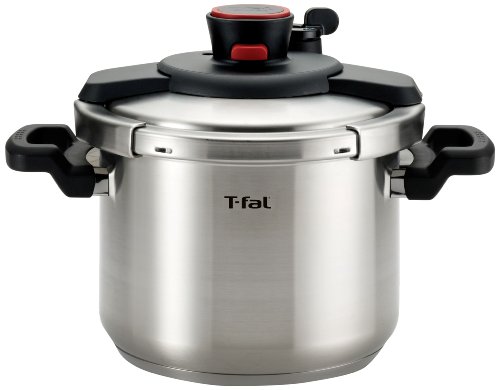 Model Number: 7114000462
Material: Stainless Steel
The design of this particular pressure cooker is fairly common for larger sizes but it's a pretty unusual style for a 6-quart (well, 6.3 quarts in this case) option. The difference in design makes the pot sturdier when you try to move it and also allows for the lid to be removed with one hand. This is actually a major advantage as it is often difficult to remove and reapply the lids of pressure cookers but this design makes the process easy. At the same time, the pressure cooker comes with a range of safety features, so there is no risk of opening the lid before the pressure has been released.
In terms of pressure, this pressure cooker just has one setting, which gets up to around 12 psi. That is a bit lower than many other stovetop pressure cookers but many people say that they don't notice a difference. If you have a recipe for 15 psi, then you just need to add a little more cooking time to account for the difference in psi.
Fagor Splendid Pressure Cooker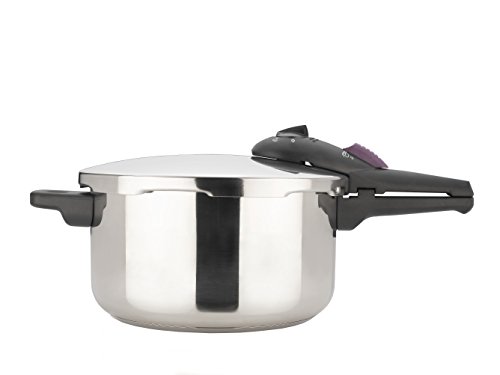 Model Number:
Material: Stainless Steel
Fagor is another fairly common pressure cooker brand and their products tend to be quite popular. In fact, this model even comes in a smaller (4-quart) and in a larger (10-quart) size for people that want more options. The pressure cooker also has a range of different safety features, including a dial that makes the process of releasing pressure easy. However, the product does only have one pressure setting, which may make it unsuitable for people who want to cook some dishes at a lower pressure.
The design of the pressure cooker also means that it would not take up a lot of space in your cupboard, making it a good choice for smaller houses. The pressure cooker is also one that has a large number of positive reviews, averaging 4.3 stars across more than 500 Amazon reviewers.
Magefesa Practika Plus Stainless Steel Pressure Cooker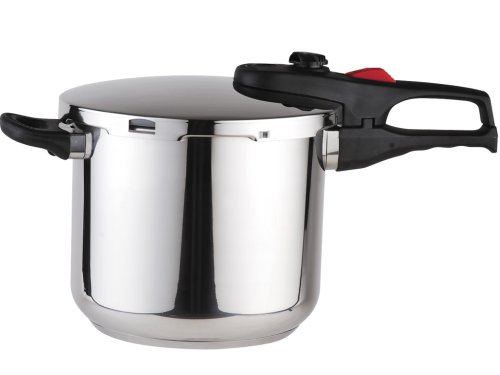 Model Number: 01OPPRAPL06
Material: Stainless Steel
This pressure cooker is another popular one and seems to be reliable for short-term and long-term use. It also offers a number of safety features along with two pressure settings. One unusual feature of the product is that it was designed and produced in Spain. In contrast, most other pressure cookers seem to be produced in China. That difference may be relevant if you prefer not to buy products made in China.
As some users have pointed out, the pressure cooker itself is great but the manual leaves something to be desired. Because of this, it can be a little difficult to figure out precisely how to use the pressure cooker, especially if you haven't used this type of tool in the past. However, there is information that you can find online, including instructional videos for pressure cooking in general and various books and eBooks. Once you get the hang of the concept, this pressure could be very useful and effective.
T-fal Stainless Steel Pressure Cooker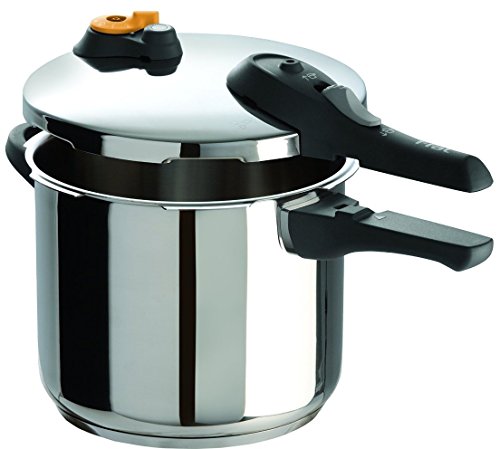 Model Number: 7114000441
Material: Stainless Steel
One of the appealing aspects of this pressure cooker is that it has a number of features that are perfectly suited for beginners. This includes a clearly marked dial for the different pressures and easy to use valves for steam release. This model does also boast both high and low-pressure settings, which makes it a good choice for anyone who wants that extra flexibility. For example, the low-pressure setting is good for ingredients like vegetables, as these are more sensitive.
This particular pressure cooker does also get up to 15 psi, which is the ideal pressure for most recipes and it's certainly much closer than anything electric pressure cookers have to offer. The reviews out there for the product reinforce just how good it is, as many customers are completely satisfied with the product and what it offers.
Top Pick
There are a lot of similarities in these pressure cookers but our recommendation would be the T-fal Stainless Steel Pressure Cooker. We particularly like this pressure cooker because the design makes it easy for beginners to use and most of the functions are pretty obvious. In many cases, people who buy a pressure cooker have never tried using one before, so it is important to start off with something that is fairly easy to get used to.
At the same time, this particular product has a large number of positive reviews, which is another deciding factor. Certainly, reviews on websites and Amazon don't tell you the full picture about any product but they can be very important in helping to figure out which products live up to their claims. In this case, there certainly are a lot of happy customers. The final reason for recommending this particular product is that it is 6.3 quarts in size. That little size addition can make a difference for some meals without having much impact on how easy the product is to store.