Slow cookers are amazing, but top-of-the-line multi-cookers are even more phenomenal. If you want versatility and convenience when it comes to making delicious meals at home, this list is for you. Whether you maintain a diet that's gluten free, low calorie, paleo friendly, plant based or so on, having the right countertop appliance makes it easy to prepare healthy and customized dishes.
Within the world of slow cookers, some products on the market are clearly much savvier than their counterparts. For this list, we paid special attention to technologically-advanced appliances that have positive consumer reviews and a crowd-friendly capacity of seven quarts or more. Here's our rundown of the most amazing countertop cookers for sale.
Also, don't forget to check out our other reviews of different size pots and different price points in our slow cooker reviews. This post on 7+ quart slow cookers is pretty much the highest end of the prices and highest end of volume. Most other posts are for either smaller pots, or are also seven quart cookers with low price points.
Cuisinart Cook Central 4-in-1 Multi-Cooker in Stainless Steel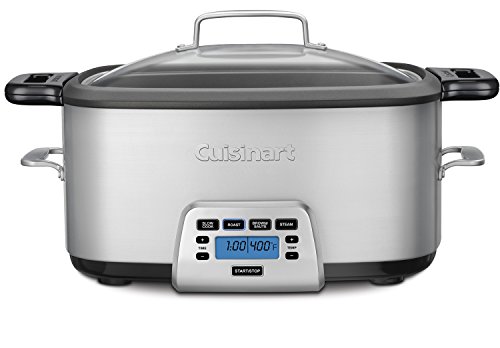 Brand: Cuisinart
Model Number: MSC-800
Size: 7-Quart Capacity
This multi-cooker from Cuisinart has four programmable functions: slow cook, roast, brown/saute and steam. When slow cooking, you can set the appliance on high, low, simmer or warm for up to twenty-four hours. The roast function, which can operate for up to six hours, has a temperature range of two-hundred-fifty to four-hundred-fifty degrees Fahrenheit and the brown/saute feature can actually go up to five-hundred degrees Fahrenheit. The nonstick cast aluminum cooking pot and the see-through lid are both dishwasher safe.
Unlike the smaller models in the Cook Central line from Cuisinart, the seven-quart capacity is a four-in-one cooker offering more versatility. If you want to combination cook, you can switch modes with one touch, which makes it easy to saute some veggies or brown your meat before implementing the slow cook feature. Consumer reviews are overwhelmingly positive for this model, which even comes with a reversible roasting and steaming rack. Unfortunately, there isn't a locked-lid feature for easy transporting, but as long as that's not a must-have in your opinion, this product is fabulous overall.
Magic Mill Programmable Multi-Function Electric Cooker in Silver
Brand: Magic Mill
Model Number: N/A
Size: 12-Quart Capacity
Including a slow cook setting, which eliminates your need for owning a separate one-dimensional appliance, this multi-faceted electric pressure cooker has over a dozen micro-processor controlled programs for sauteing, steaming, keeping warm, making porridge and cooking rice. There's even dedicated settings for poultry, for meat, for soup, for beans and for dessert. The LED screen and easy-touch buttons make it a cinch to program the appliance, which houses a countdown timer and a delay timer for your convenience.
Capable of holding up to twelve-quarts of ingredients, this oversized multi-cooker is divine. If you're looking for a smaller model, you can alternatively pick up a ten-quart or eight-quart option from the same manufacturer.
Regardless of capacity, this type of cooker comes with an outage-friendly memory that preserves what point in the cooking cycle has been reached so, if the power supply is temporarily interrupted, the appliance will automatically resume operating once the power is restored. Since this is a pressure cooker first and slow cooker second, the appliance may come with more bells and whistles than you're looking for. But, if you'll use the additional features, this product is a great deal.
ProChef Extra Large Slow Cooker and Griddle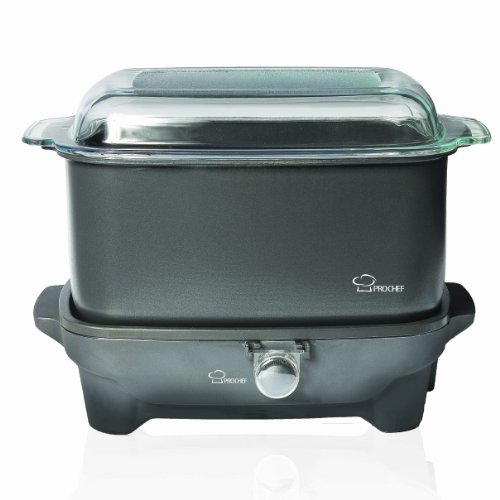 Brand: ProChef
Model Number: PCS900
Size: 9-Quart Capacity
With six temperature settings for precise control, this slow cooker promises perfect results every time. The nine-quart, heavy-duty pot features a clean-quick, non-stick coating and is designed for safe use on the stovetop, in the oven and in the freezer, which means prepping and storing your ingredients can all be done using the same dish. The heating base also has a clean-quick coating and can double as a griddle for all of your basic needs. Providing extra versatility, the glass cover can even act as a serving dish.
The combo of a slow cooker, griddle and deep-dish lid definitely optimizes the use of cupboard space. Not everyone loves the temperature settings, which may be too hot for some delicate recipes, but the appliance will likely work well for all of your run-of-the-mill slow cooking needs. Overall, this product is best suited for someone intent on having a crock and flat-iron plate in one.
Fagor LUX Multi Cooker in Silver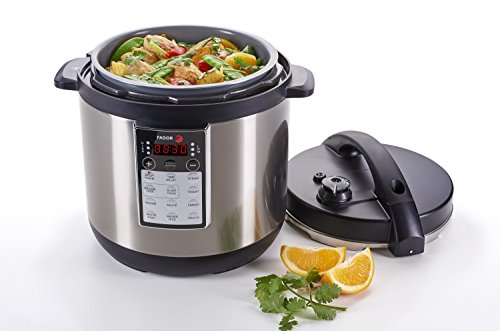 Brand: Fagor
Model Number: 670041960
Size: 8-Quart Capacity
This multi-cooker allows for up to ten hours of slow cooking and ninety-nine minutes of pressure cooking. The slow cook setting can be programmed to high or low and an additional keep-warm function will run for up to twelve hours. There are also settings for making yogurt, rice and risotto as well as additional features to brown, steam and saute. The time delay functionality allows you to get everything set up ahead of your desired start cook time by up to six hours. With a non-stick ceramic cooking pot that's dishwasher safe, cleanup is a breeze.
Obviously, this kind of feature-packed appliance can help you produce a wide-variety of dishes. While the maximum slow cook time of ten hours is a drawback for some, the limitation is a non-issue for others. Based on the kinds of recipes you want to make, you can determine if this multi-cooker is something that will enable you to achieve all of the culinary results you're looking for.
Tiger Non-Electric Thermal Slow Cooker in Silver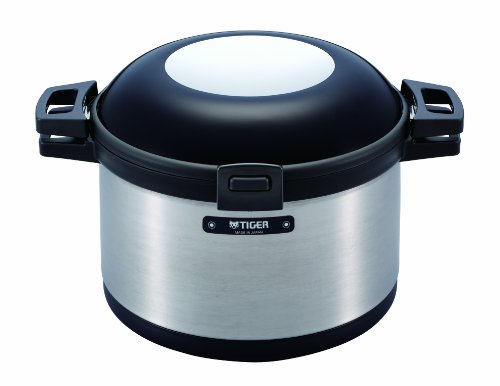 Brand: Tiger Corporation
Model Number: NFI-A800-XS
Size: 8.45-Quart Capacity
This non-traditional slow cooker is aptly known as a magic cooker because it's a non-electric appliance that delivers incredible results. You use the three-layer metallic pot to bring your ingredients to a boil on the stovetop and then you place this inner pot into the outer, stainless steel vacuum cooker.
You cover the inner pot with the tempered-glass lid and then top the outer container with the additional layer of insulation, which slow cooks the food for up to six hours at a temperature of around one-hundred-sixty-three degrees Fahrenheit. Both the inner and outer containers are washable.
Since you don't need any sort of electricity or heat source beyond the initial use of a stovetop, this product can be used anywhere and everywhere, which makes on-the-go simmering a reality. The outer container even stays cool to the touch. This cooker obviously isn't great if you don't want to initially boil your dish or adapt some slow cook recipes when needed, but the innovative appliance can save you money while opening up a new world of capabilities.
Top Pick
All in all, we're most pleased by the Cuisinart MSC-800 Cook Central 4-in-1 Multi-Cooker. The seven-quart model, with its versatile programmable functions and all-day cook-time capabilities, offers a great deal of value and convenience. Since you can brown, slow cook and serve a meal in the same nonstick, dishwasher-safe crock, this appliance truly enables one-pot cooking without sacrificing on taste or meal diversity.
Whether you're making an easy side dish for a night in with the family, a mouthwatering entree for a community potluck or a decadent dessert for a work luncheon, slow cooking is the way to go. Regardless of which appliance ends up making its way into your shopping cart, we trust you'll have a wonderful time exploring all of the delicious possibilities made available by owning a countertop cooker. Happy experimenting!