Figuring out the best tools for your kitchen is never an easy task, especially with all of the different types, brands and models that are out there. This is even true for rice cookers, despite the fact that making rice doesn't seem like a very complex task. But, there are many variations that manufacturers make to their models, including in the number of functions that they offer and even in the precise process used to cook the rice and make sure the rice ends up perfect.
Because of these differences, you will often find that rice has a slightly different texture and taste depending on the machine that it was cooked it. Not surprisingly, the more expensive machines often (but not always) make the best rice. Through our posts, we hope to clear up a lot of the confusion by highlighting some of the best choices for rice cookers within given price ranges and for various brands. In this case, we're looking specifically at rice cookers that Aroma produces.
This brand produces a range of different rice cookers, from fairly simple to more complex models. Unlike some of the other brands that we have featured, Aroma is an American brand. While this is unusual for rice cookers, the brand has been able to produce a number of popular models and in this list, we review the best models that the company has to offer.
We've also reviewed Top 5's for other brands, including…
20 Cup Digital Rice Cooker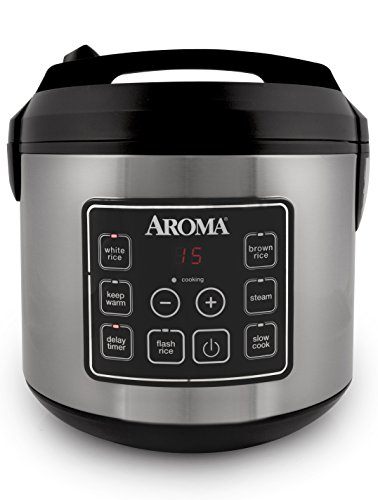 Model Number: ARC-150SB
Capacity (cooked rice): 20 cups
This rice cooker is an incredibly popular choice and does exceptionally well in terms of product reviews. Beyond how well the device actually functions, the key reason for the popularity seems to be the combination of price and size. At this price, this is an inexpensive option for a rice cooker. Yet, at the same time, the model has a maximum capacity of 20 cups of cooked rice, which is the highest capacity that you typically find in household rice cookers (note, this refers to the cups that come with the machine, not a measuring cup).
There are also a few specific features that this model offers, which simply serve to make it more appealing. One of these is the delay timer, which allows the user to delay when rice cooking will start. Beyond this, there is also specific controls for white and brown rice, along with the ability to steam food at the same time and even to slow cook. This means that you could theoretically use this as a replacement to a slow cooker, although it may not perform as well as dedicated slow cookers.
Simply Stainless Rice Cooker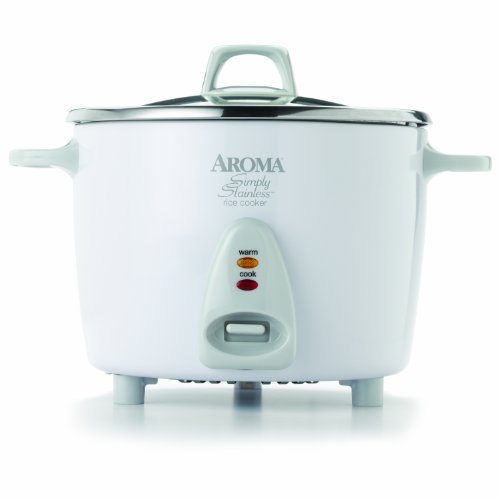 Model Number: ARC-757SG
Capacity (cooked rice): 14 cups
In contrast with the previous example, this rice cooker is a simple option. Here, there is just the option to turn the rice cooker on and from there you leave it to do the rest. The product then switches over to a keep warm mode once the cooking process is complete. There is also a steam basket with the product, so you can steam vegetables while the rice cooks. However, as some people note, it takes a bit of trial and error to get the timing right, as the steaming process relies on steam produced while the rice is cooking.
There is one other thing about this model. Typically, you find that the basic models like this one are all fairly similar to one another and that is the case here. However, the rice cooker does have one difference, which is the use of a stainless steel inner pot. Most rice cookers don't do this, partly because a Teflon-coated inner pot is much easier to clean. But, for people who don't like the idea of non-stick coatings being near their food, choosing a stainless steel pot makes a lot of sense.
Digital Touch Mini Rice Cooker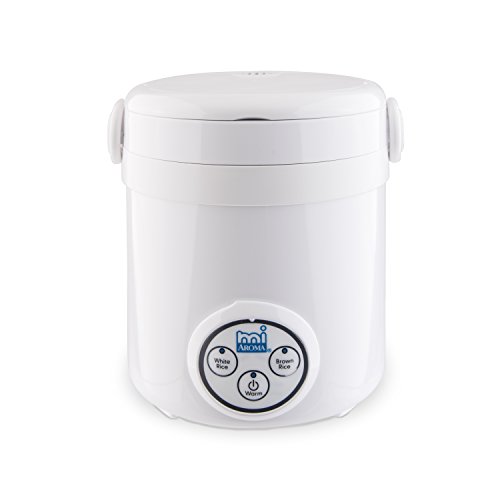 Model Number: MRC-903D
Capacity (cooked rice): 3 cups
This rice cooker is a little bit unusual and the design specifically focuses on the model being small and portable. Here, the rice cooker just holds 3 cups of cooked rice. That's not a lot but it's more than enough for one or two people. There are even two variations on the product, one with a digital control panel and the other with an analog control panel. Despite the small size, the digital version even has controls for white or brown rice.
In their marketing, the company also claims that you can cook a range of different meal types in the rice cooker, including pasta, pancakes and omelets. That claim seems to be based simply on having the right recipe, rather than any specific features of the rice cooker. In theory, this means that you could do something similar with pretty much any rice cooker if you had the recipe at hand. So, the rice cooker isn't really as unusual as the company claims. Nevertheless, the small size and ease of use do still make this model an appealing choice.
Pot Style Rice Cooker and Steamer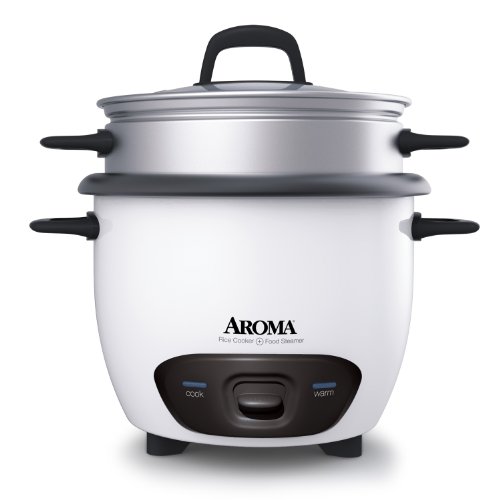 Model Number: ARC-743-1NG
Capacity (cooked rice): 6 cup
This rice cooker follows a design that is a little bit more common and tends to be pretty popular. In this case, the model even comes in three different colors (black, white and red), so you can pick which one fits your kitchen the best. In terms of function, this model is another fairly basic one, just offering the ability to cook rice and keep it warm, along with the potential to steam other food at the same time.
The model is also relatively small, although still has double the capacity of the mini rice cooker that we mentioned above. As such, this one may be more suitable for a small family and still wouldn't take up that much bench space. It's also worth noting that with any rice cooker, you can cook less rice than the maximum capacity. This means that you could easily choose a model like this, even if you plan on just cooking rice for yourself most of the time.
Digital Cool-Touch Rice Cooker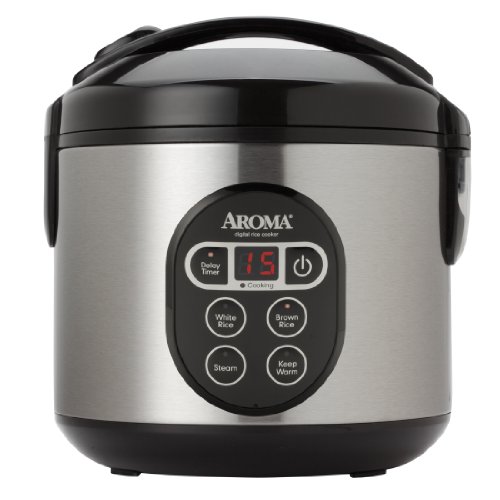 Model Number: ARC-914SBD
Capacity (cooked rice): 8 cups
This final option is another good one if you want a little bit extra functionality. It is also another extremely popular model and, at the time of writing, the rice cooker is the #1 Best Seller for rice cookers in Amazon. We mentioned a similar rice cooker at the start of this list and the biggest difference between them is that this one has a maximum capacity of 8 cups, while the earlier one went up to 20 cups.
While a capacity of 20 cups may be useful, it seems likely that most people would never need to cook that much rice at once. With that in mind, this model may end up being more appealing, especially as it would take up less space on the counter. There is also a white version of the same model if you prefer that.
Top Pick
One of the biggest advantages of the rice cookers from Aroma is that they are all reasonable in terms of price. In fact, every single item on this list was very cheap and many were more inexpensive than I imagined. That price range makes this a great brand to start off with and the models still tend to produce good quality rice.
Now, in fairness, the number of features isn't as high as some other brands and the rice quality probably isn't as good as models that make use of approaches like fuzzy logic. Nevertheless, for a basic rice cooker, these options are a good investment and can work well.
Out of the various models that we have highlighted in this post, the one that we most strongly recommend is the Digital Cool-Touch Rice Cooker. The size alone would be perfect for many people and you also get a few useful functions that can make rice cooking easier still. The sheer popularity of the model is also another reason to seriously consider it. On Amazon, this rice cooker has more than 6,500 reviews and an average rating of 4.3. That's pretty impressive for a rice cooker that costs less that a dinner at a restaurant!