In some ways, a rice cooker often seems like a surprising choice for a kitchen. After all, why would you need a tool that only makes one type of food? Especially when cooking rice is fairly easy to do anyway. Well, despite what many people assume, a rice cooker really is worth having, plus, some models also do more than just rice if that's what you're looking for.
There are two main appeals of a rice cooker. The first is the obvious one, the ability to cook rice properly every time. So, you don't have to worry about burning the rice and you also don't have to watch the cooker while it is doing its thing. At the same time, the quality of rice from a rice cooker is often better than anything you make yourself.
The other reason that rice cookers are so appealing is the way that they can keep rice warm and sometimes even reheat it. Rice can be a pain to prepare simply because you need to get the timing right. If you get it wrong, then your rice may get cold before it's time to eat. With a rice cooker, it's possible to keep rice warm for hours after you make it. Some people even leave their rice in the machine overnight. This adds a lot of flexibility into the meal prep process and gives you one less thing to worry about.
With that in mind, in this post we're reviewing the best rice cookers that the brand Black & Decker has to offer. These rice cookers are simpler than what some other brands offer but they are a great place to get started with rice cooking. Now, before we get started, we want to note that all measurements of capacity are given in terms of cooked cups of rice (not raw) and this refers to the cups that come with the machines, not typical measuring cups. These cups are roughly two-thirds the size of a conventional measuring cup, so keep this in mind when you look at the maximum capacity of a machine.
We've also reviewed Top 5's for other brands, including…
Black & Decker 20 Cup Rice Cooker
Model Number: RC866C
Capacity (cooked rice): 20 cups
This first option is an appealing choice if you're looking for a rice cooker that holds a lot of rice. The maximum capacity here is 20 cups and this the typical maximum for home rice cookers. While the size may seem too much for some, it's worth remembering that you can make smaller quantities in a rice cooker like this one. As such, it can sometimes be worth getting a larger one even if you will only need that size occasionally. That is, if you have the bench space.
Beyond the size, everything about this rice cooker is fairly straightforward. It offers one control that lets you turn on the process and everything after that point is automatic. This means that you don't have any control over the end product but if you're just cooking basic rice, that shouldn't be a problem.
Rice Cooker with Sauté Function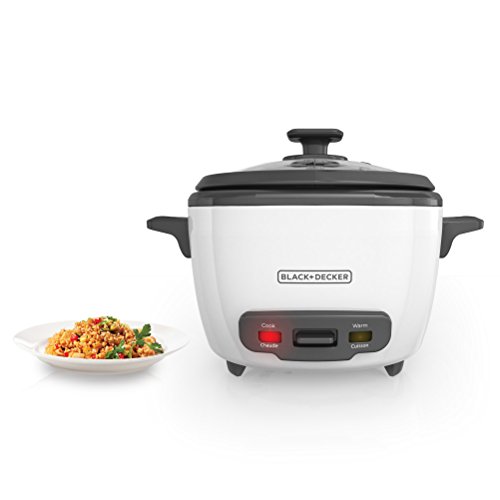 Model Number: RCS614
Capacity (cooked rice): 14 cups
The most interesting thing about this rice cooker model is that it comes with a sauté function. This function is sometimes present in rice cookers but it is relatively rare, largely because you don't tend to sauté rice. Instead, the idea is that the ability to sauté makes it easy to cook a whole meal in just the rice cooker, as sautéing can be a good way of softening vegetables and searing meat. This can work quite well because most rice cookers, including this one and the previous model, allow you to steam food while rice is cooking.
Beyond the sauté feature this model is fairly typical, although it is smaller than the one that we highlighted above. However, the rice cooker is a little unusual in that Black & Decker actually produce multiple similar rice cookers, ranging in size and function. For example, there are models in this design that go as low as 3 cups of cooked rice and ones that go as high as 28 cups. At the same time, there is also a less expensive 14 cup option that doesn't have the ability to sauté.
Rice Cooker and Steamer (RC3406)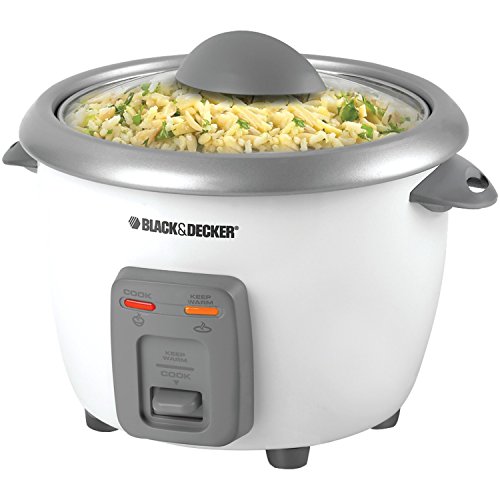 Model Number: RC3406-2
Capacity (cooked rice): 6 cups
This rice cooker is considerable smaller than the previous models at just six cups. The overall design is also a bit different, with an inclusion of a glass lid, which can be appealing for watching the rice cook. The other main advantage here is the price. The rice cooker is very inexpensive and that price could be appealing for anybody who isn't sure whether or not they will use a rice cooker regularly.
Silver and Black Rice Cooker (RC1412S)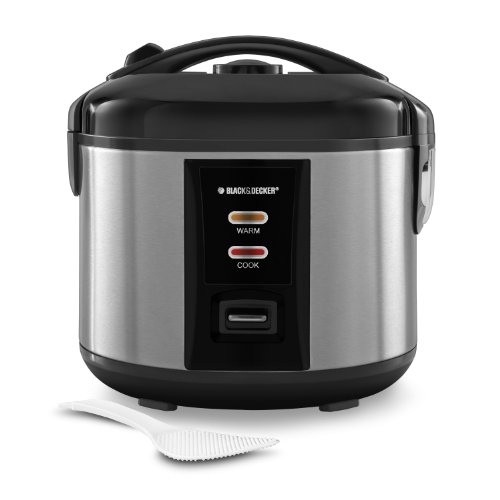 Model Number: RC1412S
Capacity (cooked rice): 12 cups
This rice cooker is somewhere in the middle when it comes to size, offering a maximum capacity of 12 cups. Like the other rice cookers from Black & Decker this one does have the ability to steam other food and also has a nonstick inner bowl for cooking that can be removed. In fact, the bowl can even be put in the dishwasher. That design makes the rice cooker very easy to clean and means that cleaning is another thing that you don't really need to stress about.
Now, this model isn't as popular as some of the other ones but it does still seem to sell well. It may also be appealing if you liked the visual style of the first model on this list but wanted an option that isn't quite so large.
White Black & Decker Rice Cooker (RC3203)
Model Number: RC3203
Capacity (cooked rice): 3 cups
This final rice cooker is the smallest of the lot and surprisingly it is much the same price as the others. The size of this one would make it a good choice if you were cooking for just yourself or for two, and if you simply didn't have a lot of space in the kitchen. Unlike the other examples, this model does not appear to have the ability to steam food. This is probably connected to the size of the product as there really isn't the space for rice and food in there.
Top Pick
Black & Decker is somewhat unusual as a rice cooker brand because they have a number of different models (including ones that didn't make it onto this list), yet those models tend to be very similar in their functions. Because of this, you might end up picking your rice cooker based on size, style and price, rather than the actual functions. Nevertheless, the option that we recommend most highly is the Silver and Black Rice Cooker (RC1412S). This particular model offers a good balance of size and price, while it is also one that many people might find appealing visually.