The ability to vacuum seal food offers a major advantage for any kitchen, allowing people to store food for considerably longer, while also protecting against freezer burn when freezing meals. Vacuum sealers also have the advantage of being surprisingly easy to use and many models are small, which makes them easy to fit in a conventional cooking.
For anyone interested in sous vide cooking, vacuum sealers also offer another set of advantages. For one thing, it's much easier to get air out of a bag with a vacuum sealer than manually trying to do so with a zip lock bag. At the same time, there is less risk that a vacuum sealed bag will leak and the bags tend to be more resilient at higher temperatures and for sous vide recipes that involve long cooking times.
If you're going to invest in a vacuum sealer, then picking the right one is crucial. With that in mind, this post highlights our top picks for FoodSaver vacuum sealer models. We find FoodSaver to be an especially interesting brand because the company produces a large range of different models, ranging from fairly simple and inexpensive all the way to feature-heavy and complex products. While the considerable selection can seem a little overwhelming, the variation does make it easier to find a model that perfectly suits your needs.
If you're looking for some different models and prices ranges, check out our list of high end vacuum sealers , mid range models and budget vacuum sealers.
We've also done more detailed reviews on the very popular Weston brand sealers, and the very popular VacMaster brand sealers as well.
FoodSaver V2244 Vacuum Sealing System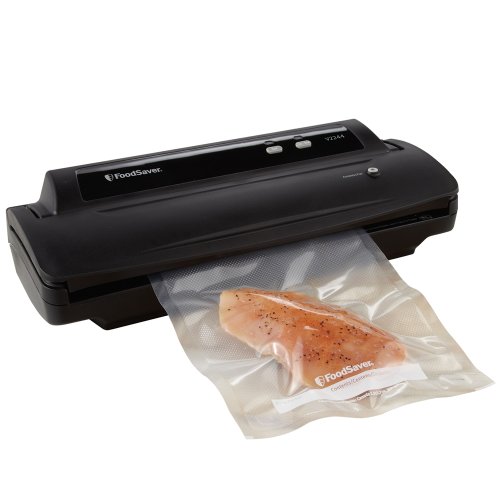 Model Number: FSFSSL2244-000
This vacuum sealer is one of FoodSaver's cheaper options, which makes it a good place to start our discussion. The first thing to note is that this is a manual sealer, which tends to be the case with the lower priced vacuum sealer. With a manual sealer, you need to put the bag into the vacuum sealer and then press a button to make it seal. This process does offer more control, so most people don't mind it. This particular model does also have a function for just sealing bags, without the vacuum component. Doing so isn't particularly relevant for sous vide cooking but it can be useful for resealing bags, especially if they contain delicate products.
This vacuum sealer doesn't offer a lot of features or options but it is still a very popular model due to the price. One indication of this is that the model currently boasts more than 2,300 reviews on Amazon, while also being a best seller in the Bulk Food Storage category. Additionally, the model does still have an accessory port, which many FoodSaver vacuum sealers have. This port allows people to buy and use accessories that give added functionality, such as the ability to seal bags.
FoodSaver V3240 Automatic Vacuum Sealing System
Model Number: FSFSSL3240-000
This model isn't as compact as the one we previously mentioned and it does cost more but it does have the advantage of offering more features. One key feature is the inclusion of two different vacuum speeds. This is important for delicate foods, as the slower speed can reduce the risk of crushing. This is also relevant for sous vide cooking, as the slower speed helps ensure that liquid from moist food does not interfere with the sealing process. Another feature is that the product has a bag cutter, which makes it make sure your bags suit the size of what they contain.
Additionally, the larger size of this model is partly because it has an area to store a roll of bags. This could actually be useful in many situations, especially as it lets you keep your bags in easy reach of the machine itself.
FoodSaver 2-in-1 Automatic Vacuum Sealing System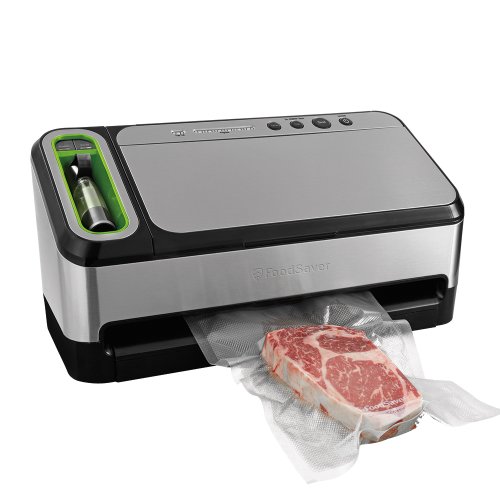 Model Number: FSFSSL4840-000
This particular model is one of FoodSaver's most feature-heavy vacuum sealers and it's also a fairly popular choice. For example, the model includes a drip tray to help avoid any mess with moist foods, along with a bag cutter and space to store a roll of bags. There are also moist and dry settings, which can help to avoid issues when vacuum sealing moist foods.
However, one of the most interesting things about this model is the fact that it has a retractable handheld sealer included. This sealer offers a little extra flexibility and can be useful in a number of situations. The machine itself also has the advantage of being automatic, which can make the process of sealing bags easier.
One surprising thing about this model is that it does not have a button to start vacuum sealing manually if you choose to. This means that users are forced to rely on the automatic sensor. This sensor does seem to work well most of the time but some people seem to prefer the less expensive FoodSaver machines to get that little bit of extra control over their vacuum sealing.
FoodSaver FM2100 Vacuum Sealing System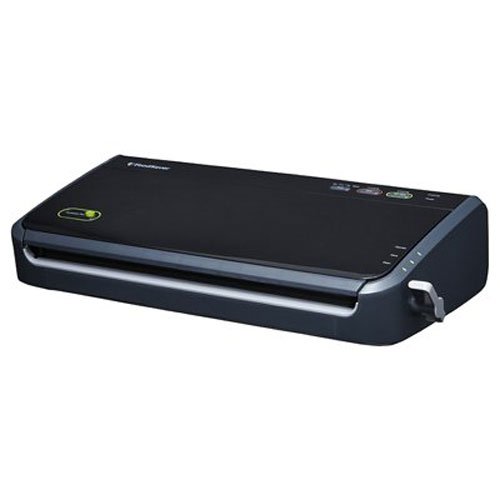 This is another product that is on the basic end of FoodSaver's product like but it offers a good balance of features. In particular, this one has a setting for moist and dry food, allowing for better control over the sealing process. The product does also have a bag cutter and roll storage, although its compact design probably means that it can only store a relatively small roll of bags.
This is also one of the more modern FoodSaver designs and, as such, is designed to reduce the amount of bag that is used. This can allow people to get more uses out of a single roll of bags.
FoodSaver Handheld Vacuum Sealing System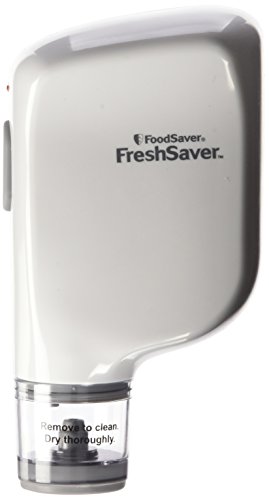 We're including this model on the list partly because it is quite different than all of the other models that FoodSaver sells. This is still a vacuum sealer and it has the distinct advantage of being very inexpensive. However, it also works very differently than the other models on the list. In this case, the vacuum sealer makes use of a one-way seal on specific FoodSaver bags.
That approach does mean that you are restricted to a relatively small set of bags, which typically isn't the case with more conventional vacuum sealers. However, the bags are reusable and this can help to cut down on some of your costs. The bags are also zip sealed and this helps to make the reusing process easier. While this product probably wouldn't be useful for sous vide cooking, it is an interesting alternative for people who don't want to invest in a full vacuum sealer machine and it also works well for vacuum sealing on the go.
Top Pick
All of the models featured on this list have their advantages and the typical pattern is that features increase as the price also increases. So, for most people, it's a matter of figuring out which features really matter to them and how much they are prepared to pay for the product.
Of the items that we've highlighted in this list, the one that we recommend most strongly is the FoodSaver 2-in-1 Automatic Sealing System. Even though this option is relatively expensive compared to the other items on the list, it is a good investment, especially because of the wide range of features that it offers. This product also does especially well in reviews, averaging 4.6 stars on Amazon, which is higher than most other vacuum sealers.
The other product that we recommend is the FoodSaver FM2100 Vacuum Sealing System. This product doesn't have as many features but the feature selection is good for the price. At the same time, the product will meet most vacuum sealing needs, especially if you don't plan to vacuum seal delicate products. As such, this model is a good choice if you want a good vacuum sealer but don't want to spend a large amount of money.