If you've ever looked into stovetop pressure cookers, then you may have run into the Hawkins brand before. In some ways, pressure cookers from Hawkins can be a little difficult to shop for, simply because there are so many different options. In fact, the brand currently has 72 different models, which fall into 11 different types – and some of those are very different to one another.
At the same time, many of those models also have multiple size options. To make things even more complicated, some of the models don't really look or feel like pressure cookers from other brands. All of these factors certainly make the process of picking a pressure cooker difficult. In fact, I noticed on Amazon that many of their models don't even have reviews, which is probably because relatively few people have tried them.
Our aim with this list is to cut through some of that confusion and show you some of the best choices from the Hawkins range, along with why these particular options stand out. Even if you don't agree with all of our picks, the information we present, this post should offer some insight into the complexities of the Hawkins range and some of the different variations that they have to offer.
Looking for reviews of more brands? We've done extensive reviews on the best brands of pressure cookers, including Presto, Maximatic, Kuhn Rikon, Fagor, and Instant Pot!
You can also see our reviews of pressure cookers by size and style. Browse electric pressure cookers and stovetop pressure cookers, including small, medium, and large models.
Futura Hard Anodized Pressure Cooker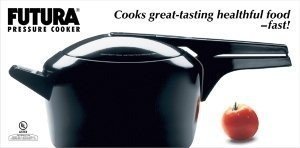 Model Number: F60
Material: Hard Anodized Aluminum
Size: 6 liters (around 6.3 quarts)
This pressure cooker model comes a total of 7 different sizes, although I'm focusing on the 6 liter (around 6.3 quarts) version. This particular pressure cooker is one of the most popular ones from Hawkins and it also has the advantage of looking fairly sleek. The use of anodized aluminum makes this pressure cooker more durable and reliable than other materials. In theory, this means that the pressure cooker should last longer. At the same time, it is also a fairly inexpensive option and you can choose whatever size that suits you best.
This pressure cooker doesn't have a non-stick coating, which can make cleaning a little bit more difficult.  Additionally, hard anodized aluminum isn't dishwasher safe, so you don't have the option of simply putting the whole thing in the dishwasher. Nevertheless, hard anodized aluminum is fairly non-stick on its own which means that, in general, the process of cleaning is fairly easy. One final note is that this particular Hawkins model isn't suitable for induction ovens either. So, there are certainly some disadvantages with this model but the high durability does help to make up for some of this.
Hawkins Bigboy Aluminum Pressure Cooker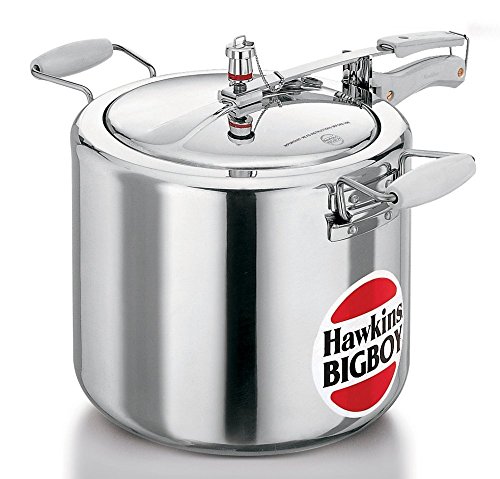 Model Number: E00/E30/E20
Material: Aluminum
Size: 14/18/22 liters (around 14.8/19.0/23.2 quarts)
This pressure cooker choice is primarily designed for cooking in bulk or for canning and comes in three different sizes. The metal used in this case is aluminum, which is standard for any larger pressure cooker. Now, regardless of what you think about aluminum as a metal (some people like it, some don't) most other options would simply be too heavy or would not heat well.
Most of the reviews for this product say that it works well for its purpose, providing you buy the size that fits your needs. Additionally, the model uses the Hawkins lid design, where the inner lid fits underneath the pot's upper lid, preventing the lid from blowing off on accident.
This pot would be a perfect choice if you're cooking large dishes in it or trying to feed a significant number of people. However, I want to make a note about the canning side of things. Hawkins does promote this as a canner but recommendations from the USDA suggest that you should only do canning in a pressure cooker made explicitly for this purpose, which should have a pressure gauge. Nevertheless, many people do still use this type of pressure cooker for canning but it is important to be aware of that recommendation.
Hawkins Classic Aluminum Pressure Cooker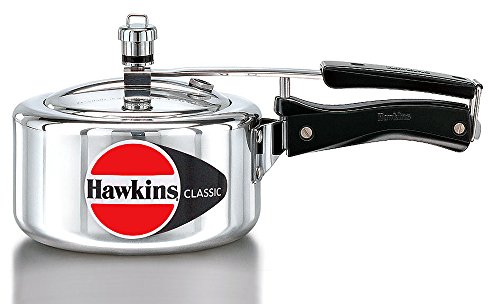 Model Number: B40
Material: Aluminum
Size: 6.5 liters (around 6.9 quarts)
In many ways, this model is fairly typical for a stovetop pressure cooker and you will find something similar for every brand that sells stovetop pressure cookers. For the smaller sizes, many people do prefer stainless steel to aluminum but aluminum does have the advantage of being light and also tends to be inexpensive. That's certainly the case here, making this a good option if you are just getting started with a pressure cooker.
At the same time, this pressure cooker does make use of the lid design that I mentioned earlier, which is common among Hawkins pressure cookers. This design may make the pot safer to use and reduce the chance of pressure being released unintentionally. Finally, there is also a wide range of sizes for the pot, starting from 1.5 liters (around 1.6 quarts) and going up to 12 liters (around 12.7 quarts). Those various sizes give you a lot of options.
Hawkins Contura Hard Anodized Pressure Cooker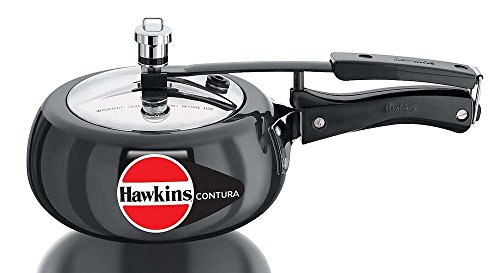 Model Number: M26
Material: Hard Anodized Aluminum
Size: 6.5 liters (around 6.9 quarts)
This Contura pressure cooker is another one that uses hard anodized aluminum although in this case the lid of the pot is actually made from stainless steel. It's not entirely clear why the company uses two materials (aside from the way it looks visually) but this approach may help to bring the cost down. The pot is also a little more stylized than most other pressure cookers, which I'm sure some people would find appealing.
One interesting thing is that this pressure cooker appears to have been designed for Indian pressure cooking. Because of this, the pressure is released in blasts/whistles suddenly, rather than releasing pressure slowly and steadily. That aspect of the pressure cooker is unappealing to some people but it probably wouldn't be an issue as long as you were aware of it beforehand.
Hawkins Stainless Steel Pressure Cooker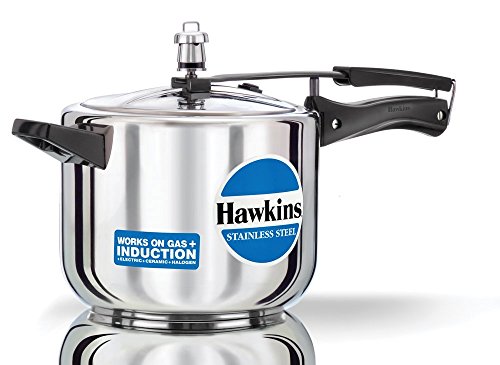 Model Number: B65
Material: Stainless Steel
Size: 6 liters (around 6.3 quarts)
This pressure cooker is another example of a fairly typical approach and you will see a similar design across many different brands. Also, similar to other brands, there is a range of different sizes for this pressure cooker, although I imagine that the 6-liter version pictured here is one of the most popular. The pressure cooker also has the advantage of being able to cook on all types of stovetops, which is appealing as some pressure cookers cannot do this.
In terms of price, this model is about average for stainless steel pressure cookers. As with the other items on this list, the lid design of the pressure cooker promotes safety and makes any accidents extremely unlikely. However, while this pressure cooker is a good choice and has generally been well received a number of reviewers, a small proportion of reviewers do note that the quality is relatively poor, particularly compared to other stainless steel brands.
Top Pick
The various pressure cookers on this list have their own advantages and disadvantages but the main one that we recommend is the Hawkins Contura Hard Anodized Pressure Cooker. There are a few key advantages with this particular model, especially in terms of its overall design and appearance. Furthermore, the use of hard anodized aluminum makes this a fairly reliable product without majorly raising the price tag. The only catch with this particular model is the whistling noise that it produces. That noise is part of the design but it is likely to be irritating to some people.
With that in mind, the second product that we recommend is the Futura Hard Anodized Pressure Cooker. This is another option using hard anodized aluminum and it also looks more like a traditional pressure cooker. This one doesn't seem to have the whistling feature of the previous option that we mentioned. However, this one is more expensive, which may be a deciding factor for some people.
Regardless of what you choose, either option offers the choice of a number of different sizes, so you can pick whichever size is most in line with your needs.