There are many differences between rice cooker brands and models but one interesting type that you might see is a rice cooker that makes use of induction heating. The process of induction heating is fairly simple and it is a type of non-contact heating that can be highly effective. With rice cookers, the process of induction heating means that the inner pot itself ends up being a heating element, rather than just the bottom of the pot.
Because the entire pot becomes the heating element, there are a number of advantages with this approach. One is that this reduces the risk of rice being burned or turning out badly, while also promoting even cooking. At the same time, induction heating is responsive to changes in temperature, giving the rice cooker more control over the cooking process. Additionally, induction heating decreases how long it takes to heat the cooking pot. In turn, this means that rice will tend to cook faster.
With all of these advantages, it's easy to see why induction heating rice cookers are so desirable. However, there's a catch. These machines tend to be more expensive than other types of rice cookers. Additionally, they are often heavier and use up more energy. Despite this, the rice cookers may well be worth it but we'll let you decide that for yourself.
With all of that in mind, this list serves as a way to highlight the best induction heating rice cookers from brands in Japan and Korea. We're specifically focusing on brands from these two areas because both cultures have a strong focus on rice and tend to make high-quality rice cookers.
Zojirushi Induction Heating Rice Cooker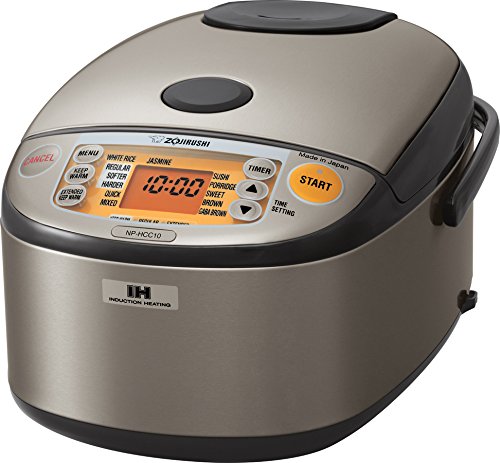 Model Number: NP-HCC10XH
Capacity (cooked rice): 11 cups
Zojirushi is one of the most popular rice cooker brands when you start to look at the high-end and complex models, and with good reason. The company seems to be extremely good at creating rice cookers that perform above expectations. In most cases, their models are also perfect for every type of rice, as well as many rice-based dishes. That's certainly the case with this particular model, which uses induction heating along with an option-filled menu.
One of the things that impresses us most about Zojirushi in general and this model, in particular, is the reviews. For example, with this model, reviews on Amazon rank it at 4.8 stars, which is impressively high for any product. Amazon reviewers are never 100% accurate but they do offer a good indication of how a product is likely to perform. With that in mind, high reviews are a strong indication that a product is seriously worth considering.
Cuckoo Induction Heating Pressure Rice Cooker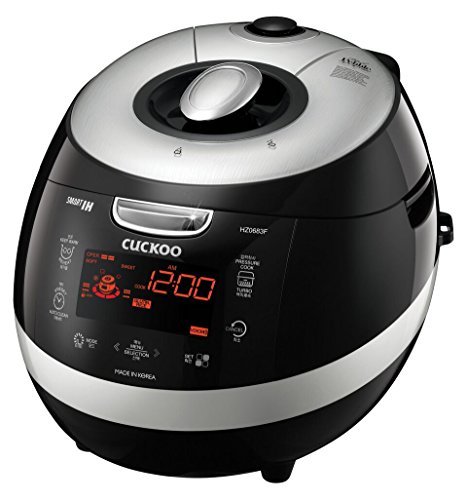 Model Number: CRP-HZ0683F
Capacity (cooked rice): 12 cups
In itself, induction heating is an appealing feature in a rice cooker, meaning that the rice tends to end up might better. However, in many cases, you'll find that induction heating rice cookers also have another function, pressure cooking. These features naturally work together, so many of the high-end models will offer both, as is the case with this model here. Essentially, the process of pressure cooking is what it sounds like, where the process of cooking is done under pressure. In general, cooking rice in this way tends to be much faster than other methods and it can often taste better too.
This particular model is one example of this combination of features. The presence of both features is a key reason why the price her is considerably higher than the Zojirushi model that we mentioned earlier. Nevertheless, if you're going to invest in a rice cooker, it can make sense to get a high-quality model with lots of functions right from the beginning.
Tiger Stainless Steel Rice Cooker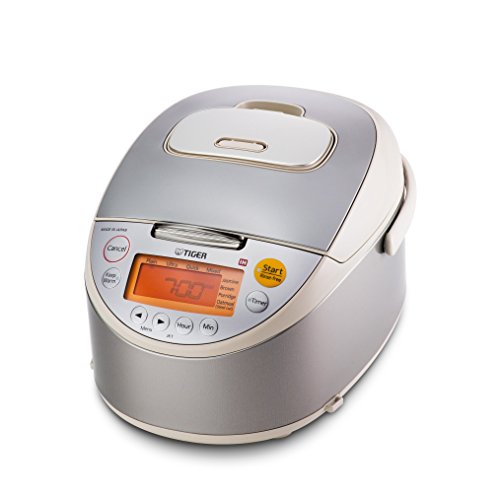 Model Number: JKT-B10U-C
Capacity (cooked rice): 11 cups
One interesting thing about this model is that there are actually two sizes available. The one that we're highlighting here holds up to 11 cups of cooked rice (5.5 cups uncooked), while the other option goes up to 20 cups cooked rice (10 cups uncooked). The prices of the two are pretty similar, so it seems likely that many people end up with the larger size, simply for the extra flexibility.
While this rice cooker doesn't have the pressure cooking option that some of the other rice cookers on this list have, it still offers a range of features that may be useful. The main example of this is the cooking menu control, which offers various options for the type of rice that you are cooking and the time.
This gives users more control over the finished product and is especially relevant if you are cooking anything other than plain white rice. At the same time, you can also manually adjust the cooking time. By doing so, you can make sure the rice finished cooking when you want it to.
Zojirushi Induction Heating Pressure Rice Cooker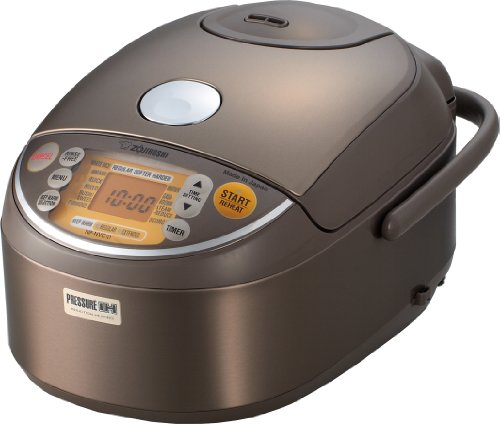 Model Number: NP-NVC10
Capacity (cooked rice): 11 cups
The Zojirushi brand is well-known for its rice cookers and there is quite a range to choose from. In fact, many of their rice cookers have induction heating capability, including some that haven't made it onto the list. Now, in this particular case, we're looking at a model that has both pressure cooking and induction heating capability. It's also a fairly popular model and tends to feature in top 5 lists for rice cookers and has an average of 4.6 out of 5 stars on Amazon.
The advantages of this rice cooker aren't just connected to the pressure cooking and induction heating either. Instead, the rice cooker also makes use of fuzzy technology to improve the cooking process and offers a wide range of settings. These settings help to make the rice cooker more versatile and they are perfect if you plan to cook specialty dishes in the appliance. For example, GABA brown rice and creating a crispy texture at the bottom of the rice are both options with the rice cooker, as is a steam reduced setting.
Tiger Multi-Function Rice Cooker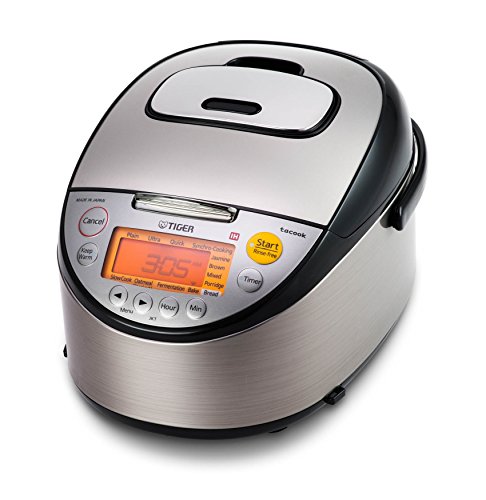 Model Number: JKT-S10U-K
Capacity (cooked rice): 11 cups
This last model is another one that comes from the Tiger Corporation brand. This rice cooker is a little bit unusual as it is also designed as a multifunction appliance. Specifically, the rice cooker comes with the ability to act as a bread maker and also as a slow cooker.
Because of that approach you could, in theory, use the rice cooker to replace multiple devices in your home. Doing so is a great way to save storage space and this may be particularly appealing if you don't want to pay a lot of money for a product that just cooks rice.
Top Pick
From this selection, the main model that we recommend is the Zojirushi Induction Heating Rice Cooker. This is one of the most reasonable items on the list in terms of price but at the same time, it still offers an extensive range of functions. While you may not get the more specialized features that some of the more expensive models offer, most people would find that those extras simply aren't needed.
In theory, you could also go to the Tiger Stainless Steel Rice Cooker, as this offers similar functions, along with a lower price point. However, the Zojirushi model is much more popular and the brand has an extensive reputation behind it for rice cookers. Because of this, it is well worth paying the extra cost to get a Zojirushi model. After all, if you are going to be paying a premium price for a rice cooker, you want to make sure that it is going to perform exactly how you want it to.