Pressure cooking has been around as a cooking method for quite some time but recently it has been dramatically increasing in popularity. Really, that shouldn't be a surprise, as pressure cooking offers a valuable way to save time in our lives.
That's a pretty appealing outcome as many of us have lives that are jam-packed with responsibilities and offer us little free time. If we can reduce the time that we spend cooking, without compromising the quality of our meals, then it is a win-win, right? Well, that's the concept behind pressure cooking and the popularity of the approach suggests that it really does save time.
However, one of the trickiest things for getting started with pressure cooking is picking a product. After all, there are so many different individual products out there and these come from many different brands. But, there's one brand choice that's a little bit different, which is Kuhn Rikon.
The Kuhn Rikon brand is sometimes known as 'the Mercedez-Benz of pressure cookers' and that phrase should give you some indication of both the price tag and the quality of Kuhn Rikon pressure cookers. The pressure cookers themselves are fairly distinctive and also have the advantage of releasing less steam during cooking than pretty much any other brand. With this list, we're going to look at the best products in the Kuhn Rikon line.
Looking for reviews of more brands? We've done extensive reviews on the best brands of pressure cookers, including Presto, Maximatic, Fagor, Instant Pot, and Hawkins!
You can also see our reviews of pressure cookers by size and style. Browse electric pressure cookers and stovetop pressure cookers, including small, medium, and large models.
Kuhn Rikon Stainless Steel Pressure Cooker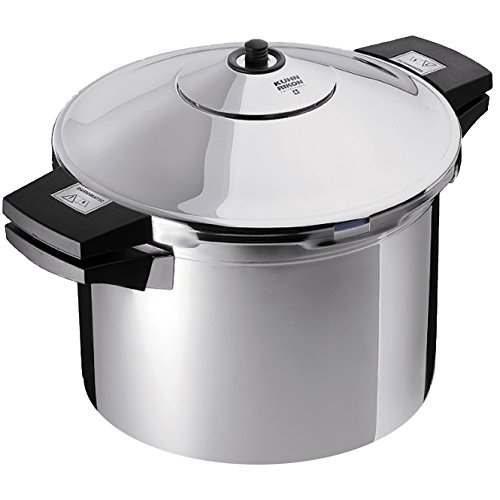 Model Number: 3043
Material: Stainless Steel
Size: 6-quart
Even just looking at this pressure cooker, it's easy to see some of the differences between Kuhn Rikon and other brands. In many ways, a 6-quart stainless steel pressure cooker is the most common option for a stovetop pressure. Yet, this model has some differences. For one thing, it uses a stockpot design, which is unusual for small pressure cookers. This design is an advantage as it makes moving and pouring easy. At the same time, the design is also sleek, making the pressure cooker nice to look at.
But, the main advantage of this pressure cooker is in the way it performs. Many reviewers say that Kuhn Rikon pressure cookers are the most efficient options on the market, especially as they do not allow much steam to escape. This particular model is also very popular and it is where you would probably want to start with stovetop pressure cooking.
However, in some ways, this pressure cooker is also a little specialized. While it does offer higher quality than normal and a large range of safety features, this model is also simplistic. As such, there are no settings and the only thing that you can do is release pressure. For some people, this may be an advantage as it makes the process of cooking less complicated. But, at the same time, this does decrease the amount of control that you have.
Duromatic Frying Pan Pressure Cooker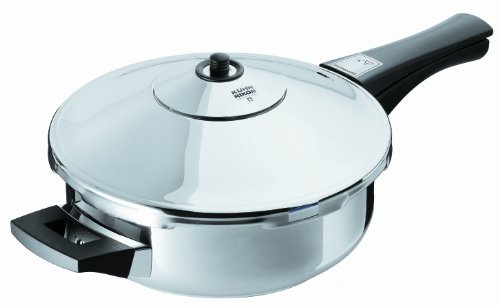 Model Number: 3346
Material: Stainless Steel
Size: 2.5-quart
This pressure cooker is another popular option from Kuhn Rikon and it deserves mention because of the style alone. Most pressure cookers on the market are designed around the style of a cooking pot but in this case, the design is more like a frying pan. This difference allows you greater surface area for browning food and the small size means that you need less liquid when cooking.
Overall, the unusual style means that this pressure cooker wouldn't work for all meals. However, it is a great addition to the kitchen and would allow you to cook different dishes than you could beforehand, especially ones that don't use a large amount of water.
Duromatic Family Style Pressure Cooker Braiser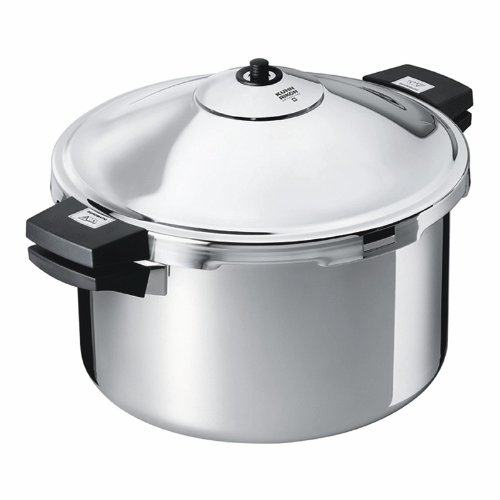 Model Number: 30330
Material: Stainless Steel
Size: 5.3-quart
This pressure cooker is another one that has an unusual style. Like the previous example, this one has a large surface area on the bottom, making it easy to brown food. However, one key difference is that this pressure cooker is larger, at 5 quarts. This gives you the advantage of the extra surface area while also providing you with enough space to cook a large meal.
Now, the biggest issue with this pressure cooker is going to be the price. This pressure cooker is at least three times the price of most other 5- or 6-quart pressure cookers and is even considerably more expensive than other Kuhn Rikon products. The reason for this seems to be that the pressure cooker is hotel quality. This is a higher level of quality and should make the pressure cooker last longer than less expensive options.
Kuhn Rikon Anniversary Pressure Cooker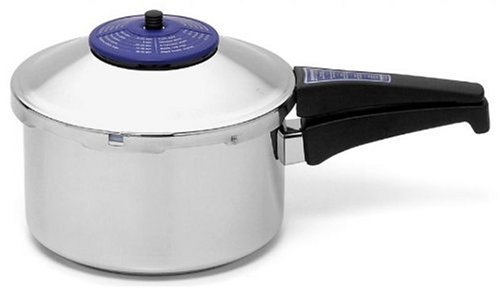 Model Number: 3147
Material: Stainless Steel
Size: 3.5-quart
This model has the advantage of being one of the cheapest options for a Kuhn Rikon pressure cooker, although admittedly, that is mainly because this is a fairly small option at just 3.5 quarts. One unusual thing about this model is the blue disk that you can see in the image. That disk is the steam diffuser but it also has cooking times written on it. In theory, this approach would make the pressure cooker easier to use than most other stovetop versions. This one does also have a low and a high pressure setting, which allows you some flexibility with cooking.
Duromatic Energy Efficient Pressure Cooker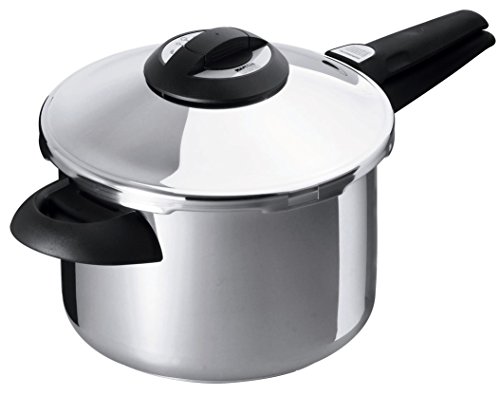 Model Number: 3916
Material: Stainless Steel
Size: 7-quart
This pressure cooker is pretty similar to the one that we opened this list with, except this one is slightly larger and around the same price. However, the big difference here is that this model is also designed to be energy efficient. Of course, pressure cooking tends to be more energy efficient than conventional cooking by its very nature. However, this model is supposed to be better than most.
This model is also appealing simply because it is popular. At the time of this review, there were 233 reviews on Amazon for the product, with an average rating of 4.7 stars. That's a nice outcome for any product and even more so for a brand that is more expensive than most other pressure cooker brands on the market. With this particular model, there are also two other sizes, a 5-quart and a 3.5-quart. But, in this case, the smaller models are actually more expensive, so most people would probably be better off with the 7-quart version.
Top Pick
Pressure cookers from Kuhn Rikon may be expensive compared to the rest of the market but if you do pressure cooking often you may want to pay the extra money to get something high quality that is going to last. For most pressure cooking purposes, we recommend the Duromatic Energy Efficient Pressure Cooker from Kuhn Rikon. This pressure cooker offers a good size for the amount you pay and the energy efficient feature is a nice touch. This pressure cooker is also a good way to get started with Kuhn Rikon's models in general, as it isn't excessively expensive.
If you have more specialized pressure cooking needs, then we recommend the Duromatic Frying Pan Pressure Cooker. Despite the small size of this product, the unusual shape works well and would give you flexibility in the food you cook. Realistically, many people would end up having this pressure cooker as well as at least one larger option, which would make the small size less significant.