Pressure cookers come in a wide range of different sizes, from small options right the way up to some extremely large alternatives. By far, the most common option is the 6-quart pressure cookers, which are perfect for many families and a lot of different meals. But, there are a lot of reasons why you might want to go bigger.
For one thing, larger pressure cookers give you more options when it comes to cooking. After all, you can use a large pressure to cook a small meal but you cannot use a small one to cook a large meal. In fact, some people find that the standard 6-quart option is often too small, especially as you cannot fill a pressure cooker up entirely. So, an 8-quart or even a 10-quart option can be a better choice for a family dinner and this size is especially relevant if you're trying to cook for a party.
The other idea behind getting a large pressure cooker is if you plan on making things in bulk. In many cases, people use these large pressure cookers for canning. Officially, this approach is not recommended and most of the safety testing for canning has been conducted on pressure canners, which are a little different than pressure cookers. While many people do still choose to can in the larger pressure cookers, we recommend that you do further research into the area and make an informed decision for yourself.
Regardless of why you might want a larger pressure cooker, we highlight some of the best large pressure cookers that are currently available. Here, we're defining large as anything over 6 quarts, so you'll see quite a variation in size. However, this list is a good starting point for figuring out which options suit you the most. You can also see our post on large electric pressure cookers. Though the sizes don't vary as much, there are some very good 8-10 quart versions worth checking out.
For this article we looked at larger sized cookers, but if you would like to check out the standard sized cookers, you can read our reviews of 6 quart cookers under inexpensive, mid-priced, and premium.
T-fal Stainless Steel Pressure Cooker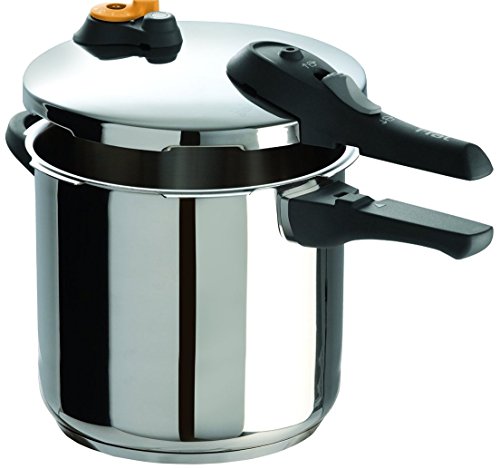 Model Number: 7114000425
Material: Stainless Steel
Size: 8.5-quart
This pressure cooker from T-fal actually comes in a few different sizes, including a 6.3-quart and a 4-quart. Regardless of the size, the pressure cooker has a lot of positive reviews and appears to be quite a popular option. One of the advantages of this particular model is that it is easy to use, with a reliable pressure indicate and the option to cook at either 10 or 15 psi. This is actually one of the key reasons that I like the pressure cooker, as many other options are difficult to figure out for people who haven't used a pressure cooker previously.
At the same time, this product has a fairly reasonable price for what you get – and 8.5 quarts would be a good size for just about any dinner you could make. In many ways, this might be a better decision than getting a 6-quart model and it means that you can be sure the pressure cooker will fit whatever you are trying to make.
Presto Stainless Steel Pressure Cooker

Model Number: 01370
Material: Stainless Steel
Size: 8-quart
This pressure cooker is another popular one, which isn't a surprise given that it comes from Presto. Like the previous example, the pressure cooker isn't that much larger than the traditional 6-quart pressure cooker and it's also relatively inexpensive. Most of the functionality of this model is pretty similar to what you would find in smaller options, including the presence of a pressure release valve. However, it is worth noting that this cooker only has one pressure (which is presumably 15 psi). That may be an issue for some foods, although most recipes are designed for 15 psi cooking.
Presto Pressure Canner and Cooker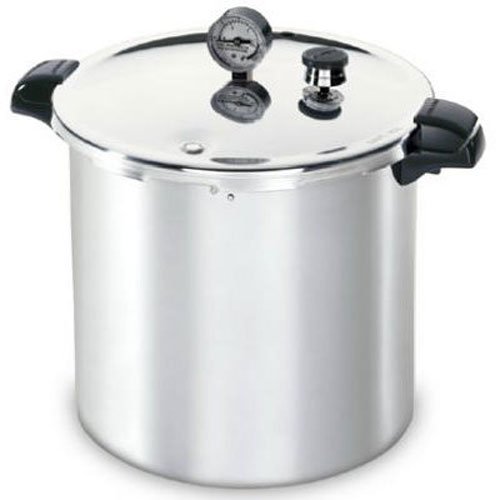 Model Number: 01781
Material: Aluminum
Size: 23-quart
If you're looking for a very large pressure cooker, this option from Presto is certainly a good choice. In fact, this particular model is actually a pressure canner, so you can legitimately use it for pressure canning or for pressure cooking. It is also currently the best seller under canning kits on Amazon and has close to 3,000 reviews, with an average rating of 4.7 stars. At the same time, the price is really good for the size of the product.
For some people, the aluminum that this pot is made from might be an issue. However, all of the large pressure cookers that I've seen are made from aluminum. In fact, this is a necessity as a pot this size made from stainless steel would be far too heavy.
Mirro Polished Aluminum Pressure Cooker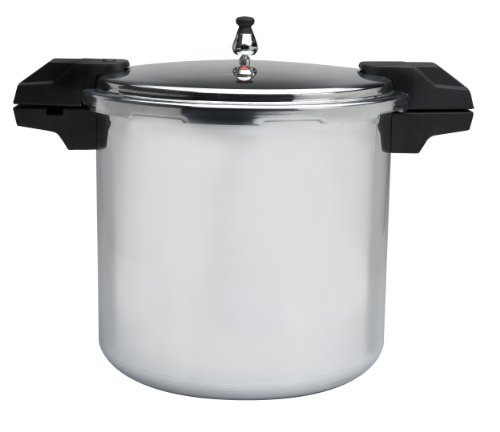 Model Number: 7114000221
Material: Aluminum
Size: 16/22-quart
This is another large option for pressure cooking and it comes in both a 16-quart and a 22-quart version. It product appears to be fairly popular and offers good quality. The pressure cooker also has the unusual feature of having three different pressures (rather than two or one). The pressure options are 5, 10 and 15 psi, and the lower pressures are a good choice for food that is more sensitive and for canning.
The size of the pot makes this pressure cooker a good choice for canning. However, the pot doesn't actually have a pressure gauge. Ideally, any pressure cooker for canning should have a pressure gauge and having one certainly makes the process easier. Nevertheless, the company does refer to the product as a canner in parts of its description, which suggests that you can still safely use it as a pressure canner.
All American Pressure Cooker/Canner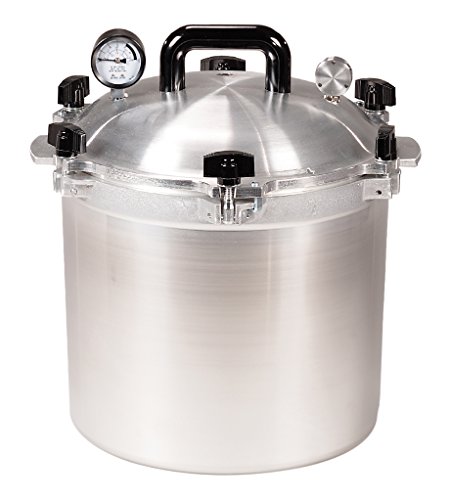 Model Number: 921
Material: Aluminum
Size: up to 41.5-quart
Without a doubt, this pressure cooker is specifically designed for canning and is another very popular product for this role. It comes in a range of different sizes, starting at 10.5 quarts and going all the way up to 41.5 quarts . In case you're curious, the version in the image is the 21.5-quart option, which is roughly in the middle of the lineup. Needless to say, the pot is considerably more expensive than the Presto canner that I mentioned earlier. However, this one does also offer a number of extra features.
One of these is the of a 'metal -to-metal' sealing system which removes the need for gaskets. In theory, this decreases the risk of leaks and of any components failing. The product also has three pressures, which is relevant for canning. This particular model would be well-suited for people who are serious about canning and for people who need a much larger pot. However, it is a considerable investment, so it would not be suitable for all people.
Top Pick
You may have noticed that the items from this list fall into roughly two categories. Some of them are just slightly larger versions of pressure cookers, designed for bigger meals or for making leftovers. Others are considerably larger and are intended primarily for canning. Because of this, there is no single best pressure cooker on the list. Instead, the best option for you is going to depend on what you want the pressure cooker to do.
If you're looking at doing any canning, then we recommend the Presto Pressure Canner and Cooker without hesitation. The reviews alone are an indication that the product is good quality and it's worth paying the twenty bucks extra that this costs (compared to the Mirro) to get something designed for canning. The All American Pressure Cooker/Canner is also another option but the price difference is substantial and many people probably wouldn't find the All American option that much better.
On the other hand, if you're just looking for a larger pressure cooker for meals, then the T-fal Stainless Steel Pressure Cooker is the option that we recommend. This is another product that is pretty popular and it has the advantage of being easy to use. At 8.5 quarts, the pressure cooker is also large enough for just about any purpose aside from canning.