As a kitchen tool, rice cookers are easy to underestimate. It might seem like a waste of effort and space to have a single gadget just to cook rice. Yet, rice cookers tend to be much more versatile than people realize. For one thing, most rice cookers allow people to steam food while they are cooking their rice. This is an efficient way to cook all of your side dishes at one time or even an entire meal.
Needless to say, rice cookers are also good at cooking rice. Now, that might seem a bit redundant but most people don't realize just how much better rice tastes when it is made in a good rice cooker. One reason is that the rice cooker is much better at making adjustments to cooking time and temperature than you can be. Besides, it's nice to not have to worry about keeping your eye on rice as it cooks.
With this list, we're taking a look at the best choices for rice cookers that Panasonic offers. Panasonic is well known for having a wide range of different types of products, including appliances for the home and the kitchen. While they don't specialize in rice cookers, the company does still produce a number of appealing options to choose from.
We do want to note that with all our lists on rice cookers, we give measurements of capacity in terms of the maximum amount of cooked rice that be made. It is also worth noting that rice cookers consistently use their own cups for measuring rice, which are roughly two-thirds the size of a conventional measuring cup. Because of this, the capacity levels for rice cookers are also given in terms of these smaller cups, rather than measuring cups.
We've also reviewed Top 5's for other brands, including…
Panasonic Automatic Silver Rice Cooker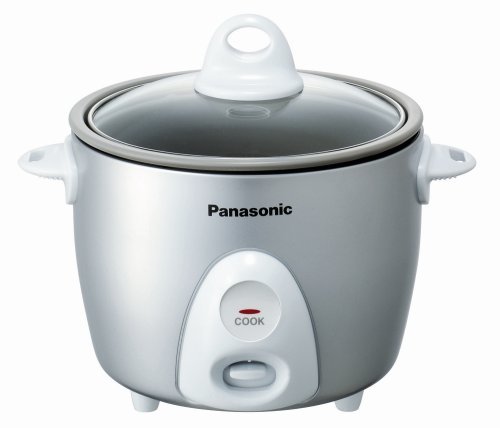 Model Number: SRG06FG
Capacity (cooked rice): 6 cups
As rice cookers go, this model is one of the most basic options you will find. One of the biggest differences here is that it doesn't have a keep warm function. Instead, the cooker will shut off when the rice has been cooked. This is a little unusual but it can be appealing to some people, as the keep warm function isn't always suitable. Another limitation is that this particular model isn't designed for brown rice. Likewise, the company recommends that you clean rice before putting it in the rice cooker, regardless of the type of rice you use.
Despite those limitations, this rice cooker does still have some appealing features. For one thing, 6 cups of cooked rice is a decent size and would work for many families. At the same time, the model does receive good reviews and is fairly popular on Amazon. This suggests that it would be reliable in the long-term, which is always a good thing for any kitchen tool.
Fuzzy Logic Rice Cooker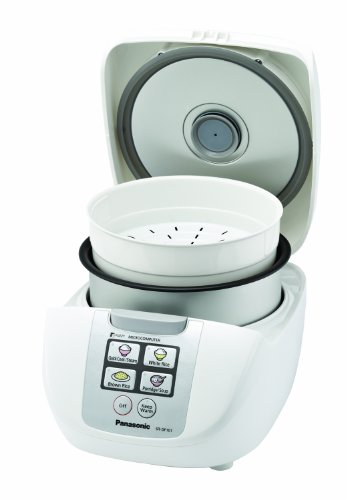 Model Number: SR-DF101
Capacity (cooked rice): 10 cups
Compared to the previous model, this rice cooker may seem very complex, although it is actually simpler than many other options on the market. In this case, the rice cooker has four main functions. One is for quick cooking and steaming, while the others are for white rice, brown rice and for porridge and soup. There is also the ability to choose whether you want the rice cooker to keep the rice warm. The buttons make this a fairly simple rice cooker to get used to and those functions give people many more options, especially if they want to cook brown rice on a regular basis.
However, the most interesting thing about this rice cooker isn't the functions. Instead, it's the fact that the rice cooker uses fuzzy logic. Basically, the term fuzzy logic refers to a mathematical approach. In the context of a rice cooker, it refers to the use of a computer chip that uses a fuzzy logic algorithm. Rice cookers with this type of chip are particularly effective at producing perfect rice because they can make better adjustments throughout the cooking process.
Rice Cooker with Domed Lid

Model Number: SR-TEG10
Capacity (cooked rice): 10 cups
This rice cooker is still a fairly simple option but it does have some key advantages over the first rice cooker that was featured on this list. The first of these is that the rice cooker does offer a keep warm option. So, once the rice has finished cooking, the machine automatically switches over to a keep warm mode. Another advantage is that this machine can be used to steam food along with rice, which adds to the versatility.
The model is also one that tends to get good reviews, averaging 4.4 stars on Amazon. This is always an appealing outcome, as better reviews suggest a higher quality product and one that should work well even if you use it frequently.
Commercial Size Rice Cooker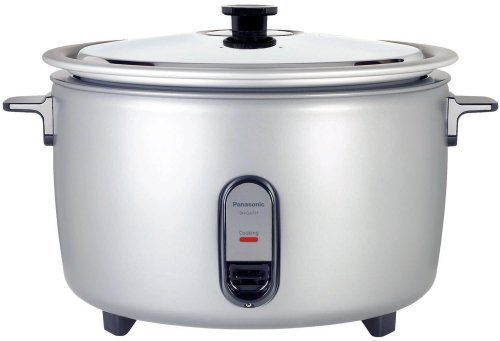 Model Number: SR-GA721
Capacity (cooked rice): 80 cups
As you can probably guess, this rice cooker is mainly designed for commercial use, which is why it has such a large maximum capacity. The size alone also means that this probably isn't a rice cooker that you actually want in your kitchen. However, we've included this on the list because tit may be an appealing option for some more specialized uses, such as in a church that regularly serves food for groups of people, or even for situations such as a family reunion.
Small-Scale Automatic Rice Cooker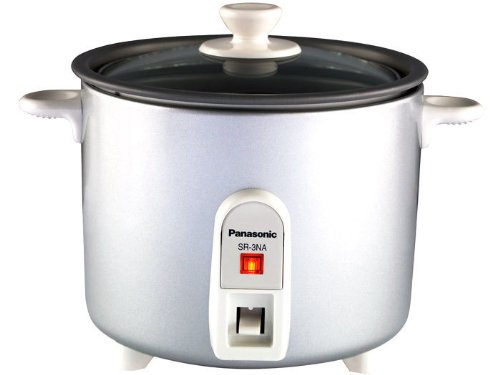 Model Number: SR-3NA-S
Capacity (cooked rice): 3 cups
The key feature about this rice cooker is simply its size. With a maximum capacity of just 3 cups of cooked rice, this is one of the smallest options out there for a rice cooker. It is also another one that is designed primarily for white rice and like the earlier model we mentioned, this one doesn't have a keep warm function or the option to steam other food.
Nevertheless, the small size is certainly appealing, especially if you typically only cook rice for yourself. Models like this can work extremely well as a way to cook rice as you need it, such as for dinner or for lunch. Additionally, the small size means that it takes up little space on the counter or in the cupboard. As such, it is a perfect choice for people living on their own, especially if they have limited space.
Top Pick
Out of the rice cookers in this list, the one that we recommend most highly is the Fuzzy Logic Rice Cooker. This model is a particularly appealing one because you get a few useful functions, along with the power of fuzzy logic programming. Additionally, the size of the rice cooker is appealing, because 10 cups is more than enough to feed most families and also means that the rice cooker itself isn't excessively large.
The other key reason for recommending this model is the price. At the current price, this rice cooker may seem a little expensive, but the price is extremely good for the amount of advantages that you get. As such, it can be worth paying the extra money to get a rice cooker like this one, which is simply more powerful and more flexible than the other models on this list.