Pressure cookers may have been around for a long time but they are becoming popular once again as a way to cook food fast and keep all of the nutrients in your meals. It's easy to see the appeal of these kitchen tools, as many of us lead extremely busy and hectic lives. Finding things to help save time is a great way to make life just a little less stressful.
The other appeal of pressure cookers is that they are surprisingly simple to use once you get used to the processes involved. That's even true for stovetop ones, even though you have to adjust the temperature from time-to-time to keep the pressure where you want it. But, sometimes picking exactly what pressure cooker you want can be a bit tricky, simply because there are so many to choose from.
In this list, we're specifically looking at the best pressure cookers that Presto offers. Presto is one of the most popular brands for stovetop pressure cookers and their models seem to be reliable and easy to use. So, this brand is often the perfect place to start, especially as some of their models are very reasonable in terms of price.
Looking for reviews of more brands? We've done extensive reviews on the best brands of pressure cookers, including Maximatic, Kuhn Rikon, Fagor, Instant Pot, and Hawkins!
You can also see our reviews of pressure cookers by size and style. Browse electric pressure cookers and stovetop pressure cookers, including small, medium, and large models.
Presto Stainless Steel Pressure Cooker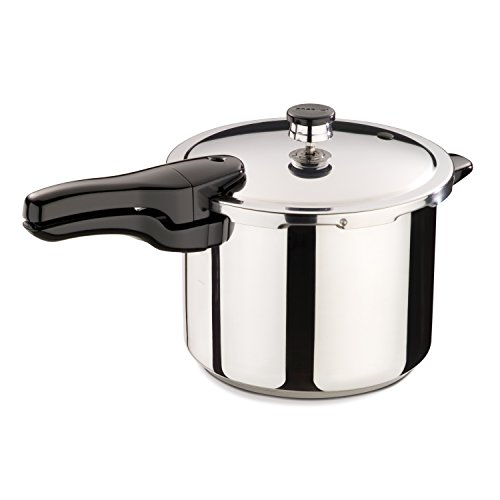 Model Number: 1362
Material: Stainless Steel
Size: 6-quart
This is the most basic type of pressure cooker that you will find and it works extremely well despite the simplicity. Presto offers two size choices of this model, either a 6-quart or a 4-quart. As they are similar in price, most people probably stick to the larger one, as you can easily cook smaller meals in a 6-quart pressure cooker if you choose to. Now, this pressure cooker does only have one pressure setting, which may be a disadvantage for some. Nevertheless, that setting is for high pressure and the pressure cooker reaches 15 psi and that's the pressure that most recipes call for.
The most significant thing about this model is its popularity. On Amazon, the model has close to 3,000 reviews, along with an average rating of 4.4 out of 5. That's an exceptionally good outcome, especially when you consider just how many different pressure cookers are sold on Amazon. The fairly low price also makes this a perfect way to get going in pressure cooking and means that you don't have to make a substantial investment to try this type of cooking out.
Presto Aluminum Pressure Cooker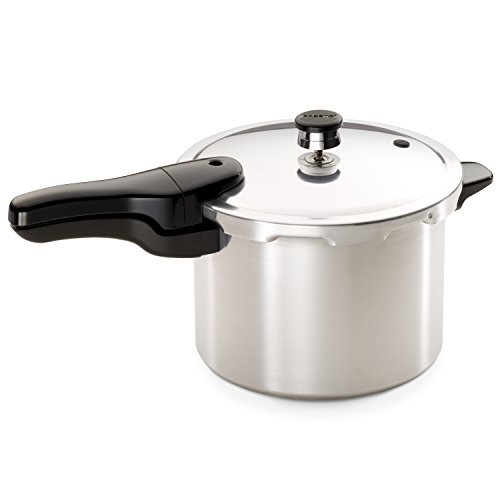 Model Number: 307874
Material: Aluminum
Size: 6-quart
This pressure cooker is another fairly basic choice and the key difference between this and the previous model is simply the material. In this case, the pressure cooker is made from aluminum. In general, aluminum tends to heat faster which means that the cooker also comes up to pressure faster. However, aluminum is often less popular and tends to be less durable, which may be why this pressure cooker seems to be sold less often than the previous one.
However, aluminum does have the distinct advantage of being inexpensive. In fact, this particular model is close to half the price of the one we mentioned above, even though they are the same size. Both receive good reviews as well, so they both make for good choices.
Presto Pressure Canner and Cooker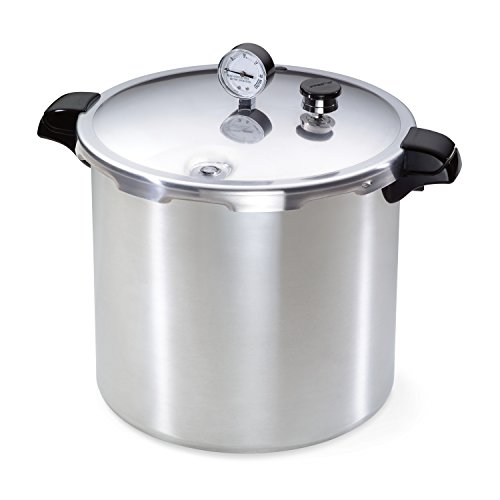 Model Number: 01781
Material: Aluminum
Size: 23-quart
This pressure cooker is another extremely popular one that consistently scores well in reviews. In this case, the product is designed for both pressure cooking and pressure canning. The pressure gauge on the lid plays a key role in that process, allowing users to keep an eye on the pressure throughout the cooking process. The size means that this product holds 7 quart jars without an issue. The design also appears to conform to the USDA's recommendations for pressure canning, which isn't the case for many other large pressure cooker designs.
Additionally, the price of this pressure cooker is pretty low when you consider the size of the product. While this might not be a product that you use for cooking meals, it's easy to see how the pressure cooker would be useful when preparing for events or when you're having guests over.
Deluxe Stainless Steel Pressure Cooker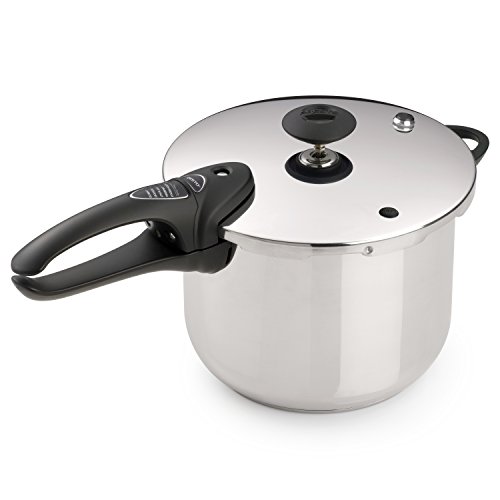 Model Number: 01365
Material: Stainless Steel
Size: 6-quart
This deluxe is a variation on the stainless steel pressure cooker that I mentioned earlier and has a slightly different design. This model does still just have one pressure setting but it comes with additional safety features to help ensure that the lid cannot be opened when the pot is at pressure. Likewise, those features allow pressure to be released safely and easily. Reviewers also suggest that of the two this one appears to be more heavy duty, however the handle design may make it a bit harder to open for some people, so it's worth bearing that in mind.
4-quart Aluminum Pressure Cooker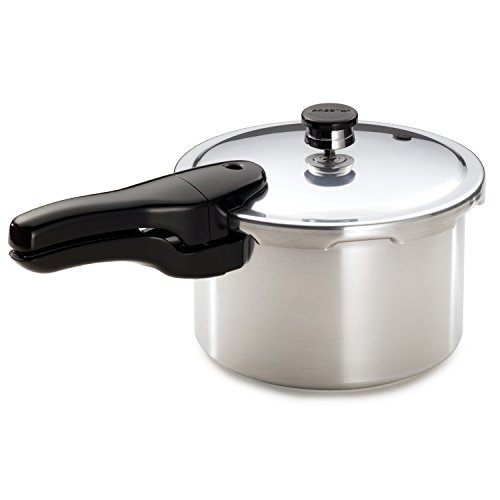 Model Number: 01241
Material: Aluminum
Size: 4-quart
This pressure cooker follows the same simple design as some of the earlier entries in this list. However, in this case, the key difference is the size, as this pressure cooker holds 4 quarts. That size is enough to cook for one person or possibly two although it isn't large enough to do most meals that would feed a larger family. Nevertheless, the small size may be appealing in many situations and this combined with the metal and the simplicity also makes this one of the cheapest stovetop pressure cookers that you will ever find.
Top Pick
For the most part, these models aren't really better or worse than each other but instead they are designed for different purposes. However, for most situations, we would recommend either the Presto Stainless Steel Pressure Cooker or Presto Aluminum Pressure cooker. Both of these are fairly basic models but often that is all you need. The large amount of positive reviews for these pressure cookers also indicate that they are effective and durable, suggesting that they will have a decent lifespan.