When it comes to an electric pressure cooker, it's easy to feel that larger is better. To a certain degree, that's even true. But, there are also some reasons why you might want to pick a smaller pressure cooker. The first of these is simply price. Electric pressure cookers can often be expensive; however, the smaller ones are sometimes less expensive, which makes them a good choice in some situations. Plus, a smaller pressure cooker is going to take up less physical space. That's certainly a good thing if you don't have much room in your kitchen.
The size is also relevant when it comes to cooking. A smaller pressure cooker will tend to require less liquid and will also reach pressure faster. Those aspects are particularly handy if you are trying to save as much time as possible. Additionally, the fact that you need less liquid offers you more choices in the cooking techniques that you use. So, you can end up with more control over the final product when you have a small pressure cooker rather than a large one.
It's true that electric pressure cookers are fairly limited in size variation and most of them tend to come in at the 6-quart mark. However, there are some smaller options out there if you're interested in working with a smaller electric pressure cooker. In this list, we highlight the top five choices out there and show you why you may want to consider them.
GoWISE 6-in-1 Stainless Steel Pressure Cooker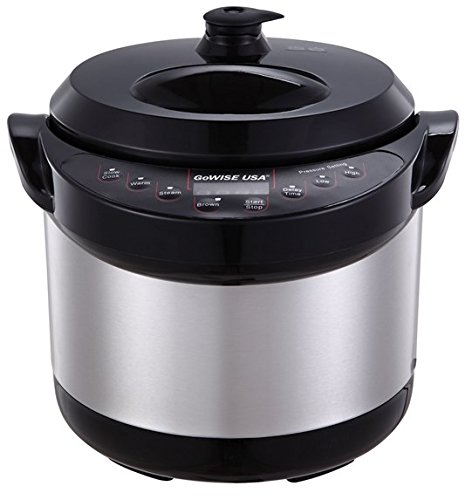 Model Number: GW22614
Material: Stainless Steel
Size: 3-quart
This pressure cooker is the smallest choice on our list, at just 3 quarts, and it's also the least expensive. Those two factors make it the perfect choice for anyone who just needs a small pressure cooker, like someone living on their own. At the same time, this pressure cooker manages to have most of the same functions that you see in most other electric pressure cookers, including the ability to slow cook, warm and brown food. However, there are some limitations, as this pressure cooker doesn't cook rice or yogurt, while many other pressure cookers do.
In general, the product has also received pretty good reviews on Amazon, which is another reason why we've included it in this top five list. However, some reviewers did note that the pressure cooker can be a little difficult to figure out at first, as the instructions are fairly limited. This may not be an issue for you personally, especially if you have used an electric pressure cooker before. Nevertheless, it is something to bear in mind.
Fagor LUX Multi Cooker

Model Number: 670041960
Material: Stainless Steel
Size: 4-quart
This pressure cooker has the disadvantage of being fairly expensive for its size, although it isn't the most expensive one on this list. However, Fagor does have a good reputation when it comes to pressure cookers and this one offers a range of different functions, including the ability to act as a yogurt maker and a rice maker. This pressure cooker is also one that comes in a range of difference sizes and you'll find that all of the functions are the same, regardless of whether you buy the smallest (4-quart) or the largest (8-quart) size.
Despite the price, this is an appealing option for a small pressure cooker and there have been a decent number of positive reviews for this model on Amazon. Currently, the pressure cooker is averaging 4.4 out of 5 stars across more than 100 reviews. That might not be as many reviews as some other pressure cookers but it's still a good amount and the star rating speaks for itself.
Instant Pot 7-in-1 Programmable Pressure Cooker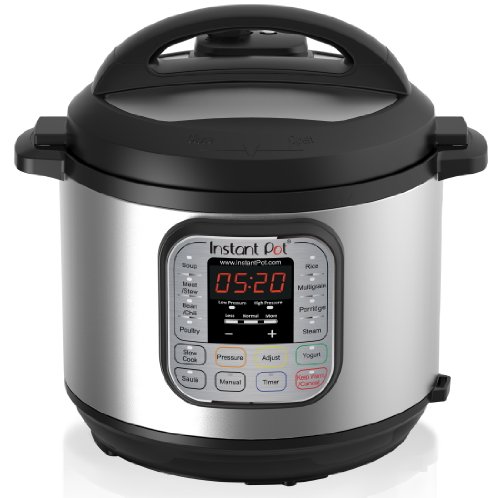 Model Number: IP-DUO60
Material: Stainless Steel
Size: 5-quart
The electric pressure cookers from Instant Pot tend to make it onto a lot of our lists because they come in a range of sizes and because there are a few different variations (including a Bluetooth and also a 6-in-1 version). This particular version is their most popular by far and the 6-quart model is even the top selling electric pressure cooker on Amazon. The 5-quart option is only a small step down in terms of size and price but it may still be a good choice if the 6-quart is too big for you.
Now, this model is on the expensive side for the size. At the same time though, this is one of the most reliable electric pressure cookers out there and is also extensive in the options that it offers. In particular, the seven features that are on offer are the ability to act as a pressure cooker, rice cooker, slow cooker, yogurt maker, steamer and a warmer, while also having the ability to sauté and brown. Often you find that smaller versions of products also tend to be lower in features, so it's nice to see that you can get all of Instant Pot's features with this smaller version.
On a side note, this particular option might be a good choice if you're already sold on the features of an Instant Pot but want something that is a little bit lower in price. I imagine that many people wouldn't notice the difference between 5 and 6 quarts when it comes to cooking, so this could be a way to save a little bit of money.
GoWISE 6-in-1 Electric Pressure Cooker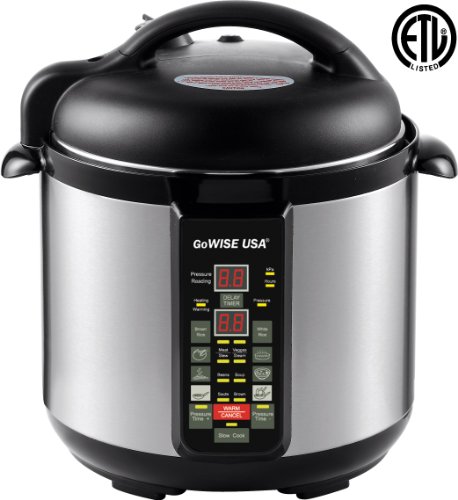 Model Number: GW22606
Material: Stainless Steel
Size: 4-quart
I mentioned one of GoWISE's pressure cookers earlier in the list but this one is a different style and also slightly larger. In this case, the pressure cooker is a 4-quart one and also comes in larger models as well. The functions are similar to what the Instant Pot offers, although it does not have the ability to make yogurt. This pressure cooker also has the distinct advantage of being fairly low in price. It isn't quite as low as the 3-quart pressure cooker but it is lower than the rest of the options on this list.
Gourmia Smart Pot Pressure Cooker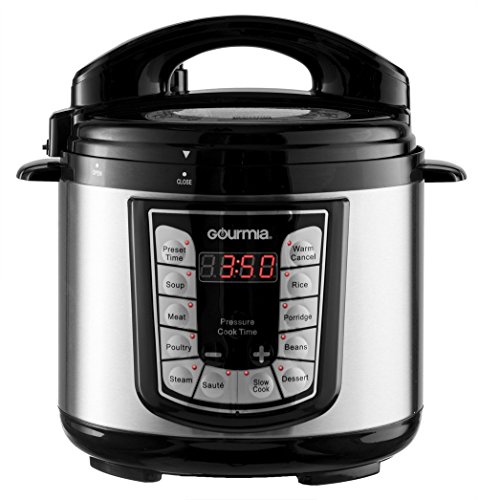 Model Number: GPC-400
Material: Stainless Steel
Size: 4-quart
As an electric pressure cooker brand, Gourmia is one of the less well-known options. However, that doesn't mean that the brand is a poor choice. Instead, this model of pressure cooker is a good alternative for a smaller pressure cooker and the price isn't too bad either. The cooking options are similar to the other models that we've discussed, although this one doesn't offer the yogurt cooking function. To be honest though, I don't know how many people actually use this function.
It's important to note that this pressure cooker does have a non-stick cooking pot, which means you have to be careful how you wash it. For some people, the non-stick option is appealing, while others feel that stainless steel is safer. So, if you like the ease of non-stick, this pressure cooker may be a good choice, if not, go for one that has a stainless steel pot.
Top Pick
In some ways, it is challenging to pick the best option or options from this list because there is so much variation between them. Ultimately, what you choose is going to largely depend on your budget and exactly what you need.
However, one small electric pressure cooker that we do recommend is the 4-quart GoWISE 6-in-1 Pressure Cooker. This pressure cooker is an especially good choice because it is fairly inexpensive yet still retains almost all of the functions that you find on a larger pressure cooker. At the same time, the pressure cooker has been fairly popular on Amazon, with close to 700 reviews for the product.