Pressure cooking offers a great way to speed up cooking time and also preserve nutrients in the process but picking a good pressure cooker can be tough. Perhaps the biggest issues I that there are just so many factors to consider. The process does end up being quite a bit easier if you're working with a stovetop pressure cooker, like the ones in this list. But, even then, you still have to consider a range of factors including size, price and quality.
Often people tend towards the larger pressure cookers, as these offer the most versatility and can be used for small and large meals alike. Yet, a large pressure cooker isn't always the right answer. After all, the larger pressure cookers tend to take longer to come to pressure and they require more liquid too. Both of these factors can have significant impacts on the food you cook, especially if you're working with dishes that wouldn't normally use a lot of liquid.
So, even if you typically use a large pressure cooker, it's worth having at least one small pressure cooker at hand for specific meals. Plus, a stovetop pressure cooker is easy to store and even doubles as a small pot, so there's no reason why you can't have multiple sizes to suit your needs.
In this 'best of' list we look at your best options for small stovetop pressure cookers. By small, we mean anything under 6 quarts, although you'll notice that there is some variation in the sizes that different brands offer. If you're looking for bigger, check out our reviews of large stovetop pressure cookers (6+ Quart). Six quart cookers are listed under several categories based on price, since they are more popular, including inexpensive, mid-priced, and premium. You can also switch sides, and check out our reviews of electric pressure cookers.
Presto Stainless Steel Pressure Cooker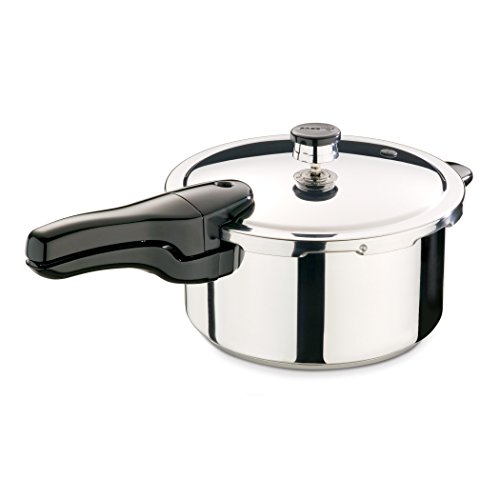 Model Number: 1341
Material: Stainless Steel
Size: 4-quart
Anytime we do a list on stovetop pressure cookers, at least one Presto pressure cooker makes its way onto the list. The brand seems to be a good choice all around, especially as its products are fairly inexpensive, making them a great introductory choice. At the same time, the products get a lot of positive reviews, which suggests that they are decent quality despite the low price.
This particular model is simply a smaller version of Presto's 6-quart pressure cooker and the two are only about five dollars apart in terms of price. Regardless of the size you choose, this product is one that has a high number of positive reviews and most people seem to be extremely satisfied with it. To be honest, it's pretty hard to go wrong with this pot, especially when you take the price into consideration.
Fagor Duo Stainless Steel Pressure Cooker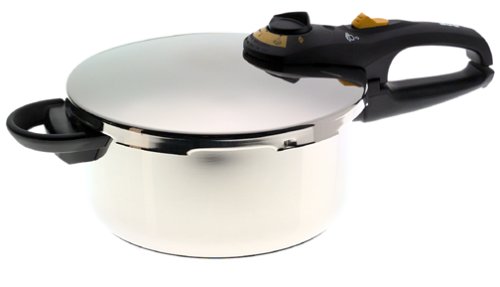 Model Number: 918060242
Material: Stainless Steel
Size: 4-quart
Fagor is the other brand that seems to come up all the time for stovetop pressure cookers and this is their 4-quart offering. As with Presto, this particular product comes in multiple sizes, although in the case of Fagor, you can actually get all the way up to a 10-quart version if you wanted. This pot has the disadvantage of being more expensive than the Presto one and it also has fewer reviews, although it does still have more than 800 on Amazon and an average star rating of 4.4 stars.
It seems that, in many cases, people end up choosing this product when they are looking for something that offers more quality without being excessively expensive. The pressure cooker itself is solid and well-built, suggesting that it might last longer than the cheaper Presto option.
WMF Perfect Plus Pressure Cooker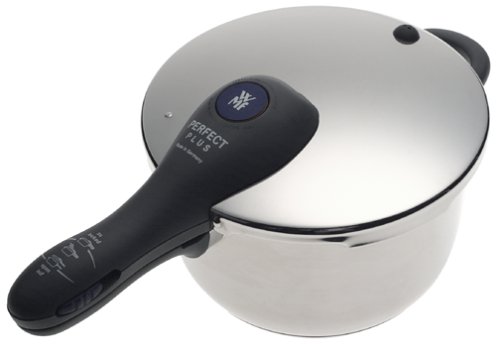 Model Number: 07.9312.9300
Material: Stainless Steel
Size: 4.5-quart
As a brand, WMF is more obscure and many people may not have heard of it. The pressure cooker is also slightly larger in size than the previous two, at 4.5 quarts. As you may have noticed, this product is also considerably more expensive. That expense doesn't seem to be connected to the slight size difference but instead to the brand and the quality of the product.
In terms of quality, one particularly important factor to note is that the product was made in Germany, which does suggest that the product may be better than most. Additionally, a heavy-gauge steel construction is used and this may also help to ensure this product lasts for a long time.
Mirro Polished Aluminum Pressure Cooker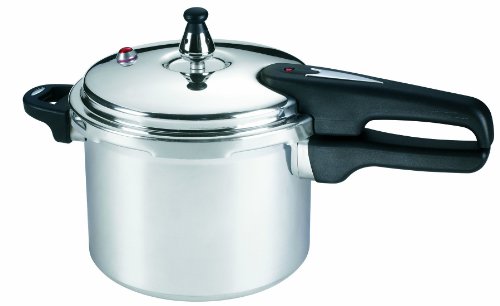 Model Number: 7114000229
Material: Aluminum
Size: 4-quart
This pressure cooker is another 4-quart option and this time, it comes from the brand Mirro. In this case, the biggest advantage of the product is simply the price. This pressure cooker is one of the cheapest options that you will find on the market and it does fairly well in reviews despite that low price.
The key reason for the price of this product is that it is aluminum rather than stainless steel. Aluminum pressure cookers tend to be lightweight and heat up quickly, producing a more uniform heat. However, with heavy use aluminum will stain faster than stainless steel, so an aluminum pressure cooker may not last as long as a stainless steel one. Nevertheless, which type of material you choose will ultimately come down to personal preference. I've seen many people who are adamant that stainless steel is best and just as many who prefer aluminum.
Fissler Vitaquick Pressure Skillet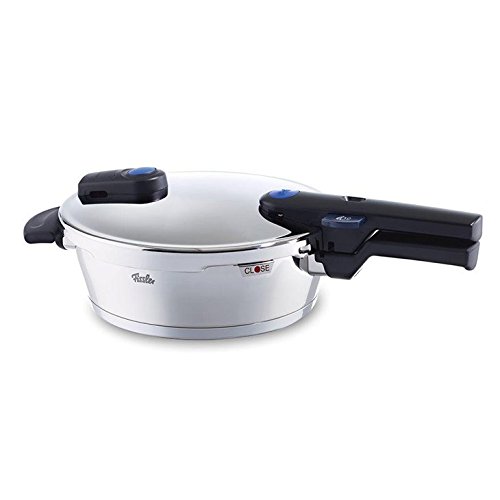 Model Number: FSSFIS5853
Material: Stainless Steel
Size: 2.6-quart
This pressure cooker has the unusual distinction of being both the smallest pressure cooker on this list and also the most expensive. The price alone means that this probably isn't a good choice for most people, but we've included it on the list as it is a unique choice for people who have specialized pressure cooking needs. It's also important to note that the pricing for this product seems to also be related to quality, as the product itself appears to be higher quality than most other stovetop pressure cookers.
Beyond the size, the other unusual thing about this pressure cooker is its shape, which resembles a skillet. This would be perfect if you were planning to brown food prior to pressure cooking it.
Top Pick
If you're just looking for a basic small pressure cooker, then we would recommend the Presto Stainless Steel Pressure cooker. This pressure cooker has the advantage of being reasonable in price, especially given that the model is stainless steel. Additionally, it is also the most popular product on this list by a large margin and customers appear to be very satisfied with it. This makes it a perfect choice for pretty much any situation and you also have the option of buying the larger size of the same product as well if you find you like the small one.
However, if you're looking for quality or have specialized needs, then we do also recommend the Fissler Vitaquick Pressure Skillet. This pressure cooker is different than most others that you will see, which may make it more relevant for some people. The brand is also a high-quality one, so this is a good choice if you want a product that will last you for a long time.