If you are trying to pick a good rice cooker, choosing one from a Japanese brand like Tiger Corporation is an appealing option. After all, rice is a much larger part of the Japanese culture and many of the Japanese rice cooker brands tend to produce high-quality products that are exceptionally good at making perfect rice every time. In most cases, these companies produce models like the ones on this list, which are targeted at an American audience. As such, rice cookers like these can be a great way to get the rice you are looking for.
But, all of this begs the question, why a rice cooker? Many people end up saying that rice cookers simply aren't worth the bother, as cooking rice is a fairly simple task. Now, rice is certainly easy for many people to cook but rice cookers do more than just cook rice. For one thing, they have the ability to keep rice warm over an extended period of time. That's not something that you can do when you cook rice manually.
The other thing to consider is that rice cookers can actually do a better job. They have the ability to make adjustments as rice cooks, which plays a major role in how the rice turns out. This is fairly difficult to do when you're cooking rice for yourself and you would have to pay constant attention to the rice to do so. In contrast, a rice cooker offers the advantages of close micromanagement of rice cooking, without the challenges involved in actually doing so.
With that in mind, we're using this post to show you the best rice cookers that Tiger Corporation has to offer. At the same time, we'll talk about the differences between the models, to help you make the best choice possible. Before we get started though, we want to note that all measurements of capacity are given in terms of cooked rice. Additionally, those measurements are based on the cups that come with rice cookers. The cup size is consistent across brands but it is roughly two-thirds the size of a conventional measuring cup.
We've also reviewed Top 5's for other brands, including…
Floral White Rice Cooker and Warmer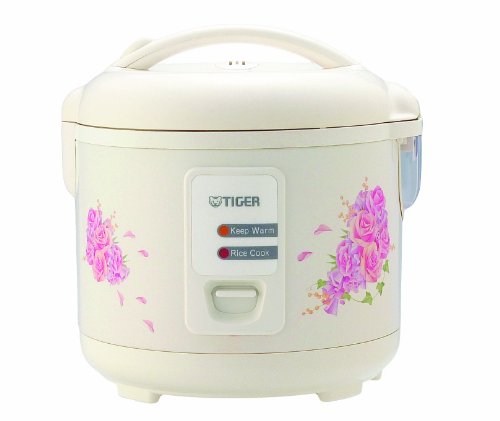 Model Number: JAZ-A10U-FH
Capacity (cooked rice): 11 cups
In some ways, this rice cooker looks a little bit old-fashioned but that doesn't stop it from being an effective choice for a rice cooker. The general approach here is a fairly common one and you will find rice cookers like this across many different brands. The one switch that you see is used to turn the rice cooker on and after that point, it figures things out for itself. In particular, the rice cooker will adjust cooking time based on how much water and rice you put in there.
Like many other rice cookers, this model does also have a steamer aspect, so you can steam other food as you are cooking your rice. Overall, despite the simplicity, this rice cooker model does perform its intended purpose well and the is one reason that people choose it.
Micom Rice Cooker with Food Steamer (JBV-A10U-W)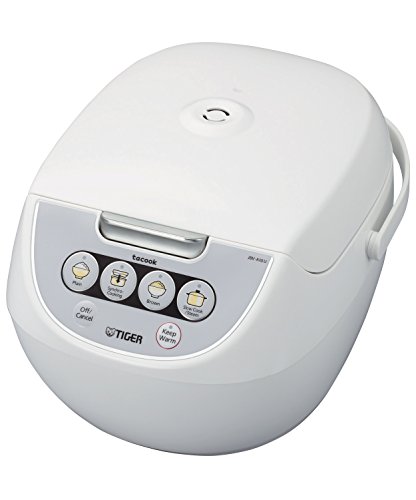 Model Number: JBV-A10U-W
Capacity (cooked rice): 11 cups
Perhaps the most significant thing about this model is that it is a fairly low priced example of a rice cooker that uses micom. The term micom is an abbreviation for microcomputer and microcomputers are often used in rice cookers as an effective way of controlling the cooking process. This computer can influence the time and temperature of cooking, making adjustments throughout the process. As a general rule, rice cookers that use this type of method tend to produce consistently good rice, which is why the feature is in demand.
Most of the time, micom-based rice cookers tend to have a large number of different features. However, that's not the case here. Instead, the main features are slow cooking and specific options for white and brown rice. Additionally, there is a Synchro-Cooking setting. Basically, this setting is designed to cook the rice and steam a side dish at the same time. This is a common approach for most rice cooker models, however, the nature of the setting suggests that this model is more intelligent at making sure both parts of the meal actually get cooked.
Stainless Steel Black Rice Cooker (JKT-S10U-K)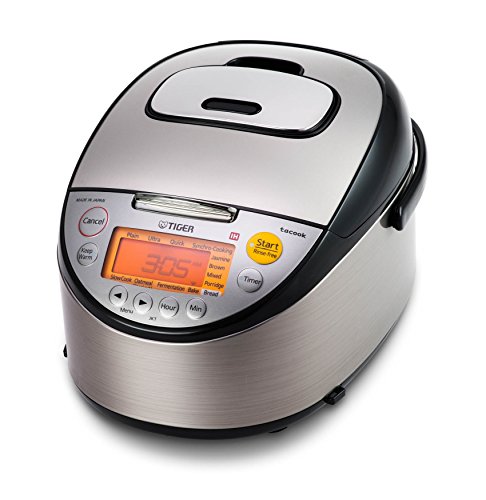 Model Number: JKT-S10U-K
Capacity (cooked rice): 11 cups
Just from first glance, it should be clear that this rice cooker is considerably more complex than the previous model and offers more features. You probably can't see in the picture but the main screen highlights the range of functions on offer, including specific settings for many different types of rice, as well as a fast cook function and the ability to slow cook. The rice cooker is also extremely unusual in that it also has the option to bake bread, if you so desire.
At the same time, the model has some of the features that I mentioned in the previous example, including the presence of a microcomputer and the ability to synchronize cooking the rice and a side dish. In essence, this means that the model here is essentially a more comprehensive model, offering the same basic features as the earlier one, along with many more options.
Basic Stainless Steel Rice Cooker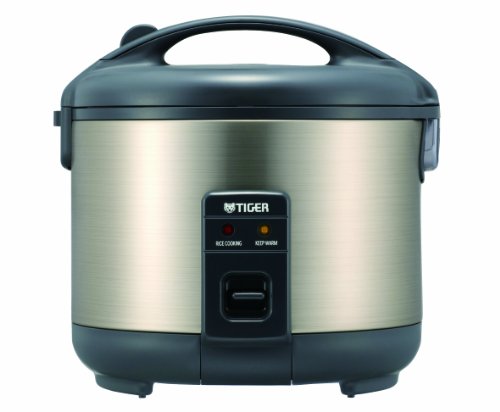 Model Number: JNP-S10U-HU
Capacity (cooked rice): 11 cups
This rice cooker may look fairly similar to one that I mentioned at the start of this list and there is a good reason for this. In fact, there is even a floral version of this model too. The biggest difference here is that this model is a version that was manufactured in Japan, while the other was manufactured in China.
From the reviews, it seems like the China version was lower quality and did not perform as well. However, it did have the advantage of being significantly lower in price. In contrast, this model appears to have more satisfied customers and seems to work better overall. The pattern suggests that this model may be a good choice if you want something that you can be confident about and prefer something manufactured in China. However, it is still a pretty expensive option for a rice cooker that only does the basis.
Micom Rice Cooker (JAX-T18U-K)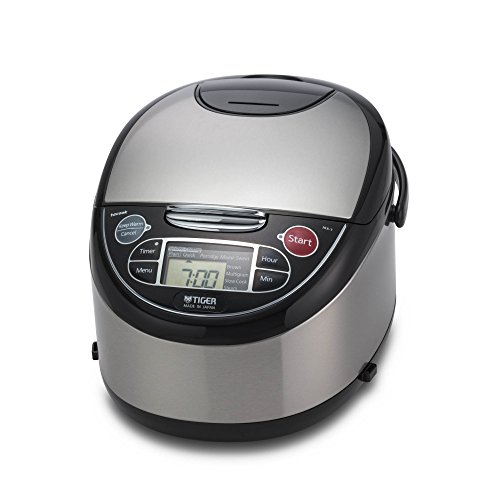 Model Number: JAX-T10U-K
Capacity (cooked rice): 11 cups
This final option is another rice cooker that makes use of a microcomputer. While the buttons for the rice cooker may look kind of simple, the model does also have a range of functions, similar to the ones that we discussed earlier. In fact, the main feature missing between this model and the previously mentioned model is that this one doesn't bake bread. Honestly, that's not much of a loss, as most people don't buy rice cookers because they want to make bread.
Top Pick
All of the products from Tiger Corporation have their own advantages and disadvantages but the one that we would recommend for most people is the Micom Rice Cooker with Food Steamer (JBV-A10U-W). This model is the same price that you would often find for a simpler rice cooker but you end up getting a model that has a microcomputer, along with individual settings for white and brown rice and the Synchro-Cooking feature.
In the end, you get a lot of functionality from this device while still paying a fairly low price. That makes it a good choice for most situations, especially if you don't want to spend hundreds of dollars on a more complex rice cooker.