As a tool, vacuum sealers offer a powerful addition to any kitchen, partly because of their versatility. They provide a great way to keep food fresh for much longer than you could otherwise and vacuum sealing can even be used as a way to prevent rust or deterioration in some items, like jewelry or rolls of duct tape.
At the same time, vacuum sealers are perfect for sous vide cooking. With sous vide, you end up cooking your food in plastic bags. Some people simply use basic zip lock bags but vacuum sealing makes it much easier to get all of the air out of the bag and ensure that no water leaks in. With that advantage plus the ability of vacuum sealers to increase shelf life, it's no surprise that they have become popular tools among people who cook using sous vide.
With this list, we aim to make the process of selecting a vacuum sealer easier by highlighting the best products available from VacMaster, which is one of the major vacuum sealer brands on the market. VacMaster is also a little unusual as the brand has a number of chamber vacuum sealers, along with the more traditional edge sealers. Now, chamber sealers tend to be on the expensive side but they are appealing because they can create a stronger seal, offer more control and can also be used to seal liquids.
If you're looking for some different models and prices ranges, check out our list of high end vacuum sealers , mid range models and budget vacuum sealers.
We've also done more detailed reviews on the very popular FoodSaver vacuum sealers for food, plus Weston brand sealers as well.
VacMaster VP112S Chamber Vacuum Sealer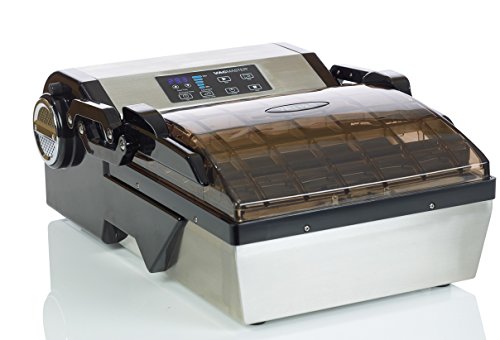 This model is a chamber vacuum sealer, although the design is actually a little bit unusual. This design means that the product is not excessively bulky and it wouldn't look out of place on a countertop. Like most chamber vacuum sealers, this one has the advantage of being fairly heavy duty and performs consistently over time. The model also has a control panel, which offers a number of features and ways to control the vacuum sealing process. That control panel is fairly simple to use and means that the learning curve on this product isn't as steep as some other chamber vacuum sealers.
Even though the price for this product might seem high, it's actually on the low end for a chamber vacuum sealer. The product also offers a fairly good balance of features and price, and this makes it an especially appealing model if you want a chamber vacuum sealer.
VacMaster PRO380 Suction Vacuum Sealer with Extended Seal Bar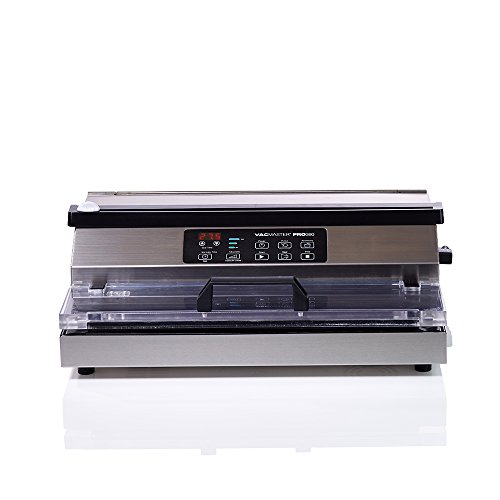 This vacuum sealer is a more traditional edge model, where one end of the bag is placed within the machine to create the vacuum seal. The product is considerably more expensive than edge sealers from other brands and this appears to be connected to the technology that the vacuum sealer uses. In particular, the product uses a heavy-duty vacuum pump that is designed for frequent use, along with a more robust exterior. The extended seal bar (16 inches) is also an appealing feature, as it allows you to seal wider bags, which is something you can't achieve with many other vacuum sealers.
Vacuum sealers like this one are particularly good choices for people who plan to do a lot of sealing within a relatively short period of time, or people that plan to use the product extensively. Often, the less expensive models tend to perform poorly over time when used often, which could be a major issue if you want something that you can rely on. As such, sometimes it is worth spending the extra money to get a model that's going to stand the test of time.
VacMaster PRO260 Suction Vacuum Sealer

This vacuum sealer is another edge model that VacMaster has to offer. While this model is not as advanced as the previous one on the list, it does still have some advantages over edge sealers from other brands. One of the biggest examples of this is the fact that the vacuum sealer creates a double seal. This approach reduces the chance of the seal breaking during sous vide cooking or during storage.
The model also provides storage and dispensing for two separate bag sizes and has a cutter that works on both rolls. At the same time, the product is relatively compact and looks good visually. Nevertheless, it is important to note that between this and the previous model, the previous example does tend to get slightly better reviews. If anything, that's simply an example of how you often end up with increased quality when you buy more expensive products.
VacMaster VP210 Chamber Vacuum Sealer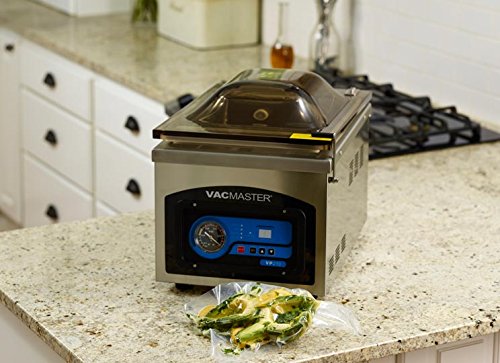 This vacuum sealer is another chamber model that VacMaster has to offer and the style of the model is like most other chamber vacuum sealers on the market. In this case, the vacuum sealer is quite a bit more expensive than the earlier model we mentioned but it is also designed to work well without the need for maintenance. At the same time, the model produces a double seal on each bag, which further reduces the risk of any leakage.
The control panel of this model can seem a little confusing at first, especially to people who haven't owned a chamber vacuum sealer in the past. However, that complexity is important for giving you control over the sealing process and it is something that gets easier over time.
VacMaster VP120 Chamber Vacuum Sealer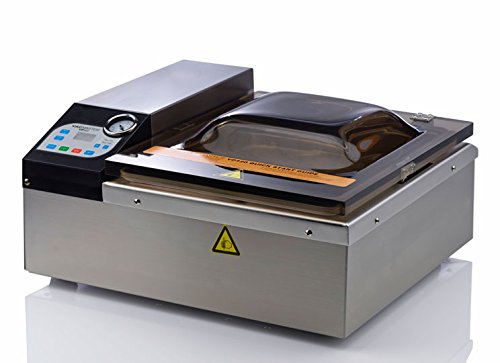 This final model is another chamber vacuum sealer and like the first example on this list, the design is a little bit unusual. Like other chamber models, this one makes it easy to vacuum pack any type of food, including dry and moist foods, as well as liquids like soup. It's also worth noting that the bags for chamber vacuum sealers tend to be much less expensive than bags for edge sealers, so you end up saving money in the long-term if you do a lot of vacuum sealing.
One of the advantages with this particular model is that it has automatic programming options, which are easy to setup and use. The automatic nature of the product is powerful if you're doing repetitive vacuum sealing.
Top Pick
As a brand, VacMaster tends towards providing high-end vacuum sealers which are designed for repetitive use. As such, the brand probably isn't the best choice for people who only plan to vacuum seal occasionally. However, investing in a high-quality vacuum sealer makes sense if you plan to use one a lot, and it's certainly better than buying a cheap one just to have it break soon afterward.
Of the models offered, the main one that we recommend is the VacMaster VP112S Chamber Vacuum Sealer. In many ways, this model is an entry level chamber vacuum sealer. It doesn't have all of the features that you find in more expensive chamber sealers, such as automatic programs. However, it does still have the key advantages of a chamber sealer, including the ability to use cheap bags, the ability to seal liquids and to create a stronger overall seal. This is a good combination of features for the price that you pay, especially as the product is likely to partially pay for itself with the amount you save in bag costs.
If you're not interested in a chamber sealer, then we would recommend the VacMaster PRO260 Suction Vacuum Sealer as an edge sealer. This model may be more expensive than edge sealers from other brands but it does offer more options and appears to create a more reliable seal overall.