For anyone involved in sous vide cooking, it's worth taking the time to invest in a vacuum sealer. Now, it's true that you can get away with sous vide cooking using just zip lock bags and many people do just that. However, vacuum sealing does tend to be a bit more reliable and you don't have to worry as much about water leaking into the bags during cooking. At the same time, it's much easier to get all of the air out with a vacuum sealer, so you don't have to worry that your bags are going have too much air and float during cooking.
Those reasons alone make a vacuum sealer a good investment, especially if you do sous vide cooking often. But, vacuum sealers are also good in their own right. After all, they allow you to store food and items without air around them, which does wonders for their shelf life. Likewise, vacuum sealing is often used before freezing food and it's a great way to make sure there is no freezer burn.
In this list, we're looking at five of the best mid-priced options for vacuum sealers. These products are known as edge sealers, which refers to the way that they seal bags. This technique does not work well if your food has a lot of liquid (you need a chamber sealer or zip lock bags for that). However, the vacuum sealer will work perfectly for pretty much everything else.
If you're looking for some different models and prices ranges, check out our list of high end vacuum sealers  and budget vacuum sealers.
We've also done more detailed reviews on the very popular FoodSaver vacuum sealers for food, plus Weston brand sealers, and VacMaster brand sealers as well.
FoodSaver Vacuum Sealing System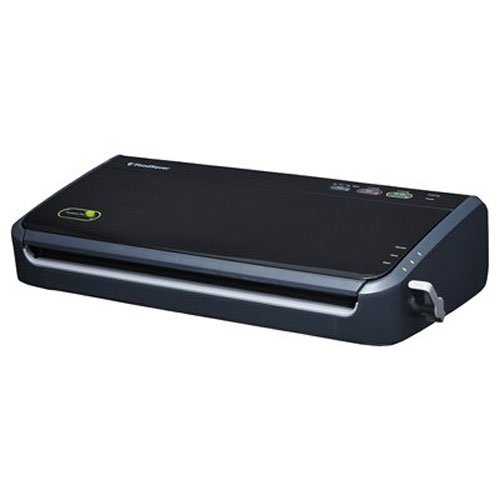 FoodSaver is one of the few brands that specializes in vacuum sealers, which makes them a good choice. This particular vacuum sealer is one of their mid-range products and has a few extra features because of this. One key feature is a setting for moist or dry food and that setting is supposed to provide better control over the sealing process. The vacuum sealer also has a cutter and is designed to reduce the amount of bag material that is used.
At the same time, the model is a popular choice and tends to receive good reviews from people that use it. It is also worth noting that this is a manual vacuum sealer. That means that you have to position the bags and press start yourself. This isn't necessarily a bad thing and many people find that they prefer this, as automatic vacuum sealers rely on sensors and can sometimes be touchy or inaccurate.
Nesco Food Vacuum Sealer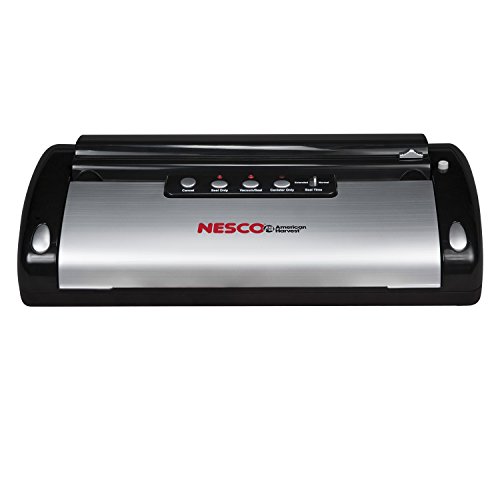 This vacuum sealer model from Nesco is a pretty popular option, averaging 4.3 stars on Amazon. The model does also have a few interesting features, including the ability to seal without vacuum and the ability to extend the seal time. Reviews for the product suggest that this is a very effective food sealer for the price that you pay and that it is fairly reliable.
One interesting thing about this particular vacuum sealer is that it is fairly bulky, especially when compared to many of FoodSaver's models or less expensive vacuum sealers in general. However, this seems to be due to the Nesco model having a solid build, which should mean that it lasts longer in most cases.
Smarson Automatic Vacuum Sealing System
This vacuum sealer is surprisingly versatile for the price range, which is a key reason that we've included it in this list. For one thing, the product is an automatic vacuum sealer, which can make the process of vacuum sealing easier. The model also has two different speed settings, with one designed for moist foods and another designed for dry foods. The slow setting is also relevant for delicate foods, as it helps reduce how much they get crushed in the process. The version on Amazon also comes with a wine stopper, which is a good way to make wine last, although that feature isn't really relevant to sous vide cooking.
FoodSaver V2244 Vacuum Sealing System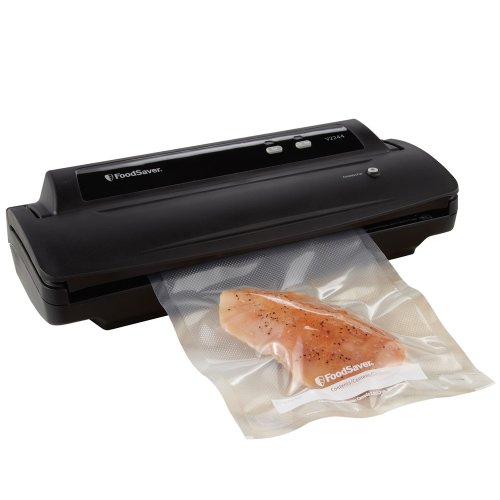 Model Number: FSFSSL2244-000
Whenever possible, we try to avoid mentioning the same brand more than once in a list of products, but sometimes doing so is necessary. That's especially true in the case of vacuum sealers, as FoodSaver is such a prolific brand and has a large number of different models. One of the reasons that we're featuring this particular vacuum sealer model is that it is a popular one on Amazon. In fact, at the time of writing, it is the bestseller in Bulk Food Storage on Amazon and has upwards of 2,000 reviews, most of which are positive.
The product is also a fairly good price and less expensive than the previous FoodSaver model on this list. This is another product that allows you to vacuum and seal or to just seal bags, depending on your needs. However, unlike some of the other vacuum sealers on this list, this one only has one speed. As such, it may be less relevant if you plan to seal a lot of delicate or moist food.
Crenova Automatic Vacuum Sealer
This vacuum sealer is one of the few products that is actually marketed at sous vide cooking, although all vacuum sealers can really be used for that purpose. This is another model that comes with a dry and a moist feature, which offers more control over the vacuum sealing process. This is also another automatic vacuum sealer model and allows the choice between simply sealing bags and vacuum sealing them. The other advantage of the body is that it appears to be built for durability, suggesting that it may last longer. The model is also designed to work with containers, although you need to buy a vacuum tank set to make this work.
Top Pick
All of the vacuum sealers here are good options for sous vide cooking and they all have the same basic functionality. However, there are still some differences between them and we've tried to focus on the most relevant differences. Out of the products featured, the one that we recommend the most highly is the Nesco Food Vacuum Sealer. This model is appealing because of its popularity and the positive reviews that it receives and also because it is less expensive than the other products on this list. The ability to extend seal time is also a nice feature, especially if you are sealing moist food for sous vide.
The other vacuum sealer that we want to highlight is the FoodSaver Vacuum Sealing System (FM2100). This particular model is significantly higher in price but it is another popular choice on Amazon. At the same time, the model has the advantage of having a moist and dry food setting (which affects the speed of vacuum sealing). Because this model is a FoodSaver product, there are also a lot of options for bags and accessories, while the product is also more compact than the Nesco model.