Simply put, any decent discussion of rice cookers has to spend some time looking at the Zojirushi brand. This is one of the most well-known brands for rice cookers out there and is also an incredibly popular one. In fact, rice cookers from this brand consistently score extremely well on reviews. This includes the reviews that you can find on Amazon, along with reviews on a range of different blog sites.
The brand itself is Japanese and many of the best rice cooker brands are either Japanese or Korean. Buying rice cookers from those brands can seem frustrating, especially in cases where some of the instructions aren't in English. However, the rice cookers also come from cultures that rely on rice much more heavily than we do. Because of this, their rice cookers are better at consistently producing high-quality rice.
In the case of Zojirushi, the brand does tend towards more complex models. These can seem confusing at first glance but that complexity provides you with more control along with extra functions. Plus, the writing on Zojirushi machines and in their instruction manuals is in English, so it isn't hard to learn them.
Overall, this is a fantastic brand and honestly, it's the first brand that you should consider when looking at rice cookers. Nevertheless, we do want to point out that like other rice cookers, this brand comes with its own measuring cups. These are based on a Japanese measurement and are roughly two-thirds of a conventional measuring cup. Getting used to that difference is easy enough but it is important to pay attention to it, as the capacity measurements for the rice cookers are given in terms of those cups.
We've also reviewed Top 5's for other brands, including…
Micom Rice Cooker and Warmer (NS-TSC10)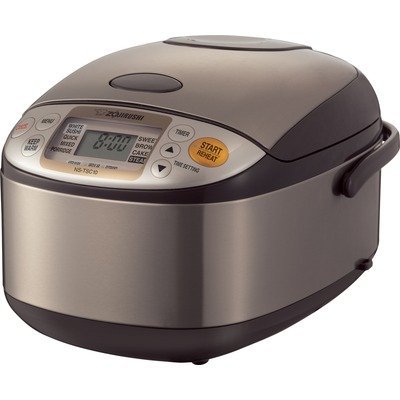 Model Number: NS-TSC10
Capacity (cooked rice): 11 cups
Opinions about which Zojirushi model is best vary considerably but this model is one that receives amazing reviews time and time again. The model itself is relatively high end compared to other brands and it offers many different features because of this. Some of those include the ability to reheat, along with an extended keep warm function and specific options for the various types of rice.
The company has also diversified the machine, so it can be used for other things as well as rice. In particular, it allows for food to be steamed while the rice is being cooked and it can be used to make cakes and porridge.
However, the most important thing to consider about the model isn't the features. Instead, it's the use of a fuzzy logic microcomputer (micom). Fuzzy logic itself is a mathematical concept and in this context, it allows the rice cooker to make more 'intelligent' decisions and adjustments to the cooking process. By doing so, the cooker can produce better rice more consistently than many other machines.
Black and Steel Micom Rice Cooker (NS-LAC05XT)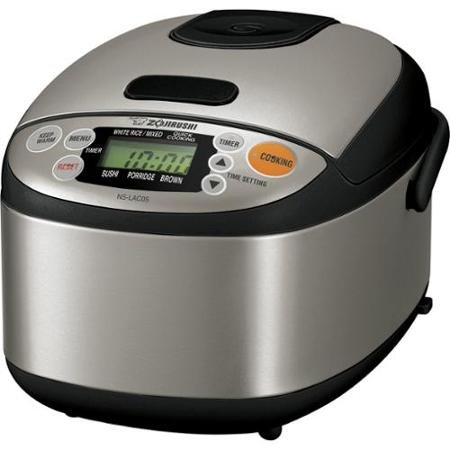 Model Number: NS-LAC05XT
Capacity (cooked rice): 6 cups
In many ways, this option from Zojirushi is remarkably similar to the previous model, offering most of the same features and even fuzzy logic. In this case, the rice cooker is a little less expensive but it is also considerably smaller, offering just 6 cups of cooked rice. Now, that size is still suitable for many families, especially in cases where people don't eat large amounts of rice.
As such, this model may work well for some families, especially because of the lower price. The small capacity of the rice cooker also means that it will take up relatively little space on the counter and that is another advantage. This is also a very popular model and seems to perform as well as the one that we mentioned above.
Induction Heating Rice Cooker and Warmer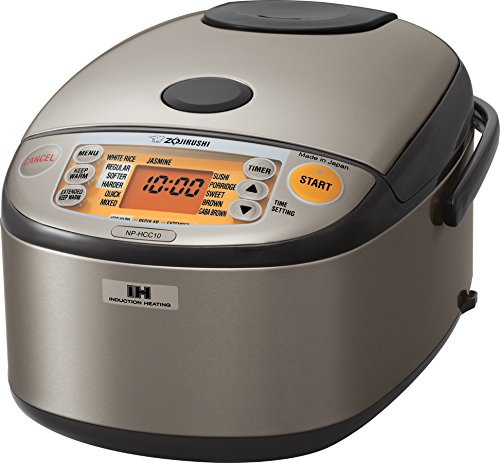 Model Number: NP-HCC10XH
Capacity (cooked rice): 11 cups
Unlike the previous two examples, this rice cooker doesn't use fuzzy logic. Instead, the model has a focus on providing the best heating possible through the use of a triple heater, which generates heat on all sides of the rice. Beyond this, the features of the rice cooker are fairly similar, although this model has a bigger focus on less common types of rice. For example, there is a setting for GABA rice, as well as for germinated brown rice and jasmine rice. In theory, the extra options could help people to get more nutrients from their rice.
Fuzzy Rice Cooker and Warmer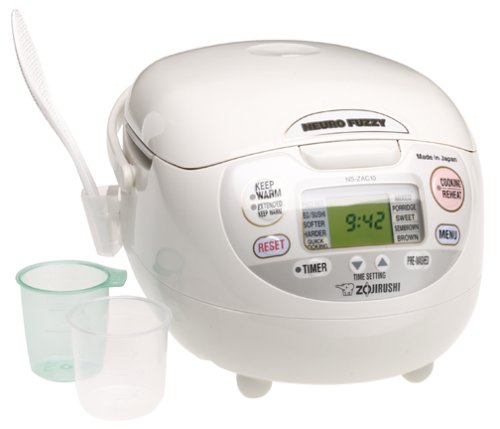 Model Number: NS-ZCC10
Capacity (cooked rice): 11 cups
Zojirushi promotes this model as a premium option for a rice cooker, although it isn't that much more expensive than the other models that we have featured. As the name suggests, the rice cooker is another one that makes use of fuzzy logic to ensure consistently good rice. In many ways, this model is actually simpler to use than the early examples and the design makes it more logical overall.
Despite the ease of use, the model still has a large number of features. Most of these are focused on various types of rice and include options for softer and harder rice as well. The biggest thing that makes this model different is probably the style rather than the actual features or functionality of the device. Certainly, this model looks significantly different than the other rice cookers that we've discussed on this list and that may be a reason to consider it.
Rice Cooker and Steamer (NHS-18)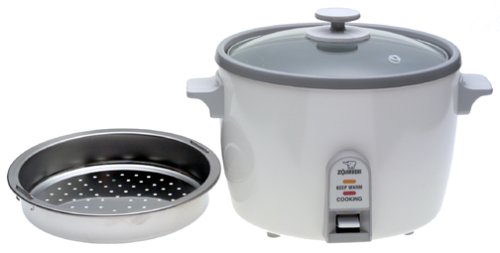 Model Number: NHS-18
Capacity (cooked rice): 20 cups
While Zojirushi does specialize in fairly complex rice cooker models, this particular rice cooker is a little different. Here, there is just the option to turn the rice cooker on and it does the rest automatically. Once you start the process, the machine will cook the rice and then automatically switch to a keep warm mode. It will then stay there until you unplug the machine. Beyond this, the only feature is the ability to steam food while the rice cooks, using a steaming rack.
The general approach here is a fairly common one, which you will find across a number of different brands and models. While the rice cooker may seem simplistic compared to Zojirushi's other models, it does have everything you need to get the job done. Additionally, the model does have the distinct advantages of being fairly inexpensive and having a large capacity.
Top Pick
In many ways, Zojirushi's models are fairly similar to one another, with slight variations in the specific features they offer. Realistically, all of the models that we have highlighted in this post are well-known for consistently producing perfect rice and for being reliable.
That being said, the model that we would recommend is the Micom Rice Cooker and Warmer (NS-TSC10). This particular model strikes a good balance of features versus price and means that people also get a decent capacity for the price that they pay. The large amount of positive reviews suggests that this model should be reliable and perform well.
Now, it's easy to be hesitant about the idea of paying over a hundred bucks for a rice cooker and for some people, that investment may seem too high. But, if you eat rice regularly or simply enjoy rice, putting money into a decent rice cooker is worth the effort.
Realistically, these products can make it so much easier to prepare meals and people find that the rice simply tastes much better than with normal cooking. At the same time, if you pick a decent rice cooker, there is a good chance that the model will last you for many years. In the end, that works out cheaper than buying less expensive models and having to replace them time and time again.