Rice cookers are a fantastic addition to the kitchen, even if they are often overlooked. One of the most important things to realize is that these kitchen tools aren't simply a way to cook rice right each time. Instead, they also offer the ability to keep rice warm over an extended period of time. This lets people cook rice that will be used later in the day and makes it easy to have perfectly cooked warm rice, regardless of what time dinner ends up being.
There are a lot of different options out there for rice cookers, including various sizes and brands, as well as variations in the specific functions that the rice cookers have to offer. Those differences can make it hard to pick exactly which rice cooker will meet your needs, which is the reason behind this list.
Here, we're specifically looking at low-priced versions of the larger rice cookers on the market. All of the rice cookers on this list have a maximum capacity of 10 cups of cooked rice and in some cases their capacity is considerably higher. This makes them a good fit for people with large families, as well as those that just love their rice. Plus, the models are also versatile because you can still cook a small amount of rice in them if you want to.
Before we get started though, there is one thing that we want to point out about capacity. Rice cookers have their own standard cups which are the same across brands. The size is based on a Japanese unit of measurement used for rice and is roughly two-thirds the size of a conventional cup. Because of this, we recommend choosing a rice cooker that is larger than you think you will need, to help account for the difference in cup size.
In the medium size range (5-10 cups) you can check out our budget rice cooker reviews, mid-range cooker reviews, and high end cooker reviews.
For different prices in the 10+ cup capacity you can see our reviews of large premium rice cookers under and some for the mid-range of prices.
Aroma Housewares Digital Rice Cooker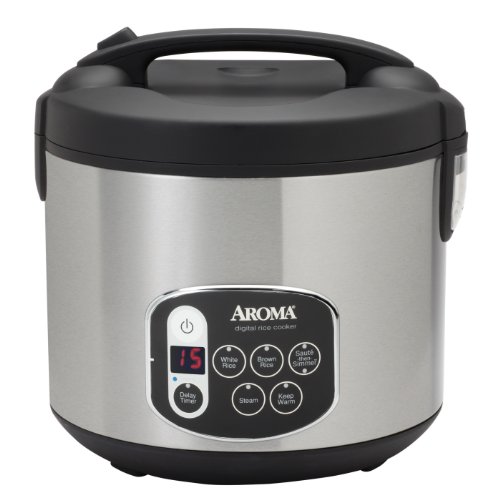 Model Number: ARC-1010SB
Capacity (cooked rice): 20 cups
With a capacity of 20 cups cooked rice, it's easy to see how this rice cooker model could be popular and you certainly get a lot for the low price of the model. One of the appealing things about this model is that it offers a delay timer, along with a number of specific options. These aspects of the rice cooker allow users to have much more control over the process of cooking, particularly as there is a delay timer on the model.
In particular, this model has separate settings for white rice and brown rice. Those help to make sure your rice ends up well-cooked each time, as the two rice types cook differently. The rice cooker also has the ability to steam cook food while you are cooking rice, using the steam that is released. That feature is fairly common on many models. However, a more unusual feature is the ability to sauté and then simmer. The approach is suitable for Spanish rice and also for a range of other meals that aren't rice, including soup and stew.
Hamilton Beach Simplicity Rice Cooker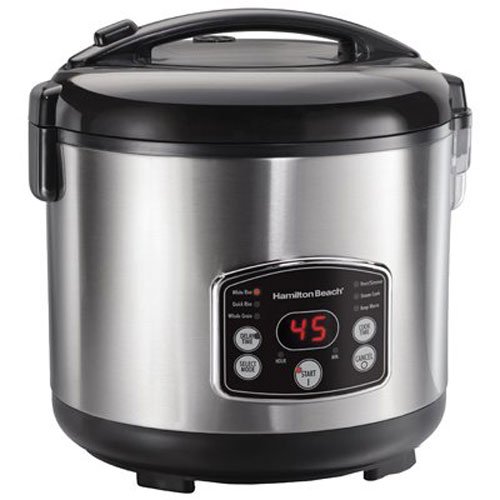 Model Number: 37549
Capacity (cooked rice): 14 cups
This is another appealing model if you are interested in having extra features at hand. In this case, the rice cooker has a much lower capacity but that should also mean that it takes up less bench space. The functions here are almost identical to the previous model, although one extra option is a separate feature for cooking rice quickly. Using that quick cook aspect may be relevant if you are short on time and need to get your rice ready quickly.
Overall, the combination of features gives you more choices than you would find in most rice cookers and that's definitely appealing. Plus, the brand itself is pretty decent and the price isn't too bad either. However, we do recommend being careful if you were to order this off amazon, as it doesn't come with a steamer basket by default and this might catch some people out.
Black and Decker Rice Cooker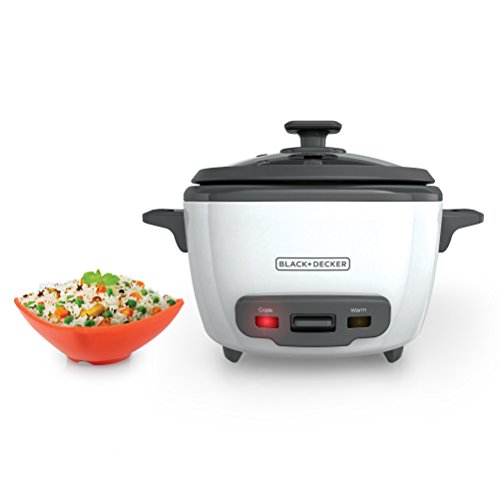 Model Number: RC514
Capacity (cooked rice): 14 cups
Most rice cooker brands offer multiple different models, with the features changing as the capacity and the price increases. However, Black and Decker takes a different approach, offering this model in a range of different sizes. We're focusing on the standard 14-cup one today, although there are other options from the company as well.
Unlike the rice cookers we've mentioned so far on the list, this model is fairly simple. Basically, there is just one button that turns the rice cooker on. Once it's on, the product will cook the rice and switch over to the keep warm mode once cooking is done. If you want to turn it off altogether, you unplug it. Now, this may sound basic but many rice cookers operate like this and still create perfect rice every time. This type of rice cooker ends up being a good option for people who don't want or need all the extra features out there.
Aroma Housewares Pot Style Rice Cooker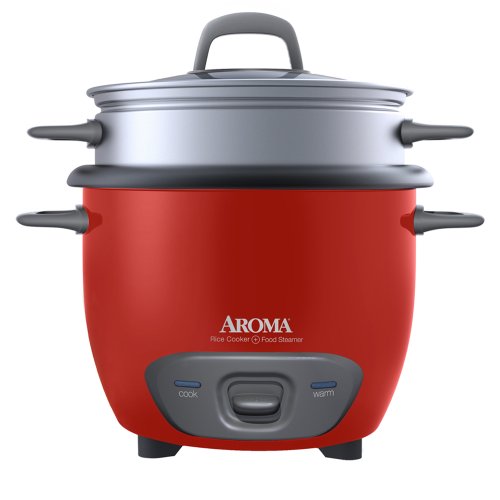 Model Number: ARC-747-1NGR
Capacity (cooked rice): 14 cups
Speaking of simple rice cookers, this model is another one that doesn't offer much in the way of functions. As with all the others on the list, it has the ability to keep rice warm and to steam food at the same time but that's about it. In many ways, that simplicity is actually one of the appealing things about this model. Plus, the rice cooker does end up looking good as well and products with a simple design often do end up working really well.
Top Pick
All of the products on this list work well for rice cooking. However, the one that we recommend most highly is the Aroma Housewares Digital Rice Cooker. This model is particularly good value for money, as you get a lot of features without having to pay a high price. At the same time, this rice cooker fares well on reviews and comes from a brand that makes a range of different rice cookers, suggesting that they know what they're doing.
Now, you can get a rice cooker with fewer functions if you prefer but given the prices and quality are similar across all of these products, it does make sense to pick one of the options with more functions. After all, you can always choose not to use the extra functions if you don't like them.