As a kitchen tool, electric pressure cookers are a great option. They help dramatically reduce the amount of time that it takes to cook food and that alone is reason enough to get one. But, they also save time in other ways, especially as you can just set the cooker up and then leave it to do the rest.
Electric pressure cookers are also the perfect choice for small kitchens because they contain so many different features. Exactly what they can do varies from brand to brand but some of the most common features include the ability to act as a slow cooker, a steamer, a rice cooker and to sauté food. In some cases, pressure cookers can even make yogurt and one even bakes cakes.
These various features mean that a pressure cooker can help replace some of your other kitchen appliances, while also taking up relatively little bench space. However, one of the biggest challenges can be picking a pressure cooker that works for you.
In this list, we look at the top 6-quart premium electric pressure cookers. This price point makes the pressure cookers more expensive than most but often paying more means that you get a better product overall. We have also ranked budget inexpensive electric pressure cookers, mid-range pressure cookers in the mid-price range.
Emeril by T-fal Electric Pressure Cooker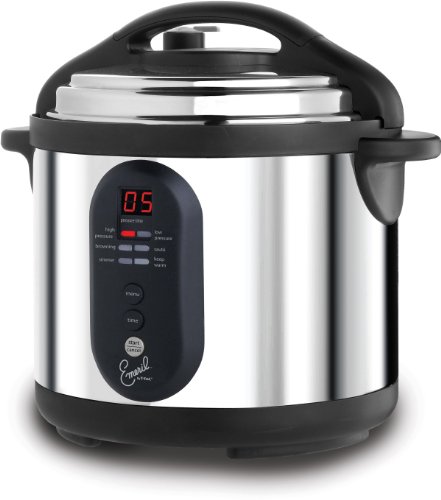 Model Number: 1500635181
Material: Stainless Steel
This electric pressure cooker is one that has consistently high reviews from purchasers, averaging 4.3 stars on Amazon across 217 customer reviews. One interesting aspect of this pressure cooker is that the cooking pot is both non-stick and dishwasher safe. Now, there is a decent amount of controversy about whether or not you actually want a non-stick cooking pot but at the end of the day it comes down to personal choice. The product also has a steamer basket, which increases the options for things that you can cook in it.
With this pressure cooker, you really end up paying for the reliability. It certainly does have a range of features and programs but, for the most part, these are fairly similar to what you would find in lower priced options as well.
Instant Pot IP-Smart Pressure Cooker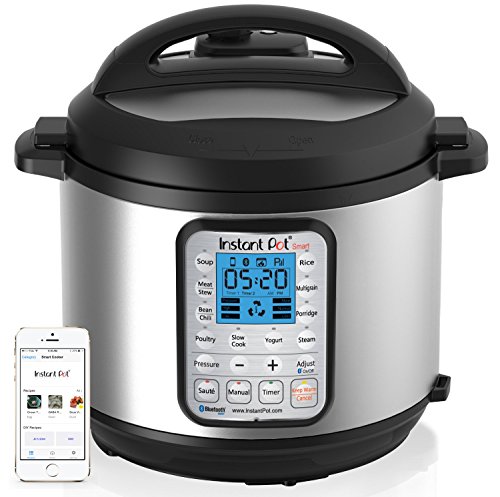 Model Number: Smart-60
Material: Stainless Steel
The Instant Pot brand is probably the most popular when it comes to electric pressure cookers, particularly because of their less expensive 6-in-1 and 7-in-1 models. However, this model is a bit different, with a price tag to match. As the image suggests, the model is enabled for Bluetooth, allowing you to control and monitor the device via an app on your phone. That approach is great for offering control over your meals and it is also a good way to follow specific recipes that you find online.
At the same time, the model does still offer the various features and functions that Instant Pot's other models also have, including the ability to make yogurt. As with all Instant Pot models, the high pressure setting reaches between 10.2 and 11.6 psi, which is the highest that most other electric pressure cookers will go as well.
In all honesty, the Bluetooth functionality is the main difference between this and the cheaper models. In some ways, that feature is a bit of a gimmick but I imagine that some people would find it extremely useful. Certainly, the reviews for the product suggest that a lot of people are more than happy to pay the extra price for the Bluetooth that this model offers.
Fagor Electric Pressure Cooker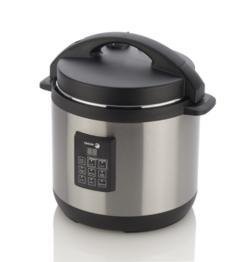 Model Number: 670041460
Material: Stainless Steel
At first glance this pressure cooker might seem to be on the simplistic side but sometimes the simpler products are the more reliable ones. Certainly, the pressure cooker has a decent amount of positive reviews, which suggests that it lives up to its function and price tag.
One advantage of this particular model seems to be that it is fairly easy to clean, which only adds to the idea of making fast and easy dinners. Reviewers also note that the product is pretty simple and easy to use. That ease of use is particularly relevant if you are using a pressure cooker for the first time because the concept of pressure cooking does take a little bit to get used to.
PPC Power Pressure Cooker Pro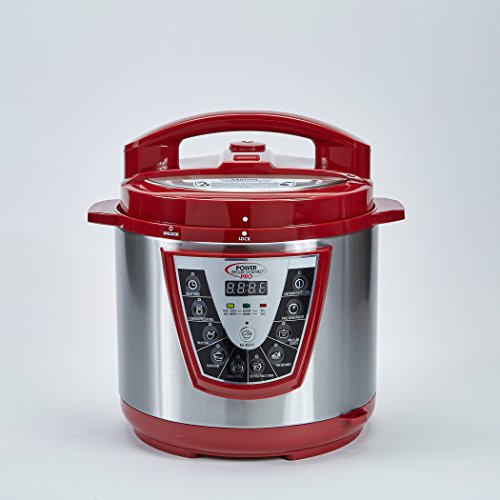 Model Number:
Material: Stainless Steel
I know appearances aren't everything but I do have to comment on how this pressure cooker looks, simply because it is one of the few options that I've seen that isn't some combination of black, white and silver. The button setup is also a little bit unusual. In theory, those buttons should make the pressure cooker much easier to use, which would be particularly relevant for beginners.
Beyond the appearance and the buttons, this product is also appealing because of the reviews. On Amazon the product averages 4.3 stars, across 27 different reviews. This average is about what you'd expect for a quality product, especially as there are always a handful of people who get a defective product or expect too much. While this brand isn't as well-known as other electric pressure cooker brands or as popular, this pressure cooker does appear to be reliable and effective, making it a good choice for the price.
Top Pick
When it comes down to it, whichever pressure cooker you choose is going to be largely based on your own personal preferences and what you're looking for. However, if you're looking for a pressure cooker in this range, then we recommend the Instant Pot IP-Smart Pressure Cookers as the number #1 choice. Now, this particular product does happen to be the most expensive on the list but it is also the most unique. Having Bluetooth capability for a pressure cooker could be very useful and could certainly help to make meal prep that much easier.
At the same time, Instant Pot is well-known for making some of the most popular pressure cookers out there. The app that this product uses is also being refined over time, so it is likely to get better and more effective the longer that it is around.
If you're not interested in Bluetooth, then the other product from this list that we recommend would be the Emeril Electric Pressure Cooker. This is a fairly well-rounded pressure cooker, with a decent selection of functions and good overall reviews. However, there are other electric pressure cookers out there that are just as good in terms of reviews and functions but have a lower price point and we've mentioned some of these in a previous list. One example of such a pressure cooker is actually some of the other Instant Pot models, which tend to be fairly reasonable in price and have a lot of functions to offer.