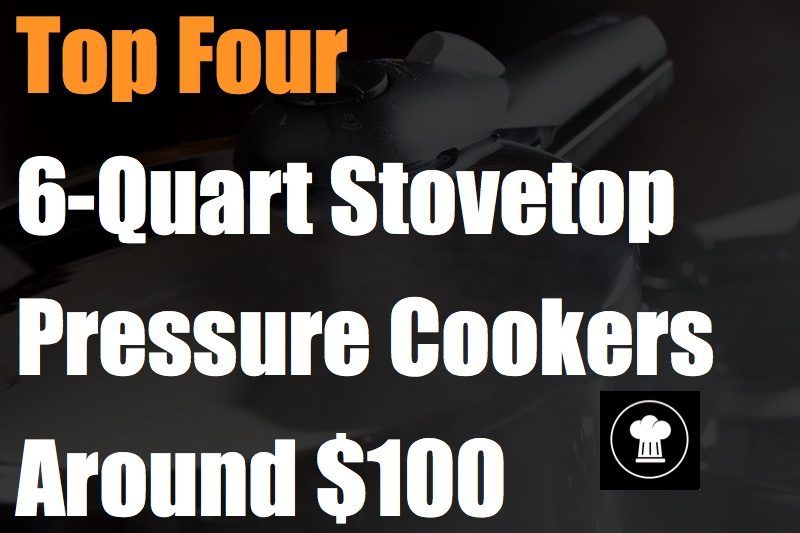 When it comes to choosing a pressure cooker, many people end up going with a stovetop option because of the better control that they offer along with a much better price point.
These two factors alone make stovetop pressure cookers a good choice for anyone who is just getting started using a pressure cooker. After all, it's better to spend less money on a product if you're not sure what to expect, and there are plenty of low priced stovetop pressure cookers to choose from.
But, if you use stovetop pressure cookers frequently, you might want to invest in something that is a bit more reliable or a little more specialized. Unfortunately, those products do often end up being a little more expensive as well. Even so, stovetop pressure cookers do still end up being cheaper than their electric counterparts.
In this list, we're specifically focusing on the best top-of-the-line stovetop pressure cookers. You'll find that, in most cases, these pressure cookers don't have any more functions than the less expensive ones, largely because it isn't really possible to add on functions to stovetop pressure cookers. Instead, these choices tend to be of a higher quality and will often have additional safety features.
We've also reviewed stovetop cookers at different price points, so be sure to check out our reviews of inexpensive pressure cookers and mid-priced pressure cookers.
Culina One-Touch Pressure Cooker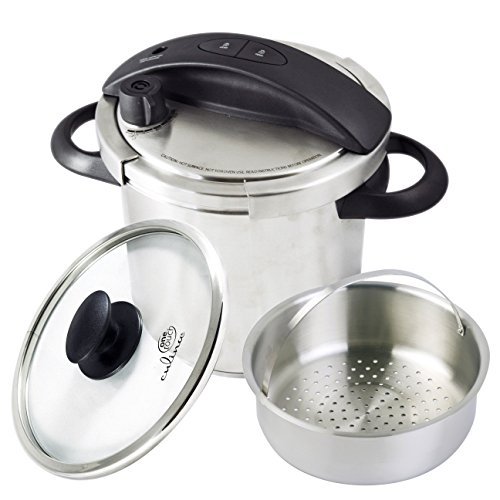 Model Number: NA
Material: Stainless Steel
As with the previous example, this one also uses 18/10 stainless steel and has decent reviews on Amazon. The model is also an appealing one because of its design and shape.
Most 6-quart pressure cookers tend to be shaped like the previous example, which basically resembles a normal pot that you would use on a stove. However, this one looks more like a stock pot and includes two handles at the side for easy lifting.
Additionally, it has a one-touch release, which makes the process of releasing pressure and opening the pot much simpler. The one-touch approach may make the product seem a little risky but this isn't actually the case. Instead, the product has six different safety features and it is also very easy to tell when the pot is pressurized. All of these aspects help to make the pot both safe and easy to use.
Kuhn Rikon Stainless Steel Pressure Cooker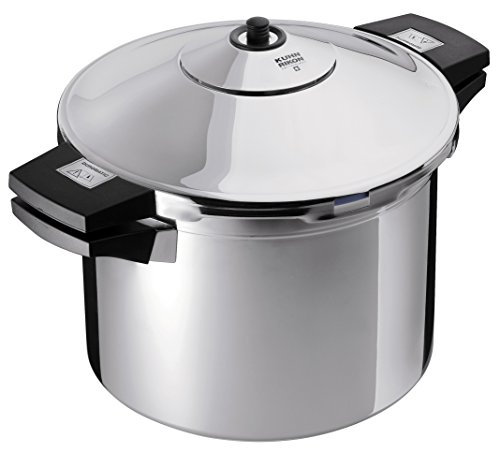 Model Number: 3043
Material: Stainless Steel
I was a little hesitant about putting this pressure cooker in, simply because the price point is much higher than everything else on the list.
In fact, this is probably the most expensive 6-quart stovetop pressure cooker that you can find. Yet, despite the expense, it is also a popular item, with more than 300 reviews on Amazon (and an average of 4.5 stars). A couple of reviewers even referred to the brand as the 'Rolls Royce' of pressure cookers, which helps to explain why the price tag is so high.
The price tag on this pot is simply associated with quality. One good example of this is that the pot is made in Switzerland, while most other pressure cookers tend to be made in China.
The design and materials also mean that the pot cooks evenly and comes up to pressure quickly. However, it is worth noting that this pot is less intuitive than some other pressure cookers, so it's probably not a good choice if you're looking at buying your first ever stovetop pressure cookers.
Fagor Futuro Pressure Cooker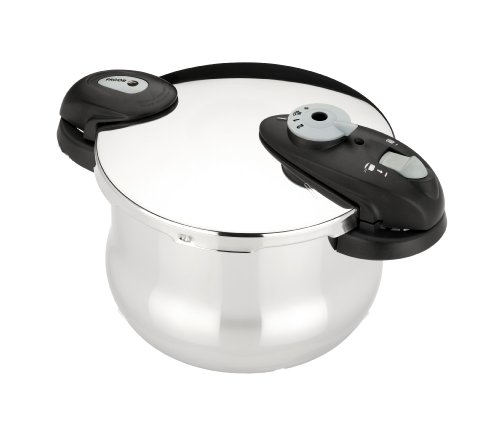 Model Number: 918013142
Material: Stainless Steel
This is actually the second Fagor pot that made it onto this list, partly because there are relatively few decent pressure cookers that fit the criteria for the list. In this case, the pressure cooker comes from Fagor's Futuro range and it seems to be a fairly high-quality product. The dial on the pressure cooker makes it easy to use and the design also helps users to know exactly when the pot has reached pressure.
The one downside of the pot is that it doesn't have much in the way of a handle, which does make it a little difficult to move around. However, this is only a 6-quart pressure cooker, so it's not likely to be terribly heavy even when it is full.
Top Pick
In general, these models are all fairly similar to one another and it seems that many customers make their decision based on the brand, rather than the features of the model. Of the various options, we recommend the Fagor Duo as the best choice.
One reason for this is simply that the pressure cooker is fairly reasonable for the premium lineup. In contrast, some of other entries in this list were more expensive and didn't seem to offer any significant advantages.
At the same time, this model has a range of safety features and appears to be high quality. Furthermore, Fagor makes a number of different pressure cooker models. This is always appealing, as it suggests that the company is experienced in creating good quality pressure cookers.
All of these factors are advantages but the main reason we recommend this model is simply the reviews. Of this listed models, this one had the largest amount of reviews on Amazon (by a considerable margin) and most of those reviews were positive. Those reviews show that most people are happy with the product, which is always an encouraging outcome.
You should also check our our reviews of electric pressure cookers, which are listed by price points and size at that link.