Vacuum sealers are a popular tool for the home kitchen, offering a way of storing food effectively and ensuring that it will stay fresh for longer. At the same time, vacuum sealing is a perfect complement to sous vide cooking. While it is certainly possible to do sous vide without using vacuum sealed bags, the vacuum sealer approach tends to be less hassle and reduce the risk of air getting in the bags.
For most people, conventional vacuum sealers will work just fine for sous vide cooking and for keeping food fresh. These typically create a seal along the edge of the bag and can be fairly inexpensive, especially if you go for a model with limited features. However, the conventional approach to vacuum sealing has its limitations. In particular, these types of models don't handle liquid well and have a cooldown period, which can be frustrating if you're trying to vacuum seal a lot of food.
The alternative is chamber-type vacuum sealers. Chamber vacuum sealers are considerable more expensive than the conventional models but they boast an impressive vacuum efficiency of over 99%. At the same time, they offer a much greater degree of control over the vacuum cycle and can even be effective for liquids, especially if you get one with an angular face. So, if you're serious about vacuum sealing, chamber models may be the perfect way to go and in this post we highlight some of the best options currently on the market.
If these models are not enough variety and you'd like to look at external sealers, there is a lot more variety out there for the external kind. Take a look at out our list of premium vacuum sealers, mid priced models and inexpensive vacuum sealers.
We've also done more detailed reviews on the very popular FoodSaver vacuum sealers for food, plus Weston brand sealers, and VacMaster brand sealers as well.
VacMaster VP210 Chamber Vacuum Sealer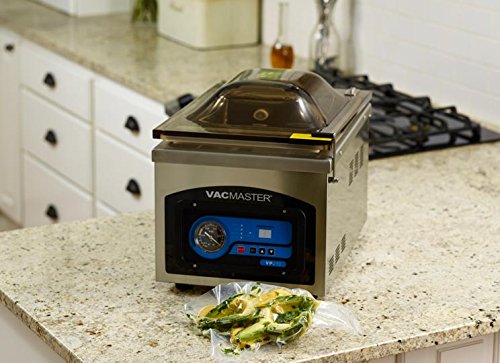 This model is a robust example of a chamber vacuum sealer and is known for producing an amazing and consistent vacuum seal. The design is tailored for both wet and dry foods, so you can even seal things like soup or stew easily. The product is also a commercial quality option and one outcome of this is that it offers more control over your seal. Those extra options can take time to learn but make the process of vacuum sealing more powerful once you do get used to them.
In addition to the fact that it takes time to learn, the key disadvantage of this model is the fact that it really isn't portable. In terms of sheer size, the model does take up a decent amount of space but less so than some other chamber models. However, this is a pretty heavy model weighing somewhere between 80 to 90 pounds. So, this isn't something you would want to be moving around your kitchen often.
VacMaster VP112S Chamber Vacuum Sealer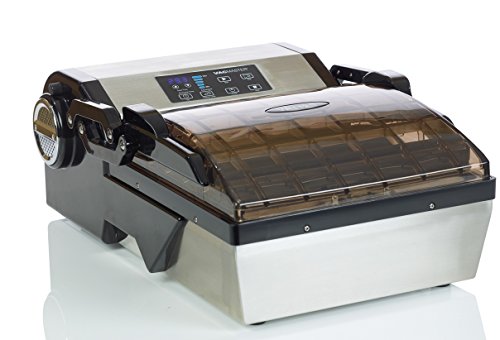 This model is another option from VacMaster and it makes use of a significantly different design than the first one. This model has the advantage of being both smaller and lighter, making it more portable and better suited for home kitchens. In fact, it is one of the smallest options for a chamber vacuum sealer and it is actually fairly inexpensive for a chamber vacuum sealer as well. The model is also designed to be easy to use with a relatively straightforward control panel, which is perfect for people who haven't used this type of vacuum sealer before.
One interesting thing about this model is the marinate feature, which the company emphasizes heavily. This feature takes advantage of the vacuum sealing process to marinate meet more efficiently and faster than any other technique. While a chamber vacuum sealer is certainly an investment, this option can work very well, especially as this type of vacuum sealer uses inexpensive bags.
FoodKing Commercial Grade Vacuum Chamber Kit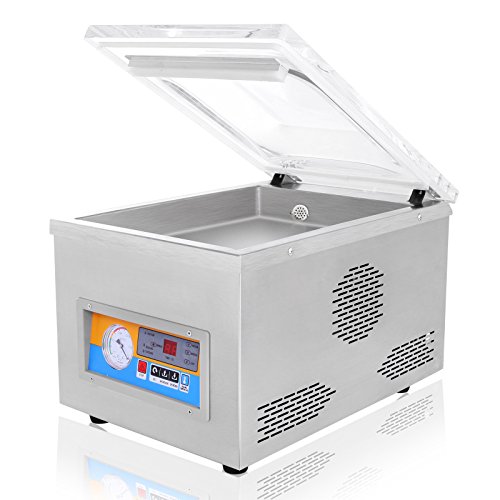 This model is another option for a chamber vacuum sealer and it is designed for commercial use as well as home use. The design means that it is a fairly large item and it isn't light, so this isn't something that you want to be moving around often. One issue with this particular model is that it isn't easy to learn and the instruction manual does not seem to help much. This may be an issue if you haven't used a chamber vacuum sealer before. However, you can probably find some directions online.
The key advantage with this model is price. While this is still an expensive purchase, it is considerably lower than the other chamber vacuum sealers that we've talked about so far. While the quality of this piece may not be as good as some of the more expensive chamber vacuum sealers, it is still a good way to go simply for the fact that this gives you a way to seal liquids for sous vide cooking without an issue.
PolyScience 300 Series Vacuum Sealer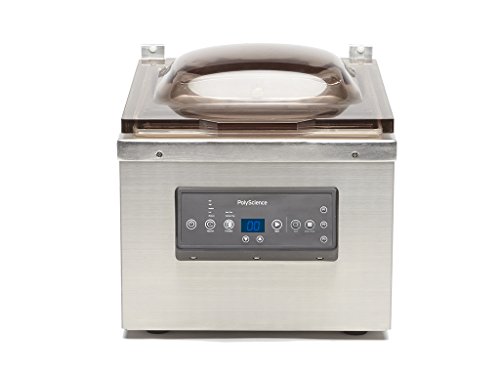 Model Number: VSCH-300AC1B
This is the most expensive chamber vacuum sealer that we will feature on this list, although there are certainly more expensive vacuum sealers currently on the market. In this case, the product comes from PolyScience, which is a brand that does specialize in culinary items, including products specifically for sous vide cooking. In this case, the vacuum sealer offers considerable durability and also has three different preset cycles that can be programmed by the user. Like the earlier FoodSaver model, this one also has a marinade mode, which is a nice additional option.
The higher price with this model is mostly connected to quality rather than features. In particular, the model is relatively quiet and very resilient, which should mean that it lasts a long time. The size does mean that this would be a little frustrating to move around but if you had a large enough kitchen you could probably get away with just leaving it out.
Top Pick
From this list it's clear that VacMaster has cornered the market for chamber vacuum sealers for home cooks. In fact, we've only featured some of their models and the brand has a number of other models, including some that are upwards of a thousand dollars. At the same time, the brand manages to be a fairly popular choice and their products tend to get more reviews than similar products from competitors. Because of this, the brand is a good choice for a chamber vacuum sealer in general.
Of the models that we've featured on this list, the one that we recommend the most highly is the VacMaster VP112S Chamber Vacuum Sealer. This model is one of the least expensive options that VacMaster offers for a chamber vacuum sealer and it is also a little more portable than the other models that the company offers. At the same time, this model has the same general features as more expensive vacuum sealers, which means that you end up with a good balance of performance versus price.
If this model seems too expensive, the alternative would be the FoodKing Commercial Grade Vacuum Chamber Kit. This model does have the advantage of being considerably less expensive, while also performing the same general role. However, the company doesn't specialize in vacuum sealers as much as VacMaster does and this particular model also has fewer reviews, making it hard to determine what actual users think of the product. As such, this option is more of a risk than the VacMaster models, although it may still be worth it for the money that you save.