Rice cookers can be a great tool in the kitchen. Not only do they make sure you end up with well-cooked rice every time but they also help to make the timing of meals easier and less stressful. For many people, these factors are a major advantage. After all, rice cookers mean that you don't have to worry about timing and you don't even need to watch the rice while it is cooking. It's easy to see how that would make meal preparation easier, especially if you have trouble getting the timing right.
There are many rice cooker brands out there but Cuchen is one that is worth seriously considering. For one thing, they make a number of models that look visually appealing and a little bit unusual. At the same time, the company is also a good choice for conventional rice cookers and for more unusual options, like pressure rice cookers. As such, the brand is a good all-around choice, regardless of the type of rice cooker that you are looking for.
In describing the capacity of the rice cookers on this list, we are giving the values in terms of cooked cups of rice. Converting from cooked to uncooked cups is simple, as one cup of uncooked rice will produce two cups of cooked rice. However, we do want to point out that Cuchen is one of the few brands that is unclear about whether its measurements refer to cooked or uncooked rice. By convention, Japanese brands always give their measures in uncooked rice but the same rule doesn't always apply to other brands.
Nevertheless, for the purposes of this discussion, we're assuming that the measurements the brand gives refer to uncooked rice unless there is evidence otherwise, based on information from other reviewers and the wording of descriptions. So, we're taking those figures and converting to cooked rice so this list is consistent with our other posts. Nevertheless, please be aware that the capacity could potentially be half as large as we are suggesting. If you need clarification on a specific model, we recommend contacting the manufacturer and they should be able to tell you.
We've also reviewed Top 5's for other brands, including…
Elvan Pressure Rice Cooker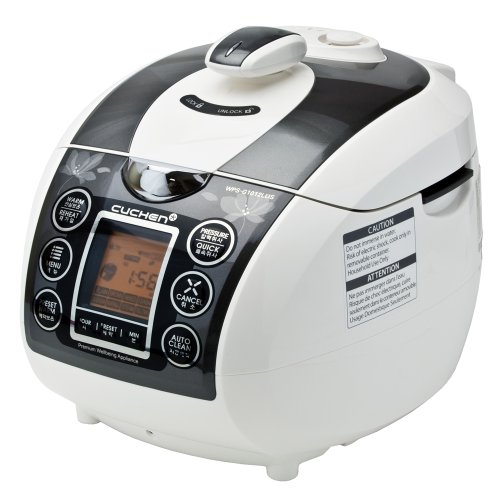 Model Number: WPS-G1012LUS
Capacity (cooked rice): 20 cups
This model might seem like an expensive choice for a rice cooker but the price is about right if you're looking for one that uses pressure for cooking. One appealing thing about the model is simply that it looks good. But, at the same time, the rice cooker is also fairly easy to use and has a number of different options. These include the ability to warm and reheat rice, along with an option for auto cleaning. There are also additional cooking functions, including steaming and slow cooking. This would let you use the model for other types of meals as well, although it is certainly designed for rice.
Now, the brand itself is Korean, so you will find that the buttons are written in both English and Korean, as are any other instructions. Unfortunately, the same cannot be said about the spoken component of the machine, which is in Korean only.  While these aspects may be frustrating for English speakers, the information provided is still enough to let you use the rice cooker efficiently.
12 Cup 'Eve' Micom Rice Cooker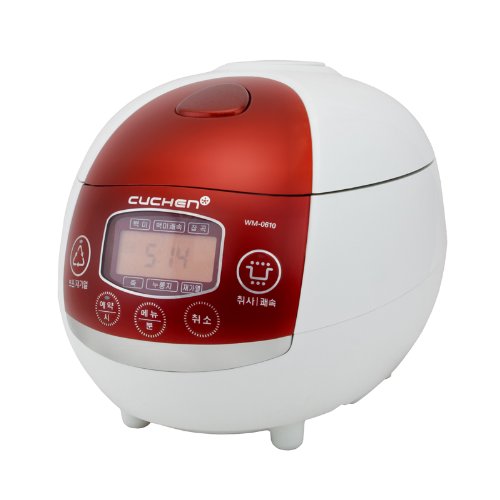 Model Number: WM-0610
Capacity (cooked rice): 12 cups
With the Eve range, Cuchen has seems to have focused on making rice cookers that look interesting and are also functional. In this case, I imagine that the model would look quite good on a countertop and certainly manages to be unusual, if nothing else.
Now, compared to the previous model, this is a fairly basic rice cooker. It does still have functions, including separate settings for different types of rice, along with the ability to cook rice quickly and even to slow cook. However, the model does not use pressure cooking. Instead, it uses basic induction cooking,
Instead, the term micom in the title refers to the use of a microcomputer that controls the cooking process. The advantage of that microcomputer is that it can make small adjustments to time and temperature throughout the cooking process. Doing so lets the rice cooker respond much better to how the rice is cooking and to factors like environmental temperature and the amount of water you put in. The end result is that your rice tends to be consistently good.
Premium Pressure Rice Cooker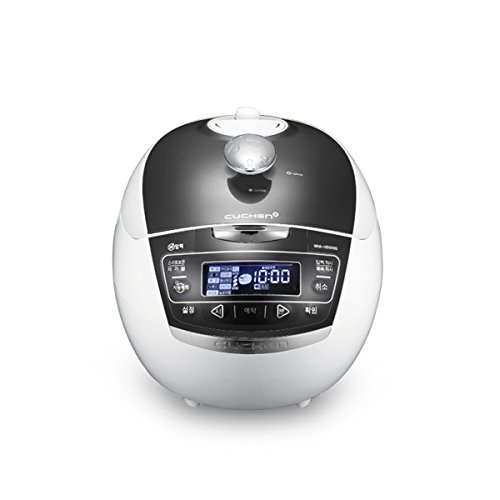 Model Number: WHA-VE0609G
Capacity (cooked rice): 12 cups
This model offers another choice if you want to use a pressure cooker approach to make rice. There are a number of different functions and options for using the device, which gives people a lot of control over the process of rice cooking. The rice cooker is also a very fast option, with the company estimating that it can cook mixed rice in just under half an hour. Reviews for the product are generally positive, indicating that it really is effective at cooking rice.
However, as with the previous rice pressure cooker example, the writing on buttons and on the screen for this model is in Korean and English but the spoken component is in Korean only. As a general rule, this means that Cuchen isn't a good brand if you want a rice cooker that speaks in English. Honestly though, I doubt many people actually need their rice cooker to talk to them, so this isn't a huge loss.
Black and White Eve Rice Cooker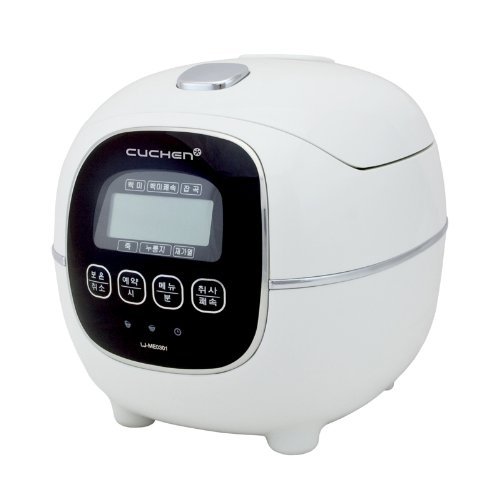 Model Number: WM-ME0301
Capacity (cooked rice): 7 cups
This model is another entry into the Eve range and it is also a micom cooker. Visually, the appearance is different than the earlier example, but both are unusual in their own way. The key thing about this model is that it is smaller. The maximum capacity is just 3.5 cups of rice. That appears to refer to cooked rice but it's difficult to tell from the information the company provides.
Regardless of whether the capacity refers to cooked or uncooked rice, this rice cooker is certainly on the small size, which would make it a good choice for kitchens where you don't have much space. Likewise, this is a good model for people who don't cook a large amount of rice at a time. There are even other settings with the rice cooker, including options for the various different types of rice and for fast cooking.
Top Pick
Cuchen's rice cooker models tend to target two different groups of consumers. As such, which is best is going to depend on whether you are looking for a conventional rice cooker or a pressure rice cooker.Both this and the smaller model are appealing and offer similar functions, along with a slightly unusual appearance. Of the conventional choices, we recommend the 12 Cup 'Eve' Micom Rice Cooker.
However, both the pressure style and conventional style are very similar in price. Because of the pricing, the larger model is going to make more sense for most people. Plus, you can cook smaller quantities of rice in it if you need to. Realistically, the only reason for even considering the smaller option is if you are extremely limited in counter space.
Out of the two pressure cooking options, we recommend the Elvan Pressure Rice Cooker. This is the less expensive out of the two choices and it is also a larger model. The key reason for recommending this model is that both the pressure cooking options from Cuchen seem to have similar functions, along with roughly the same feedback from customers. This suggests that the premium option does not offer many significant advantages and may not be worth the extra cost.