Pressure cooking offers a fantastic way to make great meals without a lot of effort, while trapping in juices and nutrients. The main appeal of pressure cooking comes from the fact that the cooking process is so much faster than conventional cooking, which is perfect for all of us who are disorganized or forever short on time. If you have an electric pressure cooker, you can even set the whole thing up and let it do the work for you, although stovetop pressure cookers do offer more control.
Whatever your preference for a pressure cooker is, Fagor is a good brand to consider. For one thing, the products manage to get consistently positive reviews. Plus, this is also one of the few brands out there that offers both stovetop and electric pressure cookers, so there are lots of options to choose from. With this list, we're going to be looking at the best pressure cookers that Fagor has to offer, including both types of pressure cookers, to help you decide what might be right for you.
Looking for reviews of more brands? We've done extensive reviews on the best brands of pressure cookers, including Presto, Maximatic, Kuhn Rikon, Instant Pot, and Hawkins!
You can also see our reviews of pressure cookers by size and style. Browse electric pressure cookers and stovetop pressure cookers, including small, medium, and large models.
Fagor Duo Stainless Steel Pressure Cooker
Model Number: 918060251
Material: Stainless Steel
Size: 6-quart
This stainless steel model is one of the most basic pressure cookers that Fagor offers and also one of its most popular models. In fact, the pressure cooker averages 4.4 stars on Amazon across more than 800 reviews. The stainless steel construction makes this a fairly resilient pressure cooker and it will work well regardless of the type of stove that you have. The model also offers two different pressure settings and the low setting tends to be best for more delicate foods, like vegetables.
Now, the product is a little on the expensive side for a stainless steel pressure cooker but not excessively so. The large amount of positive reviews reinforces the idea that the pressure cooker is of high quality and will last a decent amount of time. One other advantage of this pressure cooker is that it is dishwasher safe, which makes the process of cleaning up simple as well.
Fagor Splendid Pressure Cooker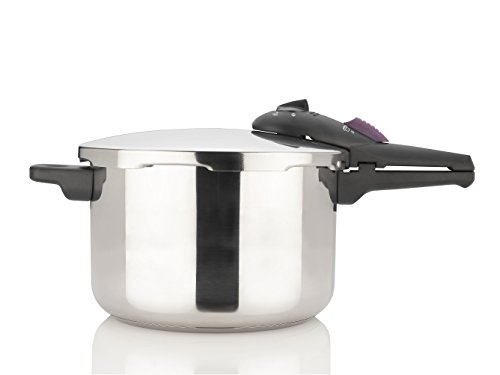 Model Number: 918060607
Material: Stainless Steel
Size: 6-quart
In many ways, this pressure cooker takes the same approach as the previous one on the list, although the style is different. This one is also a less expensive option, which might be an appealing factor. The biggest difference between this and the previous pressure cooker is that this one only has a single pressure option, which is 15 psi.
Just having one pressure setting is a limitation but not a huge one. Most of the time people find that they use the high pressure setting regularly and hardly ever touch the low pressure setting. For that matter, the majority of recipes that you will find for pressure cookers also focus on the high pressure setting. So, you don't lose very much by not having this setting.
Fagor 3-in-1 Multi-Cooker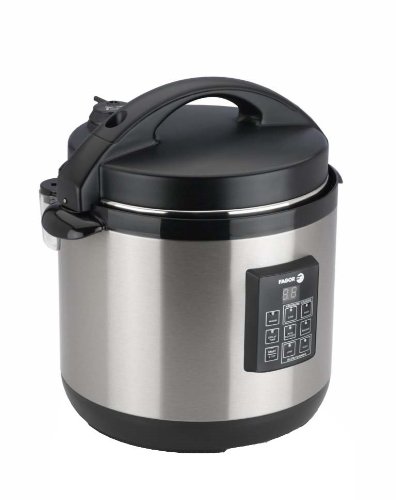 Model Number: 670040230
Material: Stainless Steel
Size: 6-quart
This electric pressure cooker is a little bit unusual, just because it is so simple. Most of the time, you find that electric pressure cookers have a large range of functions but in this case, there are just three. Those functions are rice cooking, pressure cooking and slow cooking, although you do still have the high and low pressure options, as well as the ability to brown food and a keep warm function.
The simplicity of this pressure cooker is also an advantage, especially as that simplicity contributes to the low price of the product. Realistically, this is a pretty good price for a pressure cooker and it seems perfectly suited for people who don't need a lot of features.
Fagor Lux Multi Cooker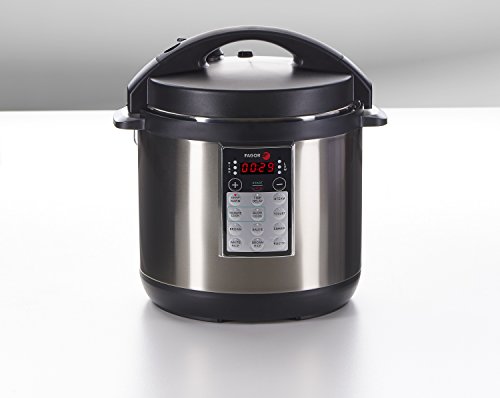 Model Number: 670041880
Material: Stainless Steel
Size: 6-quart
This pressure cooker is a more advanced version of the previous one, which is probably the reason for the higher price tag. In this case, the pressure cooker has a wide range of functions, including the ability to make yogurt, desserts and to slow cook. It also allows manual pressure cooking for up to 99 minutes, as well as a 12-hour keep warm option. These features make this pressure cooker a better option for people who want a range of options for what they cook and don't mind paying a little bit more.
Both this entry and the previous one are good options for a Fagor electric pressure cooker and people may vary in which they prefer. On Amazon, the 3-in-1 version has been purchased more times (with over 500 customer reviews). However, the more advanced Lux version does have a better average rating.
Top Pick
There are other items in Fagor's range, but these two electric pressure cookers and two stovetop pressure cookers are the best of the bunch. Of the lot, we recommend the Fagor Duo Stainless Steel Pressure Cooker as the best choice. One reason is simply that this pressure cooker is the most popular one that Fagor sells and also manages to get high reviews. At the same time, there are multiple different sizes offered, so you have the option of picking a larger or a smaller size if you prefer.
In terms of electric pressure cookers, we recommend the Fagor Lux Multi Cooker. Even though this is the more expensive pressure cooker of the two electric ones that we featured, this pressure cooker stands out for the range of features that it offers. It is also a newer model and has a higher average rating, which suggests that people tend to be happier with it. This is one of those cases where it is worth spending the extra money to get a better product. Otherwise, you risk buying the cheaper one and finding that it doesn't do everything that you want it to.