Rice cookers might seem like a fairly specialized tool but they're becoming increasingly popular, partly because they mean that there is one less thing you need to worry about when preparing a meal. However, the real beauty of rice cookers is that they give you so much more flexibility with rice.
For one thing, you don't have to stress about timing because most rice cookers will keep the rice warm long after the cooking process is finished. At the same time, the rice that you end up with tends to taste better and many rice cookers do an amazing job at getting rice just right.
The other thing with rice cookers is that they can be surprisingly versatile. Most of the models, including some of the ones on this list, allow you to cook vegetables in the steam that is given off when the rice is cooking. This lets you prepare multiple side dishes at once and in some cases a rice cooker can even be used to cook other meals, providing that you have the right recipes.
Based on all of this, the popularity of rice cookers shouldn't be surprising. But, how do you pick a good one? Well, in this list, we take a look at the best options available if you want to buy a rice cooker from Hamilton Beach. Now, Hamilton Beach isn't well known for its rice cookers specifically but it is a home appliance brand that many people turn to, so it might be a good option if you're looking for a rice cooker.
Now, as a quick note, we do want to say that capacity for rice cookers is measured in terms of the cups that come with the products. The size of these cups tends to be consistent between one brand and the next and one cup is approximately two-thirds the size of a conventional measuring cup. To reduce confusion, we're also giving all measurements of capacity in terms of cooked cups of rice, regardless of the brand. If you need to know the capacity of uncooked rice, you can simply halve the cooked rice value.
We've also reviewed Top 5's for other brands, including…
Digital Simplicity Rice Cooker and Steamer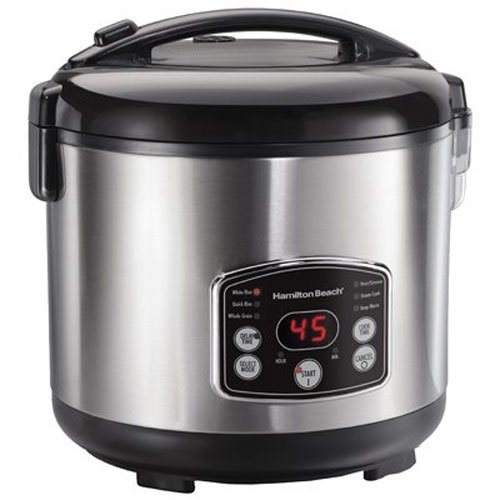 Model Number: 37549
Capacity (cooked rice): 14 cups
This rice cooker offers a number of key advantages. One of these is the fact that it has a few specific functions, including the ability to delay the start time of cooking and specific modes for different types of rice, for simmering and for steaming. This gives you much more versatility, especially if you plan to use the rice cooker to make other types of food. Most of those functions are fairly common across rice cookers, although the simmer function is more unusual and appears to have been specifically designed for meals like rice and pasta mixes.
In addition to the various features, this model stands out because of the price point and the reviews. At a current price, the price of this model is perfect for anyone who is getting started with their first rice cooker. In terms of reviews, this rice cooker is pretty popular on Amazon, which is always a good sign.
In fact, the rice cooker gets an average of 4.5 stars. This is actually a really good rating because we've noticed that rice cookers often tend to get lower ratings than other types of products, perhaps because buyers expect too much or simply don't know how to use them. Regardless of the reasons that rice cookers often get negative reviews, the reviews for this product strongly indicate that this particular model is a good choice.
Ensemble Rice Cooker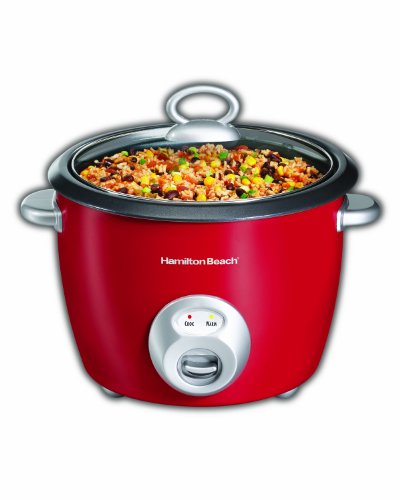 Model Number: 37538H
Capacity (cooked rice): 20 cups
In contrast to the previous model, this rice cooker is a fairly simple approach. In this case, the maximum capacity is 20 cups of cooked rice but the rice cooker has fewer features overall. Essentially, the rice cooker just has two main functions, cooking rice and keeping it warm. The product is operated by the flip of a switch, so it automatically goes to the keep warm mode once the rice cooking is finished. At the same time, this is another product where you can steam food while the rice is cooking, even though there is no specific setting for doing so.
There are many examples of this general type of rice cooker and the overall style does seem to work well. While the rice cooker doesn't have a large number of functions to offer, most people will find that they simply don't need those options. So, if your basic aim is simply to cook rice and keep it warm, there's nothing wrong with a simple model like this one.
Plus, the bright red does make the rice cooker pretty appealing visually.
Proctor Silex Rice Cooker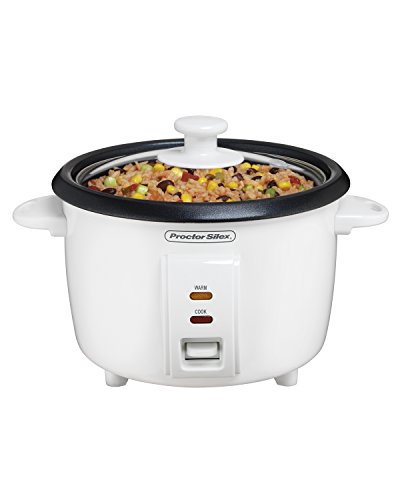 Model Number: 37534Y
Capacity (cooked rice): 8 cups
This rice cooker is another example of another fairly basic model. Once again, the main features are simply rice cooking and keeping the rice warm. There is also the ability to steam foods, although you do have to pay extra to get the steaming basket included. Beyond that, the main differences between this and the previous model appear to be the color and the size. In this case, the rice cooker just goes up to 8 cups (although there is also a 10 cup version).
The size difference also seems to make this model a little bit less expensive but that difference in price isn't so significant if you choose to get the steaming basket add-on.
Compact Rice Cooker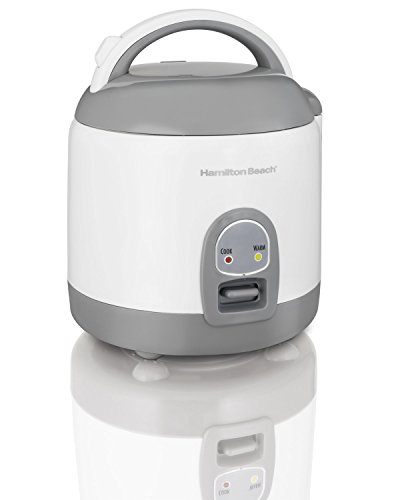 Model Number: 37508
Capacity (cooked rice): 8 cups
We wanted to mention this rice cooker option, mainly because it is a little bit unusual. On Amazon, this product is still pretty new and doesn't actually have any reviews. However, the general idea behind it is interesting. In particular, the overall aim seems to be to create a rice cooker that takes up as little space as possible, while also having the same functions as the larger models. So, the rice cooker does have the automatic keep warm feature that the others had and even has the ability to steam food.
Without reviews, it's hard to tell how well this rice cooker works. However, most of Hamilton Beach's rice cookers receive fairly decent reviews, so there's no reason to think that this one would be any different. The compact design of this rice cooker and the relatively small capacity may make it irrelevant for many people. However, there are also situations that it would be perfect for, especially in kitchens where bench space is extremely limited.
Top Pick
Out of the various models that we've featured on this list, the one that we recommend the most highly is the Digital Simplicity Rice Cooker and Steamer. This particular rice cooker has a great balance of function and size for its price, and the positive reviews that it receives are another reason to choose it. Overall, there is every indication that you will get a decent product for a fairly low price.
However, if you do plan on getting this particular model through Amazon, it is worth noting that there are a couple of sizes to choose from. One is the 14 cup model, which we focused on in our list and the other is a 20 cup model. The larger version is around twelve or thirteen more dollars more expensive right now but the extra capacity may be appealing.
Additionally, on Amazon, you can choose whether or not to get a steamer basket. The default is that you won't and, as such, the steamer basket does cost a little extra. If you plan to steam food at the same time as cooking rice, getting that basket makes a lot of sense but it is an extra cost to be aware of.