When people think of pressure cookers, the first thing that often comes to mind is the old stovetop models that were difficult to use and didn't produce amazing results. Yet, pressure cooking has come a long way since that point in time, especially when it comes to electric pressure cooking. Modern electric pressure cookers have some major advantages, especially as you don't have to manually adjust the temperature as you go. In fact, you can simply leave the thing going and come back to it later. This makes them great for saving time and for producing amazing meals.
One major challenge that people face with pressure cookers, especially electric ones, is picking which model to go with. After all, there are a lot of different pressure cooker brands out there and many of these produce multiple models. This can make it really difficult to figure out what pressure cooker is going to work best for you. In some cases, it's even challenging to know what the differences between the models are.
In this list, we focus on models from the company Maximatic and show you our top picks out of their models, along with why these are our favorites. In doing so, we hope to make the process of selecting a pressure cooker easier and also show you exactly how these models are different than one another.
Looking for reviews of more brands? We've done extensive reviews on the best brands of pressure cookers, including Presto, Kuhn Rikon, Fagor, Instant Pot, and Hawkins!
You can also see our reviews of pressure cookers by size and style. Browse electric pressure cookers and stovetop pressure cookers, including small, medium, and large models.
Elite EPC-808 Pressure Cooker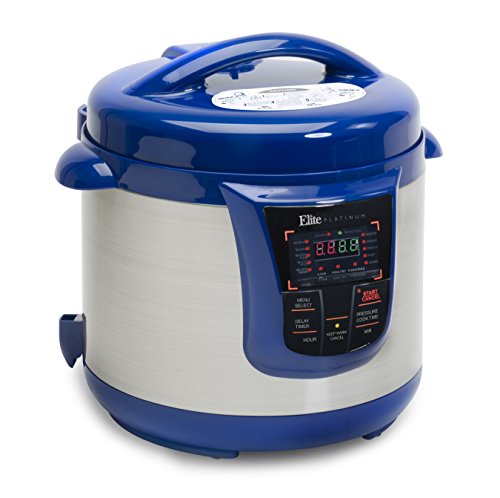 Model Number: EPC-808
Size: 8-quart
At 8 quarts, this model is a little larger than most electric pressure cookers (which tend to be 6 quarts) but not excessively so. The extra size would make it a little easier to cook large dishes or prepare food for a party. This pressure cooker model also offers 14 different functions, including a browning feature, which is more than most of the other models from Maximatic. However, despite the functions, this model does only have a high pressure setting, which goes up to 12 psi. So, low pressure cooking isn't an option.
One interesting thing about this pressure cooker is that it comes in different colors. We've pictured the black version but there is also red, green, orange, purple, white and blue. It's actually fairly unusual to find pressure cookers in anything but black but the really odd thing here is that the colors vary in price, quite dramatically. For example, the black version is the cheapest. In contrast, the most expensive one is orange. That's a huge price difference when the products appear to be identical other than color. Still, some people may like having the choice of colors.
Elite EPC-1013 Pressure Cooker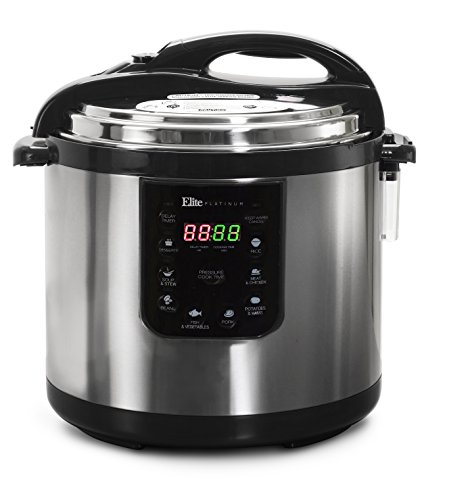 Model Number: EPC-1013
Price: 109.99 [June 30, 2016 3:03 PM]
Size: 10-quart
The most significant thing about this pressure cooker is its size. It's fairly unusual to find electric pressure cookers that go above 8 quarts, yet if you have the bench space for it, a larger size can be quite appealing. The model also has the advantage of being relatively inexpensive for an electric pressure cooker of this size. This one has fewer presets than some of the other options on this list, but still has the browning feature that many people find appealing.
The one thing to note is that like most Maximatic Elite pressure cookers, this one only has one pressure setting. That setting is high and reaches around 12 psi. That maximum psi is lower than what you will find on stovetop pressure cookers (which often get to 15 psi) but you're unlikely to find a higher pressure for an electric model.
Elite EPC-678SS Pressure Cooker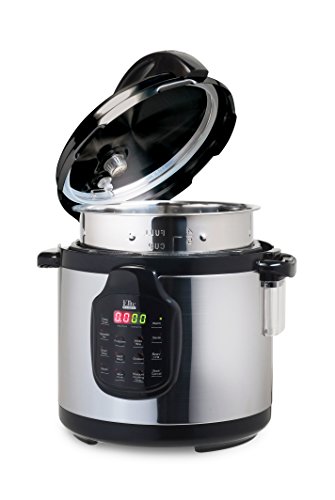 Model Number: EPC-678SS
Size: 6-quart
In many ways, the models from Maximatic are similar to one another, just with slightly different sizes and different functions. That's true with this model too, although one difference is that this pressure cooker has a stainless steel inner bowl, rather than a nonstick one. There is a lot of debate about which bowl type is better, as nonstick is easy to clean but people worry about the coating affecting food. With that in mind, the stainless steel bowl in this model is a good choice if that's your preference.
Beyond that difference, this pressure cooker also similar functions to the other ones that the company produces, although it does not have the browning feature, which is fairly unusual nowadays. Still, the model has the distinct advantage of being inexpensive, so it can be a good option for many people.
Maximatic Low Pressure Cooker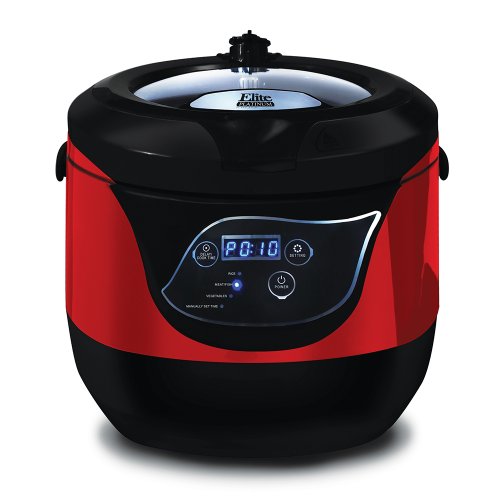 Model Number: EPCM-55BL
Size: 5.5-quarts
The key reason we've included this pressure cooker on the list is that it is a little bit different. Most of the time, you find that electric pressure cookers are fairly similar to one another, with just minor differences in size, appearance and specific functions. But, in this case, there are some major differences. The biggest one is that the pressure cooker is designed to be opened at any point during cooking rather than just at the end of cooking. This creates a lot more options when it comes to cooking, although you would need to be careful that you didn't ruin your food.
Because this product is marketed as a low pressure cooker, it seems likely that it only has a low pressure setting and not a high one. That would also help explain how it is possible for the lid to be opened during cooking. Interestingly, the company doesn't actually provide that information and also doesn't even give any information on the psi ranges. As such, the pressure cooker might not be useful for everyone but the different approach may be worth giving a try.
Top Pick
In most cases, electric pressure cooker brands don't make many different models and when they do they are normally tiered in terms of features, as is the case of Instant Pot. However, Maximatic doesn't do that. Instead, they have a selection of different products, most of which vary from one another in relatively minor ways. Because of this, you're likely to find that the models all fill the same set of needs.
However, we like to make at least one solid recommendation, so in this case we would recommend the Elite EPC-808 Pressure Cooker. This pressure cooker is relatively inexpensive (depending on what color you choose) but at the same time, it offers a wide range of functions, including the ability to brown. It does have the disadvantage of only having a high pressure setting but that seems to be common across the models from Maximatic. Additionally, not having this setting is not going to be relevant in most situations, as the majority of pressure cooker recipes focus on using high pressure.