If you're after an electric pressure cooker, then Instant Pot is one of the most popular brands currently on the market and this brand is a great place to start. As is the case with most electric pressure cooker brands, Instant Pot doesn't have a large number of different models. This seems to be because the complexity of the product means often a new and better model is brought out to replace a current model.
Nevertheless, there are a few different options to choose from and they are different than one another, even though they might seem similar at first glance. With that in mind, this list focuses on the best choices from Instant Pot for your pressure cooking needs.
Looking for reviews of more brands? We've done extensive reviews on the best brands of pressure cookers, including Presto, Maximatic, Kuhn Rikon, Fagor, and Hawkins!
You can also see our reviews of pressure cookers by size and style. Browse electric pressure cookers and stovetop pressure cookers, including small, medium, and large models.
Instant Pot IP-Smart Multifunctional Pressure Cooker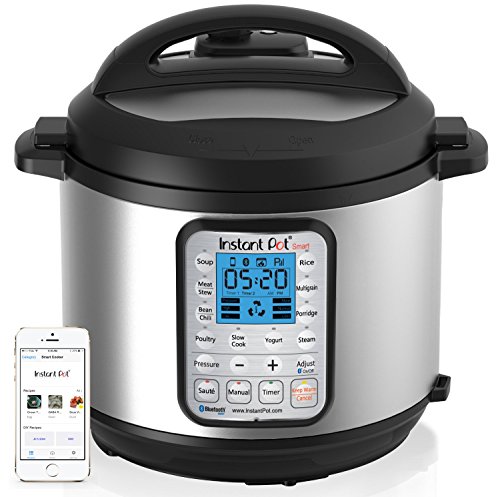 Model Number: Smart-60
Size: 6-quart
This particular model deserves a mention for a few different reasons. The big thing about this pressure cooker is that it is Bluetooth enabled, which means that you can use an app on your phone to monitor and control the pressure cooker remotely. Now, that app is being improved, which means that it offers more recipes and features as time goes on. At the same time, this pressure cooker works exactly the same as the other Instant Pot pressure cookers, including the ability to act as a yogurt maker.
Now, for some people, the Bluetooth component of this pressure cooker could be a time-saver and could make it much easier to control the meals that you cook. However, for other people, the feature may be little more than a novelty that doesn't do all that much good.
The Bluetooth functionality is the only thing that makes this particular model better than the others that Instant Pot has to offer and you do end up paying extra for that feature. So, this particular Instant Pot is only going to be worth the price tag if you plan on using the Bluetooth component.
Instant Pot Duo 7-in-1 6-Quart Pressure Cooker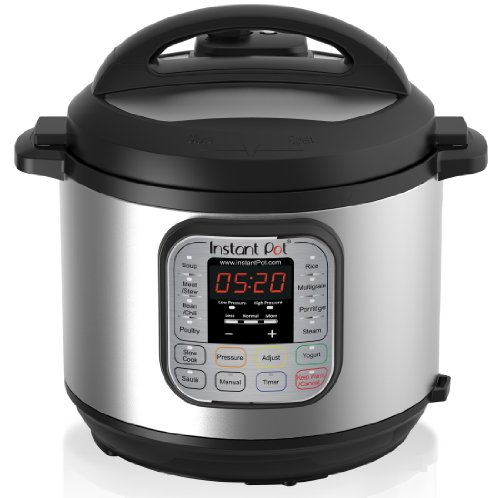 Model Number: IP-DUO60
Size: 6-quart
This model is a step down from the previous one and it comes from the Duo line that Instant Pot offers. There are actually three distinct models in that line but the best one for most situations will be this one, which is the 6-quart model. The size is large enough to cater for most meals that you would cook for a family, without taking up an excessive amount of bench space.
Excluding the Bluetooth model, the Duo line from Instant Pot offers the most features, including a yogurt maker on top of the traditional features that you see in a pressure cooker. It also has a high and low pressure setting, which reach up to 7.2 psi and 11.6 psi, respectively. The pressure cooker also includes 14 smart programs, a manual keep warm feature that goes up to 99 hours and 50 minutes, along with a range of features to make the product easier to use.
The catch though, is the price. At more than a hundred twenty dollars, this pressure cooker is relatively expensive, especially as it is just a 6-quart model. Additionally, a bit less expensive than the Bluetooth version. Nevertheless, the combination of features may make this version a good choice for many people and the model is extremely popular on Amazon, with more than 8,000 customer reviews and an average of 4.7 stars.
Instant Pot Lux 6-in-1 6.33-Quart Pressure Cooker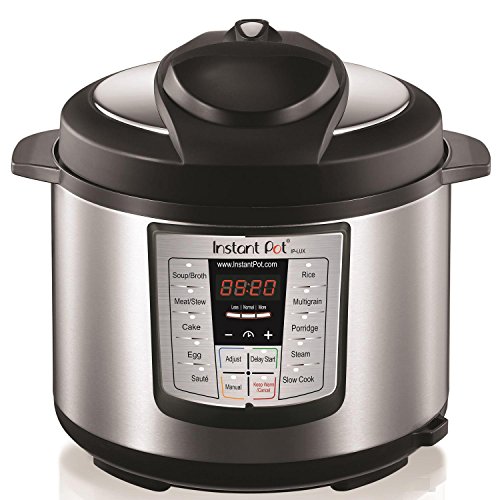 Model Number: IP-LUX60
Size: 6.33-quart
Visually, this pressure cooker might not seem much different than the previous one but this model comes from the Lux line. In this case, I've chosen the 6.33-quart model, which is also the largest size in the line. Once again, the size is good for families and the slightly larger size for this model may be an advantage.
The main difference between this and the other models is the features. In this case, there are 6 rather than 7 features, with yogurt making being the missing one. Likewise, this model doesn't have a low pressure setting, has few smart programs (10 versus 14 in the Duo) and the manual keep warm setting only goes up to 10 hours.
For many people, these differences may not be a big deal and they are certainly balanced out by the price of this option, which is just under a hundred bucks. As such, you end up with a pressure cooker that is considerably less expensive but still has most of the features that the more expensive versions have to offer. Plus, at 6.33 quarts, you even get a little extra space.
Top Pick
All of these pressure cookers work well and are pretty popular among customers. In many ways, which you pick will depend on your own preferences and your budget. However, the model that we recommend for most people is the Instant Pot Lux 6-in-1 6.33-Quart Pressure Cooker. The key reason for this is that this model has a really good price point and still has most of the features that you're likely to want. That's particularly true if you are just getting started with pressure cooking.
Realistically, most recipes out there are developed for a 6-quart pressure cooker and this model is close enough in size that you probably wouldn't have to adjust the recipe. Likewise, most recipes are designed for the high pressure setting anyway, so in most cases not having a low pressure option isn't really going to matter. If you do want more features, then the other models we mentioned are also good choices but you do have to pay more for those additional features.