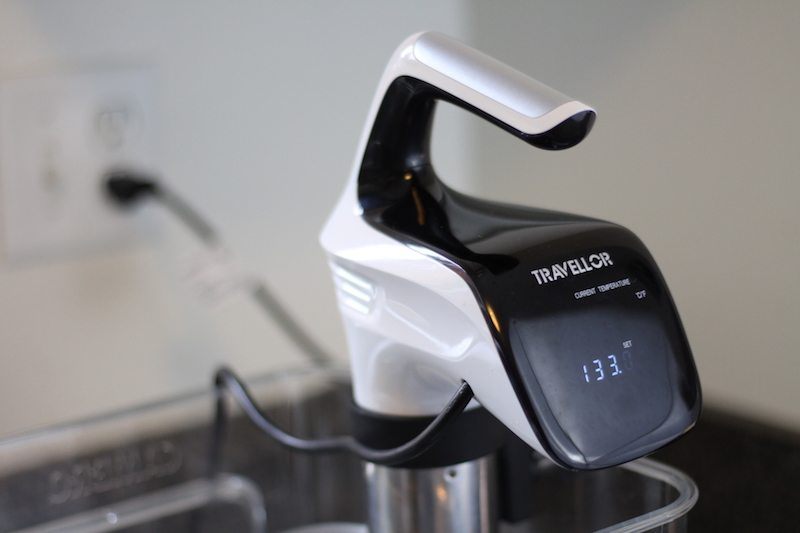 Travellor Sous Vide Immersion Circulator Review
Quality - 92%
Features - 91%
Price - 93%
Personal Experience - 90%
Value - 80%
Yes, the Travellor does in fact cook sous vide and does not do a bad job of doing it. But the device looks weird and is very bulky, among other issues. It's also an unknown brand possibly originating somewhere in China, and a few other red flags of why I don't actually recommend buying this product.
Introduction
In a frenzy last year, I bought every immersion circulator I could get my hands on. I wanted to review all of them so I could find the best. Unfortunately for me, but fortunately for you, the Travellor Immersion Cooker was one of the 13 devices that I bought. Though it was cheaper than most others, it was not really worth the price I paid, or the time I'm taking to write this review. Well, at least you get to read about my experience and learn from it, plus you can get a better immersion circulator for cooking sous vide.
Don't get me wrong – the food turned out fine. It hasn't broken yet, and I guess it's what you would expect for being one of the cheapest devices on the market. But there are a number really great products on the market that just blow the travellor out of the water.
If you'd like to keep reading to get the full scoop, or you can skip to my cheap immersion circulator comparison to get the full list of sous vide devices I've tried within a similar price point.

Standard Features
As expected, the Travellor cooker can heat water for cooking sous vide, and maintain a temperature of +/- .01º F. With 850 watts of power and max 2.1 gallons per minute circulation, you're looking at about 5 gallons maximum cooking capacity. This is pretty normal, even for more inexpensive devices. I found that although it was supposed to be accurate to .01, it tended to range between .02 and .05.
Another issue I found is that the display lights are hard to read. This isn't a major drawback, but it's noticeable when you compare to the other amazing immersion circulators available.

Extra Features
The Travellor Sous Vide Immersion Cooker was an interesting buy because it's got a unique shape to it. I would assume that it was meant for traveling because of the carry handle. Aside from the extra handle, you've got a space-ship type design that truly is unique.
The clamp is also adjustable, which means you can slide it up and down the heating element cover. This comes in handy if you want to use a shallower pot to hold your water. Less water means less time to achieve your desired cooking temperature. If you like this feature, check out my review of the Anova Precision, or Kitchen Masters [LINK]

Cooking Experience
I cooked some salmon with the Travellor. It beeps when you reach the target temp, and then automatically starts cooking. It beeps when it's done, and keeps on cooking. You'd better be ready to put your stuff in when it's ready! But that is a nice feature that it continues to cook when the timer is up. That keeps your food at temperature until you're ready to sear and eat.

Technical Stuff
Unit Size Size: 8.07″ x 4.33″ x 13.78″
Temperature Range & Precision: (+/-0.1℃), 77º F to 211º F
Power: 850 watts
Pump Circulation: 1.8 – 2.1 GPM
Quite surprisingly, the listing on Amazon and the handbook is quite explicit about the details of this device! The top of the device noticeably larger than most immersion circulators because of the shape of the device, but shaft is pretty much the same length and width as others in this price range. It has has a 4 foot cord, which is also pretty standard, although they go as low as 2.5 feet and as long as 6 feet.
850 watts is just above the bottom rung, with the lowest being 800 watts, and 1200 being the strongest. This is not surprising for this price point! 800 watts and 2.1 gallons per minute circulation is sufficient for temperature maintenance of a 5 gallon water vessel, but it does take a long time (about 30 minutes) to heat that full amount of water. The adjustable clamp will come in handy if you heat a smaller amount of water in a smaller pot.

Comparing The Travellor To Other Immersion Circulators
Honestly, you have a lot better options here, no matter what you're looking for. If you want cheap, check out the list of cheap circulators, which includes mini reviews and links to all full reviews. My favorite of the bunch was the Gourmia GSV140 which is a very reasonable price with a cool design and a couple color options.
If you want to spend a bit more money for more power, better design, and remote accessibility, the Joule is the way to go. If connecting a kitchen appliance to your smartphone sounds dumb, read the review and it'll probably change your mind. You can actually see your steak before its done, and it saves you the time of looking up your cooking temp/time each time you cook. It's a pretty sweet app, and makes cooking sous vide more fun in my opinion.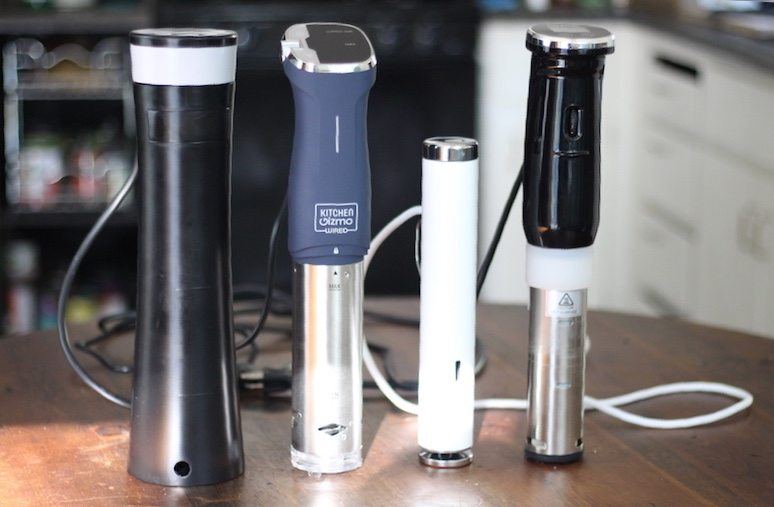 There are lots of other options out there too. Many of them are linked through this review of Travellor, but here's another favorite of mine that had a really unique design that I feel was actually worth your money. It's also 800 watts and pretty inexpensive. It wasn't perfect, but did make it to my Top 3 list.
Other Comments About This Device
While doing research online for this device, I dug into the brand to see what else they offered. There are no reviews on Amazon so far, so I wanted to see what anyone else was saying. It turns out, this company does not list anything else on their Amazon Seller page.
When I went to their website, I was surprised to see that this was the only kitchen appliance available! It also lists this item as having 1200 watts, and says it ws black so unless there was a massive update, I don't think the listing was accurate. I suspect it was copied from a Gourmia model, which are the only ones that have a 1200 watt heating element and do come in black as standard.

After reading in more detail on the Amazon listing, I saw something that caught my attention. Turns out it was copied from a separate listing, which was also a sous vide cooker (completely different) only available in the UK. Hm. The company was out of China. Having lived in China for 5 years, I can attest to the  low quality of Chinese-made products, especially those with off-brand names.
This is kind of strange though! I would think that a company out of China making knock-off immersion circulators would have a standard design rather than something this unique. I also considered that maybe this was some kind of white label product (which allows you to buy under "no brand" then market under your own brand), but there's nothing else like it on the market that I could find.
Weird.
Who Is The Travellor Immersion Cooker Best For?
Honestly, the only reason to buy this device is if you really like the design. If price is your main concern, check out the Sous Smart SSV700 [LINK] which has lots of great reviews already, and is very compact and great for traveling. The NutriChef Prime is also very inexpensive, coming in second place for cheapest immersion circulator, as of the writing of this review.
Conclusion
I would send this back for a refund if it it hadn't already been 30 days and I still want to make a video about it (maybe). You've got a lot better choices out there!
Pros/Cons
Pros
Inexpensive
Unique Design
Removable Casing For Easy Clean
Adjustable Clamp
Cons
Unknown Brand From China
Only 850 Watts
Weird Design
Better Options Available
Possible Issues With Refunds & Customer Support Due To Weird Product Listings